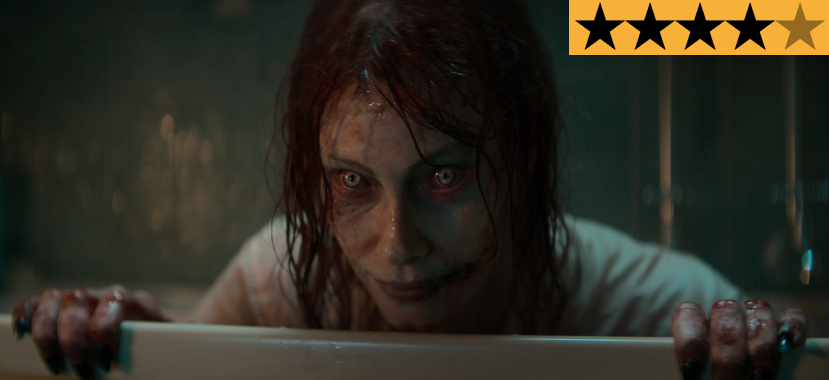 21 Apr

REVIEW – 'Evil Dead Rise' is a blood-drenched thrill ride that will leave you yearning for more

While Sam Raimi's 1981 cult classic The Evil Dead may not have been the first horror film to feature the now infamous "cabin in the woods" trope, it popularised it to the point where its influence on the horror genre is immeasurable. Raimi's three Evil Dead films ingeniously mixed terror with humour to create a new style of horror we're still seeing replicated today. After a valiant effort to reboot the Evil Dead franchise in 2013 and possibly spurned by the success of the recent Scream refresh, it's time to open the Necronomicon again. And the result is rather breathtaking.

Unapologetically gnarly, relentlessly gruesome, and genuinely humourous, Evil Dead Rise is undeniably fun with a capital F. Writer/director Lee Cronin delivers that rare kind of sequel/reboot that mixes familiarity with freshness to create something that both reinvents the wheel and honours its legacy. Aided by a killer performance from its menacing lead and lashings of gore that will have horror fans squealing with joy, it's an absolute bloody riot.

After a familiar cabin-bound prologue, Cronin flips the switch on the usual Evil Dead franchise locale and takes us to a soon-to-be-demolished high-rise apartment building somewhere on the outskirts of Los Angeles. It's here we meet mother-of-three Ellie (a spectacular Alyssa Sutherland), who is still grappling with the recent departure of her husband and father of her children, Danny (Morgan Davies), Bridget (Gabrielle Echols), and Kassie (Nell Fisher). Without any notice, Ellie's often absent younger sister, Beth (Lily Sullivan) turns up at her apartment door in need of a break from her job as a guitar technician.

As the sisters reunite, the family is rattled by an earthquake that leaves the dilapidated structure in even worse shape than it was before. The quake also unearths a bank vault hidden below the building's garage containing a stack of antique vinyl records and a creepy book bound in human flesh with drawings inked in blood. Unable to quell his curiosity, Danny foolishly decides to play one of the records which he soon discovers feature recordings of incantations that open the demonic book and release evil forces that instantly possess Ellie.

Cronin is wise enough to keep several conventional elements that have become a staple of this saga. It's still the same basic "the Book of the Dead possesses several innocent victims" storyline that leads to all sorts of horrific carnage at the hands of those pesky Deadites. There's the usual array of deadly weapons (including a few seemingly innocuous household objects) that cause grisly damage. There are litres upon litres upon litres of fake blood utilised including one delicious sequence that pays homage to a film I dare not spoil. And, much like Raimi's films, Cronin melds humour and horror in ways that will have you covering your eyes as much as laughing your ass off.

But let me just put at ease the minds of any Evil Dead purists fearful over the potentially disastrous decision to break tradition by setting this film anywhere other than a cabin in the woods. Yes, it's a bold and hugely risky move, but one that works tremendously well. This franchise needed a shake-up. A change in location proves to be a stroke of genius that still taps into the palpable sense of claustrophobia and growing dread evident in all Evil Dead films.

At its core, this is still very much a classic Evil Dead film, but the urban setting offers Cronin the opportunity to create new ways to horrify his audience with set pieces that take full advantage of the elements found in an apartment and its garage. You'll never look at a wine glass or a cheese grater the same again. He's even made sure to cleverly exploit the earthquake-damaged building to keep the characters completely trapped in the hellish nightmare, which creates an overwhelmingly claustrophobic aura that only adds to the terror you're witnessing on-screen.

Evil Dead Rise truly holds nothing back. Here in Australia, it's received an R18+ classification, and it earns every single inch of that harsh rating. To call this film gory would be an understatement. Once the book is opened and the evil has escaped, this film goes for the throat and rarely takes a breath. It's hugely pleasing to see Cronin mostly rely on practical makeup and prosthetics to craft his numerous nasty horrors. It blesses the film with the same level of unsettling authenticity as horror movies of the past.

At the centre of everything is a terrifically disturbing performance from Sutherland as our unfortunate patient zero. When we first meet Ellie, she's deeply maternal and warm, making her transformation into a twisted demon that much more horrifying. The physicality required to create such a possessed character puts tremendous pressure on Sutherland, but she handles it all with aplomb. The way the bewitched Ellie plays with light and shade in an attempt to manipulate her children is simply glorious, creating one of the most unnerving villains seen on the screen in some time.

As our newly crowned final girl, Sullivan is equally impressive, as Beth assumes the motherly role Ellie has seemingly left behind. Her fierce protection of her nieces and nephews pushes Beth to be the only one standing in the way of this evil escaping into the world. Sullivan creates an endearing heroine you both cheer and fear for. It helps that Cronin understands the power of a cute kid in perilous danger with Fisher fitting the bill perfectly.

Another brilliant example of how to revive a seemingly dormant franchise, Evil Dead Rise will satisfy fans of this beloved saga and will hopefully invite a new swarm of fans to discover its delights. It's the right blend of old and new needed to offer something that pays adoration to what's come before but deliver enough freshness to stand on its own two feet. Gloriously violent and darkly comedic, it's a blood-drenched thrill ride that will leave you yearning for more.





Distributor: Warner Bros.
Cast: Lily Sullivan, Alyssa Sutherland, Morgan Davies, Gabrielle Echols, Nell Fisher
Directors: Lee Cronin
Producer: Rob Tapert
Screenplay: Lee Cronin
Cinematography: Dave Garbett
Production Design: Nick Bassett
Costume Designer: Sarah Voon
Editor: Bryan Shaw
Music: Stephen McKeon
Running Time: 97 minutes
Release Date: 20th April 2023 (Australia)