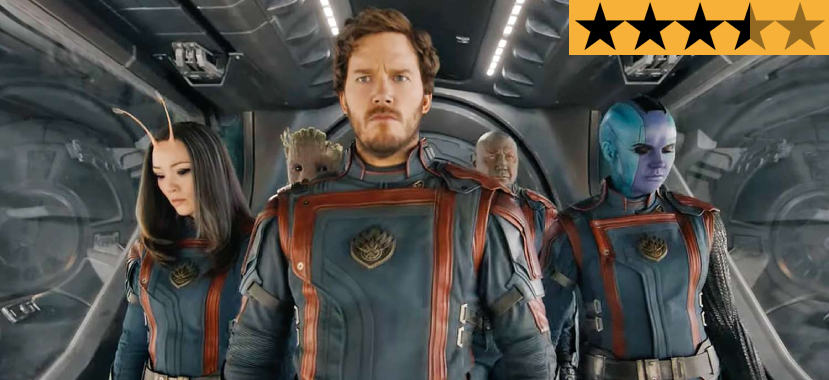 03 May

REVIEW – 'Guardians of the Galaxy Vol. 3' is a bittersweet goodbye to our beloved bunch of a-holes

Almost ten years ago, Marvel Studios' biggest gamble delivered one of its finest achievements. When Guardians of the Galaxy was initially announced, no one really expected all that much from an anti-hero movie starring that chubby guy from Parks & Recreation, a WWE wrestler-turned-actor, an anthropomorphic raccoon, and a walking, talking tree. Against the odds and with its expert mix of heart, humour, and action, James Gunn's masterpiece was a total breath of fresh air.

After a successful but slightly disappointing 2017 sequel, Gunn's hopes to wrap up the trilogy were dashed when Disney misguidedly fired the writer/director in 2018 after decade-old "offensive attitudes and statements" were uncovered on his Twitter by far-right trolls. The House of Mouse stubbornly dug in its heels for eight months and insisted someone else would be hired to helm the third Guardians film; an idea both the cast and fans found extremely distasteful.

Fearing a potential revolt and seeing the error of their ways, Disney hastily reversed their decision in early 2019. Four years later and it's finally time for Gunn's final Guardians chapter and his last Marvel endeavour now that DC Studios has wisely snapped him up. While nothing will ever recapture the lightning-in-a-bottle magic that was the first film, Guardians of the Galaxy Vol. 3 comes pretty damn close.

While the plot is a touch too overstuffed and it suffers from the usual Marvel pitfalls, Guardians of the Galaxy Vol. 3 mostly nails the landing with a hefty helping of effective emotional beats, thrilling action set pieces, and one of the most despicable villains the MCU franchise has seen in years. It's a bittersweet goodbye to our beloved bunch of a-holes that goes for the heart and reminds you why you instantly fell in love with these characters way back in 2014.

As we rejoin the Guardians, it's immediately obvious they're not in the best of places. In their new headquarters on Knowhere, Peter Quill (Chris Pratt) is still mourning the loss of Gamora (Zoe Saldaña) and his rejection at the hands of her time-travelling alternate. To cope with his pain, Peter regularly drinks himself into oblivion, much to the dismay of his pals Drax (Dave Bautista), Mantis (Pom Klementieff), and Nebula (Karen Gillan). Meanwhile, Rocket (Bradley Cooper) is even more brooding and moody than usual, haunted by the deep-seated pain of his past.

Their sense of peace is shattered one evening by the sudden arrival of golden hunter Adam Warlock (Will Poulter), a powerful artificial being created by Sovereign leader Ayesha (Elizabeth Debicki). With his sights firmly set on kidnapping Rocket, Adam causes all sorts of havoc before fleeing after failing his mission. However, in the process, Rocket is severely injured, and the only chance to save his life is for the Guardians to return to the facility where their friend was created.

Joining forces with the alternate Gamora, who now travels with Stakar Ogord (Sylvester Stallone) and his band of Ravagers, the Guardians must confront The High Evolutionary (Chukwudi Iwuji), a sociopathic scientist specialising in creating hybrid creatures in a bid to create a new "super race." As flashbacks reveal Rocket's traumatic history at the hands of the mad inventor, it's clear The High Evolutionary wants his creation back and he'll eliminate anyone who gets in his way.

There's a lot going on in Gunn's screenplay that he has no choice but to move at breakneck speed to fit everything in. Even with a runtime of 2.5 hours, it feels like this threequel is biting off more than it can chew. Thankfully, unlike, say, Black Panther: Wakanda Forever, the brisk pace means you won't notice this extensive running time, but it does leave many elements feeling rushed and underdeveloped, notably Adam's narrative strand.

After a brilliantly brutal opening sequence, the villain teased at the conclusion of Vol. 2 isn't given all that much to do but occasionally reappear to remind you of his presence. He's an afterthought in a film many presumed was his to own. That's not Poulter's fault, who does the most with the limited screentime he's given and endearingly leans heavily into Adam's goofy naïveté. That being said, Iwuji eats the screen alive as the film's true big bad. With his twisted experiments and unforgiving nature, The High Evolutionary is a detestable villain you will yearn to see receive his comeuppance. It's also refreshing to see a Marvel baddie with a scheme that doesn't involve world domination or the destruction of the entire universe.

After several outings as Star Lord, Pratt knows this role like the back of his hand. While he's not given the gravitas of his complicated father-son narrative of the previous film, Pratt handles Peter's ongoing Gamora grief and unrelenting determination to save Rocket with aplomb. Saldaña is relegated to supporting player status, but it's fascinating watching her deliver alternate Gamora's gruff demeanour that slowly begins to crack as she inevitably connects with the group who once considered her their sister. The sparkling chemistry between Bautista and Klementieff remains as delightful as ever, while Gillan continually steals focus as the ever-fascinating cyborg with a penchant for deadpan humour.

But this film ultimately belongs to the loveable Rocket with Cooper delivering an emotionally resonant, pathos-filled performance as the tormented raccoon with a harsh past that finally comes to light. While Rocket's flashback sequences initially halt the film's momentum, they become increasingly more engaging to the point you almost wish this was entirely a Rocket original story prequel. Fair warning – if you are an animal lover, there are several particularly harrowing scenes involving animal cruelty that are genuinely difficult to watch. These heartwrenching moments give a greater understanding of Rocket as a character and elicit heavy empathy for what he's endured. They're there for a reason and never feel exploitative, but no less easy to witness.

With every single frame, it's so abundantly clear Gunn adores these characters and saying farewell to them is as difficult for him to craft as it is for us to view. He was the perfect choice to bring this franchise to life and he was the only one who could bring it to a close. While his selection of needle drops might not be as banger-filled as the two previous films, Gunn still innately understands the power of music and its importance to this franchise. But it's his continued focus on the power of one's chosen family rather than the family one was born into that really makes this finale sing, particularly as we reach a conclusion centred on the difficult acceptance that families grow, change, and sometimes have to go their own way.

As Cass Elliott once sang, you've got to make your own kind of music. What a joy it's been to watch Gunn craft his own unique slice of a franchise so often beholden to formulaic tradition. Sure, there are still the same old CGI-heavy bells and whistles here, but, unlike other subpar MCU entries, Gunn never loses sight of his characters amidst all the chaos. And that's entirely why saying adieu to them is so crushingly tough. Spectacularly entertaining and undeniably emotional, Guardians of the Galaxy Vol. 3 is a richly satisfying conclusion to a trilogy that rarely missed a beat.





Distributor: Disney
Cast: Chris Pratt, Zoe Saldaña, Dave Bautista, Karen Gillan, Pom Klementieff, Vin Diesel, Bradley Cooper, Sean Gunn, Chukwudi Iwuji, Will Poulter, Maria Bakalova
Director: James Gunn
Producer: Kevin Feige
Screenplay: James Gunn
Cinematography: Henry Braham
Production Design: Beth Mickle
Costume Designer: Judianna Makovsky
Editors: Fred Raskin, Greg D'Auria
Music: John Murphy
Running Time: 150 minutes
Release Date: 4th May 2023 (Australia)