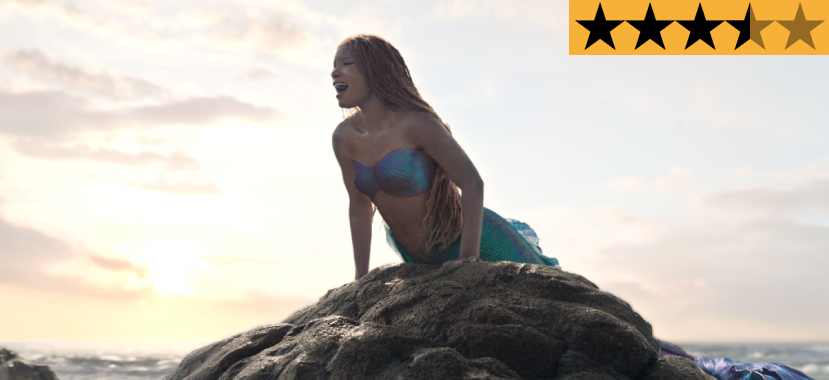 24 May

REVIEW – 'The Little Mermaid' perfectly hits that sweet spot between reinvention and nostalgia

It's hard to truly quantify the impact of The Little Mermaid back in 1989. It reinvigorated a studio that was struggling to recapture the magic of decades past. It set the template for a new renaissance of animated musicals. And it delivered one of Disney's most treasured princesses whose popularity hasn't waned a drop in 33 years. It's rather surprising it's taken us this long to arrive at a live-action remake. Given the daunting task of staging a musical with 50% of the action taking place underwater, it's not hard to see why Disney waited so long to attempt the near-impossible.

While Rob Marshall's earnest yet flawed adaptation is loaded with new gadgets and gizmos aplenty in the form of fresh original songs and whozits and whatzits galore that are the endless (and often sloppy) CGI creations, it's the luminous, star-making performance of the ethereal Halle Bailey that justifies the existence of this nostalgia-heavy reimagining. Throw in a spirited ensemble cast and the undeniable romantic charm of this enduring love story and you have one of the best Disney live-action remakes to date.

It's likely you are already entirely familiar with the basic plot of the original animated gem, but there are a few tweaks here and there to freshen it up for the 21st century. The film centres on our titular mermaid Ariel (Bailey), the youngest daughter of the overprotective and domineering King Triton (Javier Bardem). As is tradition, Ariel and her six princess sisters have been called to court with their father on the eve of the annual mystical Coral Moon.

But, as always, the precious Ariel is too busy defying her father's orders by exploring the forbidden shipwreck graveyard with her best pals, timid fish Flounder (Jacob Tremblay) and know-it-all seabird Scuttle (Awkwafina). Fascinated by the human world, Ariel heads to the surface to spy on a passing ship, helmed by the dashing Prince Eric (Jonah Hauer-King), who longs to explore the seven seas despite the protestations of his overbearing mother, Queen Selina (Noma Dumezweni). When Eric's ship runs aground, Ariel saves his life by taking the prince ashore and singing him back to life through the magic of her siren's song.

After learning of Ariel's encounter with Eric from his trusted servant crab, Sebastian (Daveed Diggs), Triton furiously forbids his daughter from ever interacting with humans again. This offers Triton's banished sea witch sister, Ursula (Melissa McCarthy) her opportunity to manipulate Ariel into striking a deal that will allow the mermaid to shed her tail for human legs for three days. There's just one small catch; she has to sacrifice her voice and receive a "kiss of true love" or risk belonging to Ursula forever.

It was always going to be a difficult task to bring the deep sea scenes to life. Perhaps it doesn't help that The Little Mermaid is arriving just a few months after James Cameron's Avatar: The Way of Water set an impossibly high standard for underwater visual effects work. Ariel's homeland often appears rather murky and unappealing, which is a huge departure from the fantastically bright colours of the animated version. Perhaps that's why she's so damn keen to leave.

Marshall overloads these sequences with so much CGI that often detracts from your viewing experience more than they amplify it. Take, for example, the eye-popping staging of the Oscar-winning favourite "Under the Sea," which Marshall crafts as a Busby Berkeley-like extravaganza with dozens upon dozens of sea creatures dancing (but, strangely, not singing) in unison. He's always been a director with an appetite for excess, but this might just be going a touch too far. Diggs delivers a wondrous performance of the iconic song, but it gets lost amid all the computer-generated chaos.

It's in the casting of the endlessly charming and instantly endearing Bailey where Marshall truly strikes gold. Easily shedding off all the ridiculous "controversy" over her casting, Bailey captures the essence of the Ariel we all know and love while still making the role entirely her own. Whether it's the mermaid's desperate desire for adventure or her determination to find her own path in life, Bailey innately understands that Ariel has always been so much more than just a doe-eyed princess in love.

Ariel's yearning to escape the sea world was never really about chasing a romance with a dude she quite literally just laid eyes on. Sure, that's at the core of the love story element of the narrative, but Ariel sings "Part of Your World" long before she even knows Eric exists. While we're on the topic of that song, Bailey's stunning rendition of Ariel's iconic "I Want" song is really something quite special. As she expertly plays with the light and shade of her gorgeous voice, Bailey's soaring vocals are just heavenly, creating one of those rare movie musical moments that will surely endure for decades to come.

But it's in the film's second half where the now-mute Bailey's performance becomes something else entirely. It's always a tough ask to communicate a character's emotions and thoughts without the use of dialogue, but Bailey manages it with aplomb from an array of vivid facial expressions and movements that deftly convey everything going on in Ariel's head. Bailey delivers Ariel's sweet naïveté without losing sight of her intelligence and independent streak to create a fully-rounded female protagonist who makes mistakes but has the guile to know how to fix them.

There's a concerted effort to give Prince Eric more to do than just dote (and swoon and fawn) on Ariel and Hauer-King makes the most of a relatively thankless role. Eric's backstory has been reworked to cast him as a shipwrecked orphan who was adopted by the childless King and Queen, but it's frustratingly never deeply explored and serves seemingly little purpose. Regardless, Hauer-King's chemistry with Bailey is off the charts and their burgeoning romance is undeniably infectious.

You're likely well aware that animal characters like Sebastian, Flounder, and Scuttle have been redesigned into photo-realistic creations. While the result is nowhere near as stone-faced and emotionless as those in 2019's ghastly The Lion King, they do lack the overall expressiveness of their animated counterparts. But these beloved characters are ultimately saved by the sublime voice-over work of Diggs, Tremblay, and Awkwafina. Diggs is the perfect choice to voice the exacerbated crustacean with a penchant for deadpan one-liners, while the ever-reliable Awkwafina reimagines Scuttle as a sassy, wise-cracking warbler. They're both given the lion's share of the film's genuinely hilarious humour, which they each handle entirely effortlessly.

Unsurprisingly, the spectacular McCarthy eats this film for breakfast with a big, bawdy, scenery-chewing performance that's as deliciously camp as a row of tents. While McCarthy doesn't stray too far from what Pat Carroll delivered in the animated incarnation (and, frankly, nor should she), she understands the assignment and delivers in spades with all the sass, vamp, and menace Ursula brings to every scene. During her lively performance of "Poor Unfortunate Souls," McCarthy belts like nobody's business and is clearly having an absolute ball portraying Ursula's sociopathic ways.

In a wonderful twist that was first seen in the Broadway musical adaptation, Marshall depicts the sea witch as Triton's sister, adding a terrific layer of familial jealousy and bitterness to Ursula's villainous motivations. She no longer merely wants to take Triton's crown and trident for the goal of ocean domination. Rather, she believes it's her right as the one who should have been next in line for the throne. The fact that she'll selfishly twist and exploit her niece to get what she wants just makes Ursula far more nefarious than ever before.

As for the other changes from the animated film, the diversity in the refreshingly colourblind casting is likely what audiences will notice the most. Thankfully, there's no attention drawn to the colour of Bailey's skin, but her six sisters now represent the seven seas, thus each is noticeably from a different cultural background. Master lyricist Lin-Manuel Miranda, aka the hardest working man in show business, tweaks a few outdated lyrics here and there ("Kiss the Girl" now feels far more consensual), but never to the point of making the original songs completely unrecognisable.

Miranda is also responsible for writing several brand-new tracks, including a fresh up-tempo jam for Ariel to convey her new experiences as a human ("For the First Time"), a power ballad for Eric ("Wild Uncharted Waters") that reveals his desire to break away from his mother's ever-watchful eye, and a quick-fire rap battle for Scuttle and Sebastian ("The Scuttlebutt") that feels like an off-cut from Miranda's Hamilton days. The new songs don't quite harmoniously gel with the magic Howard Ashman cooked up in the 80s, but that's a task even someone as talented as Miranda couldn't pull off. Still, kudos to Marshall for taking a page out of his Chicago playbook by staging "For the First Time" inside Ariel's imagination, given she's sans voice at the time she "performs" the number.

After a string of mostly disappointing live-action reworks, Disney finally hits that sweet spot between reinvention and nostalgia with the undeniably magical and terrifically delightful The Little Mermaid. The sensational Bailey is a superstar in the making and Ariel is the perfect character to introduce the world to her endless talents. You can quibble over the foils of this reimagining or you can just give yourself over to its magic and be swept away by its gorgeous charm. It's the perfect family film that young audiences will undoubtedly adore. And, for those of us who grew up with Ariel, it's a reminder of the majesty one little mermaid can bring.





Distributor: Disney
Cast: Halle Bailey, Jonah Hauer-King, Daveed Diggs, Awkwafina, Jacob Tremblay, Noma Dumezweni, Art Malik, Javier Bardem, Melissa McCarthy
Director: Rob Marshall
Producer: Marc Platt, Lin-Manuel Miranda, John DeLuca, Rob Marshall
Screenplay: David Magee
Cinematography: Dion Beebe
Production Design: John Myhre
Costume Designer: Coleen Atwood
Editor: Wyatt Smith
Music: Alan Menken, Howard Ashman, Lin-Manuel Miranda
Running Time: 135 minutes
Release Date: 25th May 2023 (Australia)