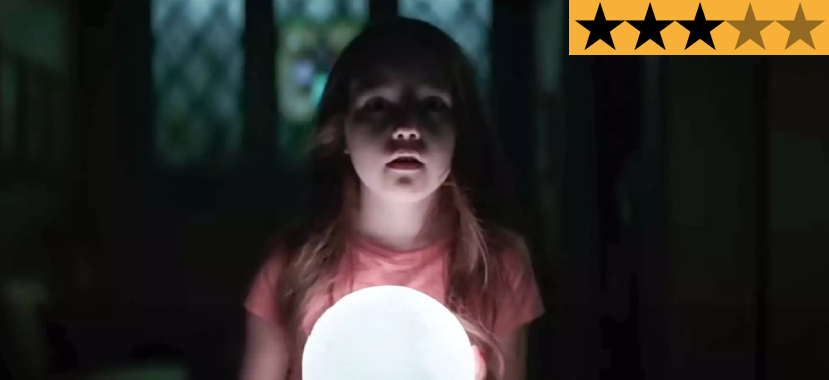 01 Jun

REVIEW – 'The Boogeyman' is familiar and predictable but still offers plenty of chills

It's hard to deliver a truly original horror film in the 21st century. Everything's been done and then done again some more. It's why something like Rob Savage's Zoom-based, covid-centric 2020 nightmare Host felt like such a breath of fresh (and absolutely terrifying) air. While his haphazardly crafted 2021 sophomore effort Dashcam was far less successful, it was no surprise to hear Savage had been given the reins to the latest big-screen adaptation from the annals of Stephen King's extensive back catalogue.

Given his penchant for originality, it's rather disappointing to see Savage offer something as familiar and predictable as The Boogeyman; a horror/thriller so derivative, even its title feels dreadfully generic. A film that follows the current trend of female-led horrors valiantly attempting to tackle grief and trauma as expertly as films like The Babadook, Hereditary, and Midsommar, The Boogeyman still offers plenty of chills and thrills. Sadly, they're all the kind you've seen numerous times before.

The film centres on 16-year-old Sadie Harper (Sophie Thatcher) and her precocious 10-year-old sister, Sawyer (Vivien Lyra Blair), who are both struggling to cope with their mother's tragic death in a car accident. Sadie throws herself into her love of painting to cope with her pain, while Sawyer can't sleep at night without the assistance of several night lights. Meanwhile, their psychologist father, Will (Chris Messina) is so consumed by his own trauma that he has no time to provide comfort for either of his daughters.

When the deeply disturbed Lester Billings (David Dastmalchian) unexpectedly turns up at the Harper home for an unscheduled session with Will, he begins babbling something about a monster being responsible for the death of his three children. Shortly thereafter, Sawyer becomes convinced that said creature is lurking under her bed and inside her closet, awaiting its moment to prey upon her and the rest of her family.

A menacing creature terrorises an unsuspecting family. Kids attempting to grapple with their grief over a dead parent. Stop me if you've heard this one before. There's nothing inherently original to be found in the blindingly simple plot of The Boogeyman. And therein lies the problem. Savage and screenwriters Scott Beck, Bryan Woods, and Mark Heyman valiantly attempt to draw parallels between the Harper family facing the figurative demons that are trauma and PTSD and battling an actual physical monster. But it's all very surface-level introspection that gets lost amongst the atmospheric set pieces and numerous jump scares.

That being said, Savage knows how to set the mood and creates a palpable sense of dread that preys on that age-old fear of what you can't see in the dark. As you'd expect, the creature is thwarted by light, allowing Savage to ingeniously utilise a light ball Sawyer takes to bed and flickering Chrismas lights as weapons of protection. The jump scares may be numerous but they're almost always beautifully placed. And there are plenty of genuinely unnerving moments to have you clutching your seat in fear.

It's ultimately the earnest, engaging performances of Thatcher and Blair that elevate The Boogeyman from the true doldrums of the horror genre. Thatcher deftly mixes teenage angst and grief-stricken sorrow with touching maternal instincts to craft an endearing protagonist you actually give a damn about. Sadie's unwavering devotion to Sawyer grounds the film, while Blair's terrified performance plays with your heartstrings. As sisters bonded by trauma and united further by a common enemy, Thatcher and Blair make a terrific pairing.

As for the titular creature itself, it's wonderfully menacing and unsettling when viewed in brief glimpses in shadowy places. Whether it's the monster's glowing eyes or a flash of a spider-like leg, Savage understands how to tease an evil entity that drives your imagination and fear into overdrive. And the fact this demon knows how to echo and mimic human voices is deliciously terrifying. Does that all pay off when the beast is finally unveiled in the last act? Well, perhaps, but the creature design feels more like the plagiarised love child of the Cloverfield alien and the A Quiet Place nasties.

While The Boogeyman may stand as a reminder of why you were terrified of the dark as a child, it can't reach the heights set by other examples of this genre that have the guile and the confidence to tackle deeper themes. Savage brings a good serving of well-executed terrors and there's enough here to have you holding your breath on several occasions. Unfortunately, when the lights come back on, it all proves to be quickly forgettable and the fear you felt leaves little lasting impression.





Distributor: 20th Century Studios
Cast: Sophie Thatcher, Chris Messina, Vivien Lyra Blair, Marin Ireland, Madison Hu, LisaGay Hamilton, David Dastmalchian
Director: Rob Savage
Producer: Shawn Levy, Dan Levine, Dan Cohen
Screenplay: Scott Beck, Bryan Woods, Mark Heyman
Cinematography: Eli Born
Production Design: Jeremy Woodward
Costume Designer: Kari Perkins
Editor: Peter Gvozdas
Music: Patrick Jonsson
Running Time: 98 minutes
Release Date: 1st June 2023 (Australia)