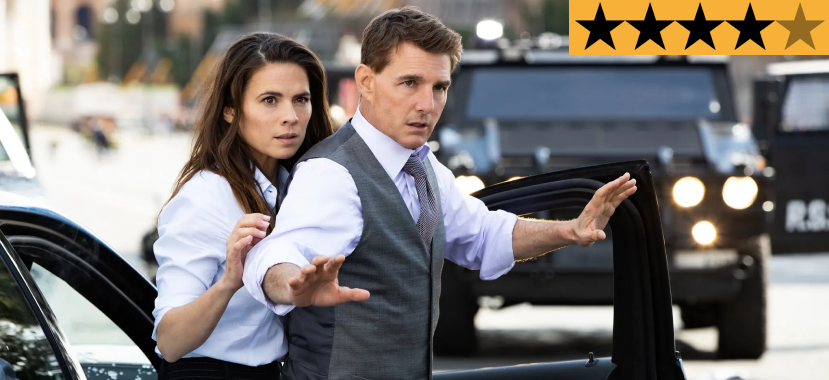 07 Jul

REVIEW – 'Mission: Impossible – Dead Reckoning Part One' is the most exhilarating blockbuster of the year

In 2022, Tom Cruise revived the cinema industry with the box office colossus that was Top Gun: Maverick. Cruise inspired a big screen renaissance to the tune of $1.5 billion plus six Oscar nods including a hugely deserving nomination for Best Picture. With blockbuster after blockbuster failing to reach their intended financial targets in 2023, he looks set to save the cinema experience again this year with the latest adventure in the series that has been dedicated to one-upping itself with every chapter for almost three decades now. Yes, it's time to light that fuse again because Ethan Hunt is back in the most exhilarating blockbuster of the year.

A tremendously entertaining epic designed to be seen on the largest screen possible, Mission: Impossible – Dead Reckoning Part One offers another hefty helping of death-defying action set pieces and a pulpy plot full of twists and turns that once again showcases why Cruise may just be the biggest movie star of our generation. It might not be as flawless as its series-high predecessor, but it's hard to care when the end result is so unrelentingly thrilling.

After an extensive prologue reveals a potentially powerful and wildly unpredictable Russian A.I. weapon known as "The Entity" lay at the bottom of the ocean in a sunken submarine (yes, the use of that particular type of aquatic vehicle is rather unfortunate timing), we find Ethan Hunt (Cruise) has once again been called on by former IMF director Eugene Kittridge (Henry Czerny) to stop another global catastrophe.

Tasked with locating two halves of the key that controls the dangerous digital technology before it falls into the wrong hands, Ethan joins forces with his trusted sidekicks Benji Dunn (Simon Pegg) and Luther Stickell (Ving Rhames) on a mission with typically impossible odds. As always, the assignment will see Ethan traject the globe where he crosses paths with former intelligence operative Ilsa Faust (Rebecca Ferguson), crafty thief Grace (Hayley Atwell), illegal arms broker The White Widow (Vanessa Kirby), and a shady figure from Ethan's dark past named Gabriel (Esai Morales) and his right-hand woman, Paris (Pom Klementieff).

As with all Mission: Impossible films, there are a lot of wheels to set in motion before the fun can really begin. Given Dead Reckoning has been split into two parts, there's even more exposition to get through than usual and you may just spend the first 45 minutes scratching your head at the many complexities of Christopher McQuarrie and Erik Jendresen's complicated script that's sadly beset by often clunky dialogue. It's a curious choice to essentially cast the film's central villain as a sentient piece of rogue artificial intelligence, but one that feels unmistakably pertinent. With the rise of tools like ChatGPT, Photoshop's Generative Fill, and deep fake technology, the idea of an A.I. enemy dismantling the world's digital infrastructure doesn't seem all that far-fetched anymore.

But, let's be brutally honest; you're unlikely plonking your money down for the plot, and you get the feeling director McQuarrie knows it. There's a formulaic approach to Dead Reckoning Part One that echoes the template Marvel Studios has utilised for years in its cinematic universe; introduce an all-powerful McGuffin and the players attempting to either control it or destroy it and watch them battle it out in a series of bombastic set pieces. While there may be a sense of déjà vu to the action, it's all so stunningly crafted and beautifully choreographed that it's easy to become lost in the fun.

From a wild car chase inside a tiny yellow Fiat on the streets of Rome and a tense cat-and-mouse game inside Abu Dhabi International Airport to the genuinely breathtaking finale set aboard the Orient Express and that much-publicised motorcycle jump off a Norweigan mountain being touted as the "biggest stunt in movie history," it's a cavalcade of truly mind-blowing and perfectly choreographed sequences that also include a delightful dose of genuine comedy thrown in for good measure. I have no idea how they managed to film one particular fight scene within an uber-tight Venician alley, but the outcome is as claustrophobic and visceral as hand-to-hand combat sequences come.

At the age of 61, Cruise is just as entirely committed to the film's intensely physical stunts as he has been his entire career. From all accounts, he insisted on filming the aforementioned motorbike cliff jump six (!) times to make sure it was perfect, which just shows his unrivalled level of dedication to his art. He's typically smooth and suave in conversational moments and Cruise deftly handles the dramatic beats that explore Ethan's tragic background. But, as expected, his performance really comes alive when the action kicks in and the pressure begins to build.

Pegg and Rhames continue to be a wonderful pairing with plenty of playful banter and bickering, while the ever-reliable Ferguson effortlessly slips back into her role as the elusive former MI6 agent. Kirby eats every moment alive as the deliciously vampy femme fatale and it's great to see Czerny return as Ethan's exacerbated boss. Morales is solid as our big baddie, but you get the feeling he's being held back from being a really great villain until round two in 12 months' time. But it's new recruit Atwell who steals the show here with a fascinating character whose seemingly life-long independence is challenged by the opportunity to finally trust someone else with her life. Her chemistry with Cruise is solid and she handles the action as flawlessly as her co-star.

There will be those that dismiss the necessity of splitting a blockbuster into two parts as nothing more than a shameless cash grab. And, sure, there's a sense of "why make one billion dollars when you can make two?" here. Thankfully, Mission: Impossible – Dead Reckoning Part One obliterates those misguided doubts with a broad and engrossing narrative that absolutely deserves a double billing of films. This is one complete piece of cinema that may not fully resolve its intent, but it leaves you feeling entirely satisfied and yearning for its sequel next summer.

Grab your popcorn and get ready for one of the most deliriously enjoyable films you will see inside a movie theatre this year. Mission: Impossible – Dead Reckoning Part One is a supreme spectacle purposely designed for the big screen. It's so incredibly fun and moves at such a cracking pace that you will barely notice 2.5+ hours have zoomed by. It's the kind of bang-for-your-buck cinema that Cruise does so damn well. And it's yet another mission well and truly accomplished.





Distributor: Paramount
Cast: Tom Cruise, Hayley Atwell, Ving Rhames, Simon Pegg, Rebecca Ferguson, Vanessa Kirby, Esai Morales, Pom Klementieff, Henry Czerny
Director: Christopher McQuarrie
Producers: Tom Cruise, Christopher McQuarrie
Screenplay: Christopher McQuarrie, Erik Jendresen
Cinematography: Fraser Taggart
Production Design: Gary Freeman
Costume Design: Jill Taylor
Editor: Eddie Hamilton
Music: Lorne Balfe
Running Time: 163 minutes
Release Date: 8th July 2023 (Australia)