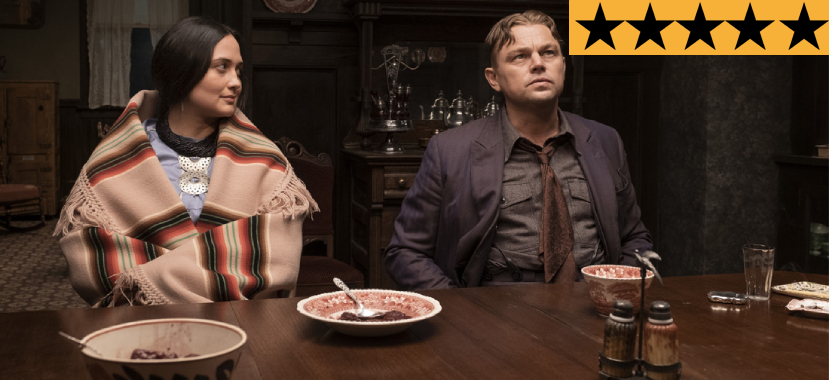 22 Oct

REVIEW – 'Killers of the Flower Moon' is a perfectly paced epic that's everything cinema should be

We are forever blessed that Martin Scorsese is still cranking out a new film every three or four years to remind us why he is a true auteur director. But to craft something at the age of 80 that stands as one of his greatest works to date is rather astonishing. Given his stunning back catalogue, that's a big call to make. Yet, it's entirely apt of a masterpiece so breathtakingly crafted as Killers of the Flower Moon; a perfectly paced epic that's everything cinema should be. Ambitious is an understatement, but Scorsese pulls it off like only he can.

Based on David Grann's book of the same name, the film introduces us to the story of Okalhoma's Osage County in the early 1920s where a tribe of Native Americans accidentally discovered a deposit of oil and quickly became the richest group of Indigenous folks in America. While laws dictated white "guardians" were still responsible for managing the endless oil fortune, the Osage tribe were seemingly left alone to enjoy their riches. Or so it seemed.

Enter Ernest Burkhart (Leonardo DiCaprio), a returning war veteran looking to settle down and start a new life with the help of his uncle and prominent Osage County businessman William Hale (Robert De Niro in scintillating form). After taking Ernest's brother, Byron (Scott Shepherd) under his wing, Hale is keen to offer the same stewardship to Ernest. A pillar of the community so beloved by both white and Indigenous citizens that he's earned the nickname "King," Hale is the very moral compass of Osage. Or so it seems.

When Ernest begins working as a cab driver, he becomes the personal chauffer for Mollie (a stunning Lily Gladstone), a stoic Osage woman from a wealthy family who barely utters two words to her driver before he's already swooning; something Hale suspiciously encourages. While Mollie initially rejects Ernest's bumbled attempts at romance, a genuine courtship blossoms and the two soon marry. But when members of the Osage tribe begin being brutally murdered, Mollie grows paranoid and Ernest becomes the only white man she can trust. Or so it…well…you get the picture.

To say too much more would spoil the twists and turns of this utterly enthralling tale of greed, corruption, deception, and manipulation. Some may baulk at the 3.5-hour running time, but this is a hefty story that needs that length to properly explore its fascinating characters and the shocking true events you've likely never heard before. America's history is drenched in blood and no greater is that evident than the repeated attempts to essentially wipe Native Americans off the map in a grab for land and resources.

As a white man, Scorsese understands the importance of getting this story right. And not only by shining a damning light on the unfair treatment and savage murders the Osage tribe suffered at the hands of their oppressors, but also by paying deft tribute to their culture, customs, and language. Descendants of the Osage nation were rightfully involved in the film's production and it shows with the grace and dignity Scorsese infuses into every frame. Scorsese has a penchant for creating films centred on bad guys and criminals you can't help but secretly love. This is not one of those movies. There isn't a shred of empathy to be found for these detestable characters whose selfish quest for power knows no limits.

Killers of the Flower Moon is wisely just as much about the victims as it is about those involved in this bloodstained chapter of American history. At the centre of everything is an Oscar-worthy Gladstone in one of the most quietly compelling performances you will see this year. Or any year, for that matter. In a breakthrough turn destined for plenty of adoration this awards season, Gladstone is earth-shatteringly great as the true soul of this tragic tale. Gladstone's enigmatic presence is intoxicating in an often observational performance that sometimes says so much without saying a single word.

Gladstone more than holds her own against DiCaprio and De Niro, which is some form of cinematic miracle when both veteran actors are delivering some of the best work of their already illustrious careers. Playing completely against type, DiCaprio is superb as a simple man blinded by his narcissistic ambition and drawn into a nefarious plot that quickly turns him into a gaslighting sociopath. De Niro recaptures the brilliance of the past as the contemptible snake whose nurturing facade hides his true sinister nature. Watching De Niro play with the light and shade of Hale is a true thing of beauty, as are his sensational scenes opposite DiCaprio where two of Scorsese's muses finally meet.

With a reported budget of $200 million, Killers of the Flower Moon is a lavish film with production values that earn every dollar of that gargantuan cost. From the marvellous period costuming from Jacqueline West and weathered production design by Jack Fisk, Scorsese's recreation of 1920s Oklahoma bursts off the screen, all captured by the lush, sweeping cinematography of Rodrigo Prieto. The fact Prieto delivered both this and something so wildly different in the form of Barbie in the same year is mindblowing. Scorsese's perennial editing collaborator Thelma Schoonmaker keeps everything moving at such a beautiful pace that three hours simply fly by.

Co-written with Eric Roth, Scorsese's script is a dream, filled with captivating monologues and sharp dialogue that slowly unfurl the dark underbelly of this twisted narrative. The screenplay closely focuses on Ernest and Mollie's relationship against the backdrop of unspeakable violence which Scorsese is uncompromising in presenting to highlight its senseless nature. At its core, this is a film about injustice and the shameful history of America's colonial crimes that it often refuses to acknowledge or atone for. Its message is clear and entirely unshakable.

Scorsese delivers something that feels both old and new, vast and intimate, captivating and infuriating, beautiful and horrifying. It's a thoroughly absorbing film that burns with the kind of intensity we've come to know from a filmmaker still at the top of his game. It's Scorsese's sprawling opus that takes full advantage of its incredible ensemble cast and a remarkable story that demanded to finally be told in the grandest of ways. This is an exceptional piece of cinema and truly one of the finest films you will see this year.





Distributor: Paramount Pictures
Cast: Leonardo DiCaprio, Robert De Niro, Lily Gladstone, Jesse Plemons, Tantoo Cardinal, John Lithgow, Brendan Fraser, Cara Jade Myers, Janae Collins, Jillian Dion, Jason Isbell, William Belleau, Louis Cancelmi, Scott Shepherd, Sturgill Simpson, Tommy Schultz
Director: Martin Scorsese
Producers: Dan Friedkin, Bradley Thomas, Martin Scorsese, Daniel Lupi
Screenplay: Eric Roth, Martin Scorsese
Cinematography: Rodrigo Prieto
Production Design: Jack Fisk
Costume Design: Jacqueline West
Music: Robbie Robertson
Editor: Thelma Schoonmaker
Running Time: 206 minutes
Release Date: 19th October 2023 (Australia)