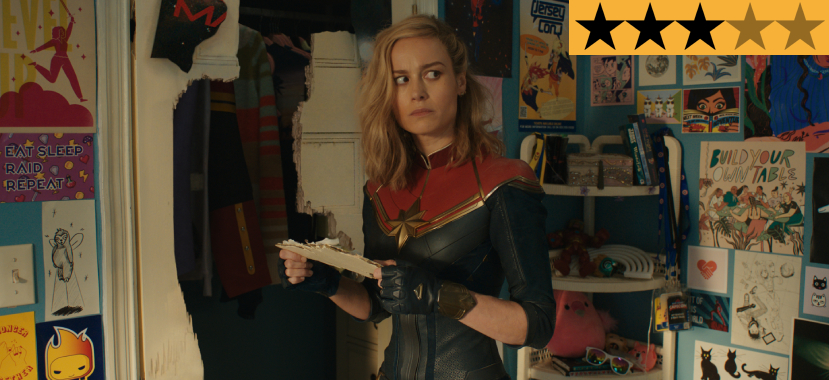 11 Nov

REVIEW – 'The Marvels' is a low-stakes, high-concept affair that may not quite be the sequel you're expecting

Despite only four years passing since her first big-screen adventure and her presence in the behemoths that were Avengers: Infinity War and Avengers: Endgame, it somehow feels like an eternity since we last saw Carol Danvers aka Captain Marvel. Perhaps that's a testament to just how much Marvel Studios content we've consumed in that time. After battling against online trolls and "review bombing," 2019's Captain Marvel stormed to $1.1 billion at the worldwide box office and it seemed a new leader of the MCU had emerged.

Rather than immediately throwing Carol into a bombastic second outing, Marvel Studios have taken their time and spun her follow-up into an unexpected group project. Thus, here we are with three powerful female heroes joining forces in The Marvels; a low-stakes, high-concept affair that may not quite be the sequel many were expecting. An entirely entertaining and often funny blockbuster, The Marvels battles against a clunky script and a mediocre villain to deliver something breezily enjoyable but not entirely satisfying.

After helping her Avengers pals defeat uber-baddie Thanos not once but twice, Carol Danvers (Brie Larson) took off into space for some quiet time and reflection. That peaceful (albeit lonely) solitude is disrupted when her old pal Nick Fury (Samuel L. Jackson) comes (video) calling and asks Danvers to investigate a surge of energy on a nearby moon. While examining an unidentified wormhole, Danvers is abruptly zapped into the bedroom of Kamala Khan (a stellar Iman Vellani), a quirky teenage mutant with cosmic powers of her own and an undying adoration for Captain Marvel.

At the very same time, S.A.B.E.R (that's Sentient Weapon Observation and Response Division) astronaut and Danvers' one-time pseudo niece Captain Monica Rambeau (Teyonah Parris) is also studying a wormhole in space. After getting a tad close to the celestial event, Rambeau also inexplicably switches places with Khan, leaving the teen spiralling off in space and right into Fury's confused gaze. When Fury unites the trio onboard the S.A.B.E.R. Space Station, Rambeau hypothesises something has caused their powers to become entangled, causing the switcheroos to occur every time they use their powers.

Meanwhile, a new deadly villain is emerging in the form of Dar-Benn (Zawe Ashton), a Kree warrior revolutionary who has recently located a Quantum Band identical to the one Kamala was gifted by her grandmother that blessed the teenager with her energy powers. Desperate to find the other wristlet in a bid to gain absolute power, Dar-Benn seeks to mine the resources of other worlds in order to restore her war-ridden planet Hala to its former glory. Our new trio of heroines are the only ones standing in her way if they can find a way to work together.

For those wanting a Danvers-heavy sequel, The Marvels may prove to be somewhat of a disappointment. There's a reason Marvel didn't merely title this film Captain Marvel 2 like most MCU sequels. Larson is still very much the lead of this project, but Danvers often takes a backseat to allow Monica and Kamala plenty of screentime. When you have two actors as charismatic and talented as Parris and Vellani, that's not inherently a bad thing. But it does feel a little odd Danvers wasn't offered another solo outing like most of her Marvel compatriots.

That being said, Larson makes the most of what she's given, as we continue to see Danvers struggle with her damaged past and the mistakes she's made, particularly essentially abandoning Monica when she was a young girl. As a staunch loner who rarely plays well with others, it's a clever conceit to force Danvers to closely collaborate with a total stranger and someone she's been avoiding for years. The sparkling chemistry between Larson, Parris, and Vellani is the film's biggest strength and director Nia DaCosta wisely utilises it at every possible turn.

After stealing focus in WandaVision, Parris relishes the opportunity to explore Monica's tough exterior that hides the pain of everything she's lost and the fury over Aunt Carol breaking her promise to always be there for her. Amidst Danvers' impulsive attitude and Kamala's inexperience, Monica is the voice of reason here and Parris evolves her into a fully dimensional and entirely heroic character who earns her place in future MCU adventures.

But this film ultimately belongs to the vibrant Vellani whose youthful exuberance is a breath of fresh air in a franchise even the most ardent Marvel fans would admit is starting to feel a tad stale. Granted, if you didn't catch Ms Marvel, you won't have a clue who she is, but it's easy to catch up courtesy of a quick animated prologue. Kamala's positivity, sincerity, and wide-eyed joy are so damn adorable and her boundless energy is completely infectious.

While their constant presence doesn't make a whole lot of sense in this narrative, it's still great to see Kamala's exacerbated family (Zenobia Shroff, Mohan Kapur, and Saagar Shaikh) along for the ride. In the hands of a lesser performer, Kamala could easily be a grating little twirp, but Vellani shines so brightly in the role she was born to play.

DaCosta crafts plenty of terrifically thrilling action sequences, particularly those that play into the conceit of our trio constantly switching places during fight scenes. Anything involving our favourite flerken Goose is a riot, especially one ridiculous needle-drop moment featuring a song from Cats that left this critic chuckling like a fool. The same can't be said for a sequence involving a trip to Aladna, a planet whose inhabitants only speak in song. Yes, you read that correctly. Even as a fan of musicals, everything about this just didn't work. It feels like something from another film entirely and something so silly that even James Gunn wouldn't touch it.

And then there's a problem that often plagues these Marvel productions; a disappointing villain. Baddies like Thanos, Erik Killmonger, and Loki have all set the bar so high and it's a standard Dar-Benn doesn't meet. That's not a slight on Ashton's performance. She tries her utmost with what's on the page, but Dar-Benn is a noticeably paper-thin character. You get the feeling the film's 105-minute running time robs her of the chance to offer something more than a surface-level antagonist. We've seen this kind of motivation before. We've even previously seen a villain wield the same powers and weapon. It's all just a case of lather-rinse-repeat.

When all is said and done, The Marvels is far from the worst of the MCU but nowhere near its best. It's a good (and quick) time at the cinema but not exactly a great one. It's wonderful to see a superhero film led by three female protagonists, particularly when they combine together so damn well. But you just wish there was a bit more meat on the bones of this one to craft something deeper and more captivating. As usual, there are a few late kickers to tease what's next in the Marvel world. If the public's interest is still there by the time we arrive at that destination is another matter entirely.





Distributor: Disney
Cast: Brie Larson, Teyonah Parris, Iman Vellani, Zawe Ashton, Gary Lewis, Park Seo-joon, Zenobia Shroff, Mohan Kapur, Saagar Shaikh, Samuel L. Jackson
Director: Nia DaCosta
Producers: Kevin Feige
Screenplay: Nia DaCosta, Megan McDonnell, Elissa Karasik
Cinematography: Sean Bobbitt
Production Design: Cara Brower
Costume Design: Lindsay Pugh
Music: Laura Karpman
Editors: Catrin Hedström, Evan Schiff
Running Time: 105 minutes
Release Date: 9th November 2023 (Australia)