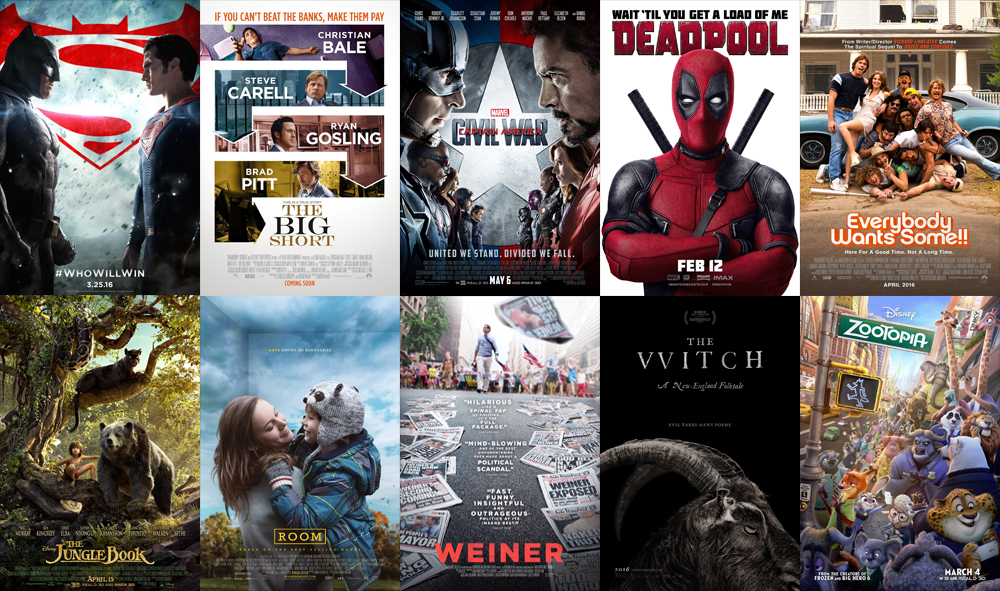 21 Jun

The 10 best films of 2016 so far

Half the year has come and gone. It's brought many cinematic delights, and more than a handful of horrendous disappointments. Let's keep it positive and take a look back at the ten best films of 2016 so far. I've kept it brief and kept them alphabetical, so as to not waste/spoil all my best material before my annual end of year top 10 where several of these films will no doubt make another appearance. So, have we seen the best film of the year yet? Time will tell…but it's very possible.

Batman v Superman: Dawn of Justice (Ultimate Edition)
Yes, I'm as surprised as you to include this here, given how savagely I ripped the film to shreds upon its initial release. But somehow, adding back 30-odd minutes of footage completely turns the tide on this one. Zack Snyder's director's cut (rather idiotically known as the "Ultimate Edition") has a cohesive narrative (the biggest problem with the original cut), feels less rushed, is far more entertaining, and gives deeper character development to several of the main players, namely Clark Kent/Superman. I understand the reasons Warner Bros. chose not to release a three-hour blockbuster, but it's a genuine travesty this was not the theatrical version. As far as I'm concerned, this is the only cut of the film anyone should ever see.

The Big Short
You probably remember I backed this wrong-horse to win Best Picture (second year in a row…oops), so it's no surprise it ended up on this list. While most film critics would have this in their 2015 list, we here in Australia had to wait until January to discover this quietly-assuming masterpiece. And what a discovery it was. A film that genuinely came out of nowhere to almost steal the Oscar race, Adam McKay's sharp and biting assessment of the 2008 GFC is a miracle of sorts. With his stroke-of-genius celebrity cameos (Margot Robbie, in particular), McKay manages to deftly explain the grossly-complicated finer points of the film's financial plot, making it accessible to those with limited knowledge of how Wall Street works, but more importantly, why it was collapsing on itself. With the year's best screenplay, and a brilliant ensemble cast, The Big Short is an absolute must-see.

Captain America: Civil War
In a year of catastrophic sequel disappointments (X-Men: Apocalypse, Independence Day: Resurgence, Alice Through the Looking Glass, Huntsman: Winter's War), the one shining light was Marvel's latest blockbuster which, for all intents and purposes, could really have been called Avengers 2.5. Expertly managing to blur the lines between mega-blockbuster and intelligent political thriller, the film shows that Marvel still has a few tricks left up its sleeve. And let's be honest. No other franchise does set pieces quite like the Marvel Cinematic Universe, and this chapter is no exception. The airport battle sequence is popcorn entertainment at its finest. The film is also the perfect introduction of Tom Holland as Spider-Man, who genuinely has the makings of the best Peter Parker yet.

Deadpool
2016's biggest surprise package. The signs were there. The trailer was a triumph. The source material was a goldmine. And after being in pre-production hell for almost a decade, the anticipation was high. Yet no one expected the breath of fresh air this film provided. After the comic-book movie exhaustion we've all suffered through the last few years, it seems Deadpool struck its chord at just the right time. The genre really had it coming. With its tongue-in-cheek and self-deprecating style, Ryan Reynolds gave us a new hero for the ages. And with his previous shaky history in this genre, he certainly owed us. Welcome back.

Everybody Wants Some!!
In 2014, a Richard Linklater film took out my top spot of the year. In 2016, he could damn well do it again. With this wildly-entertaining piece of cinema, Linklater reminds us that sometimes the best movies are those about having some good old-fashioned fun. With a screenplay that flows like a dream, and easily the year's best accompanying soundtrack, Everybody Wants Some!! is bright, funny, and overwhelmingly joyful. This film really hits the mark with its casting, with a whole host of young talent playing a wide-range of glorious characters. Is it a little too light and fluffy? Maybe. But you'll be having far too much fun to notice.

The Jungle Book
Let's be honest. Disney's new obsession with live-action remakes of its classic animated films has been hit-and-miss. For every triumph (Cinderella), there's been a disaster (Maleficent). Thankfully, Jon Favreau's interpretation is a triumph in every way, and frankly the best live-action remake so far. Even from the trailers, it was clear the visual effects were something special, with CGI animals so realistic, you'll feel like you're watching a nature documentary. That is, of course, until said animals start talking, and what a glorious voice cast they have behind them, particularly Bill Murray as Baloo and Idris Elba as Shere Khan. With a plot overflowing with warmth and heart, it is a true delight to watch.

Room
Another 2015 film that sad, old Australia had to wait for, but thankfully, it was worth it. While Room may have the bleakest plot of the year, it is handled with great beauty and grace, thanks to Lenny Abrahamson's brilliant direction and Emma Donoghue's superb screenplay. Is there any point in mentioning Brie Larson's performance? What is there to say that hasn't already been said? Her time in the sun has been coming for a while (she delivered one line in Don Jon and still stole the entire film), so it was a true joy to see her finally achieve the acclaim she deserves. But the real star here was Jacob Tremblay, who may just be the most exciting young actor we've seen since Hayley Joel Osment.

Weiner
One of the finest examples of documentary filmmaking we've seen in recent years. Whether you love the circus that is American politics or not, this is a fascinating character piece on the rise and fall and rise and fall of Anthony Weiner; the man who could be President, if he could only keep it in his pants. Thanks to unprecedented (and genuinely surprising) access to Weiner's life, we are given an intimate depiction of how one man's lust for power can quickly destroy everything around him, most notably his marriage. The scenes with wife Huma Abedin (Hillary Clinton's right-hand woman) are excruciating to watch, as we see the toll her husband's indiscretions begin to take on her. The dichotomy between her public (stand by your man!) and private (but rip him apart behind closed doors!) persona makes for utterly fascinating viewing.

The Witch
Films like It Follows and The Babadook have re-ignited faith in the horror genre in the last few years, and The Witch follows their lead but runs with it into new (and bloody disturbing) territory. There are no cheap jump scares here. No twist-ending to make you groan with frustration (I'm looking at you, The Village). This is pure, unsettling dread from the outset which leads to a conclusion that is as equally upsetting as it is horrifying. It's bleak, tense tone makes for genuinely uncomfortable viewing, but therein lies its power. This is precisely how horror is supposed to make you feel. And with slow-burn filmmaking like this, you'll feel it to your very core. You also may never look at a goat the same way again…

Zootopia
The Disney renaissance continues with their finest 3D-animation achievement yet (yes, even better than Frozen). Gloriously animated, the film takes a leaf out of Pixar's handbook on crafting an animated film that is humourous and entertaining, while masking a deeply important social message. It's not every day you get a "children's film" that dares to tackle issues like racial prejudice, gender inequality and social xenophobia. Don't worry. Your little ones won't really see this side. They'll be too delighted by the stunning character and world design plus the enchanting voice-over work, lead by the adorable Ginnfer Goodwin as Judy Hopps. On the surface, Zootopia is visual storytelling at its finest, but scratch that surface, and you'll discover one of the most socially relevant films of the year. And the genuinely-hilarious sloth scene is worth the price of admission alone.