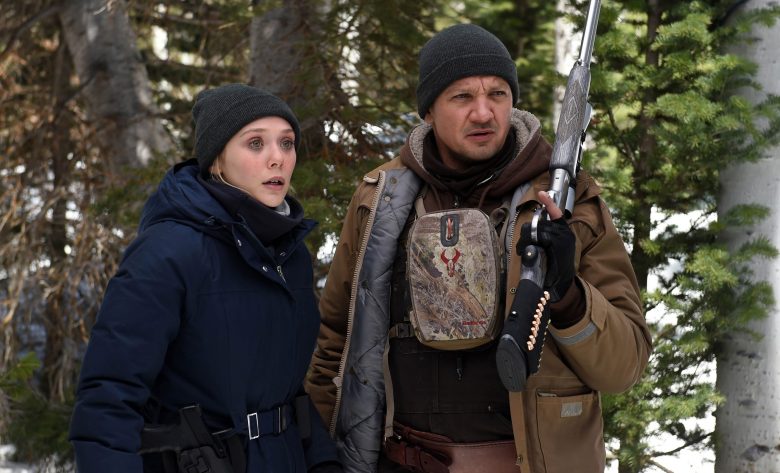 11 Aug

REVIEW – 'Wind River'

It's always an anxious moment to view the directorial debut* of a screenwriter you genuinely admire – especially a screenwriter who has crafted two of the best films of the last few years. Not every writer can make the leap to director. Most of them shouldn't. But there are those rare few who manage to pull it off. Thankfully, Taylor Sheridan is one of them.

With Sicario and Hell or High Water, Sheridan cemented his name as one of the freshest writers in the industry. And had it not been for Manchester by the Sea, he'd likely be an Oscar-winner. Now Sheridan stamps his name as a director to take genuine notice of with the gripping Wind River – a tense and slow-burn murder-mystery with one giant sucker-punch of an ending.

Wind River opens on the disturbing sight of a terrified young Natalie (Kelsey Asbille), running for her life, barefoot in the freezing snow, in the middle of the night. A few days later, her frozen body is uncovered by Cory Lambert (Jeremy Renner, in wonderful form), a wildlife hunter whose job on the Wind River Indian Reservation in Wyoming is more aligned with killing wolves and mountain lions than solving a murder mystery. But Cory notices evidence of foul-play, including rape. And it appears Natalie was desperately trying to get away from someone. Something is off. Very off.

A potential homicide on Indian land is considered a federal crime, so the F.B.I. are called in to dispatch an agent to lead the investigation. The only agent anywhere near the remote Wyoming property is a ballsy but inexperienced rookie, Jane Banner (Elizabeth Olsen) from Las Vegas, of all places. Quickly finding herself grossly unprepared (her flimsy attire will leave her dead in mere moments out at the crime scene) and in way over her head, she calls on Cory to act as her guide and pseudo-partner.

As it turns out, Cory knows Natalie's father, Martin (Gil Birmingham, the film's true standout), and also lost his teenage daughter three years earlier, in an unsolved murder that led to the collapse of his marriage to Wilma (Julia Jones). Fuelled by his failure to solve his own daughter's homicide, and by his strong friendship with Martin, Cory becomes a determined ally to Jane, and the two quickly form an uneasy partnership.

Utilising his keen insight of the rugged and harsh reservation landscape, and his strong connection to its native people, Cory begins to unravel the mystery of Natalie's final moments and just who she was running from on the night of her death. To say much more would spoil this film's intricate and gripping plot which ultimately leads to an explosive and exhilarating finale which hits you out of absolutely nowhere.

Taylor Sheridan's writing has always had the makings of a director. His screenplays for Sicario and Hell or High Water contained the kind of pacing and deep structure rarely seen in screenwriting. It comes as no surprise his direction deftly matches his writing skills. Sheridan is in complete control of this picture, and delivers something far more character-driven than his previous works. His slow-burn style of direction here reveals not only the ongoing mysterious plot, but the people involved and the pain they're all dealing with.

The thriller genre usually means action, and there are lashings of that here. But Sheridan seems far more concerned with replacing characterisation in place of explosions and guns, and the film is far richer for it. That can only come from a director who really understands the art of acting. Being a former actor himself (Sons of Anarchy fans would recognise him as Deputy Chief David Hale), his approach here is stellar, made even more impressive by filling his debut with actors who flourish under this kind of direction.

While he may have been spending the recent part of his career stuck in the Marvel Cinematic Universe, Jeremy Renner returns to fine form (remember how great he was in The Hurt Locker?) as the damaged and deeply tormented Cory. Renner delivers a wonderfully layered performance, as he slowly unveils the pain and loss his character has suffered. There's a quiet and impressive nuance to his work here, particularly with Cory's limited dialogue. His scenes with Gil Birmingham, as two fathers bound together in grief of their shared losses, are devastating to bear witness to, and the film's true high points.

Elizabeth Olsen (also seemingly trapped with Renner in Marvel's tight grip) is equally impressive as the sympathetic fish-out-of-water Jane. Even with her inexperience, Olsen empowers Jane with such strength and confidence, which is a testament to her acting prowess. But it's Gil Birmingham who really steals this one, with his tragic and emotional performance as the grieving father. Birmingham is consistently stoic, determined to keep his emotions at bay throughout the investigation, but it's a front, of course. When he finally let's go, it's truly powerful cinema.

Working with the stunning Wyoming setting, cinematographer Ben Richardson gives the film a sublime visual palette. With its seemingly endless snow-capped mountains and dense forestland, Wind River features some of the best aerial cinematography you will see on-screen this year. Sheridan and Richardson capture the gorgeous beauty of the area, which is a stark juxtaposition to the horrendous brutality of Natalie's demise. There's always something so visually captivating about deep crimson red blood on that perfectly crisp white snow. Ultimately this is a modern Western, and it's rare to see such a film set in the snow, outside of Tarantino's work. But it works so perfectly, giving the film such intense isolation that's just as effective as the usual desert setting of the classic Westerns.

Much like Sicario and Hell or High Water, Wind River succeeds by being a solidly-made and damn fine piece of cinema. It doesn't hurt that it's also dotted with some biting commentary about the continuing struggles of Native Americans in modern-day America. And there's even some sly stabs at the challenges women still face in a man's world.

Its gripping mystery will grab you. Its cinematography will capture you. Its acting will impress you. And its brutal and frenetic finale will blow your damn socks off. Taylor Sheridan, as a director, has officially arrived.
★★★★☆
*Yes, I'm well aware Sheridan has technically directed a feature before. But it was a schlocky horror film nobody saw, so we'll just pretend it doesn't exist. Kinda like how Beyoncé likes to pretend Dreamgirls was her acting debut…