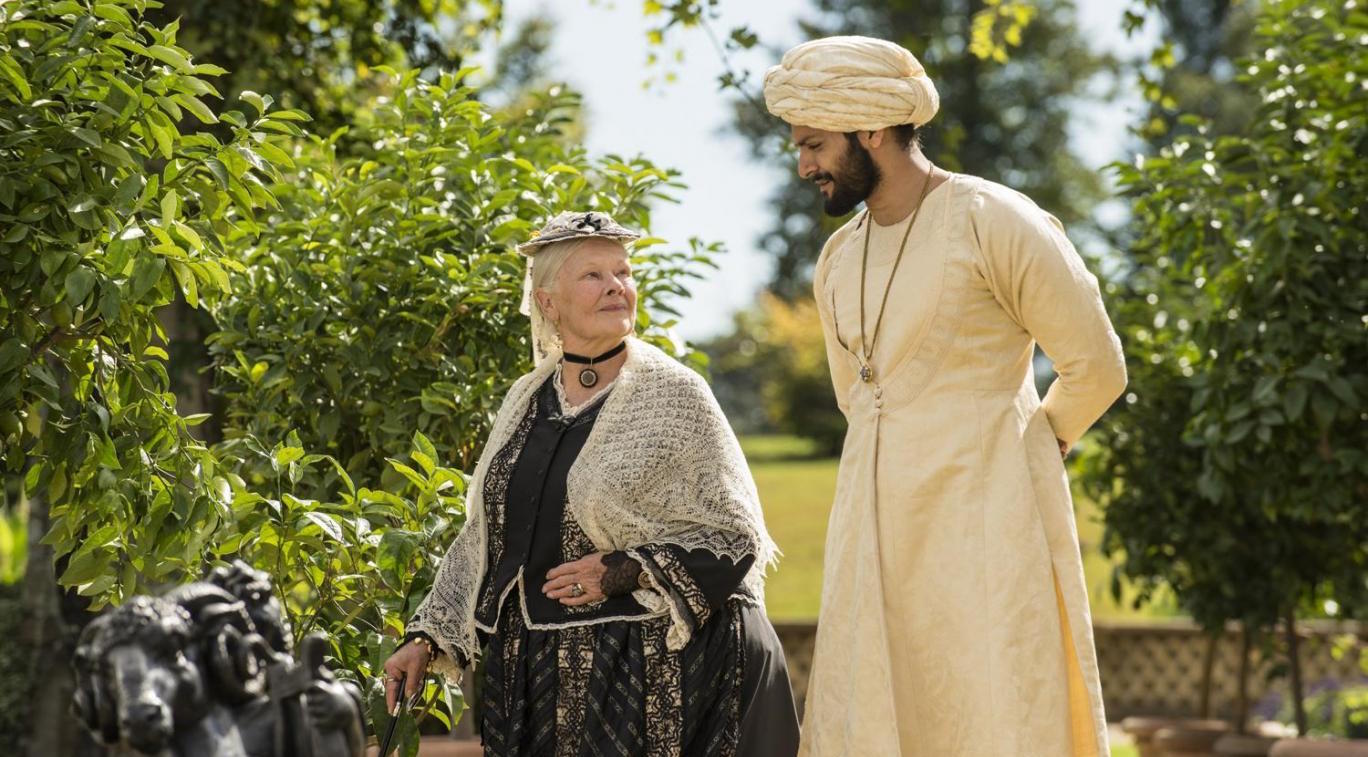 25 Sep

REVIEW – 'Victoria & Abdul'

Twenty years ago, Judi Dench marked her claim as a true cinematic leading lady with her Oscar-nominated performance as Queen Victoria in the delightful Mrs. Brown. In Victoria & Abdul, she returns to the role that made her famous. Reuniting with her Philomena director, Stephen Frears, Dench once again proves even the lightest of films can be elevated by her impeccable presence. Yes, this is really just the Judi show, but were you expecting anything else?

As the cheeky title card tells us, Victoria & Abdul is based on "true events…mostly", derived from Shrabani Basu's 2010 book and adapted by screenwriter Lee Hall. Our tale begins in 1887, where we find Queen Victoria (Judi Dench) in a terribly bored stupor with the events surrounding her Golden Jubilee celebrations. Literally pulled from her bed each morning, the Queen, now the longest-serving monarch in history, has seemingly had enough pomp-and-circumstance for one lifetime.

Dumped at the head of a giant dining table, the Queen, doing away with any semblance of decorum, literally stuffs her face with food, refuses to even bother with idle chit-chat with her guests, and promptly nods off, while she awaits a dessert course of profiteroles. Hardly the example of sophistication and grace we've come to expect from a Monarch.

But there's an underlying sadness to her severe apathy – she's horribly lonely. Both her husband, Prince Albert and beloved confidant, John Brown are gone. Her eldest son and next in line for the throne, Bertie (a wonderfully snide Eddie Izzard) is a pompous git, who is really just biding his time until his mother kicks the bucket. And her army of advisers, helpers, and the stuffy Prime Minister, Lord Salisbury (Michael Gambon) are driving her utterly mad.

All that changes when a chance encounter leads to the most unlikely of friendships. Abdul Karim (Ali Fazal), a 24-year-old Indian Muslim jail clerk, has been sent from Agra, India to present the Queen with a mohur – a gold coin to commemorate her reign as Empress of India. Yes, back in those days, they would send someone on a four-month long sea journey to simply present a coin to member of the royal family…

Despite being strongly advised on the strict rules (never turn your back, never make eye contact) for being in her Majesty's presence, Abdul can't help but sneak a peek at his beloved Queen. When they lock eyes, something strange happens – an instant connection is formed. And the Queen seems rather infatuated with the "terribly handsome" Indian servant.

It's not long before Victoria decrees Abdul as her personal "munshi" (a sort of spiritual adviser and teacher), much to the chagrin and consternation of all those around her, particularly Bertie. Desperate for knowledge of India, a land she rules but has never seen, the Queen insists Abdul open her eyes to his homeland, his religion, and his language. But, more importantly, his very presence by her side breathes new life into the old girl.

As the pair grow closer, and the Queen gives more prominence to Abdul's role as munshi, the royal household, filled with racist fear and suspicion of the mysterious brown man from the east, may not be able to hold their objections back much longer. And when Abdul's burqa-clad wife and mother-in-law arrive from India, things are about to get a whole lot more complicated.

So, let's get the fawning over Judi Dench out of the way, shall we? You know she's magnificent. I know she's magnificent. My cat knows she's magnificent. And in Victoria & Abdul, she is magnificent to watch, as always. Dench is really in her element here, playing Victoria with such authority and command, which remarkably falls away to reveal almost child-like playfulness, once Abdul brings the spark back to her life.

Much like Helen Mirren's work in The Queen, Dench gives deep humanity to a figure usually so devoid of human emotion in the public arena. Royalty are often far too prim and proper to ever let us see who they really are, but cinema like this gives us a glimpse behind the gilded cage of the monarchy.

There's also something so delicious about seeing Dench's Victoria be so harsh and dismissive to the band of uptight busybodies surrounding her, yet be so light, calm and downright giddy towards her newfound friend. It takes an actor like Dench to play both sides of this character so deftly. And, yes, it's likely going to be enough to snare her an eighth Oscar nomination.

But what of her counterpart, Abdul? Ali Fazal is dashingly handsome, and there's a beautifully endearing nature to his performance that's hard to resist. His adoration of his Queen is sweet and sincere, and when he talks of his homeland and beliefs, it's always delivered with such gentility and reverence. Fazal holds his performance as Abdul higher with great dignity, and there's something so utterly charming about his work here. But it's sadly let down by a lack of genuine depth and dimension to his character.

Despite their vast cultural differences, Victoria and Abdul's connection is perfectly understandable, namely due to Dench and Fazal's superb chemistry together. But what remains frustratingly unclear is Abdul's deep affection for a woman and an empire at complete odds with his life back home.

Abdul's refusal to acknowledge the Queen's deeply controversial occupational rule over his homeland of India is truly baffling. Frears appears to gloss over such deeply important issues, and pass them off as simply Abdul's naiveté or his lack of educational intelligence. But the munshi is clearly well-versed in so much about his cultural heritage that it's seemingly impossible he wouldn't be aware of such deeply important moral issues, and the importance of raising them with the most powerful woman in the world.

It's a missed opportunity by this film to touch upon such a contentious period for both England and India. There's a sense of misplaced romanticism displayed here that really does attempt to misrepresent Victoria's reign over India as something both beloved and cherished by the Indian people. It also robs Abdul of any real sense of character development, as the film never really shows us any sort of transformation or change during his days with the Queen.

Visually, the film is utterly gorgeous, with spectacular production design from Alan Macdonald, beautiful cinematography from Danny Cohen, and stunning costuming from Consolata Boyle. All three should be in serious contention come Oscar time. The location filming is a true delight, and it's hard not to get swept away in the epic period grandeur of a film like this, even despite its lack of serious narrative depth.

Perhaps this film is purposely sticking to the lighter side of entertainment, and leaving such heavy political drama for another piece of cinema to deliver. There's nothing wrong with that. Films have different intentions. There is an audience for this kind of bubbly fare. If Frears set out to make nothing more than a charming tale of a lonely, old woman finding some genuine happiness in her latter years, he succeeds completely.

And if Frears set out to make nothing more than a For Your Consideration campaign piece for his leading lady, he also succeeds completely. You'll never hear me complain about a piece of cinema showcasing the remarkable talents of one of the finest leading ladies we have.
★★★☆☆