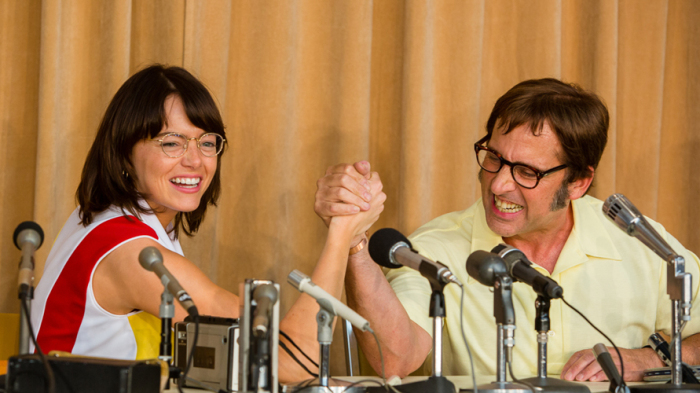 28 Sep

REVIEW – 'Battle of the Sexes'

Picture this – a talented, intelligent, brilliant woman, at the top of her field, is forced to prove her worth against a faded, arrogant, narcissistic clown of a man, who has no place being in the same arena as her. Sounds awfully familiar, right? Yes, poor Hillary wasn't the first exceptional female to battle a royal chauvinist pig in the public eye. And sadly, she won't be the last. But as the wonderful Battle of the Sexes proves, it's a fight always worth having.

Given the film was produced well before last year's unexpected election result, the team behind Battle of the Sexes could not have foreseen the deep, social relevance this story would ultimately have. Or perhaps they could, but for very different reasons, under a very different outcome. The result of a male vs. female tennis match may not seem to have the gravitas of a male vs. female election, but in 1973, it did. And this joyous film is exactly what the world needs right now.

It's the early 1970s, and Billie Jean King (Emma Stone, in even-better form than her Oscar-winning turn in La La Land) is the biggest name in women's tennis. At 29, King is the #1 female player on the circuit, and the first female athlete to earn more than $100,000 in a single year. Naturally, this makes her a huge feminist symbol for the rising women's liberation front – a role she takes on with incredible verve. It also paints a target squarely on her back from the deep misogyny still plaguing women's sport.

That misogyny is no further evident than when King realises her male counterparts are offered ten times the prize money, despite the fact women's tennis sells the same number of tickets as the men's tournaments. Together with her no-nonsense business partner, Gladys Heldman (Sarah Silverman, in deliciously vampy and Oscar-nom worthy form), King confronts the condescending boss of the USLTA, Jack Kramer (a fantastic Bill Pullman) and demands something be done.

Unsurprisingly, Kramer refuses to make any changes. After all, the "men are simply more exciting to watch," or so he thinks. Without a moment's hesitation, King announces her intentions to form her own rival tennis league, the Women's Tennis Association, and promptly steals away all of Kramer's best female players to join her cause. It's a gutsy move, and could spell disaster for King and the other women's careers, but she is steadfast in her determination. But behind closed doors, that strength is masking terrible self-doubt and a secret King has kept hidden her entire life.

King, while seemingly happily married to her dreamboat-handsome husband/manager/coach, Larry (Austin Stowell), is concealing her homosexuality. Times were different, and being out and proud wasn't exactly an option for the world's most famous female tennis player. But a chance encounter with confident Los Angeles hairdresser Marilyn Barnett (Andrea Riseborough) will awaken a side of King she either never knew existed or never allowed herself to act upon.

On the other side of this tale sits Bobby Riggs (Steve Carell, in sublime form), the 55 year-old former-Wimbledon champion, completely at a loss with life after tennis. Despite his outwardly chauvinist demeanor, he's ironically sponging off his suffering but tolerant wealthy wife, Priscilla (Elisabeth Shue), while dealing with his relentless gambling addiction.

Tired of merely gambling with his bunch of good old boys at the tennis club, Riggs concocts a plan to not only feed his habit, but get his name back in the papers, and crush the rising "hairy-legged feminist" movement for good – he's going to destroy King on the tennis court. But King, seeing right through Riggs' intentions, is not in the slightest interested, so he sets his eyes on her Australian rival, Margaret Court (Jessica McNamee), who's every bit as horribly homophobic as she is today.

In what will later be known as the "Mother's Day Massacre," Riggs annihilates Court 6-2, 6-1, and embarrasses the entire feminist movement, in the process. Unable to resist the urge any longer, King agrees to Riggs' initial offer, and the stage is set for the winner-takes-all $100,000 titular "Battle of the Sexes." But it's not the money King is after. It's the chance to take a stand and win or risk seeing her fight for women's equality come crashing to a grinding halt.

It's no surprise this film belongs to Emma Stone, and she is sensational to watch. Had she not won the Oscar this year for La La Land, she'd be taking one home for this. And who knows. Perhaps she still will. We haven't seen a consecutive Oscar winner since Tom Hanks in 1993/94, so why not? Stone's performance is enormously layered, and she brings a depth to King unlike anything she's given us before.

Stone instills such grace and strength into a woman completely under siege from the unfair world surrounding her. She even finds humour and light in the most unlikely scenarios, despite being continuously subjected to enormous misogyny, and you cannot help but cheer for her. If anything, her performance leaves you wanting even more. Any screenwriter would be wise to start developing a follow-up, exploring King's life after this match.

Her burgeoning relationship with Marilyn is genuinely beautiful to witness, and directors Jonathan Dayton and Valerie Faris handle their love with such care and compassion. While many will talk about the scene involving the pair's first sexual encounter, the truly memorable scene is their first meeting when Marilyn gives Billie Jean a haircut. It's shot with such intimacy and gentility, and ultimately ends up being far more sensuous and seductive than their later scenes in the bedroom.

While Riggs may be the "villain" of the piece, this is no male-bashing piece of cinema. Riggs never feels completely vilified, but rather a casualty and by-product of the era. The chauvinist style of his character is merely an act for a man desperate to cling to his fading fame, while also being a ruse to hide his genuine fear that King may wind up making a complete fool of him.

Carell is wildly impressive, and knows how to play this showman with expert skill. Despite his offensive actions, Carell makes it impossible not to pity such a pathetic and oafish fool. Ultimately, we're witnessing a terribly broken man, and it's hard not to sympathise with his plight, while at the same time giddily awaiting his downfall. His scenes with Stone are surprisingly rare, but when they do share the screen, their chemistry is utterly electric.

The supporting cast are just as wonderful as the leads. Silverman steals every single scene she's in, and genuinely deserves serious chatter this awards season. Shue is wonderful as Riggs' long-suffering wife, and there's a deep sadness to her performance of a woman in love with a chaotic mess of a man. Alan Cumming pops up as Ted Tinling, a flamboyant tennis outfit designer whose helpful advice to King provides the support she so desperately needs.

But the real surprise here is Stowell as King's relentlessly supportive husband Larry – a man so in love with his wife, he's accepted his place as a distant second to her first love of tennis. And soon, he'll accept another painful truth about his place in Billie Jean's life. But even when he begins to cotton on to her newfound relationship with Marilyn, his devotion to her never falters, and your heart will break for him. Stowell gives Larry such beautiful pathos, and there's never a shred of bitterness or anger to his performance, even though you expect this to come.

The "period" production design here is exceptionally done. The costuming and set-design is perfect, and it's emboldened by cinematographer Linus Sandgren (also fresh off an Oscar win for La La Land) 35mm photography. It gives the film the genuine 1970s look and feel it needs, but without ever feeling cheesy or overdone. The music cues also add to the glorious retro vibe of the piece, with perfect selections like George Harrison's "What Is Life" and Elton John's "Rocket Man," though strangely not John's "Philadelphia Freedom," which was named after and dedicated to King.

There is an overall sense of bittersweet aftertaste to this film. At one point, Tinling points out to King that times change, and she should know because she's changing them. But as last year's US election showed us, and the fact women are still being paid less than their male counterparts in all professional fields, perhaps they haven't changed as much as we think. Or we like to think. 40 years later, and the battle is still ongoing.

Battle of the Sexes may not dig deep enough into the real issues surrounding women's rights in the 1970s, but it is endlessly entertaining and genuinely inspiring, with Billie Jean King becoming perhaps the greatest cinematic female icon of 2017. Sorry, Wonder Woman. Stone's sublime performance, and the supporting turns around her, create true cinema magic, and it's hard not to love this film. Game. Set. Match.
★★★★☆