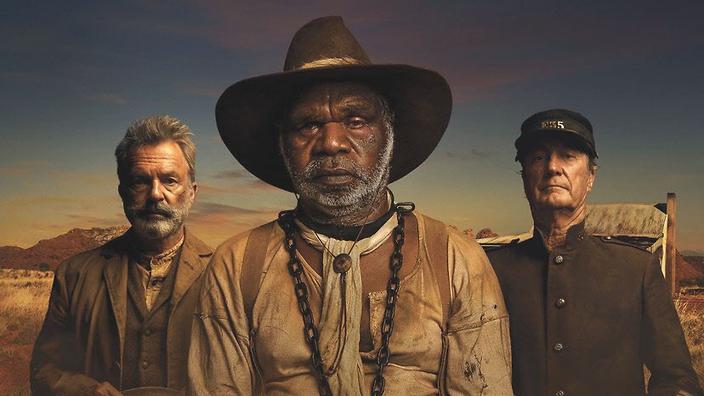 10 Oct

REVIEW – 'Sweet Country'

Warwick Thornton's evocative 2009 debut film, Samson & Delilah, stands as one of this country's greatest pieces of 21st century cinema. It was deeply uncomfortable viewing, but often, the best films are. With a grander scope, and a bigger budget, director Thornton delivers another remarkable piece of cinema with Sweet Country, an utterly brutal and devastating film, which, once again, highlights this nation's disgraceful treatment of its indigenous members.

Based on true events, and set in the Northern Territory in 1929, Sweet Country focuses on Aboriginal stockman Sam Kelly (a phenomenal Hamilton Morris), a calm and gentle man who lives and works with his wife Lizzie (Natassia Gorey-Furber) on the property of preacher Fred Smith (Sam Neill). When the new owner of a nearby property, Harry March (Ewen Leslie) arrives on Fred's doorstep, he is typically courteous of a preacher. But when Harry refers to Fred's workers as "blackstock," it's soon clear the two don't see eye-to-eye on the preacher's mantra of "we are all equal in the eyes of the Lord."

Against his better judgement, Fred agrees to allow Sam and Lizzie to accompany Harry back to his property to help with work on his station for a few days. It becomes a small decision that will have dire consequences for all involved. Once back at the station, Harry's true racist nature is exposed. Fueled by his alcoholism and carnal desires, he rapes Lizzie, and threatens to slit her throat if she says a word about it to Sam. Once the work is done, the pair head back to Fred, without so much as a drop of water or shred of food for their efforts.

The other piece of the narrative puzzle is fellow neighbour Mick Kennedy (Thomas M. Wright) and his Aboriginal workers Archie (Gibson John) and Philomac (played by twins Tremayne and Trevon Doolan), a scrappy 14-year-old mixed-race boy. The pair also find themselves borrowed by Harry to continue to work on his property. Philomac's playful curiosity enrages Harry, and he finds himself chained to a rock as brutal punishment for an innocent mistake.

When Harry awakes to find Philomac has escaped, he sets off for the preacher's home, armed for confrontation. At Fred's property, he immediately starts to open fire on the home, assuming the boy is hiding inside. But it's actually Sam and Lizzie cowering within. When Harry bursts through the door, Sam shoots him in self-defense, leading to a bloody end for the racist maniac.

Knowing his presumed guilt and potentially lethal fate, Sam and Lizzie flee, taking off into the barren outback. Soon enough, a search party is formed, headed by local lawman, Sergeant Fletcher (Bryan Brown). Making up the rest of the pack are Archie, serving as their tracker, Mick, and Fred, who tags along to ensure Sam is brought back alive to face proper justice by trial.

While it may follow many of the similar tropes of a classic Western good guys hunting a bad guy thriller, Thornton avoids falling into a the trap of giving us a hollow, fast-paced adventure. Screenwriters David Tranter and Steven McGregor are much more concerned with focusing in on the characters to flesh them out, which they achieve wonderfully well. Sam and Lizzie are given such quiet dignity and poignancy. Archie is constantly conflicted by his devotion to his people versus his obligation as tracker/hunter. Fred is the deeply conscious and caring moral compass of the piece. Even our villain, Harry, is provided a detailed backstory to explain, but never justify, his cruelty and viciousness. It's rare to find such character development within this genre, and the film is better for it.

While it will come as no surprise the performances of Bryan Brown, Sam Neill, and Ewen Leslie (one of this country's brightest stars) are sublime, it really is the subtle and understated performances of the amateur Indigenous actors that make this film something truly special. Hamilton Morris brings such incredible depth and deep sadness to Sam, which is remarkable, given his lack of dialogue. Likewise with Natassia Gorey-Furber as the traumatised Lizzie, who barely utters a word, but you feel every fiber of her suffering. Gibson John is a wonderful discovery, and Archie is a true highlight. But the scene-stealers are the Doolan twins as Philomac, who is perhaps the most attune and perceptive character in the whole piece. The twins give Philomac such cheek and charm, and there's something so genuinely captivating about him.

Working as his own cinematographer, with assistance from son Dylan River, Thornton paints Sweet Country with such a wonderful visual sense. It's seems odd to assign "beautiful" to such a dark piece, but there is genuine beauty here. Avoiding excessive wide-shots or aerial photography, Thornton captures the true contradicting nature of the outback settings. His style of photography is filled with the juxtaposition of barren and bare desert sands against the glorious colours of the outback sky, all captured in the most wondrous natural lights. Thornton, an outback native, clearly understands how to best film the landscapes he is so familiar with, and the end result is truly glorious.

But it's the way Thornton constructs this piece that is truly impressive, with its plot and editing style that zig-zags through quick and subtle flashbacks and flashforwards that give the audience a taste of what has been and what's the come. You're never quite sure whether these visions are in the past or the future, and often, they become something completely unexpected. In the hands of a lesser artist, this kind of meandering storytelling can prove costly to an audience's experience, but Thornton handles it with perfect precision and deft accuracy. Likewise with his choice to leave the film completely un-scored, but rather focus on the natural and unnatural sound effects to be the film's true musical score.

After gifting us with Samson & Delilah, it was obvious Thornton was a shining new talent to truly spotlight and highlight the lives and stories of his people. With Sweet Country he makes his mark even further, with a film that demands its audience recognise and bear witness to some ugly and confronting truths about Australia's dark past. It's a film that questions the very nature of justice, and never attempts to offer an easy answer to whether that justice is ever truly served. No better is that summarised than preacher Fred Smith desperately questioning, "What chance has this country got?"

A Western that blurs the lines of what the genre really has to be, Sweet Country is bleak and dark, with an ending that will leave you breathless. Unlike your classic spaghetti Western, there are no true good guys and bad guys here. Each character walks a thin line between both, and it's dazzling to watch and wonder what fate awaits each of them. It's this deepening mystery that will keep you completely captivated and makes for a truly gripping experience.

With stellar performances throughout and some sophisticated and exceptional filmmaking from Thornton, particularly his impeccable cinematography, Sweet Country is the best Australian film you will see this year, and one of the greatest there has ever been. A piece of cinema that will both enrage and inspire you, Sweet Country is a true triumph of cinema.
★★★★1/2☆
Sweet Country is currently screening at the Adelaide Film Festival, and will open nationwide on January 25.