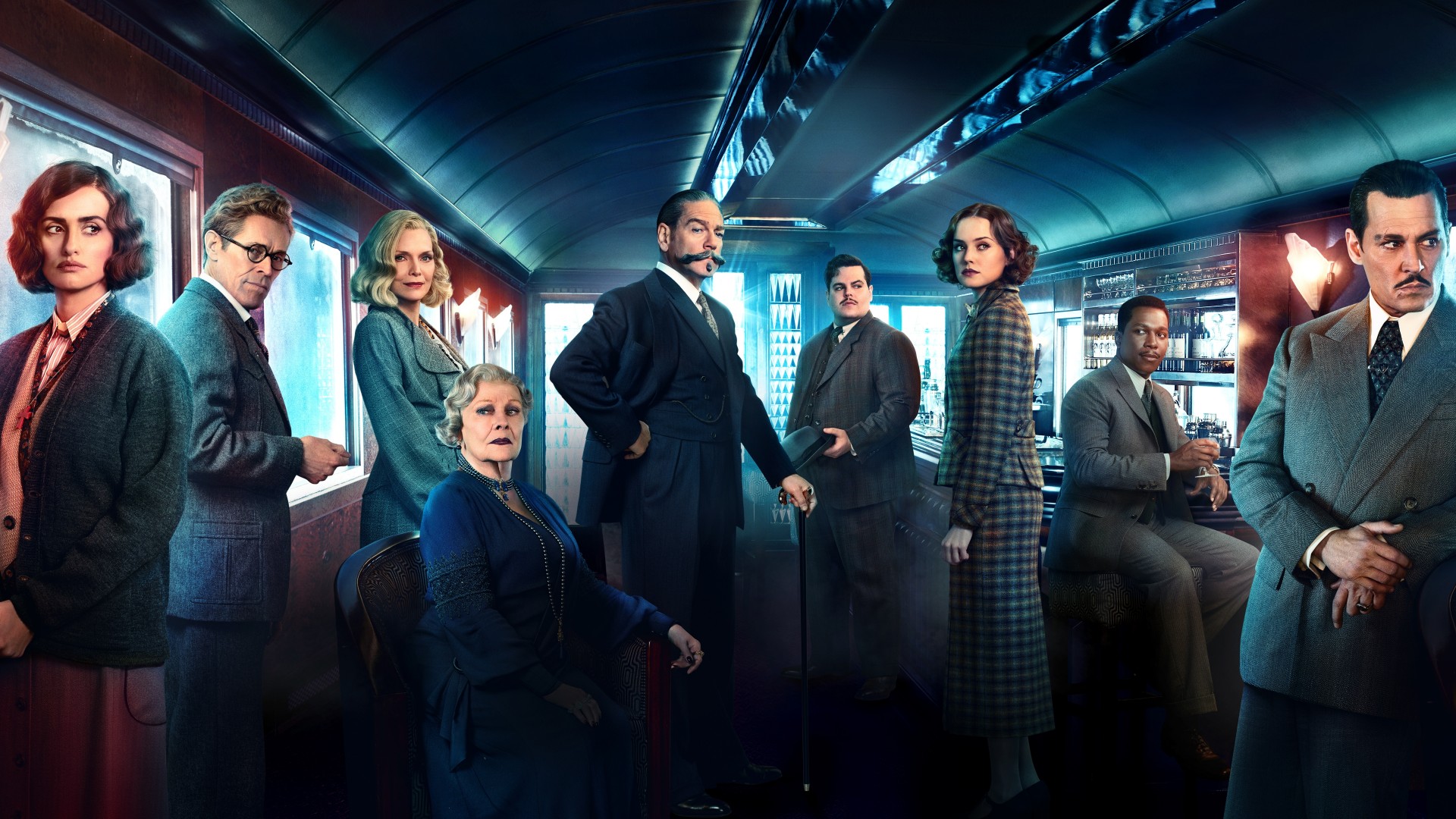 10 Nov

REVIEW – 'Murder on the Orient Express'

Remakes are all the rage in 21st-century cinema. The majority are merely a paltry attempt to grab some hefty box-office dollars, based purely on name recognition alone. There are the occasional few with far less grandiose goals in mind, usually more concerned with merely introducing a classic tale to a new audience. Such is the case with director Kenneth Branagh's adaptation of Agatha Christie's beloved 1934 tale of murder and mystery, Murder on the Orient Express. While it may not break away from the 1974 film version (a perfectly fine film in its own right), Branagh still manages to deliver a lively and fresh re-imagining to delight audiences, particularly those unfamiliar with the source material.

Directing himself for the eighth time, Branagh is front and centre as infamous Belgian detective Hercule Poirot, a quirky, dandy of a fellow with the keenest of eyes and the most glorious mustache you'll see on-screen this year (or decade). Poirot's knack for solving the most impossible of crimes spurns from the keen way he sees the world for "as it should be," meaning even the smallest of imperfections stand out to him. Handy gift to have when you're a detective searching for the faintest of clues in a crime scene.

His skills are gloriously on display in the vibrant opening sequence, which serves as the perfect introduction to Branagh's spirited performance. Taking place at the Wailing Wall in Jerusalem, Poirot, with his flair for theatrics, examines the meagre evidence of the theft of a priceless artifact, and quickly catches the culprit, even managing to anticipate and thwart their daring escape plan.

After his latest success leaves the beleaguered detective with a case of exhaustion, Poirot looks to take a relaxing journey on the luxurious Orient Express from Istanbul to Calais, hoping for "three days free of care, concern, or crime." Little does the poor detective realise his decision will lead to three days full of the three worries he desperately hopes to avoid.

Once on-board, Poirot meets the eclectic group of passengers joining him for the journey in the first-class cabin – a scrupulous-looking mafioso art dealer (Johnny Depp), his butler (Derek Jacobi) and secretary (Josh Gad), a Russian Princess (Judi Dench) and her German maid (Olivia Colman), a governess (Daisy Ridley) and her secret lover (Leslie Odom Jr.), a lonely widow (Michelle Pfeiffer), a saintly missionary (Penelope Cruz), a suave auto tycoon (Manuel Garcia-Rulfo), a hot-headed dancer (Sergei Plunin) and his drug-addled wife (Lucy Boynton), and an edgy German professor (Willem Dafoe). Quite a crew for the detective to be saddled with.

Once the journey is underway, Poirot is approached by one of his fellow passengers (I'll avoid spoilers, for those uninitiated), desperate for his help. It seems someone has been sending them some rather threatening letters, and the recipient hopes to procure protection from the detective. Finding something off about this proposal ("I don't like your face," he decrees), Poirot swiftly refuses. The very next morning, that passenger is discovered murdered in their cabin. Dun-dun-dunnnn.

Right on cue, an avalanche forces the Orient Express to make an unscheduled stop, high atop a wooden aqueduct. With hours before rescue workers arrive, a dead body laying in cold blood, and a cabin full of suspects, it falls to Poirot to solve the case and flush out the murderer among the passengers.

Once the mystery begins, Branagh gets the chance to show off the acting chops of his impeccable ensemble cast. But with such a sublime line-up of talent, and a tidy running time of 114 minutes, not everyone gets nearly as much screen-time as they deserve. That's not to say there's a weak link in the bunch. They all do a fabulous job with what they're given, particularly when each is let loose and allowed to chew up as much scenery as they possibly can. But, as with practically every mega-ensemble film, barely any of these wonderful characters are given much time to really develop.

Particularly wasted are supreme talents like Dafoe, Dench and Cruz, who are barely given much more to do but stand around and look annoyed with the entire investigation. Of the mysterious suspects, Pfeiffer is the MVP, continuing her stellar 2017 run of stealing focus from those around her. She's completely captivating to watch, as she slinks around the cabin, bringing far more depth to her character than it first appears. She's almost outdone by Ridley, who is just as enthralling to behold here as she was in Star Wars: The Force Awakens. There's something about her presence that you cannot take your eyes away from, and it's a shame she's not given more to do.

But the real star here is Branagh himself, both as actor and director. He handles both duties sublimely well, with genuine enthusiasm and boundless energy. Poirot could so easily become a farcical caricature in the hands of a lesser performer, but Branagh finds the humanity and the intelligence beneath the campiness. That's not to say he doesn't deliver the camp too. He does. But it's always balanced with the deep seriousness of the events surrounding him, and the character never gets away from him as an actor. However great it is, his performance may be at the expense of those surrounding him though.

As director, he has crafted some gorgeous visual moments throughout, especially thanks to the stellar cinematography from Haris Zambarloukos, filled with wide landscape moments, long tracking shots, and gloriously choreographed zig-zagging movements above, around, and inside the train. It becomes a dazzling visual journey, and on those merits alone, it's a true triumph. Branagh has crafted something that feels decidedly old-fashioned, and yet somehow sparklingly new.

While necessary, some of the film's CGI sequences are jarringly obvious, but they are few and far between, and hardly distracting overall. The film more than makes up for these moments with some utterly sumptuous and truly beautiful costume and production design, which demand contention for this year's awards season. The train is a character all within itself, and the set design throughout the cabin is utterly gorgeous. Branagh knows this, and barely an inch of his breathtaking set isn't captured on film at some point.

While the film does begin to become slightly tedious, as we head towards the big revelation, and the cast may be slightly underused, it's still an entertaining piece of cinema, especially if this is your first journey on the Orient Express. The lush visual moments are worth the price of admission alone, as is Branagh's charming and quirky performance as Hercule Poirot, which hopefully we'll see again someday.

Hop aboard and just enjoy the ride.
★★★☆☆