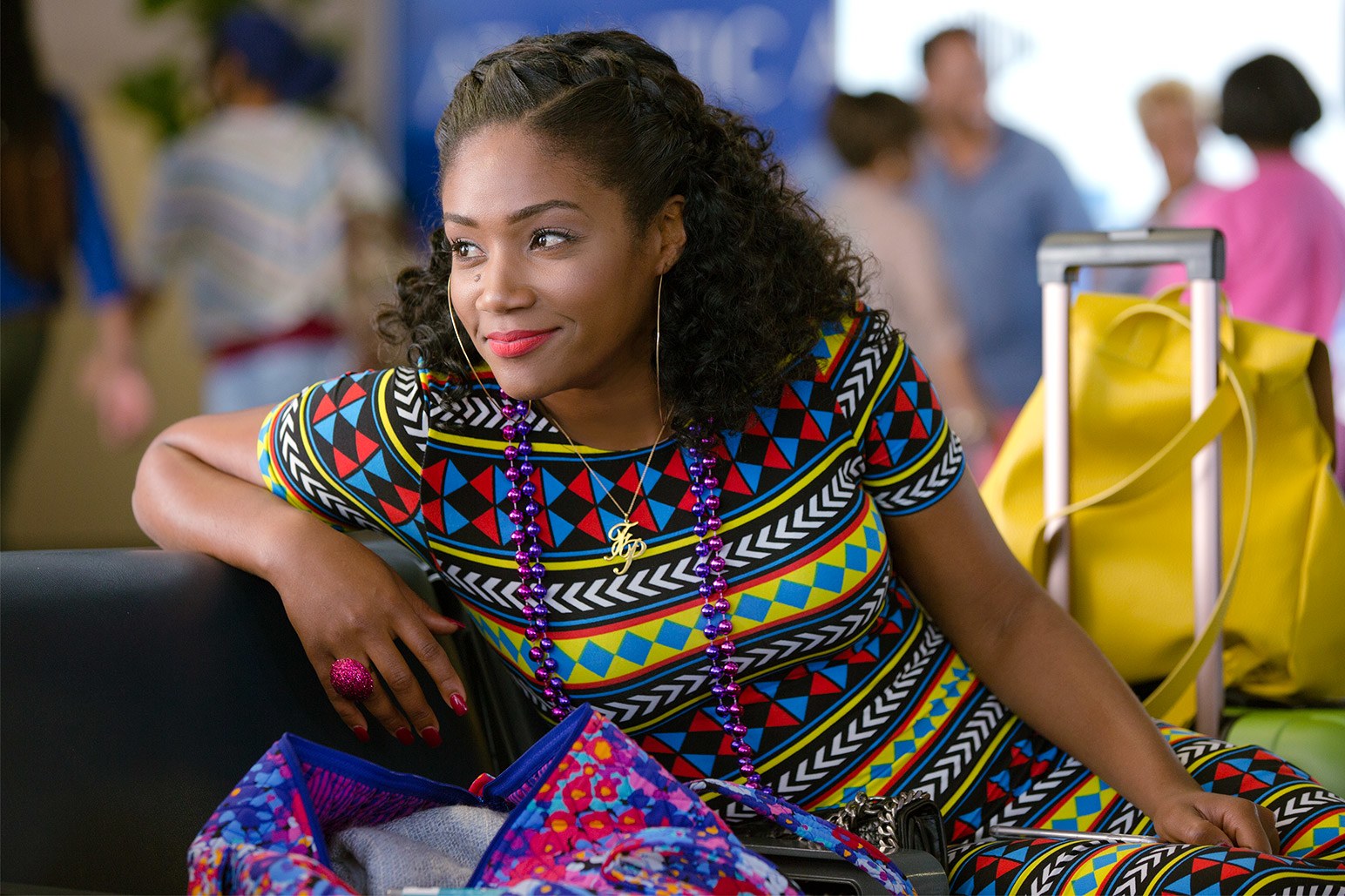 04 Dec

OSCARS WEEKLY – The curious case of Tiffany Haddish and why she deserves to be nominated

If there's one genre the Academy Awards consistently overlooks, it's comedy. And it's not for a lack of options. Sure, it's easy to downplay that as a case of far more shining examples of drama than comedy each year. That may be true, but when comedy works, it deserves recognition. After all, drama is easy. Comedy is hard. Yet year after year, the Oscars routinely fail to nominate either comedic films or performances.

Last year, not a single comedic nomination in Best Picture or any of the acting races. Likewise with the year before. And the year before that. We have to travel all the way back to 2014 to find something even remotely comedic, with June Squibb's Best Supporting Actress nomination for Nebraska. If we're talking Best Picture, it's a 20-year journey back to 1997 when As Good As It Gets and The Full Monty were both nominated. Since then, nothing. Okay, maybe you could call Juno or Up in the Air "dramedies." And maybe even Lost in Translation. But in terms of comedy in its purest form, the Academy has continually turned away.

And so we get to this year's options. Has it been a great year for pure comedy? Not exactly. But one film stood head and shoulders above the rest – Girls Trip. The genuinely hilarious and wonderfully entertaining story of the "Flossy Posse" pushed the boundaries and delivered the laughs, thanks to a whole swag of uproarious set-pieces and a phenomenal ensemble cast. But in a film of great performances all-round, there was one performer who stole the whole damn film. Considering her cast mates were veteran comedic performers Regina Hall, Queen Latifah, and Jada Pinkett Smith, that's a true miracle. And her name needs to be read out for Best Supporting Actress, come Oscar nomination morning. That name is Tiffany Haddish.

A nomination in the Supporting categories for a truly fantastic comedic turn is actually somewhat of an Oscar tradition. Kevin Kline in A Fish Called Wanda, Melissa McCarthy in Bridesmaids, Robert Downey Jr in Tropic Thunder, Marisa Tomei in My Cousin Vinny, Mira Sorvino in Mighty Aphrodite, Dianne Wiest in Bullets Over Broadway, Joan Cusack in In & Out, to name just a few. While the Academy may avoid comedy in the Picture race, they often love to acknowledge great comedic supporting roles. Four of those examples even won the damn thing. But what they have routinely failed to do is nominate a great comedic performance from a woman of colour.

Now I know you will say they did in 1991 when Whoopi Goldberg was not only nominated but also won Best Supporting Actress for Ghost. And I'll give you that. But Ghost was not a comedy. And there was plenty of drama in Goldberg's performance. In terms of a pure comedic performance from a woman of colour in a pure comedic film, it's never happened. In a year where the Oscars are potentially facing another #OscarsSoWhite backlash, with zero acting nominations for people of colour a distinct possibility, the time to correct that wrong is even more important.

And that's not to suggest Haddish should only be nominated to make up some sort of "we're not racist" quota. Far from it. The suggestion of her nomination is by no means tokenism and an attempt to deflect bad publicity. It would merely be a cherry on top. Haddish deserves to be nominated because she gives a damn phenomenal performance. In Girls Trip, you cannot take your eyes off Haddish. She steals focus and commands every single scene she's in, with her energetic and vibrant performance. She gets the film's best lines. She gets the film's best scenes (that zip line incident, the grapefruit scene, the hotel lobby fight). She is the star of the show. Strong, fierce and downright hilarious. Dina was a true joy to behold. It's the kind of knock-out role that deserves awards attention, so why are we not taking her seriously?

Many will say the film and her character are far too crass and "offensive" for the Oscars. I can see that. There's a few "boundary pushing" moments in Girls Trip the old white men of the Academy may be turned off by, especially the zip line sequence. But what I don't see is how Haddish's Dina is all that different to Melissa McCarthy's Megan in Bridesmaids? Let us not forget McCarthy gave us a scene where she defecated into a bathroom sink, while shouting the infamous line "it's comin' out of me like lava!" and an intimate sequence involving Megan, an air marshal and a footlong sandwich…and still went on to an Oscar nomination. If you can nominate a performance like that, you can nominate Tiffany Haddish.

There's room for Haddish's performance in this year's Supporting Actress race. It's hardly a loaded category. Yes, we have our two-horse race for the winner between veterans Allison Janney and Laurie Metcalf, but the remaining three slots are easily up for grabs. One of those deserves to go to Tiffany Haddish. It was one of the most talked-about performances of the summer, and there's no reason not to reward that. She was just awarded this very category by the New York Film Critics Circle. Not nominated. She won. And while we awards watchers know a NYFCC win can often be an oddity and doesn't always equal an Oscar nomination, it does happen. And should happen for Haddish.

Universal Pictures were able to effectively campaign for McCarthy, despite many thinking it was almost impossible. They're handling Girls Trip too, and can easily repeat this success. So the time has come to get behind Tiffany Haddish and get her the Oscar nomination she deserves. Get her a Globe nomination. Push for a SAG one too. And then it's on to Oscar nomination morning.

The woman is a comedic star in the making. The Academy could cement that status by nominating her. Make it happen.