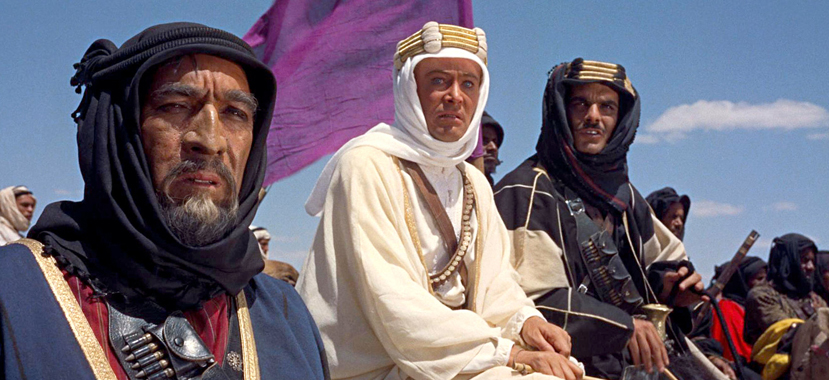 08 Jan

THE BEST PICTURE PROJECT – 'Lawrence of Arabia' (1962)

In 1963, the 35th Academy Awards ceremony was held at the Santa Monica Civic Auditorium in Santa Monica. Honouring the films released between January 1, 1961 and December 31, 1961 the awards were held on April 8. The ceremony was hosted by Frank Sinatra for the first time, but he almost didn't make it. Sinatra was running late, and forgot to attach a security clearance sticker to his car. Amazingly, he was refused admittance to the arrival area. Sinatra was forced to park his car in the street, and walk into the auditorium through the main entrance.

Patty Duke became the first performer under 18 to win a competitive award. Duke, only 16-years-old, won Best Supporting Actress for her work in The Miracle Worker. In previous years, she likely would have been relegated to the now-defunct Juvenile Award category. After four losses, Gregory Peck finally won an Oscar for Best Actor, taking home the award for his iconic performance in To Kill a Mockingbird.

As we saw in the television show Feud: Bette and Joan, this ceremony would go down in Oscars infamy. Bette Davis returned to the Academy Awards, after a ten-year absence in nominations, and was strongly favoured to win Best Actress for her comeback performance in What Ever Happened to Baby Jane? Little did she know a smear campaign had been crafted against her, led by co-star Joan Crawford, who was furious she too was not nominated. Crawford also had commitments from several of the nominees absent on the night to accept the award on their behalf, should they be victorious. When the absent Anne Bancroft was announced as the somewhat surprise winner for The Miracle Worker, Crawford strode onto the stage, much to Davis' chagrin.

Citing his disapproval with the Academy comparing and awarding artistic work, George C. Scott would become the first actor nominated for an Academy Award to openly refuse their nomination, after his work in The Hustler scored him a Best Supporting Actor nomination. Scott publicly turned down the nomination, and refused to attend the ceremony. In 1970, Scott would take it one step further, which we'll get to in a future post.

Leading the field with 10 nominations and seven wins including Best Picture, Lawrence of Arabia was the night's big winner. It's fair to assume it may have captured a further two awards, for Best Actor and Best Adapted Screenplay, had it not been competing against the much-loved To Kill a Mockingbird. The film marked the third Best Picture winner from producer Sam Spiegel, after On the Waterfront and The Bridge on the River Kwai, and the second Best Director win for David Lean, after his victory for The Bridge on the River Kwai, five years earlier.

The nominees:
Lawrence of Arabia
The Longest Day
The Music Man
Mutiny on the Bounty
To Kill a Mockingbird

The winner:
Lawrence of Arabia

Based on the life of T. E. Lawrence, Lawrence of Arabia is the epic historical drama of one man's incredible journey, both physically and mentally. The film opens with the tragic death of Lawrence (Peter O'Toole) in a motorcycle accident in Dorset at the age of 46. The story then takes us back 20 years earlier to Cairo, where we find a younger Lawrence commanded to enter the desert and locate Bedouin Prince Feisel (Alec Guinness), a British ally leading the Arab revolt against the Turks in World War I. After impressing Feisel with his frankness and honesty, Lawrence is asked to join Feisel's battle. Lawrence will embark on an epic journey and become an integral figure in the Arab revolution and the destruction of the Ottoman Empire.

Why did it win?
It was time for the Academy to head right on back to a sprawling, ambitious blockbuster, and, once again, they were dazzled by the enormous and impressive production that was Lawrence of Arabia. Much like Ben-Hur, the scale and scope of this film were unrivaled. Filmed on location in Jordan and Morocco, the film had a staggering budget of $10 million, with many believing the final number blew out to around $15 million. The total production took almost a year to complete, and featured 1,000 cast members and a crew of more than 250 people. With a final running time of 222 minutes (including overture, intermission and exit music), it still stands as the longest Best Picture winner of all time.

Despite its long running time, the film was a massive commercial success, taking in $44 million at the US box-office to become the highest-grossing film of 1962. It also received rave reviews from critics, with the film receiving acclaim for its direction, acting, and impressive production. The New York Daily News called it "both terrifying and deeply moving in its lonely grandeur," while Variety hailed it as "a sweepingly produced, directed and lensed job."

The Academy already had deep love and adoration for both producer Sam Spiegel and director David Lean. This was to be their defining magnum opus, and voters lapped it up. In an extremely competitive year for the Best Picture race, they went with the film that was more daring in its production and more dazzling in its results. Hardly surprising, really.

Did it deserve to win?
A lot of the exhaustively-long films of this era make for rather rough viewing nowadays. Often you find yourself wondering if the editor even worked on the film. However, even at three-and-a-half hours long, you cannot say this about Lawrence of Arabia. Every single minute is entirely required viewing. Every single minute is enthralling and engaging. And the film's visuals feature some of the most sublime and stunning cinematography ever captured on film.

Even on a widescreen television, Lean's visuals are breathtaking. In a cinema, they are something else entirely. Working with cinematographer Freddie Young, Lean captures the majesty and the beauty of desert landscapes like few other films. To this day, it's practically unmatched in its glory. There is a transition moment from Lawrence blowing out a match that instantly cuts to a glaring sunrise that actually makes me audibly gasp. It takes a mighty film to elicit such a reaction from this viewer. Lawrence of Arabia does it several times.

But visuals are only part of its grandeur. O'Toole's performance is an absolute triumph, and it's a damn shame he wasn't awarded Best Actor. Then again, he lost to Gregory Peck for To Kill a Mockingbird, so you can't be too upset. In O'Toole's deft hands, Lawrence becomes an unconventional and peculiar cinematic hero. With his strange speech and mannerisms, there's something decidedly odd about Lawrence, and yet, he's still entirely charming and endearing. That's the majesty of Peter O'Toole. He's crafted something so unique and refreshingly different, and it's a glory to behold.

With terrific supporting turns from Guinness and Omar Sharif, and that now-iconic and sweeping score from Maurice Jarre, Lawrence of Arabia is still as impressive and glorious as it was in 1962. A visual masterpiece that still has the ability to impress today, it is a film that truly stands the test of time. It remains one of the greatest pieces of cinema of all time, and one of the most deserving films to ever win Best Picture.