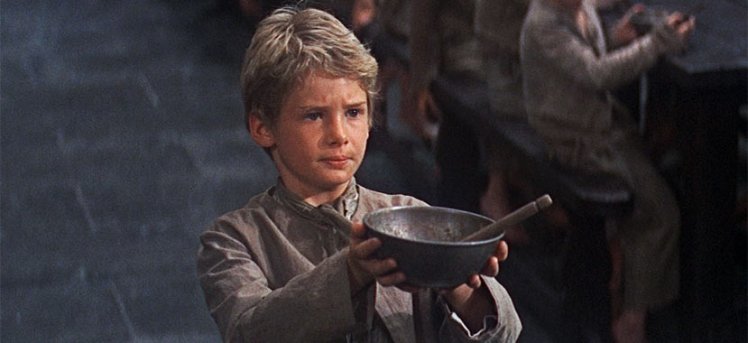 14 Jan

THE BEST PICTURE PROJECT – 'Oliver!' (1968)

In 1969, the 41st Academy Awards ceremony was held at the Dorothy Chandler Pavilion in Los Angeles. Honouring the films released between January 1, 1968 and December 31, 1968, the awards were held on April 14. The Oscars moved back to Los Angeles and into their brand new home, the 3,400-seat Dorothy Chandler Pavilion. The awards would remain here for the next two decades. The ceremony was broadcast to a worldwide audience for the first time ever, with the telecast screening in 37 countries around the globe.

This year marked the first (and only, to this date) tie for Best Actress, with Katharine Hepburn and Barbra Streisand receiving the same number of votes, and sharing the award for their work in The Lion in Winter and Funny Girl, respectively. This was Hepburn's second consecutive win, making her the third performer to win an acting Oscar two years in a row. It also marked Hepburn's 11th acting nomination, making her the most nominated actor in history, at the time, and overtaking Bette Davis' record of 10 nominations.

After his death in 1966, Walt Disney was posthumously awarded his 22nd and final competitive Academy Award, for his work on the cartoon short Winnie the Pooh and the Blustery Day. It also marked his 59th nomination, and took his total Oscar tally to 26, with four honorary Oscars adding to his 22 competitive wins. To this day, Disney still stands as the most nominated and most awarded individual in Oscars history.

There was controversy over the eventual winner of Best Actor. Despite mixed reviews from critics and the film receiving no additional nominations, Cliff Robertson (known later to audiences as Uncle Ben in Sam Raimi's Spider-Man trilogy) took home the award for his performance in Charly, beating the more favoured performance of Peter O'Toole in The Lion in Winter. After the ceremony, the Academy expressed concerns over Roberton's "excessive and vulgar solicitation of votes," and many believed he won the award based on his campaigning, as opposed to his performance.

The night belonged to a musical, once again, but it would be the last musical Best Picture winner until Chicago in 2003. Leading the field with 11 nominations, the British musical Oliver! swept the awards, taking home five Oscars including Best Picture and Best Director. It became the first (and only, to date) G-rated film to win the top prize, and would mark the last British film to win Best Picture until Chariots of Fire in 1982.

The nominees:
Funny Girl
The Lion in Winter
Oliver!
Rachel, Rachel
Romeo and Juliet

The winner:
Oliver!

Based on the stage musical adaptation of Charles Dickens' classic novel Oliver Twist, Oliver! is the tale of an orphan boy searching for his place in 1830s London. After his mother died during childbirth, Oliver Twist (Mark Lester) is sent to live in an orphanage. The now 9-year-old orphan manages to escape his harsh treatment at the orphanage and make his way to London. It's on the streets of London he meets a group of young street boys, headed by the Artful Dodger (Jack Wild), who work as pickpockets for their master, Fagin (Ron Moody). After a bungled robbery of the wealthy Mr. Brownlow (Joseph O'Conor) leads to Oliver's arrest, the kind Mr. Brownlow takes pity on Oliver and offers to take him in. But Fagin has other plans, and his henchman Bill Sikes (Oliver Reed) is sent to kidnap Oliver and stop him from revealing Fagin's web of criminal activities.

Why did it win?
For one last time, before a three-decade long break, the Academy fell in love with a lavish and elaborate movie musical. But many believed they ultimately went with the wrong musical. Leading into the ceremony, it was widely assumed the race for Best Picture was between Funny Girl and The Lion in Winter, with most giving the edge to the Barbra Streisand-led musical, which was enormously popular with audiences and critics. However, the film failed to receive a Best Director nomination for William Wyler, which may have ended its Best Picture chances. And despite eight nominations, Streisand was the film's sole winner.

Instead, they went with another very British film, filled with glorious period set and costume design, and a whole swag of sensational musical numbers. The Academy may not have known it at the time, but it was to be the last hurrah for the movie musical at the Academy Awards, and ultimately stood as one final tip of the hat to a genre which had defined cinema for decades. It represented one of the last truly traditional choices for Best Picture, and it truly was the end of an era. Perhaps voters could tell a new age was on the horizon, and desperately wanted one final chance to re-live the glory days of the past. Who knows for sure. But with 11 nominations and five wins, they clearly adored Oliver!

The film was a sensation in 1968, even if it trailed Funny Girl, in terms of box-office success. On a relatively small budget of $10 million, it earned over $77 million at the worldwide box-office, including $37 million in the US alone. It ended the year as the seventh highest-grossing film of 1968, and was one of Columbia Pictures' most profitable films of the decade.

The film also received widespread acclaim from critics, with many regarding it as one of the few film adaptations of a stage musical that was superior to the original version. Variety hailed it as a "bright, shiny, heartwarming musical, packed with songs and lively production highspots," while the New Yorker stated the "musical numbers emerge from the story with a grace that has been rarely seen since the musicals of René Clair."

Once again, we see the Academy falling under the spell of a big, splashy musical. Oliver! is of those musicals that is hard to hate, even if you're not a huge fan of the genre. It clearly won voters over with its immense charm and dazzling musical numbers, and for one last time, that was enough to award a movie musical with Best Picture.

Did it deserve to win?
If Oliver! ultimately marked the end of movie musicals having their time in the sun as Best Picture winners, they sure went out on a bang. With numerous memorable and catchy musical numbers, gorgeous costume and production design, and a sublime and iconic performance from Moody as the dastardly but somehow lovable Fagin, Oliver! is a landmark example of the musical genre.

But let's get honest, for one second – the most deserving film of 1968 wasn't even nominated for Best Picture. Stanley Kubrick's 2001: A Space Odyssey is one of the most genuinely groundbreaking and innovative films in cinema history. It has influenced everyone from Spielberg to Lucas to Cameron to Scott. It redefined the sci-fi genre, and even today, it's still a staggering film achievement to behold. It is a masterpiece that was clearly so ahead of its time, it wasn't able to be appreciated by the Academy. It still stands as one of their most baffling missteps, and truly tarnishes this year in Oscars history.

Putting that aside, and in light of 2001: A Space Odyssey not being in contention, you can argue Oliver! was indeed a deserving winner. It's hard not to be impressed by its sensational production. The songs are too damn lovable. The cast is stellar. Lester and Wild are adorable. Moody is glorious. The artistic work of the costume and production designers is immaculate. And, despite a two-and-a-half hour-long running time, the film never drags, and keeps you entertained and engaged throughout. Even those not particularly fond of musicals would likely point to Oliver! as the rare exception they can't help but enjoy.

As I keep saying with these musical winners, the film is not groundbreaking or socially conscious. It's not seeking to be anything other than pure entertainment. And, given this was the last time we'd see a film like this win Best Picture for three decades, it's completely acceptable to see Oliver! take it home. It ended the era of movie musicals as Best Picture winners on a high, and we say a fond farewell to a style of cinema that's hard not to still cherish.