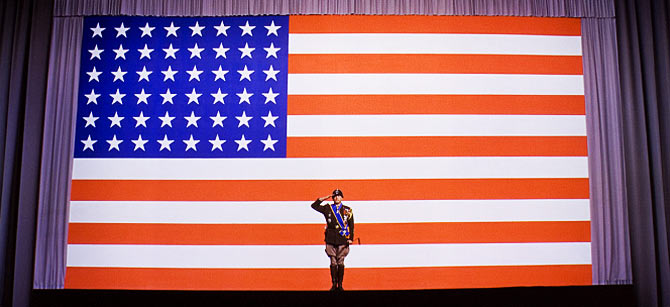 15 Jan

THE BEST PICTURE PROJECT – 'Patton' (1970)

In 1971, the 43rd Academy Awards ceremony was held at the Dorothy Chandler Pavilion in Los Angeles. Honouring the films released between January 1, 1970 and December 31, 1970, the awards were held on April 15. After 11 years with ABC, the Academy struck a new 5-year telecast deal to switch the broadcast rights over to NBC.

This year would mark the second and final time all five nominees for Best Actress were first-time nominees. In fact, it was the final time either Best Actor or Actress category would feature all first-time nominees. This year was also the first time since 1935 where all five Best Actors nominees had never previously been nominated in this category. Three of the nominees had previously been nominated for supporting roles.

With her win for Best Supporting Actress for her work in Airport, Helen Hayes became the first performer to win Academy Awards for both actress categories, having won Best Actress 38 years prior for The Sin of Madelon Claudet. That gap between wins also gives her the record for the longest time between acting wins.

One of the biggest controversies hit the Oscars this year. After previously rejecting his nomination for Best Supporting Actor in The Hustler, George C. Scott unequivocally made it clear of his intentions to do the same this year, for his performance in Patton. Scott denounced the Oscars as a "two-hour meat parade," and refused to take any part in awards season. Many in Hollywood were enraged by his stance, while some from the younger generation of actors supported his right to reject the nomination.

Despite the public rejection of his nomination, and the backlash over his brazen attack on the awards, Scott was ultimately awarded Best Actor, announced by a bewildered Goldie Hawn who gasped, "Oh, my God, the winner is George C. Scott!" Scott was at home in New York, having stated he would not attend the ceremony, nor would he accept the award, if he were to win. As such, he became the first actor to officially reject an Academy Award. His Oscar was accepted by the film's producer, Frank McCarthy, and later donated to a museum.

Adding to Scott's headline-making victory, his film Patton was the night's triumphant winner, taking home seven Academy Awards from 10 nominations, including Best Picture, Best Director, Best Original Screenplay, and Best Editing.

The nominees:
Airport
Five Easy Pieces
Love Story
MASH
Patton

The winner:
Patton

Based on the life of the infamous U.S. General, Patton is the story of one of the greatest military minds in history. In 1943, General George S. Patton (George C. Scott), a dedicated and ruthless military man, arrives in Morocco to take command of the U.S. army forces in Tunisia, in preparation to fight Nazi troops at el Gitar, led by German general Erwin Rommel (Karl Michael Vogler). After leading his troops to an invasion of Sicily, Patton verbally and physically abuses a soldier suffering severe battle fatigue. His actions enrage his superiors, and Patton is forced to apologise, while being relieved of duty during D-Day and the Normandy invasion. Desperate to reclaim his reputation, Patton is offered a chance at redemption when General Omar Bradley (Karl Malden) gives him command of the Allied Third Army, as they push across Western Europe to the last stand of the Nazis.

Why did it win?
We've seen war films win Best Picture before, but never anything quite like Patton. After falling for a low-budget and gritty drama the previous year, the Academy went back to something with a far grandiose feel. Patton was an epic production, filled with impassioned monologues, spectacular battle scenes, and one of the greatest lead performances of this era. Or any era. All the hallmarks a Best Picture contender needs, really. In a relatively light year, it was partly the reason it easily beat its contenders.

That's not to say the other four nominees weren't great films. Airport is a gripping thriller, overloaded with the most ridiculous star-studded cast. Five Easy Pieces is a brilliant drama, featuring a star-making performance from Jack Nicholson. Love Story is a beautiful and touching romance for the ages. And MASH was an absolute riot, with subtle subtext regarding the devastating results of the Vietnam War. But none had the monumental nature of its production quite like Patton. And none featured a performance quite like Scott's.

The film was also a huge success with both the public and with critics. On a relatively small budget of $12 million, Patton grossed over $60 million at the U.S. box-office, and ended the year as the fourth highest-grossing film of 1970. It was well-received by critics, with many hailing it as one of the best war films of its time. Variety called it "one hell of a war picture, perhaps one of the most remarkable of its type ever made, while the New York Daily News declared "I'd like to pin four stars on each shoulder of George C. Scott for his perspective characterization of the military genius, the controversial man."

There was still a lot of love and sentiment for films concerned with America's efforts in World War II, particularly at a time when their war efforts in Vietnam were going so disastrously. It tapped into a patriotic sentiment that voters lapped up, and, coupled with its great success at the box-office, it's not hard to see why it was a resounding success at the Academy Awards.

Did it deserve to win?
There are few things in cinema as fine as George C. Scott's performance as George S. Patton. It's tempting to say the film deserved to win based purely on that alone. It still stands as one of the greatest performances we have ever been gifted. It's the kind of performance any actor would study relentlessly. It's that rare moment of an actor completely melting into their character so intrinsically, you forget you're even watching someone perform. Scott is Patton, and he is genuinely electrifying to behold.

The performance is so incredibly layered, and Scott continually walks the line between ostentation and subtlety. Every now and then, he gives us a glimpse of the deeply patriotic and proud man hidden under all that bravado. It's a tribute to Scott for finding so much pathos in such a controversial figure. And, of course, there's the film's infamous and iconic opening scene, featuring an impassioned and bloodthirsty Patton, rallying his troops, in front of an enormous American flag. It still manages to elicit goosebumps to this day.

After such an incredible opening, many films would head south from here. But with a brilliant screenplay by Francis Ford Coppola and Edmund H. North, and impeccable direction from Franklin J. Schaffner, the film never falters. It may be a war film, on its surface, but it's ultimately a deep and intimate character piece, showcasing a man with a chequered reputation. But Patton was ultimately a brilliant military mind, even if his methods were somewhat controversial. He lived for war because he was so damn good at it. He was a warrior who knew how to do one thing and one thing alone – fight.

Patton gives us a portrait of a man few would ultimately understand. Perhaps its truest message is the ends sometimes does justify the means. Patton led with an iron fist, but he got results, and his madness always came from a place of deep patriotism. It's a remarkable piece of cinema that still holds up incredibly well today. There are few who would ever deny it indeed deserved to win Best Picture, and stands as one of the greatest to ever lay claim to that title.