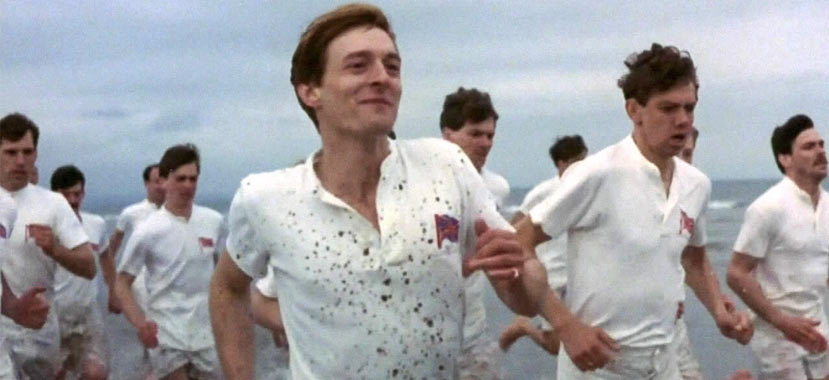 27 Jan

THE BEST PICTURE PROJECT – 'Chariots of Fire' (1981)

In 1982, the 54th Academy Awards ceremony was held at the Dorothy Chandler Pavilion in Los Angeles. Honouring the films released between January 1, 1981, and December 31, 1981, the awards were held on March 29. The ceremony was once again hosted by Johnny Carson.

For the first time in decades, three of the four acting winners were not present at the ceremony to collect their Academy Awards. Katherine Hepburn, the winner of Best Actress for On Golden Pond, was starring in a play in Washington, D.C. Henry Fonda, the winner of Best Actor for On Golden Pond, was too ill to attend (he would pass away just five months later). And John Gielgud, the winner of Best Supporting Actor for Arthur, was filming a new movie in Germany.

At 76-years-old, Fonda became the oldest ever winner in the Best Actor category – a record he still holds to this day. The revered actor had surprisingly only been nominated once previously, for his performance in The Grapes of Wraith 41 years prior. This gap in nominations still stands as the longest in Oscars history. With her fourth Best Actress victory, Hepburn extended her record as the actor with the most wins. It's a record yet to be beaten.

After a strong backlash to the Academy failing to recognise the makeup achievements of The Elephant Man the previous year, the board of members introduced a new permanent category for Best Makeup, which has now been amended to Best Hair and Makeup. The inaugural award was won by Rick Baker for his work on An American Werewolf in Paris.

Leading the field with an astonishing 12 nominations was Warren Beatty's epic drama Reds. Despite being the favourite to sweep the awards, the film would have to settle for three wins including Best Director for Beatty. The night's big winner was the British drama Chariots of Fire, which took home four Academy Awards from its eight nominations, including Best Picture and Best Original Screenplay.

The nominees:
Atlantic City
Chariots of Fire
On Golden Pond
Raiders of the Lost Ark
Reds

The winner:
Chariots of Fire

Based on the inspiring true story, Chariots of Fire is a recount of the trials and tribulations faced by two British athletes. Set between 1919 and 1924, we first meet Harold Abrahams (Ben Cross) as he enters Cambridge University. Abrahams, a devout Jew, is faced with anti-Semitism from the university's crusty old staff, but battles through to make his name as an impressive scholar and athlete. Abrahams achieves a string of undefeated victories in national running competitions and catches the eye of soprano singer Sybil Gordon (Alice Krige). Meanwhile, in Scotland, Eric Liddell (Ian Charleson), a devout Christian, is fighting his family's disapproval of his running, as it keeps him from his intended missionary work in China. But Liddell sees running as a way of glorifying his religion by using his God-given gifts to succeed. The film follows its two principal athletes as they fight their way to the 1924 Paris Olympics to compete for their country, and achieve the glory they've both worked relentlessly towards.

Why did it win?
It had been 13 years since a piece of British cinema had claimed the Academy's top prize, so it seems the time had arrived for voters to once again look over the pond for their next Best Picture winner. Chariots of Fire was the second sports-related film to win Best Picture in five years, after the surprise victory of Rocky in 1976. It also marked the beginning of the Academy's love affair with biopics in the 1980s, with three further biopics set to claim Best Picture over the next six years.

There's nothing like an inspiring, weepy true story to grab the attention of the Academy. We see it time and again. Somehow, knowing a film is based on people and events which actually occurred in real life seems to always stir something in voters, making it a proposition they struggle to ignore. Even the film's tagline ("This is a story of two men who run…not to run…but to prove something to the world. They will sacrifice anything to achieve their goals…except their honour.") is enough to put a lump in your throat.

Released at a time when America was preparing to host the Summer Olympic Games for the third time, Chariots of Fire struck a chord at just the right time, tapping into the excitement and interest in anything related to sport, and, more importantly, the glory of the Olympics. The response to the film was staggering, and it would go on to become the most successful foreign film in U.S. box-office history. On a small budget of $5.5 million, the film would earn almost $60 million in America, to end the year as the seventh highest-grossing film of 1981.

The film also received overwhelmingly positive reviews, with many calling it one of the greatest films the UK had ever produced. The New York Times called it "an exceptional film, about some exceptional people," Variety declared "no imbalance mars the pic, whose cross-the-board achievement lifts it to an impressive level of unified accomplishment," and The New York Daily News hailed it as "a movie that, with the help of Vangelis Papathanassiou's wonderfully stirring music, lifts the spirits to a new high."

Heading into the Academy Awards, Chariots of Fire had achieved moderate success at the precursor awards, but the race was still decidedly open, heading into the ceremony. No one film had swept the season, with Reds, Atlantic City, and On Golden Pond sharing victories at each major awards ceremony. Chariots of Fire was ineligible for competition at the Golden Globes, as, at the time, foreign films could only compete for Best Foreign Film, which it did in fact win. However, the film did tie for the win with Reds for the National Board of Review's prize for Best Film and the People's Choice Award at the Toronto Film Festival. Films claiming either of these prizes have often gone on to win Best Picture.

Despite its shock victory, the signs were there that Chariots of Fire was beloved by audiences, critics, and, in the end, Academy voters. With such a crowded field and a confusing precursor season without a real frontrunner, they went with their hearts and picked the film they simply loved the most.

Did it deserve to win?
For the third year in-a-row, we see a highly contentious winner for Best Picture that still has many people scratching their heads. In the annals of Academy history, Chariots of Fire does not stand out as one of their better choices for the top prize. It's a fine film. It's an enjoyable and stirring piece of cinema. It elicits one of those "it was good, but not great" reactions. That's not what you like to hear about a film that has been declared the best picture of the year.

Much like previous Best Picture winner Tom Jones, Chariots of Fire is ultimately simply a very British film featuring a bunch of very British people doing lots of very British things. Case in point – to pass the time on their boat journey from the UK to Paris, members of the Olympic team sings excerpts from the Gilbert and Sullivan musical H.M.S. Pinafore. Is that not the most British thing you've ever heard?

Chariots of Fire has embedded itself in the history of cinema for one simple reason – that opening beach running sequence. Even if you've never seen this film, you will somehow know this sequence. You know Vangelis' wonderful and stirring electronic/synthesised score. You know his composition accompanies a group of males athletes running across a British beach. The song was so beloved, it reached the top of the Billboard singles chart. I'm not kidding. It was a cultural phenomenon and likely part of its surprise success at the Academy Awards. One has to genuinely wonder if it weren't for this iconic opening scene, would the film have even won Best Picture? It's the kind of dazzling sequence that can genuinely sweep people away, and make them forget the rest of the movie. And I say that because barely anything of note happens for the rest of the film.

Look, I had a great time watching Chariots of Fire. It's a lovely and charming piece of cinema. It avoids falling into melodrama by keeping things decidedly light and refreshingly simple. It's hard not to connect with the characters, and genuinely want to see them succeed. Cross and Charleson give remarkable performances and the film's narrative is engaging and entertaining. But its inevitable conclusion is painfully obvious and makes for a rather dull viewing. Why else would these two have a film written about them if they didn't win? We know what's coming, and it takes an exhaustive amount of time to get there.

Many will cry over the fact Reds or On Golden Pond were robbed of Best Picture. I'd be more inclined to say Raiders of the Lost Ark was the true victim here. It still stands as one of the greatest films of all time, even if it often dismissed as nothing more than popcorn entertainment. It's so much more than that, and I will be happy to challenge anyone on this notion. Not only did the film fail to win Best Picture (the third time for poor Steven Spielberg, and there's more pain to come next year), but John Williams' masterful score was also robbed of a victory. Yes, Vangelis' score of Chariots of Fire is a glorious piece of music. But it really is just that opening sequence theme that hits so well. The rest of his score is rather intrusive and jarring.

With such a crowded year of truly fantastic contenders, it's downright baffling to see such an average and subpar piece of cinema win Best Picture. That's not to say Chariots of Fire is a bad film. It's far from it. But it fails to reach the lofty heights of many of its competitors, and many of the Best Picture winners of the past. It's not the Academy's worst decision for Best Picture, but it certainly stands as one of their lesser moments and a rather undeserving winner.