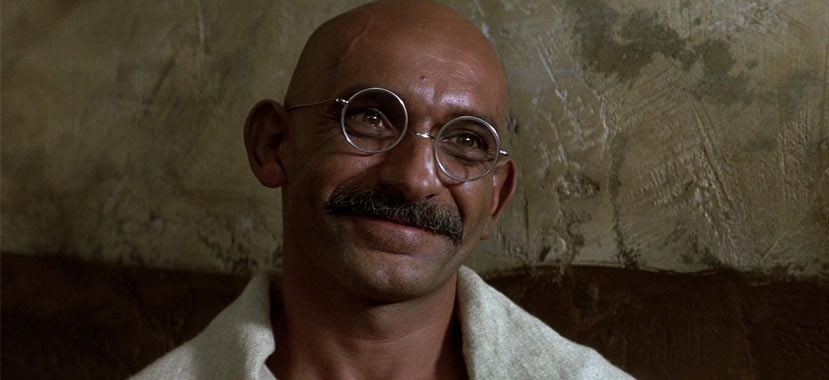 28 Jan

THE BEST PICTURE PROJECT – 'Gandhi' (1982)

In 1983, the 55th Academy Awards ceremony was held at the Dorothy Chandler Pavilion in Los Angeles. Honouring the films released between January 1, 1982, and December 31, 1982, the awards were held on April 11. The ceremony was hosted by Liza Minnelli, Dudley Moore, Richard Pryor, and Walter Matthau.

Louis Gossett Jr. became the first African-American actor to win Best Supporting Actor for his performance in An Officer and a Gentleman. Meryl Streep took home her second Academy Award in her short career, which had already yielded four nominations and a win for Best Supporting Actress for Kramer vs. Kramer. This time it was for Best Actress for her gripping performance in Sophie's Choice. Despite another 12 nominations following this victory, Streep would not win again until 2011.

Jessica Lange became only the fourth performer in history to receive two Oscar nominations in the same year. Lange was nominated for Best Actress for her performance in Frances and Best Supporting Actress for her performance in Tootsie. She would win for the latter.

Zbigniew Rybczyński became the first Academy Award winner to spend part of the night of the ceremony in jail. After his victory for Best Animated Short Film for Tango, Rybczyński stepped outside for a smoke. Despite holding his Oscar statuette in his hand, he had forgotten his ticket and was subsequently barred re-entry by a security guard. A minor scuffle ensued, and he was arrested and taken to jail.

After a strong backlash to the Academy failing to recognise the makeup achievements of The Elephant Man the previous year, the board of members introduced a new permanent category for Best Makeup, which has now been amended to Best Hair and Makeup. The inaugural award was won by Rick Baker for his work on An American Werewolf in Paris.

Leading the field this year with 11 nominations was Richard Attenborough's sweeping biopic Gandhi. Despite strong competition from Steven Spielberg's beloved E.T. the Extra-Terrestrial aka the latest film to become the highest-grossing movie of all time, Gandhi would sweep the awards, taking home eight Academy Awards including Best Picture, Best Director for Attenborough, Best Actor for Ben Kingsley, and Best Original Screenplay.

The nominees:
E.T. the Extra-Terrestrial
Gandhi
Missing
Tootsie
The Verdict

The winner:
Gandhi

Based on the incredible life of Mohandas Karamchand Gandhi, Gandhi is the tale of one man who would become an icon for peace. Set between 1893 and 1948, the film opens with the tragic assassination of Gandhi (Ben Kingsley) by a radical Hindu nationalist. From here, it flashes back to his early life as an English barrister. On a journey through South Africa, Gandhi is refused admittance to sit in the first class carriage, despite holding a purchased ticket. When he is subsequently thrown off the train for refusing to move to third class, it becomes the catalyst for becoming a civil rights activist for Indians in the deeply segregated country. After his victory in securing equal rights for his countrymen from the South African government, he returns to India as a national hero. From here, Gandhi will become a key figure in the fight for India's independence from the British Empire, and the difficult process of the Partition of India of 1947. Through a steadfast determination to mount a non-violent, non-cooperation campaign, he is able to coordinate millions of Indians to join his fight in securing freedom from the tyrannical reign of the British.

Why did it win?
For the second year in-a-row, a British film would take home Best Picture. However, this time, it was much more fitting with British winners of the past. Big in scope and running time, and based on the inspiring true story of an individual who would change the world, Gandhi was more aligned with other notable biopic wins like Lawrence of Arabia or Ben-Hur. It represented a throwback to the Oscars of the past and was everything the Academy often fawned over. In a strange coincidence, it also marked the third Best Director victory in-a-row for an actor turned director, with Attenborough joining previous winners Warren Beatty and Robert Redford in this exclusive winner's club.

Much like last year's winner, Chariots of Fire, Gandhi is another case of a stirring and rousing piece of cinema grabbing the Academy by the heart and leading it to victory as the Best Picture winner. Regardless of being Indian or a Hindu (although I'm sure that makes this film even more powerful, if you are), you cannot help but be emotionally affected by the life and times of Mahatma Gandhi. His incredible life story is custom-made for a sprawling cinematic adaptation. It's the kind of no-brainer Oscar bait the Academy so often fell for, and continue to fall for, to this day.

Despite its length and lack of the typical attributes of a box-office hit, Gandhi was an enormous and resounding success for Columbia Pictures. With a moderate budget of $22 million, the film would earn over $52 million at the U.S. box-office, to end the year as the 12th highest-grossing film of 1982. It was a huge success in the United Kingdom, due to its large population of ex-patriot Indian residents, taking in $75 million at the UK box-office. Naturally, the film was also a smash hit in India where it would become one of the highest-grossing films of all time, earning over 1 billion rupees. It still stands as one of the highest-grossing non-local films in the country's history.

The film also received overwhelmingly positive reviews, with many calling it one of the greatest biopics of its time. Newsweek wrote "there are very few movies that absolutely must be seen. Sir Richard Attenborough's Gandhi is one of them," the Chicago Sun-Times hailed it as a "remarkable experience," TIME applauded Kinsley's performance as "nothing short of astonishing," and the New York Times hailed "once in a long while a motion picture so eloquently expressive and technically exquisite comes along that one is tempted to hail it as being near perfect."

Heading into the Academy Awards, it was almost a guarantee Gandhi would sweep the field. Once again, the Golden Globes baffling decision to exclude foreign-made films from their Best Picture category would rob a film of the chance to win. Gandhi had to settle for taking Best Foreign Film, Director, Screenplay and Actor in a Drama. The film did sweep the BAFTA Awards, taking five awards including Best Film. It also collected the National Board of Review and the New York Film Critics Circle awards for Best Film.

With its resounding success at the box-office, its critical acclaim, and its victories at the precursor awards, Gandhi became an unstoppable force at the Academy Awards, and it's not hard to see why it won. Once again, the Academy reject the chance to award the popular choice and instead take the path of the film with more artistic esteem.

Did it deserve to win?
I know I sound like a broken record by this point, but, for the fourth time, a Steven Spielberg masterwork shamefully fails to take Best Picture. I think this one hurts the most out of all of them. E.T. the Extra-Terrestrial was another of my most beloved and cherished childhood films, which affected me like few other pieces of cinema. It's a film that still hits me hard today, which proves it wasn't just a childish fantasy to hold it high in such esteem. It's one of the few films guaranteed to cause me to sob uncontrollably, no matter how many times I've seen it.

Yes, I get it. It's another Spielberg blockbuster many dismiss as nothing more than a genre film. It's essentially a childlike sci-fi fantasy film which raked in more money than any other film in history, at that point. It tapped into the Star Wars phenomenon but kept it grounded on Earth. One of its main stars was a little person in an alien costume. It's certainly not the kind of cinema the Academy of this era rewarded with Best Picture. But it's so much more than that, and Spielberg's work here is some of his absolute finest. It should have won. It deserved to win.

That being said, I can certainly still see the merits of Gandhi. It's a beautifully-made film featuring one of the greatest lead performances of this era. Kingsley's work here is utterly glorious. He becomes Mahatma Gandhi so intrinsically, it's hard to separate the actor from the man himself. Both physically and spiritually, Kingsley is Gandhi, and it's a marvellous sight to behold. It's the kind of true embodiment of a character that deserves Academy recognition. But does one excellent performance really equal a deserving Best Picture winner when the film itself is somewhat flawed?

With such an incredible life story, it's always hard to condense that down for a piece of cinema, even with a running time of over three hours. We're given a "best of" style treatment to his life, and it makes it difficult to really explore Gandhi's life when we're constantly jumping from one event to the next. If perhaps it has focused in on just one or two major events, the film would have been much richer and developed. As it stands, it's all too brief and light in truly exploring the astonishing feats one man was able to achieve.

It's clear director Attenborough has deep respect and love for Mathama Gandhi, and his film is ultimately a beautiful tribute to such an important figure in history. Attenborough highlights the heart and soul of such an empathetic man, but, in doing so, he fails to capture a real sense of complexity behind Gandhi's motivations and drive. The film often becomes far too preachy, seeking only to highlight what a hero this man was, but never truly delving deeper into his psyche. What we're left with is, as one critic put it, a "hagiography rather than a biography."

Outside of Kingsley's performance, the other aspect where Gandhi does truly shine is its visual sense, with Attenborough crafting a stunning feast for the eyes. With location filming, enormous crowd scenes, and detailed costuming, the film looks and feels incredibly authentic. The film's cinematography is a true triumph, and, when the film begins to lag towards the middle, the visuals keep you engaged and interested.

Sadly, Gandhi is ultimately another example of a Best Picture winner you would call good but far from great. Kingsley's performance elevates this film so high, it seems many were able to overlook the flaws hiding beneath. It's easy to see why it won. It's a classic, atypical Oscar winner for Best Picture. However, I cannot say that means it was deserving, especially over one of the greatest films of the 1980s. To me, the Academy made a huge blunder by falling for a flashy and sprawling piece of cinema, just like they had decades earlier. It's all just a little bit of history repeating.