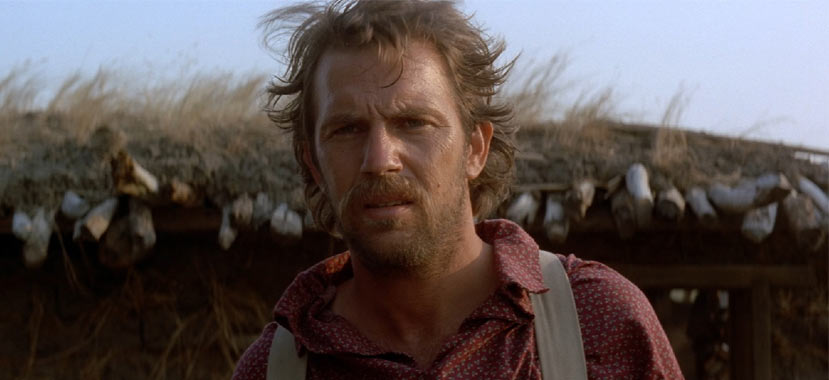 05 Feb

THE BEST PICTURE PROJECT – 'Dances with Wolves' (1990)

In 1991, the 63rd Academy Awards ceremony was held at the Shrine Auditorium in Los Angeles. Honouring the films released between January 1, 1990, and December 31, 1990, the awards were held on March 25. For the second consecutive year, the ceremony was hosted by Billy Crystal.

With her win for Best Supporting Actress for his performance in Ghost, Whoopi Goldberg became only the fifth African-American and the second African-American female to receive an Oscar for acting. Pop star Madonna managed to steal the show not once, but twice. During the red carpet pre-show festivities, she arrived on the arm of Michael Jackson, which created a huge media storm. Later in the ceremony, she performed her Oscar-nominated track "Sooner or Later" from Dick Tracy, in a dazzling performance reminiscent of Marilyn Monroe that brought down the house.

Leading the way this year with an astonishing 12 nominations (the most by any film in nine years) was Kevin Costner's directorial debut Dances with Wolves, followed by Dick Tracy and the much-maligned The Godfather Part III with seven nominations each. It was a good night for Costner's film, taking home seven Academy Awards including Best Picture, Best Director for Costner, Best Adapted Screenplay, Best Original Score, and Best Cinematography.

The nominees:
Awakenings
Dances with Wolves
Ghost
The Godfather Part III
Goodfellas

The winner:
Dances with Wolves

Based on Michael Blake's 1988 novel of the same name, Dances with Wolves is the sweeping saga of one man's life-changing journey. Having been sent to a remote outpost in the wilderness of the Dakota territory during the American Civil War, Lieutenant John Dunbar (Kevin Costner) encounters, and is eventually accepted into, the local Sioux tribe. He is known as "Dances with Wolves" to them and as time passes he becomes enamoured by the beautiful "Stands With a Fist" (Mary McDonnell). Not soon after, the frontier becomes the frontier no more, and as the army advances on the plains, John must make a decision that will not only affect him, but also the lives of the natives he now calls his people.

Why did it win?
Continuing the Oscar's love of awarding a film which, against all odds, captured the popular zeitgeist, Dances with Wolves represented another Best Picture contender too difficult to refuse. It starred one of the biggest names in acting, making his directorial debut, no less. And we know how the Oscars love to award actors-turned-directors. It featured a sweeping and epic narrative, with a three-hour-plus running time. It captured an integral moment in American history, and highlighted the plight of its indigenous people. It was grand and glorious, and revitalised a genre many thought to be dead. It was all but destined for Oscar glory. Dances with Wolves was yet another piece of Oscar-bait cinema, and the Academy lapped up.

In a rather light year (bar one exception we'll get to later), it's not hard to see why they fell for an atypical Best Picture winner. We all love Ghost, but just the fact it made it into the final five nominees for the best film of the year proves what an odd year it was for the Oscars. Likewise with The Godfather Part III, which appears to have been nominated on sentiment for its predecessors alone. Either that or voters didn't even bother to watch it, and just felt they had to nominate it. In a year like this, the Academy generally goes for the most "successful" film, and nothing captured unexpected success quite like Dances with Wolves.

On a modest budget of $22 million, Dances with Wolves became a genuine box-office sensation few could have foreseen. The film earned over $184 million at the U.S. box-office to end the year as the third highest-grossing film of 1990. It also earned a further $240 million internationally to bring its worldwide total to an incredible $424 million. For a film with such an extensive running time, a decidedly American narrative, and featuring a heavy dose of subtitled dialogue, this result was truly astonishing. This kind of surprise success only boosted its Oscar narrative even further.

Adding to its incredible box-office result, Dances with Wolves also received widespread acclaim from critics, with many hailing it a return-to-form for the Western genre. The Chicago Sun-Times called it "a simple story, magnificently told," Variety noted Costner "brings a rare degree of grace and feeling to this elegiac tale," and the Washington Post hailed the film as a "stunning combination of all-American boyishness and sweeping grandeur."

For much of the precursor awards season, it looked to finally be Martin Scorsese's year, with Goodfellas picking up almost every single major critics award. It won Best Picture and Director with the film critics awards of Los Angeles, New York, Boston, Chicago and the National Society of Film Critics. But, as we see most years, the tide suddenly turned, and it was all going the way of Dances with Wolves. The film won Best Picture with the National Board of Review, and took home three Golden Globes for Best Motion Picture – Drama, Best Director, and Best Screenplay. When the film won the three major guild awards (Producers, Directors and Writers), the race was all but over, and Dances with Wolves was unstoppable in its quest to take home Best Picture.

Did it deserve to win?
Oh, boy. It's time for another rant. If the Academy's treatment of Steven Spielberg was bad, their treatment of Martin Scorsese was even worse. After the shameful snubs of Taxi Driver and Raging Bull, the Academy continued their baffling run of ignoring his masterpieces by failing to recognise Goodfellas with Best Picture. This stands as one of their worst mistakes, and one that still confounds most Oscar pundits to this day.

One of the greatest films of this era, and one of the greatest of all time, walked away with one Academy Award. One. Dick Tracy went home with more Oscars than Goodfellas. Just let that sink in for a second. Yes, it's highly likely the film's intense violence probably hurt its Best Picture chances, but come on. The very next year, the Academy will honour a film featuring a cannibal serial killer who rips a guy's face off and wears it as a mask. It almost makes Goodfellas look tame, by comparison. Scorsese's direction is masterful, as are the performances of its impeccable ensemble cast. It is a damn masterpiece, and the fact it was denied the title of best picture of the year is an utter disgrace.

Putting that aside, Dances with Wolves is not as god-awful as I remember it. Its reputation certainly works against it. Had it not won Best Picture over Goodfellas, perhaps history would look a little more kindly on Costner's directorial debut. It's a perfectly enjoyable film, even if its running time is somewhat exhausting. Its remarkable and surprising box-office success is truly astounding, given its content and themes. You'd have to assume if this film were released today, it would barely crack $50 million at the box-office. For it to take over $450 million is downright incredible.

At the end of the day, Dances with Wolves is an impeccably made piece of cinema. Costner gives a terrific lead performance, and the sweeping saga of Dunbar's life makes for gripping cinema. Dean Semler's cinematography is truly gorgeous, capturing the glorious sight that is the American frontier. Coupled with John Barry's sweeping score, it does create something truly beautiful. And while I maintain Thelma Schoonmaker's editing of Goodfellas was more impressive, Neil Travis' work on Dances with Wolves is equally spectacular, particularly in the film's dazzling and gripping buffalo chase sequence. And, as much as I bemoan the film's length, Travis' editing ensures the film never drags, and it moves at such a cracking pace so the audience never really notices the length of the piece.

However, much like last year's winner Driving Miss Daisy, this is a problematic film. Costner clearly had good intentions in tackling a narrative that deals with race relations, but the film can never escape the "white man saviour" mentality many find to border on racially offensive. A white man infiltrates a native tribe, becomes one with them and ultimately rises as their new leader in their fight against the evil white men he once called his kin. While this may not sound terribly offensive, by portraying the white man as the saviour, and the indigenous people as those in desperate need of rescue, it gives white culture a sense of superiority over the indigenous culture. Without his involvement, the film is almost saying they would never have found the strength to fight back. It's an absurd notion, especially given how capable the Native Americans are before Dunbar shows up. It's hardly surprising many in the Native American community have serious issues with this film.

That being said, the film does portray Native American culture in a beautiful light, and avoids falling into stereotypes or caricatures. Costner clearly held the culture and customs of America's indigenous people with great regard, and he was striving to capture their history with deft care. There are questions about the accuracy of the language and dialogue used in the film, but those are issues for more learned people to argue. It's a flawed attempt, to say the least, but an earnest one.

Much like last year, the victory of Dances with Wolves is another attempt by the Academy to make a racial statement. Last year, it was "we're not racist to black people." This year, it's "we're not racist to native Americans." It's ironic both of these Best Picture winners were crafted by white men. It afforded the Academy the chance to gushingly pat themselves on the back, and that's an opportunity they never shy away from. Dances with Wolves is not the best film of 1990, but it's still a solid piece of filmmaking, and far from their worst choice for Best Picture.