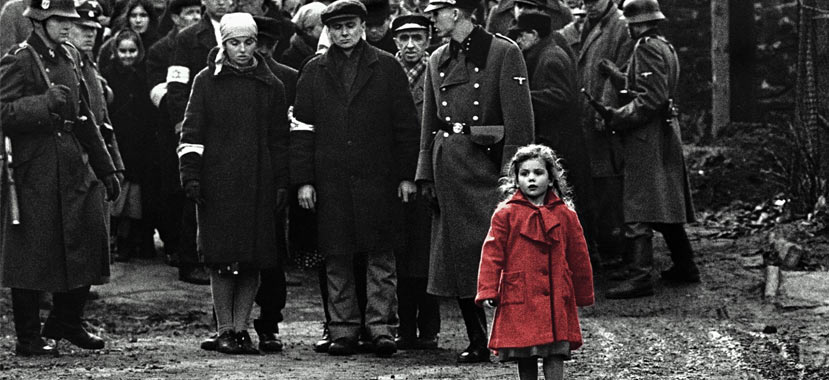 08 Feb

THE BEST PICTURE PROJECT – 'Schindler's List' (1993)

In 1994, the 66th Academy Awards ceremony was held at the Dorothy Chandler Pavilion in Los Angeles. Honouring the films released between January 1, 1993, and December 31, 1993, the awards were held on March 21. The ceremony was hosted by Whoopi Goldberg for the first time. Goldberg became not only the first solo female host, but also the first African-American host. It was reported Goldberg was only offered the position after Steve Martin, Bette Midler, and Johnny Carson all turned down the offer.

Holly Hunter and Emma Thompson were both double-acting nominees this year – the first time in Oscars history two performers achieved this rare honour. Hunter was nominated for Best Actress for The Piano, which she won, and Best Supporting Actress for The Firm. Thompson was nominated for Best Actress for The Remains of the Day and Best Supporting Actress for In the Name of the Father. She was unsuccessful in both categories.

With her nomination for Best Director for The Piano, Jane Campion became only the second woman to be nominated in this category. While Campion lost the award to Steven Spielberg, she did win Best Original Screenplay. At just 11 years-old, Anna Paquin became the second youngest winner of a competitive Oscar, after her win for Best Supporting Actress for The Piano.

Leading the way this year with an incredible 12 nominations was Steven Spielberg's black-and-white Holocaust drama Schindler's List. The film swept the awards, taking home seven Academy Awards including Best Picture, Best Director for Spielberg, Best Adapted Screenplay, Best Original Score, and Best Cinematography. It was a great night for Spielberg, with his other 1993 film, Jurassic Park, being the second most-honoured film of the night, taking out three Academy Awards for Best Sound, Best Sound Effects Editing, and Best Visual Effects.

The nominees:
The Fugitive
In the Name of the Father
The Piano
The Remains of the Day
Schindler's List

The winner:
Schindler's List

Based on Thomas Kennelly's 1982 novel Schindler's Ark, Schindler's List is the tragic retelling of the devastating impact of Hitler's decimation of Polish Jews during the Holocaust. Businessman Oskar Schindler (Liam Neeson) arrives in Krakow in 1939, ready to make his fortune from World War II, which has just started. After joining the Nazi party primarily for political expediency, he staffs his factory with Jewish workers for similarly pragmatic reasons. When the SS begins exterminating Jews in the Krakow ghetto, Schindler arranges to have his workers protected to keep his factory in operation, but soon realizes that in so doing, he is also saving innocent lives.

Why did it win?
From the moment Steven Spielberg announced the production of Schindler's List, a film he had been planning for over 10 years, it was all but predestined he would finally capture the Academy Awards which had alluded him his entire career. After almost two decades of losses, and several surprising nomination snubs, Spielberg was set to deliver a piece of cinema the Academy simply could not ignore. His time to be accepted into the club was here, at long last.

This is likely one Best Picture win that needs very little explaining behind its victory. Anyone who has seen this film knows why it won. It seems unfair to call Schindler's List an Oscar-bait film. One likes to believe Spielberg's truest intentions with making his masterpiece were not to win Oscars, no matter how desperately he wanted them. However, it's difficult to avoid the film's Oscar-baity elements generally associated with Best Picture winners. It was both a biopic and a portrait of one of the most tragic moments in modern history. It was shocking and confronting, while still being touching and uplifting. It was epic in both its scope and running time. And it was crafted by a director working outside the blockbuster genre he had helped define.

Much like Clint Eastwood's victory the year prior, Schindler's List would come to represent the chance to finally recognise one of cinema's greatest directors and most beloved icons. With box-office phenomena like Jaws, E.T. the Extra-Terrestrial, and Jurassic Park, Spielberg had become the most commercially successful director in cinematic history. However, as we've seen in previous articles, an Oscar win was always outside his grasp. He'd been nominated for Best Director three times. Four of his films had been nominated for Best Picture. All resulted in losses. No matter how hard he tried, Spielberg was never taken seriously as a legitimate filmmaker worthy of an Academy Award. That all changed in 1993.

The question wasn't so much "Will Schindler's List win Best Picture?" but rather "How many will it take with it?" As much a technical marvel as a brilliant piece of narrative cinema, Schindler's List captured the horror and tragedy of the Holocaust like no other film had before. With his deft choice to film in black-and-white (with the occasional splash of colour) and avoid the use of cranes or steadicam, Spielberg's masterpiece felt more like a documentary than a motion picture, which only added to its deep emotional impact. The response to the film only further cemented its chances to take home the Academy's big prize.

On a moderate budget of just $22 million, Schindler's List became another Spielberg box-office success story, albeit not quite on par with his more populist efforts. The film earned $96 million at the U.S. box-office to end the year as the 9th highest-grossing film of 1993. But it was at the international box-office, particularly Europe, the film truly soared, taking $225 million internationally, bringing its worldwide total to $321 million. It ended the year as the fourth highest-grossing film worldwide, making it one of Universal Pictures most profitable films of the time.

Adding to the film's surprising box-office success, Schindler's List received widespread critical acclaim, with many calling it one of the greatest films of all time. The Chicago Sun-Times hailed the film as "brilliantly acted, written, directed and seen," the New Yorker wrote "few American movies since the silent era have had anything approaching this picture's narrative boldness, visual audacity, and emotional directness," while Variety declared "this is the film to win over Spielberg skeptics."

It should come as no surprise to learn Schindler's List also swept the precursor season, snatching up every major award along the road to the Academy Awards. The film was awarded Best Picture at the film critics awards in Los Angeles, New York, and Chicago, as well as the National Board of Review and the National Society of Film Critics. It swept the Golden Globes, taking home Best Motion Picture – Drama, Best Director, and Best Screenplay, and seven BAFTAs including Best Picture, Best Director, Best Adapted Screenplay and Best Cinematography. It closed out the season by taking all three guild awards – PGA, DGA, and WGA, making it the most concrete Best Picture frontrunner of recent times. It was unchallenged in its bid for Best Picture, and the Academy were rightly left with no other choice this year.

Did it deserve to win?
Yes. Yes, it did. What is there for me to say about Schindler's List which hasn't already been said? How do you even begin to describe the visceral experience Spielberg delivers with perhaps his finest creation? There are few films of this era, or any era, with the emotional impact of Schindler's List. Filled with indelible imagery and a narrative that lingers long after the credits roll, the film is a masterpiece of the highest order. It is a genuine work of art. A miracle of cinema. A shining example of a director at the top of his game. It's one of the greatest films of all time, and one of the most deserving Best Picture winners there has ever been.

With the kind of authenticity every piece of historical cinema demands, yet often lacks, Schindler's List captures the tragic real-life horrors of the Holocaust without the typical manipulative cinematic flourishes Spielberg was so known for. As a director, he knew he needed to take a step back here, and let the story tell itself. And what a story it is. Steven Zaillian's screenplay contrasts the hero in Schindler and the villain in Goeth with such expert precision, creating something both unsettling and uplifting. Through so much misery, there is somehow so much light. By wisely choosing to shoot in black-and-white, Spielberg's film feels that much more authentic, gifting us a motion picture experience like nothing before. Janusz Kaminski's cinematography is sublime, capturing the most minute of details, with a decidedly film noir quality that makes for an astonishing visual achievement.

And then there's one of the film's crowning achievements – John Williams' hauntingly beautiful score. There are few pieces of film score which can instantly bring a tear to my eye. Williams' work here is one of them. When that Itzhak Perlman begins to play his violin, it's an overwhelming feeling, and the entire sweeping score matches the tone and narrative of the film so perfectly. Williams and Spielberg have a long-standing partnership which has delivered some of the greatest fusions of sight and sound the world of cinema has ever seen. No better is that evident than Schindler's List.

Spielberg never once shies away from showing the true devastation of the Holocaust. While it makes for uncomfortable viewing, it's an entirely necessary choice. This is a deeply personal film for the director, and he's heavily committed to delivering a stark yet accurate representation of the plight of these tragic and doomed souls. His film is elevated by the impeccable performances of his cast. Neeson is masterful as Schindler, perfectly capturing both sides to this complicated and conflicted man. Ralph Fiennes is necessarily menacing and repulsive as Goeth, a man who is pure evil. It really was a travesty neither were awarded with Oscars, as they were both genuinely deserving.

There's nothing more to say about Schindler's List. It's a remarkable and astonishing piece of cinema. It hits you like few films in the history of film, and leaves a mark on your heart that never leaves, no matter how much time passes. While it may not seem to be a film you're desperate to watch again, somehow it has the power to invite you for multiple viewings. That's the power of Steven Spielberg. He had never been better, and, perhaps hasn't been since. Schindler's List still stands as the crowning achievement as one of the great directors of our time, and one of the most deserving Best Picture winners of all time.