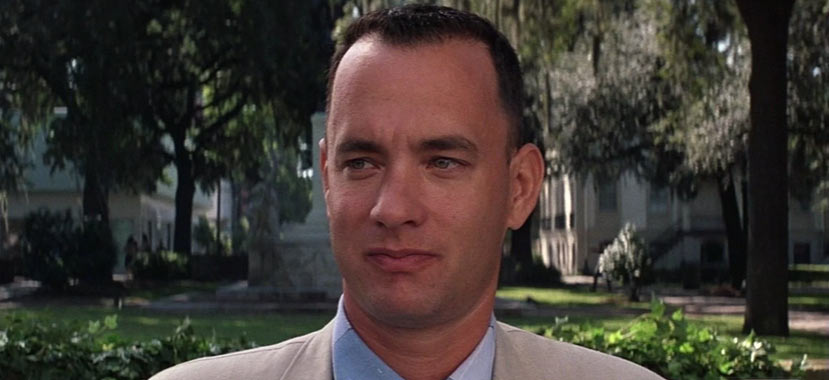 09 Feb

THE BEST PICTURE PROJECT – 'Forrest Gump' (1994)

In 1995, the 67th Academy Awards ceremony was held at the Shrine Auditorium in Los Angeles. Honouring the films released between January 1, 1994, and December 31, 1994, the awards were held on March 27. The ceremony was hosted by late-night talk show host David Letterman for the first (and only) time. Letterman's awkward performance as host was met with such negative criticism, he was never again invited to host.

For the first time in 56 years, a performer would win consecutive acting Oscars. With his second win for Best Actor for his performance in Forrest Gump, Tom Hanks became only the fifth performer to win back-to-back Oscars, and only the second person to do so with Best Actor victories, after Spencer Tracy in 1937 and 1938. Hanks also became only the sixth person to win Best Actor twice.

Marking only the second time in Oscars history, three of the four acting winners had previously won an Academy Award for acting. The last time this occurred was in 1939. With her second win for Best Supporting Actress for her performance in Bullets over Broadway, Dianne Wiest became the first person to win two acting Oscars for performances in films directed by the same person. Wiest's first win came in 1987 for Woody Allen's Hannah and Her Sisters.

Leading the way this year with 13 nominations, the most of any film since 1966's Who's Afraid of Virginia Woolf?, was Robert Zemeckis' sweeping saga Forrest Gump. The film became only the fifth in Oscars history to achieve 13 nominations. It ultimately swept the awards, taking home six Academy Awards including Best Picture, Best Director for Zemeckis, Best Actor for Hanks, Best Adapted Screenplay, and Best Film Editing.

The nominees:
Forrest Gump
Four Weddings and a Funeral
Pulp Fiction
Quiz Show
The Shawshank Redemption

The winner:
Forrest Gump

Based on Winston Groom's 1986 novel of the same name, Forrest Gump is the story of a simple man who inadvertently witnesses some of modern history's defining moments. Slow-witted Forrest Gump (Tom Hanks) has never thought of himself as disadvantaged, and thanks to his supportive mother (Sally Field), he leads anything but a restricted life. Whether dominating on the gridiron as a college football star, fighting in Vietnam or captaining a shrimp boat, Forrest inspires people with his childlike optimism. But one person Forrest cares about most may be the most difficult to save — his childhood love, the sweet but troubled Jenny (Robin Wright).

Why did it win?
Well, it was good while it lasted. After two years of the Academy choosing the best and most impressive film of the year, they went back to their old ways of awarding the fluffy, feel-good, tear-jerker piece of cinema. Forrest Gump was Oscar-bait, plain and simple, and the Academy fell over themselves to reward the film. Just the fact it achieved more nominations than any other film in the last 28 years shows how gaga voters were for this film. It hit all the right notes to capture the attention of the Academy, and it's really no surprise it won Best Picture.

After a string of heavy Best Picture winners (particularly last year), they needed a palate cleanser. They needed something light. They needed something that was an easy watch. Something enjoyable and entertaining. Something inspiration. Something which reminded them how great America really is. Something that proved anyone can achieve the American dream, even without the brains to get there. Something that didn't challenge them. The old, white men of the Academy needed a film which reminded them of the good ol' days. With its sweeping multi-decade narrative, Forrest Gump was the film to give them exactly what they wanted.

It also didn't hurt that the film had one of the most beloved and popular actors in Hollywood as its star. After establishing himself as a great comedic actor in the late 1980s, Tom Hanks had quickly changed career paths to become an impressive dramatic actor. After his victory for Best Actor last year for Philadelphia, his next role was awaited with bated breath. With his lovable and charming performance as the simpleton with a heart of gold, Hanks created a cinematic icon of the era. As we saw with Silence of the Lambs, an iconic performance helps a film's Best Picture campaign like few other elements. What also didn't hurt was the overwhelming response to the film by the public.

On a relatively large budget of $55 million, Forrest Gump became a true box-office phenomenon, defying all expectations to deliver the kind of result usually reserved for popcorn blockbusters. The film earned a staggering $329 million at the U.S. box-office to end the year as the highest-grossing film of 1994. This also made Forrest Gump the fourth highest-grossing film in the U.S. box-office history, at the time. The film added a further $347 million internationally to bring its worldwide total to $677 million, making it the second highest-grossing film of 1994 worldwide, beaten by The Lion King. The film's 32-song soundtrack, featuring iconic music from the 1950s-1980s, was also a massive success. The 2-CD set sold over 12 million copies worldwide, reaching #2 on the Billboard Album Chart, and still remains one of the biggest selling albums in U.S. history.

While the public may have adored Forrest Gump, the reaction was critics was somewhat mixed, with many divided on the film's merits. While the Chicago Sun-Times called Forrest Gump "ingenious" and a "magical movie," and Rolling Stone hailed it a "movie heart-breaker of oddball wit and startling grace," the New York Times called it the film "less like a romance than like a coffee-table book celebrating the magic of special effects," and L.A. Weekly dubbed it a "movie with nothing to say." Entertainment Weekly went a step further by calling the film a "shameless display, which reduces the tumult of the last few decades to a virtual-reality theme park: a baby-boomer version of Disney's America." It stood as one of the few Best Picture winners of this era which failed to receive universal critical acclaim.

Given the film's tepid response from the critics, it was no surprise to see it fail during their precursor season awards. The Los Angeles Film Critics and the National Society of Film Critics both gave their Best Picture prize to Pulp Fiction, while the New York Film Critics gave theirs to Quiz Show. The campaign for Forrest Gump finally received a boost when it tied with Pulp Fiction for Best Film with the National Board of Review. But when Forrest Gump swept the Golden Globes, taking Best Motion Picture – Drama, Best Director and Best Actor – Drama, and it won the DGA, PGA, and WGA awards, the race for Best Picture was all but over.

Did it deserve to win?
Look, I love Forrest Gump. You love Forrest Gump. We all love Forrest Gump. It's an entertaining and engaging piece of cinema that tugs at the heartstrings and elicits goosebumps and tears. It's one of the most enjoyable films of the 1990s. I cried at the end when I watched it 1994. I cried at the end when I watched it in 2018. It still has the same power it had 24 years ago. However, calling it the best film of the year, in a year full of so many sublime pieces of cinema, is downright nonsense.

Pulp Fiction. The Shawshank Redemption. Ed Wood. Quiz Show. Four Weddings and a Funeral. The Lion King. Honestly, you could pick any of these 1994 films and argue a more solid case for why they deserved to win Best Picture over Forrest Gump, particularly that first one. Pulp Fiction was easily the most original and daring film of 1994. With Quentin Tarantino's sensational writing and directing, it was the pure shot of adrenalin the film industry needed. It proved independent cinema could also be commercially successful, revitalised the career of John Travolta, and introduced the world to the goddess that is Uma Thurman. It's an iconic piece of cinema that deserved Oscar glory. But, with Tarantino's penchant for violence, drugs, and foul language, it was never going to win. Regardless, its Best Picture loss still frustrates many to this day. Likewise with The Shawshank Redemption, which, despite seven nominations, went home empty-handed. Shameful. However, as beloved as these two films are now, neither made the cultural impact of Forrest Gump.

Sometimes, you just can't beat the popular crowd-pleaser. The Academy were still in a period of acknowledging and agreeing with audience tastes. The one film (outside of perhaps The Lion King, which shamefully wasn't even nominated) audiences clearly considered to be the best of the year was Forrest Gump. They came out in droves to see it. They went to see it multiple times. They bought the soundtrack. They quoted the film's dialogue. "Run, Forrest, run!" and "Life is like a box of chocolates" became iconic quotes like few others in this era. It captured the cultural zeitgeist, and that's hard for the Academy to ignore. In the 1990s, we often see how desperate the Academy can become to avoid looking like they're out of touch with the general public. Forrest Gump is perhaps the most obvious example of this.

At the end of the day, Forrest Gump is not a bad movie. It's hard not to love, and it's hard not to enjoy. For its time, its visual effects were truly dazzling. While it may not look quite as impressive now, the ingenious way Forrest is seamlessly inserted into moments in history was groundbreaking and revelatory. The film is cemented by the charming and heartwarming performance of Hanks. As the dimwitted but delightful Forrest, Hanks delivers a nuanced and layered performance that's impossible not to be impressed by. Surrounding Hanks is a terrific supporting cast, particularly Robin Wright as Forrest's beloved Jenny and Sally Field as his doting mother. The cast has wonderful chemistry together, and their work makes for wonderfully engaging cinema.

However, when you break it down, Forrest Gump is a rather shallow experience. It's undoubtedly entertaining to take a journey through America's modern history through the eyes of a man who never quite comprehends the significance of the events surrounding him, but there's never much substance to anything else. On one hand, it appears to be saying you should never give up because you never know what you may achieve. Yet, on the other hand, it's essentially showcasing the achievements of a man who only reached the lofty heights of greatness by blind luck and auspicious timing. Talk about mixed messages.

Don't get me wrong. Forrest Gump is a wonderful film. It's something you can throw on when you need to lift your spirits. It's something you can watch every year, and never tire of. It's a cultural phenomenon which deserved great box-office success. But, you can say this about dozens of other films which ultimately weren't deemed Best Picture winners, so why was it held in such high regard? It's this kind of light fare which makes for a confounding choice by the Academy. As fun a viewing experience as it may be, Forrest Gump had no place winning Best Picture, and sadly stands as a truly undeserving winner.