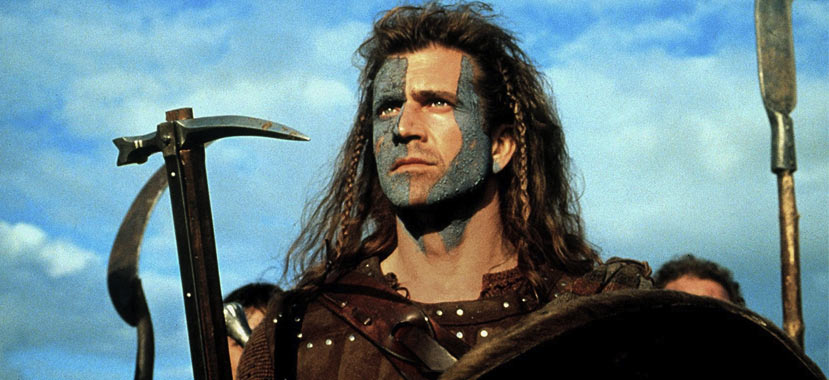 10 Feb

THE BEST PICTURE PROJECT – 'Braveheart' (1995)

In 1996, the 68th Academy Awards ceremony was held at the Dorothy Chandler Pavilion in Los Angeles. Honouring the films released between January 1, 1995, and December 31, 1995, the awards were held on March 25. For the second time, the ceremony was hosted by Whoopi Goldberg.

The music branch of the Academy made the decision to divide the Best Original Score category into two categories: Best Dramatic Score and Best Musical or Comedy Score. This was seen as a response to Walt Disney animation films dominating the category in recent years. It was an experiment which would only last four years, at which point the categories were merged back into one.

With her win for Best Adapted Screenplay for Sense and Sensibility, Emma Thompson became the first person to win Academy Awards for both acting and screenwriting. Thompson had previously won Best Actress in 1993 for her performance in Howard's End. For the first time since 1970, all four acting winners came from films not nominated for Best Picture. To this day, this has never occurred again.

After only one single African-American received a nomination this year (Dianne Houston for Best Live Action Short Film for Tuesday Morning Ride), Reverand Jesse Jackson and the activist group Rainbow Coalition planned to protest outside the Academy Awards. The protest was also to voice objection to the unflattering portrayals of minorities in film and the disparity in their presence in major motion pictures. After reaching an agreement with the Academy, the protest was not held outside the Dorothy Chandler Pavilion, but at a television studio adjacent to the theatre.

One of the night's most memorable moments was the surprise appearance of actor Christopher Reeve. In May 1995, Reeve was left a quadriplegic after being thrown from his horse during an equestrian event, confining him to a wheelchair and requiring a portable ventilator to breathe. Reeve's appearance at the Oscars was kept a secret, both for logistics purposes and dramatic effect. When the curtains opened and his name was announced, the audience immediately gave the beloved actor a standing ovation which lasted more than a minute, creating one of the most emotional moments in Oscars history.

Leading the way this year with 10 nominations was Mel Gibson's epic Braveheart. In a surprise victory, Braveheart would take home five Academy Awards for Best Picture, Best Director for Gibson, Best Cinematography, Best Makeup, and Best Sound Effects Editing. Braveheart became only the ninth film to win Best Picture without any acting nominations.

The nominees:
Apollo 13
Babe
Braveheart
Il Postino
Sense and Sensibility

The winner:
Braveheart

Inspired by the true story of one of Scotland's most beloved figures, Braveheart is the epic and sprawling saga of a man who fought for freedom and independence. William Wallace (Mel Gibson) is a Scottish rebel who leads an uprising against the cruel English ruler Edward the Longshanks (Patrick McGoohan), who wishes to inherit the crown of Scotland for himself. When he was a young boy, William Wallace's father and brother, along with many others, lost their lives trying to free Scotland. Once he loses another of his loved ones, William Wallace begins his long quest to make Scotland free once and for all, along with the assistance of Robert the Bruce (Angus Macfadyen).

Why did it win?
In one of the strangest and most stunning upsets in modern Oscars history, Mel Gibson's Braveheart, a film which failed to win a single Best Picture precursor award, took home the Academy's top prize. The film was never considered the frontrunner throughout the pre-season. Not once. No one saw this coming. This was meant to be the year of Apollo 13, and the year of Ron Howard. We were meant to be seeing the rise of another actor-turned-director leading a charge to Oscar glory. Of course, that did indeed happen, but not for Howard. In what many consider to be almost a "win by default," Gibson and his film essentially snatched victory because of one bizarre snub.

One of the most concrete rules of the Academy Awards is how Best Picture and Director are so intrinsically linked. For a film to win Best Picture, it needs to have a Best Director nomination to match. Yes, there's the Driving Miss Daisy situation where Bruce Beresford failed to be nominated but his film still won, but that's a bizarre anomaly that's only occurred again once since 1989, so it's far from the norm. So, why is this relevant this year? Well, on Oscar nomination morning, pundits were stunned when Ron Howard's name was not announced amongst the Best Director nominees. Also missing a nomination was Sense and Sensibility director Ang Lee. The Best Picture campaign for both films died that morning.

It was an inexplicable snub few saw coming. Throughout all of the precursor season, Apollo 13 and Sense and Sensibility had battled it out, splitting honours along the way. The National Board of Review, the Boston Film Critics, and the Golden Globes had gone with Sense and Sensibility for Best Picture, while the PGA, DGA, and the first SAG award for Best Ensemble had gone to Apollo 13. With those three huge victories, Apollo 13 was the indisputable frontrunner. However, without that Best Director nomination for Howard or Lee, the entire precursor season was essentially irrelevant for the first time in years.

In what would be a history-making moment, Braveheart would become the first Best Picture winner without a PGA nomination or the newly-created SAG nomination for Best Ensemble. It still remains the only Best Picture winner without these all-important nominations. To put it bluntly, Braveheart simply was not meant to win Best Picture. But, without Apollo 13 or Sense and Sensibility in the Best Director race, voters weren't left with much choice. They still felt they had to award Best Picture to a film whose director was also nominated. Outside of Braveheart, their other choices were a foreign language film in Il Postino, or a children's film about a talking pig in Babe, hence Braveheart becomes the default choice. Its response with the public only cemented its case even further.

On a huge budget of $72 million, Braveheart became a cultural phenomenon. The film earned $75 million at the U.S. box-office to end the year as the 18th highest-grossing film of 1995. It also added a further $134 million internationally to bring its worldwide total to $210 million, making it the 13th highest-grossing film of the year worldwide. The film's soundtrack was also an enormous success, selling over 5 million copies to become one of the best-selling soundtracks of all time. But it was the impact on Scotland's tourism where the film made its biggest impression. In what was called the "Braveheart effect," tourism to Scotland soared in the year following the film's release, resulting in a huge increase in overseas visitors to the country, and an estimated ₤7 million to ₤15 million in revenue.

While the film has been rather maligned in recent times, Braveheart was met with positive reaction from critics upon its initial release. The Chicago Sun-Times called it an "action epic with the spirit of the Hollywood swordplay classic," the New York Times hailed it as "one of the most spectacular entertainments in years," and Variety declared it a "huge, bloody and sprawling epic" and "the sort of massive vanity piece that would be easy to disparage if it didn't essentially deliver."

In what became one of the most surprising victories of recent times, Braveheart walked a path to Best Picture like no film before. No precursor awards. No frontrunner status. No expectations. No one expected Braveheart to be declared the Best Picture winner, given it the upper hand when those nomination snubs cruelly robbed its main competitors of a true chance at victory. Braveheart flew under the radar (a campaign tactic many films have attempted to follow), but ultimately took full advantage of its default status as the only film voters could plausibly choose.

Did it deserve to win?
A big, spectacle takes Best Picture, and a sweeping blockbuster led by a huge Hollywood star is the Academy's chosen one. It's a narrative familiar with the Oscars. It's something we've seen before, and will see again, in years to come. It doesn't make it any less tolerable in dealing with this particular winner's status as a deserving winner. As enjoyable a film as Braveheart is, it had no place winning Best Picture. None whatsoever.

Braveheart is not a great film. It's not even a particularly good film. It's a competent piece of cinema, no doubt. It's a crowd-pleaser, with its rousing story of a daring and brave new character who would become a cinematic icon, and its thrilling and brutal battle scenes which were crafted with perfect precision. However, it was purely a vanity project for Mel Gibson, who was so desperately trying to be taken seriously as both an actor and a director. By basing his project on myths and legends, Gibson is able to take creative license with pretty much every aspect of this film, and the historical inaccuracies are rife.

Need a few examples? Okay then. For starters, the film implies William Wallace may have been the father of King Edward III, after a possible affair with Edward's mother Isabella of France. But history tells a different story. At the time of Wallace's death, Isabella was only nine years old, still living in France, and not yet married to King Edward II. Yep. Wallace and Isabella never actually met. But, hey. Don't let that get in the way of a good story.

What's most ludicrous is the infamous Battle of Stirling Bridge – one of the most important battles in Scotland's history, and, according to legend, the most daring and cunning display of Wallace's military mind. History tells us Wallace and his Scottish troops used the bridge as a tactical manoeuvre to trap and defeat the English, despite being terribly outnumbered and outmatched. Yet, in Braveheart, this historic battle takes place in an open field, with not a bridge in sight. Yes, it makes for a much more dazzling and entertaining combat sequence, but it has no basis in historical fact whatsoever, and robs the audience of the chance to truly see Wallace's brilliance as commander and conqueror.

The acting is also rather woeful, particularly from Gibson. It's no surprise he didn't follow previous actor-turned-director winners like Clint Eastwood, Kevin Costner, or Woody Allen and also receive a Best Actor nomination for his efforts. His Scottish accent is a disaster, sounding more like an Australian who's spent two weeks abroad and thinks they've nailed the local tongue. Every line is belted out with such ridiculous force, as if Gibson is trying to hide how bad his acting and accent really are. I know the "they may take our lives but they'll never take our freedom" speech has now gone down in cinema folklore, but it's really the only moment his performance soars beyond mediocrity. It doesn't help the screenplay is just as tragic as his performance. There's a reason this film did not win Best Original Screenplay, and the dialogue is one of them.

Look, I know a lot of people love Braveheart, and that's fine. For fans of action-laced period dramas, it's probably a dream come true. While the film has some considerable flaws, you can't deny its production values, with some sensational set and costume design Thomas E. Sanders and Charles Knode, respectively, and some glorious location cinematography from John Toll. But to call Braveheart the best film of the year is utter nonsense. It's not even close, and stands as one of the most undeserving winners of Best Picture in Oscars history.