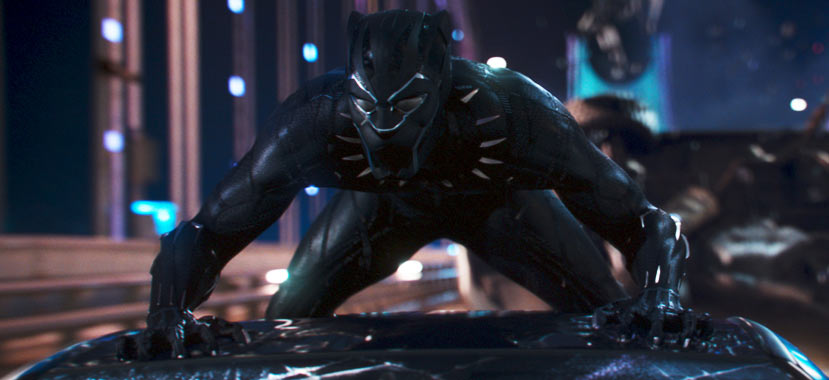 14 Feb

REVIEW – 'Black Panther'

When it comes to the Marvel Cinematic Universe, we film critics must sound like broken records, at this point. With each of their recent films, Marvel Studios somehow consistently manage to one-up themselves over the last adventure, giving us something fresh and original, while still fitting into the larger picture of the biggest franchise in Hollywood, right now. We gush and swoon, pondering how a ten-year-old franchise, now in its 18th film, is still managing to dazzle us. Well, surprise, surprise. They've bloody well done it again with Black Panther – a film which may just be their boldest offering yet.

I've heard someone refer to Black Panther as a "celebration of blackness," and I can think of no better way to describe this film. Standing both as a terrifically entertaining and stoically socially-aware piece of cinema, the film expertly toes the line between big, popcorn blockbuster and important and relevant gamechanger. With its incredible cast of nearly-all black actors, coupled with its beautiful and glorious African-inspired visual style, the film stands alone as the most distinctive chapter in Marvel's franchise, so far. I won't dare to speak on the behalf of people of colour, but I can only begin to imagine what this form of representation means to them.

After his tantalising debut in Captain America: Civil War, T'Challa (a phenomenal Chadwick Boseman) returns to his African homeland of Wakanda to take his place as the country's new ruler, after the death of his father, King T'Chaka (John Kani). To the outside world, Wakanda is a poor, third-world nation, living a deeply private and disconnected life from global interference. As we soon learn, this is all merely a clever and deceptive front. The nation is far from a desolate place, but rather a thriving land of advanced technology and a dazzling metropolis hub, hidden by a forcefield to keep the rest of the world from learning its secrets.

Wakanda's landscape just so happens to be dotted with a mysterious and potent substance called vibranium (aka the same indestructible material Captain America's shield is made from), hence the need for the nation's secrecy and introversion. This material powers their incredible technology, weaponry, and the suit of the Black Panther, the protector of Wakanda and its people.

After a glorious and dazzling coronation ceremony, presided over by T'Challa's magnanimous mother, Ramonda (Angela Bassett), his wise-cracking and technologically-brilliant younger sister, Shuri (a scene-stealing Letitia Wright), his chief counsel, W'Kabi (Daniel Kaluuya), his spiritual leader and mentor, Zuri (Forest Whitaker), his ex-lover and close friend, Nakia (Lupita Nyong'o), and the Dora Milaje, aka the King's fiercely loyal bodyguards, comprised entirely of bad-ass and shaved-headed women, led by the fiery Okoye (a revelatory Danai Gurira), T'Challa assumes the throne, and, with it, the title of Black Panther.

But, this is a Marvel movie, and a Marvel movie needs a villain, or in this case, two. One of the biggest problems with this cinematic universe has been its villains. For every great scene-stealing offering like Loki or Ronan, we've had to suffer through mediocre disappointments like Yellow Jacket or Malekith. Thankfully, Black Panther provides two of their greatest so far, both with deep motivations and wicked performances, which make for truly captivating viewing.

Making life difficult for T'Challa is Ulysses Klaue (Andy Serkis), who we first briefly met back in Avengers: Age of Ultron. A rough and gritty South African gangster (Serkis perfectly nails the accent), Klaue is out to get his hands on some of Wakanda's precious vibranium to sell to undercover CIA agent Everett K. Ross (Martin Freeman). Klaue's partner in crime is the menacing Erik Killmonger (Michael B. Jordon), whose motives run far deeper than merely stealing a piece of the precious substance.

Killmonger has a deep back-story, which I dare not spoil. Suffice to say, he has some serious beef with T'Challa and Wakanda, and his partnership with Klaue is ultimately a ruse to gain access to the secret nation. Once inside Wakanda, his explosive rage and desire for vengeance become a devastating threat to T'Challa's reign and to Wakanda's peaceful and secretive way of life. With his homeland at risk, and his standing as Black Panther challenged, T'Challa must find the strength to face his first true test as King.

The impact felt by women and young girls at seeing Wonder Woman on the big-screen last year was one of the greatest cinematic moments of 2017. Now, we get black representation in a major blockbuster like never before. What Black Panther will mean to the black community is immeasurable. For people of colour, particularly the youth, to be able to see themselves on-screen as the heroes of a superhero movie will be genuinely overwhelming. It is a milestone moment in cinema history I know I cannot fully comprehend, but I must admire and stand in awe of.

What writer/director Ryan Coogler (who is only 31, mind you) has delivered here is groundbreaking and game-changing. Coogler's masterpiece is naturally filled with the exciting action and enthralling fun we come to demand from any piece of superhero cinema. But the film is so deeply rooted in black culture and history, while also being so downright racially and socially conscious, it rises above the expectations of this genre, crafting something both entertaining and enlightening. Coogler's unique and authentic vision gifts us with a film full of black characters, but devoid of the usual, frustrating stereotypes associated with their portrayals. His work here is remarkable.

It helps Coogler has filled Black Panther with the most glorious cast, headed by another impeccable and impressive performance from Boseman. As our latest Marvel superhero, and in Boseman's capable hands, T'Challa proves a worthy addition to the cinematic universe. With quiet pathos and deep reflection, T'Challa is a complex and complicated soul, bound by duty but crippled by his fear of failure. Boseman delivers the goods, and gifts us a new hero to cheer on. He's set the basis for a character we want to follow over the next few films, and that's a huge achievement for such a little known comic-book character.

On the flipside, Jordan is perfectly cast as the mighty antagonist, both physically and emotionally imposing as our main villain. Jordan brings such intensity and fire to his performance, crafting something truly terrifying, yet entirely engaging. He instils so much humanity in his character, which is often so lacking in villains these days. Killmonger's purpose stretches far beyond the usual world domination, and that makes his mission that much more empathetic and genuine. If there was ever a Marvel villain to threaten Loki's crown, we've found him in Erik Killmonger.

But this is not just a film with macho bravado. If Wonder Woman broke new ground for female empowerment, Black Panther gives them rise like never before. There are no damsels in distress here. The women of Wakanda are every bit as strong and fierce as their male counterparts. Nyong'o is as luminous as ever as Nakia, but it's when she finally gets a chance to fight that she's truly stunning. Gurira is on another level as Okoye. She steals every moment she's afforded, and if there's one character who demands a spin-off, it's this sensational warrior.

While Bassett brings the stoicism and strength as the noble Ramonda, adding some much-needed levity is Wright as T'Challa's cheeky and downright hilarious sister, Shuri. One scene, in which she ridicules her brother's choice of footwear, is one of the film's highlights, and Wright has such impeccable comedic timing for someone so young. Black Panther is every bit a film to deliver female representation as it is to deliver black representation, and it nails both with perfect execution.

But it's the film's technical aspects which are just as impressive and admirable. After dazzling with her Oscar-nominated work in Mudbound, cinematographer Rachel Morrison (aka the first female cinematography nominee in Academy history) shines yet again, capturing the gorgeous beauty of Wakanda's landscapes, delivering the best cinematography of any Marvel film so far. See what happens when you hire female artists? With its expert mix of visual effects and lavish production design from Hannah Beachler and costume design from Ruth E. Carter (already a frontrunner for next year's Oscars), the film is a visual spectacle for the eyes.

The film comes alive even further with its sensational score from Ludwig Göransson, which mixes traditional African sounds with the modern stylings of the genius that is Kendrick Lamar. It's a brilliant collaboration between two dynamo talents, and the result is remarkable. Black Panther stands as one of the few films in the Marvel canon to gift us with a memorable score and a great original soundtrack. That in itself is a huge step forward, and something that needs to be found in future chapters of this franchise.

Much like all these superhero films, Black Panther is not without its flaws. The main story isn't particularly original, borrowing from everything from Thor to Spider-Man to even something like The Lion King. We've seen this sort of "potential mighty hero needing to overcome a huge obstacle to take his rightful place in the world" narrative before. Its a damn shame the writers weren't able to give the film a plot as fresh as its visual style. Adding to that, for all of Boseman's charisma, T'Challa, with his penchant for dead-pan dialogue delivery, can sometimes be a bit of a dull bore. Yes, it's a character choice, but it can be a frustrating one. If he wasn't surrounded by such dazzling action and wonderful supporting characters, this could be a fatal curse.

But these are such minor quibbles in a film that gets so much right. Black Panther is an absolute triumph. Its injected with such unique style and flair, honouring the traditions of Africa's past, while paving a path to the future. While taking its place in the larger picture of the universe surrounding it, the film truly stands alone as its own glorious piece of cinema. It's a celebration of black identity. It's a celebration of women. It's a deeply genuine representation of the black experience, and the power of such a mighty and fierce culture. Even as a white man, I was utterly captivated and inspired. One can only imagine the viewing experience of a person of colour.

Yes, Black Panther is another victory for Marvel Studios, but it's a victory like nothing before. If this film succeeds (and you've gotta assume it will), it changes the game. It breaks all the rules. It's the birth of a new hero. A hero who doesn't look like any other. A hero the world of cinema needs right now. A hero the Marvel Cinematic Universe has been crying out for. Black Panther is the start of a new age for this franchise, and one that must be celebrated, at every turn. All hail the king. Wakanda forever, indeed.
★★★★1/2☆