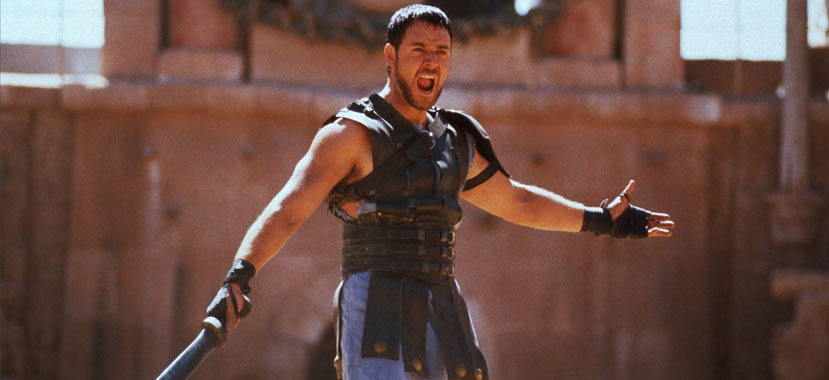 15 Feb

THE BEST PICTURE PROJECT – 'Gladiator' (2000)

In 2001, the 73rd Academy Awards ceremony was held at the Shrine Auditorium in Los Angeles. Honouring the films released between January 1, 2000, and December 31, 2000, the awards were held on March 25. For the first time, the ceremony was hosted by actor and comedian Steve Martin.

With his dual Best Director nominations for Traffic and Erin Brockovich, director Steven Soderbergh became only the third director in Oscars history to receive double directing nominations in the same year. Despite many assuming this would lead to voter splitting, Soderbergh won Best Director for Traffic.

Ang Lee's Crouching Tiger, Hidden Dragon became the third film to be nominated for both Best Picture and Best Foreign Language Film in the same year. With its ten nominations, it also became the most nominated foreign language film in Oscars history. The film went on to win four Academy Awards for Best Foreign Language Film, Best Original Score, Best Cinematography and Best Art Direction, tying it with Fanny and Alexander as the most awarded foreign language film in Academy Awards history.

With his nomination for Best Supporting Actor for his performance in Gladiator, Joaquin Phoenix joined his brother River as an Oscar nominee, making them the first pair of brothers to receive acting nominations. River Phoenix was nominated for Best Supporting Actor in 1988 for his performance in Running on Empty, before his untimely death in 1993.

Leading the way this year with 12 nominations was Ridley Scott's historical epic Gladiator. Despite this dominance in nominations, the film ultimately failed to sweep the awards. Regardless, it was the night's major winner, taking home five Academy Awards for Best Picture, Best Actor for Russell Crowe, Best Costume Design, and Best Visual Effects. Gladiator became the first Best Picture winner without either a directing or screenwriting win since All The King's Men in 1949.

The nominees:
Chocolat
Crouching Tiger, Hidden Dragon
Erin Brockovich
Gladiator
Traffic

The winner:
Gladiator

Inspired by Rome's epic history, Gladiator is the story of a man who lost everything and became a legend. Maximus Decimus Meridius (Russell Crowe) is a powerful Roman general, loved by the people and the aging Emperor, Marcus Aurelius (Richard Harris). Before his death, the Emperor chooses Maximus to be his heir over his own son, Commodus (Joaquin Phoenix), and a power struggle leaves Maximus and his family condemned to death. The powerful general is unable to save his family, and his loss of will allows him to get captured and put into the Gladiator games until he dies. The only desire that fuels him now is the chance to rise to the top so that he will be able to look into the eyes of the man who will feel his revenge.

Why did it win?
One of the strangest and oddest Oscar races of recent times. You expect a Best Picture winner to carry certain categories with it, namely Director, Screenplay, or at least some of the major tech categories like Cinematography or Film Editing. Gladiator broke all the rules in its victory. Sure, it won five Oscars, including a major acting award, but to only take Costume Design and Visual Effects along the way to winning Best Picture made for a very bizarre Oscar night. History would dictate a film that wins Best Director, Best Film Editing, Best Adapted Screenplay and Best Supporting Actor would be the shoe-in for Best Picture. And yet, that was Traffic, and it did not win Best Picture. In fact, no film had won both Best Director and Screenplay and not gone on to win Best Picture since A Place in the Sun in 1951. Even something like Crouching Tiger, Hidden Dragon, with its four major victories, seemed more likely to take home the big one. So, how did Gladiator come out on top? Chalk it up to a case of popularity and familiarity.

Delivering many of the similar narrative tropes to previous Best Picture winners Braveheart and Ben-Hur, Gladiator was a sprawling and epic blockbuster, led by a main character who would become a new cinematic hero and icon. Maximus Decimus Meridius quickly became a new legend of film, with instantly-quotable dialogue and brave and daring feats the world of cinema hadn't seen since William Wallace. With Russell Crowe's breakthrough (and ultimately Oscar-winning) performance, Maximus was a character audiences would cheer for, women would swoon over, and little kids would emulate. The Best Picture victory of Gladiator simply marked another acknowledgement by the Academy of a crowd-pleasing piece of cinema that captured the cultural zeitgeist and became somewhat of a phenomenon.

On a large budget of $103 million, Gladiator would earn $187 million at the U.S. box-office to end the year as the fourth highest-grossing film of 2000. Its international total was even more impressive, taking in $259 million internationally to bring its worldwide figure to a massive $457 million. This made Gladiator the second highest-grossing film worldwide of 2000, beaten only by Mission: Impossible 2. The film captured both male and female audiences, and was one of the biggest box-office success stories of the year. This stood to boost its Oscar chances, especially given it was released in May aka outside the usual end-of-year awards season bubbble.

Despite the film's impressive box-office success, Gladiator received decidedly mixed reviews from critics, with just as many criticising it as those praising it. While TIME magazine called the film "a big, fat, rousing, intelligent, daring, retro, many-adjective-requiring entertainment," and the New York Post hailed it an "exhilarating, sweeping epic that begs to be seen on the largest possible screen," the Chicago Sun-Times found the film to be "muddy, fuzzy and indistinct," and Salon called it "a canned experience" and "a film that flails around awkwardly trying to find a reason to exist." It marked another rare Best Picture winner that ultimately failed to win over the critics.

Given the tepid critical reaction, it was no surprise Gladiator failed to take any major prizes during the precursor critics awards season. Los Angeles went with Crouching Tiger, Hidden Dragon, New York went with Traffic, and Boston went with Almost Famous. Once again, the Golden Globes proved to be the gamechanger. Gladiator received five nominations, the most of any film, and walked away with the all-important Best Motion Picture – Drama prize. From here, the film would win the PGA, and receive nominations for DGA, WGA, and SAG Ensemble. Its losses in those latter guild awards may not have solidified it as the Best Picture frontrunner, but just the fact it was so widely represented cemented its chances. After a huge Oscar campaign blitz, including being the only Best Picture nominee available on the new format of DVD, Gladiator became the crowd favourite. Its overwhelming popularity made it the obvious choice for Best Picture.

Did it deserve to win?
Once again, we see a popular film beating out its technically "better" rivals. We all love Gladiator. How can you not? It's a gloriously entertaining piece of cinema, even if it drags on a little longer than it needs to. Crowe's performance is iconic, and fully deserved to net him an Academy Award. It's a beautifully crafted film, with dazzling costume and production design, a soaring score from Hans Zimmer, and brilliant direction from Ridley Scott. But, in a year of films like Traffic, Crouching Tiger, Hidden Dragon, and the shamefully not-nominated Almost Famous, Gladiator had no place winning Best Picture.

Gladiator is not a bad film, but its screenplay certainly is. It was nice of the Academy to nominate Gladiator for Best Original Screenplay, but one can only assume that particularly nod was the result of being swept up with the other 11 nominations. The dialogue, while featuring many lines now part of movie folklore, is fairly woeful. And Phoenix's Commodus is a villain you'd expect to find in a children's animated film, not a sprawling, historical epic. The film is also far too long, and drags exhaustively at several points. You've likely forgotten how mind-numbingly dull many segments of this film actually are. It dazzles you with those gladiatorial battles to make you forget just how long it took to get to that point. Go back and revisit Gladiator, and tell me you don't look at your watch numerous times.

It makes me so damn miserable to think of how many terrific films we had in 2000, which were all far more deserving of Best Picture over Gladiator. When you break it down, Traffic is a miserable film. It's bleak and brutal, and does not elicit joy from its audience. That makes it a difficult film for the Academy to vote for. I get it. But it's so expertly crafted by Steven Soderbergh, and features a sublime ensemble and one of the best screenplays of this era. You cannot tell me this should not have equalled Best Picture glory. Likewise with Crouching Tiger, Hidden Dragon, which still stands as one of the finest foreign language films of all time. While Almost Famous and Erin Brockovich were likely deemed too narratively light for Best Picture, they are both miles above Gladiator, in terms of narrative style and overall effectiveness.

We were truly blessed with one of the best years of deserving contenders in recent times, and the Academy foolishly went for the crowd-pleaser. It's easy to understand why, but that makes it no less baffling and frustrating. There's nothing particularly wrong with a film like Gladiator winning Best Picture. In a light year of competitors, it would surely be deserving. But that's not what we had in 2000. We had a great line-up of nominees who all deserved the prize over Gladiator. Well, not Chocolat. That only got in because of Harvey Weinstein being behind its Oscar campaign, and that's all I need to say about that.

At the end of the day, Gladiator is a fine film. It's a film you can pop on and enjoy, time and again. It features a great and iconic performance from Russell Crowe which now lives in cinematic infamy. It stands as a great popcorn blockbuster that rightfully deserved to rake in the box-office dollars. However, as much as we all loved it, and likely still love it, Gladiator is not a deserving Best Picture winner. Not even close.