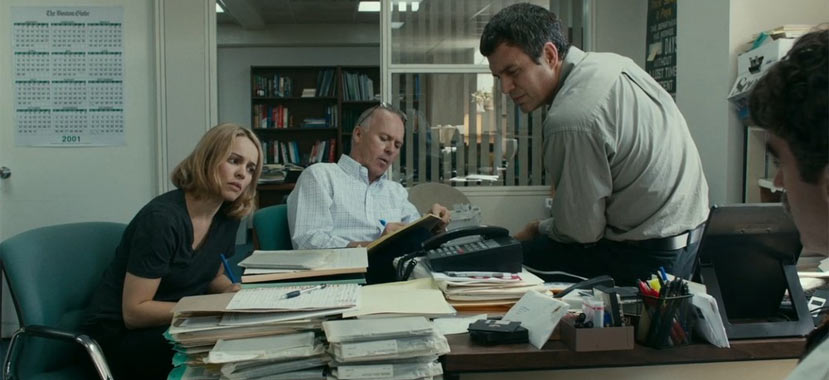 02 Mar

THE BEST PICTURE PROJECT – 'Spotlight' (2015)

In 2016, the 88th Academy Awards ceremony was held at the Dolby Theatre in Los Angeles. Honouring the films released between January 1, 2015, and December 31, 2015, the awards were held on February 28. For the second time, the ceremony was hosted by stand-up comedian and actor Chris Rock.

For the second consecutive year, all 20 acting nominees were of Caucasian descent, as were four of the five nominees for Best Director. Several prominent films and performances from people of colour were snubbed, including Creed, Straight Outta Compton and Beasts of No Nation, despite receiving nominations at most of the major precursor awards shows. Once again, the Academy faced severe backlash over the lack of diversity in their nominations, with #OscarsSoWhite trending on Twitter yet again.

Actress Jada Pinkett Smith and director Spike Lee announced plans to boycott the ceremony and encouraged others not to watch. There were also calls from members of the black community for Chris Rock to resign from his hosting duties over the controversy. Even Barack Obama chimed in on the backlash, stating "I think, as a whole, the industry should do what every other industry should do, which is to look for talent, provide opportunity to everybody."

Unlike last year, the Academy took immediate steps to attempt to rectify these problems. Just one week after the nominations were announced, Academy president Cheryl Isaac Boones announced several rules changes to the Academy's memberships including increasing the number of women and minorities in their membership ranks by 2020. The Academy also stated new members would earn voting privileges for ten years, after which time they could only retain voting rights if they remained active in the motion picture industry.

These new members would only earn lifetime membership (which was previously given to every new member) if they served three consecutive ten-year periods or if they were nominated for an Academy Award. The Academy would also reserve the right to take away membership rights of members who were no longer active in the community, angering many senior members of its group.

Despite this response, the National Action Network led by civil rights activist Al Sharpton held a protest rally a few blocks from the Dolby Theatre on the night of the ceremony. African-American directors Ryan Coogler and Ava DuVernay also held a charity event for the water crisis in Flint, Michigan on the same evening as the Academy Awards. Despite the filmmakers stating the timing was merely coincidental, many believed this was purposely crafted as an alternative place for those who wished to boycott the Oscars.

With his win for Best Director for The Revenant, Alejandro G. Iñárritu became the third director to win two consecutive Oscars in this category. With his win for Best Cinematography for The Revenant, Emmanuel Lubezki became the first person in Oscars history to win Best Cinematography for three consecutive years. This also marked the first time in Oscars history the same director/cinematographer pairing had won consecutive Academy Awards.

With his win for Best Original Score for The Hateful Eight, at age 87, Ennio Morricone is believed to be the oldest competitive winner in Oscars history. This cannot be officially substantiated, as the Academy only keep age-related data on winners in the acting and directing categories. However, they did state that to the best of their knowledge, there was no winner older than 87 in any category. With his nomination for Best Supporting Actor for Creed, Sylvester Stallone became the sixth person to be nominated for playing the same role in two different films.

Leading the way this year with 12 nominations was Iñárritu's sprawling epic The Revenant, followed by George Miller's thrilling spectacle Mad Mad: Fury Road with nine. The latter would be the night's big winner, taking home six Academy Award in the technical categories. But the night belonged to Tom McCarthy's gripping drama Spotlight, which took home Best Picture and Best Original Screenplay. With only two wins, Spotlight was the first film since 1952's The Greatest Show on Earth to win Best Picture and only one other category.

The nominees:
The Big Short
Bridge of Spies
Brooklyn
Mad Max: Fury Road
The Martian
The Revenant
Room
Spotlight

The winner:
Spotlight

Based on the Pulitzer Prize-winning series of short stories published in The Boston Globe, Spotlight is the story behind the journalism investigation into widespread and systemic child sex abuse in Boston by numerous Roman Catholic priests. In 2001, editor Marty Baron of The Boston Globe assigns a team of journalists to investigate allegations against John Geoghan, an unfrocked priest accused of molesting more than 80 boys. Led by editor Walter "Robby" Robinson (Michael Keaton), reporters Michael Rezendes (Mark Ruffalo), Matt Carroll (Brian d'Arcy James) and Sacha Pfeiffer (Rachel McAdams) interview victims and try to unseal sensitive documents. The reporters make it their mission to provide proof of a cover-up of sexual abuse within the Roman Catholic Church.

Why did it win?
If last year's race was a topsy-turvy one, this year wasn't much smoother. The precursor season provided absolutely zero consensus, meaning we all headed into Oscar night with no clue as to what would win Best Picture. Ultimately, it came down to a three-horse race, and awards pundits were evenly divided on which to go with as their final prediction. But early on, the race look decidedly different to where it ended up.

When the New York and Toronto film critics both chose Carol as their Best Picture winner, it looked like it may be Todd Haynes' year. But then something very strange and very unexpected happened. Mad Max: Fury Road, George Miller's thrilling and spectacular sequel to his groundbreaking Mad Max trilogy, started winning prizes for Best Picture. It won with the National Board of Review and the critics groups of San Diego, Chicago, Florida, and Austin, plus most critics groups gave their Best Director prize to Miller.

And then things became even more complicated with Tom McCarthy's tribute to journalism Spotlight emerging as the new contender, taking Best Picture with the critics groups of Los Angeles, Boston, Washington D.C., San Francisco, Dallas, Detroit, Vancouver, Houston, and both the Broadcast Film Critics Association and the National Society of Film Critics. When the film key received nominations with DGA, PGA, WGA, and the all-important SAG Ensemble nomination, Spotlight took the lead.

So, those were the three horses in the race, right? Nope. When the PGA and DGA both shockingly snubbed Carol, its Oscar campaign was cooked. It ultimately earned six Academy Award nominations, but not for Haynes for Best Director and not for Best Picture. And while Mad Max: Fury Road and Miller continued to be nominated, both failed to repeat their early success with the remaining awards shows. Waiting in the wings were Alejandro G. Iñárritu's epic pseudo-western The Revenant and Adam McKay's black comedy The Big Short, both of which were receiving high-praise from critics, and receiving key nominations at the major precursor events.

After the Golden Globes went with The Revenant for Best Motion Picture – Drama and Iñárritu for Best Director, it seemed we had our new frontrunner. But it was missing the key SAG Ensemble nomination, which complicated its leader status. This crazy awards season wasn't done throwing curveballs, and when The Big Short took the PGA, the awards community was stunned. Well, not this guy. It was my ballsy Gold Derby PGA prediction that year, and somehow, I was right. The last eight PGA winners had all gone on to win Best Picture. Suddenly, from seemingly nowhere, The Big Short was the new frontrunner.

Oh, but we're not done yet. Then came the SAG Awards, and after seeing The Big Short take PGA, many thought it could be the SAG Ensemble winner too, especially given its impeccable A-list cast, and finally put this race to bed. But it wasn't to be, and SAG went with Spotlight, thrusting it right back into the race. From here, all eyes turned to the DGA, hoping that would possibly clear things up. If they went with McKay, The Big Short had it. If they went with McCarthy, it would be Spotlight. If it was Miller, all bets were off.

But in a DGA first, Iñárritu won for the second consecutive year, making him the only director in history to win back-to-back DGA prizes. When The Revenant also took Best Film at the BAFTAs, the three-horse race was set. One film with PGA, one with DGA, and one with SAG. On Oscar night, as predicted, the Screenplay categories went to Spotlight for Adapted and The Big Short for Original, Mad Max: Fury Road cleaned up the technical categories, and The Revenant took Director, Actor and Cinematography. With only those screenplay wins, it seemed almost impossible for either The Big Short or Spotlight to take Best Picture, right?

Wrong. For the first time in six decades, a film with only one other category victory took home Best Picture, and Spotlight was our winner. But how did this happen? Well, firstly, Spotlight is a brilliant film. Quiet and unassuming with a powerful narrative, it was impossible not to be touched and affected by McCarthy's remarkable piece of cinema. It had widespread critical acclaim and returned to reclaim its frontrunner status at just the right time.

The ultimate key to the Best Picture success of Spotlight lay with that narrative of The Boston Globe's exposure of the Church's shameful cover-up of systematic child abuse by their priests. Even members of the Pope's commission to protect children praised Spotlight as an important piece of cinema, which only helped boost its Oscar campaign further. Spotlight had the importance factor The Revenant and The Big Short simply did not. Much like Gravity losing to 12 Years a Slave, this year was also a battle of a technical marvel vs. a film with the important story to tell. Once again, importance won.

Its main rival The Revenant was simply far too divisive to win Best Picture. Many were put off by its exhaustive running time and its harsh and violent nature. It was polarising opinions, even more-so than Birdman, and people either absolutely adored it or they fiercely despised it. Many believe this divisive response to film meant the preferential ballot hurt The Revenant, in that if voters didn't make it their #1 pick, they were likely to place it much further down their list, causing it to lose in the complicated preferential system. Much like Gravity, they couldn't deny its technical achievements and the film's impeccable direction, but Best Picture was out of its reach.

As for The Big Short, well, in essence, its a comedy, and comedy does not play well with the Academy. But despite its light-hearted nature, The Big Short ultimately made its audiences feel fury when they realised the GFC could so have easily been avoided, yet it was allowed to spiral out of control. Even worse still, the film concluded with the shocking revelation most of the players who led the world into financial chaos got away with it. Plus, we could be headed for a repeat GFC in just a few years. Bleak ending, right? And that was perhaps what killed its Best Picture chances – you didn't leave the cinema feeling particularly good. You felt angry and deflated. That does not equal a film you want to vote for.

At the end of the day, that's what Spotlight had that its fellow nominees lacked. It was the film you wanted to root for and Academy members wanted to vote for. It was the most loved film. Voting for it made you feel good. The film industry wanted to see it win Best Picture, especially given it was the underdog in the race. Spotlight is about the little guys taking down the might of one of the most powerful groups on the planet. It celebrated the power of journalism and the strength of those who pursue the truth against incredible obstacles. It was David beating Goliath. If it won, it was life imitating art, and that's precisely why Spotlight won Best Picture.

Did it deserve to win?
First thing's first – Carol missing out on a Best Picture nomination was an absolute disgrace. So was the snub of Todd Haynes for Best Director. Unlike Brokeback Moutain, I'm not going to immediately chalk this one up to homophobia. Yes, gay cinema can be uncomfortable for straight people to sit through. We get it. But I'd like to think, in 2016, we were beyond this kind of homophobic dismissal of gay-themed films.

Plenty of people were describing Cate Blanchett's character as "predatory," and that was potentially off-putting. Although Blanchett was nominated for Best Actress, so that can't really explain it either. Perhaps it was simply just too subtle and too understated. It didn't scream for attention, like many other contenders. Haynes' Far from Heaven was a similarly reserved film, and it wasn't nominated either. It's highly likely Carol scored plenty of votes, but evidently not enough of the key #1 positions to make it in. Awful decision.

Much love to The Revenant and The Big Short, but the Academy were ultimately correct in their choice of Spotlight. The Revenant is a visually-stunning film, and Leonardo DiCaprio's performance was sensational, rightfully awarding him an Oscar, at last. But it was a difficult film to endure, and three years later, I can barely remember what happens in it, other than Leo getting attacked by a bear.

The Big Short was easily one of the most entertaining films of the year, cemented by its incredible ensemble cast, particularly Christian Bale, who likely should have won another Oscar. For a film with such a complex narrative (unless you happen to work on Wall Street), it was remarkable McKay could make it so damn accessible and understandable. But it really was too light to be a Best Picture winner. Had the Academy gone down that path, people would probably look back on it and scratch their heads.

Spotlight had that level of importance to it which could not be ignored. This was a powerful film with a powerful real-life narrative. It's difficult to even argue against a film like this winning Best Picture. It may not have delivered the flashy spectacle like The Revenant or Mad Mad: Fury Road, but it didn't need to. Spotlight was simply a solidly made piece of cinema. That's obviously how the Academy saw it too. It became a film voters were proud to say they voted for. There's absolutely nothing wrong with that.

Was it a little bit Oscar-baity? Perhaps. You don't tackle a subject like uncovering rampant child sex abuse and expect the Academy not to notice. But I'd like to think the overall purpose of this film was not to win Academy Awards, but rather highlight the gruelling, arduous work The Boston Globe Spotlight team endured to bring this story to the public, thereby exposing a decades-long cover-up by the Church. By seeing the exhaustive work journalists must go through to deliver such a damning story makes us appreciate we even have journalists willing to do this work in the first place.

And that's really its major success. By focusing so closely on the story and the path it took to uncover and publish, Spotlight focuses its narrative in precisely the right place. The Post was a disappointment to many because it muddled up the powerful story of the publication of the Pentagon Papers with an unnecessary side-narrative regarding Martha Graham listing the Washington Post on the stock exchange. We barely see anything in Spotlight besides the exhaustive path the journalists take to get this story done. Not only does that keep the pace moving, it keeps your attention on precisely where it needs to be.

A tribute to journalists and the pursuit of truth and justice, Spotlight is a glorious piece of cinema. It's not exactly dazzling. It's hardly unique. It's not even groundbreaking. But not every Best Picture winner has to be. Sometimes, it's just about how a film makes you feel, and this film breaks your heart and then fills it with hope. Did it deserve to win Best Picture? You're damn right it did.