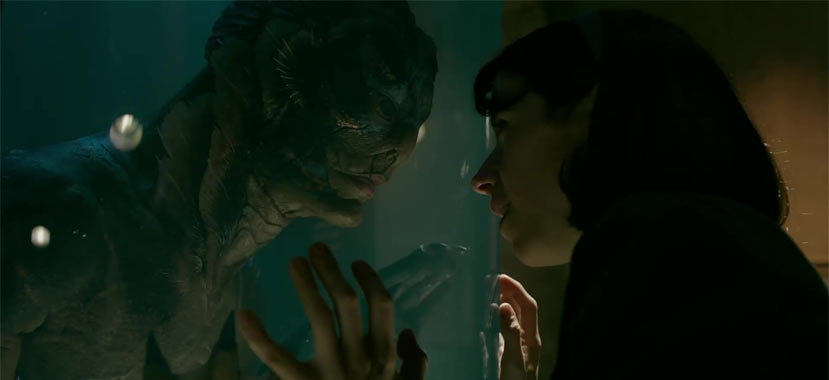 26 Mar

THE BEST PICTURE PROJECT – 'The Shape of Water' (2017)

In 2018, the 90th Academy Awards ceremony was held at the Dolby Theatre in Los Angeles. Honouring the films released between January 1, 2017, and December 31, 2017, the awards were held on March 4, to avoid conflicting with the Winter Olympic Games. For the second consecutive year, the ceremony was hosted by late-night talk show host Jimmy Kimmel, making Kimmel the first back-to-back host since Billy Crystal in 1997/98.

With his win for Best Original Screenplay for Get Out, Jordan Peele became the first black screenwriter to win this category and the fourth black screenwriter winner overall. With his nominations for producing, directing, and writing the film, Peele became the first black filmmaker to receive these three nominations in the same year. He was also only the fifth black filmmaker to be nominated for Best Director.

With his win for Best Adapted Screenplay for Call Me by Your Name, at age 89, James Ivory became the oldest person to win a competitive Academy Award. He also now shares the record for the oldest nominee in history with Best Documentary Feature nominee Agnès Varda, who was nominated this year for her film Faces Places. With his nomination for All the Money in the World, at age 88, Christopher Plummer became the oldest actor to be nominated for a competitive Academy Award. This matches his record as the current oldest acting winner, after his Best Supporting Actor victory at age 82 in 2012 for Beginners.

With her nomination for Best Cinematography for Mudbound, Rachel Morrison finally broke an embarrassing 89-year record to become the first female nominated in this category. With her dual nominations for Best Supporting Actress for Mudbound and Best Original Song for "Mighty River," Mary J. Blige became the first person in history to be nominated for both acting and songwriting in the same year. With her nomination for Best Adapted Screenplay for Mudbound, Dee Rees became the first black woman nominated in this category and only the second black woman to be nominated for writing.

With her nomination for Best Director for Lady Bird, Greta Gerwig became only the fifth female to be nominated in this category. With his nomination for Best Documentary Feature for Strong Island, Yance Ford became the first openly transgender filmmaker to be nominated for an Academy Award.

After last year's unfortunate Best Picture announcement mistake, Faye Dunaway and Warren Beatty were invited back to once again present the night's final award. Thankfully, this time, it all went perfectly. Despite the tradition of last year's Best Actor winner presenting this year's Best Actress award, Casey Affleck decided not to attend the ceremony, assumably due to the backlash over his past sexual harassment allegations. The award was instead presented by previous Best Actress winners Jodie Foster and Jennifer Lawrence.

Leading the way this year with 13 nominations was Guillermo del Toro's dazzling fantasy The Shape of Water, followed by Christopher Nolan's war epic Dunkirk with eight. The Shape of Water was the night's big winner, taking home four Academy Awards for Best Picture, Best Director for del Toro, Best Score, and Best Production Design.

The nominees:
Call Me by Your Name
Darkest Hour
Dunkirk
Get Out
Lady Bird
Phantom Thread
The Post
The Shape of Water
Three Billboards Outside Ebbing, Missouri

The winner:
The Shape of Water

From the mind of master writer/director Guillermo del Toro, The Shape of Water is the other-worldly fantasy featuring one of the most unique love stories of our time. Set in 1962, Elisa Esposito (Sally Hawkins) is a mute, isolated woman who works as a cleaning lady in a hidden, high-security government laboratory in Baltimore. Her life changes forever when she discovers the lab's classified secret – a mysterious, scaled creature from South America who is trapped in a water tank. As Elisa develops a unique bond with her new friend, she soon learns that its fate and very survival lies in the hands of a hostile government agent, Colonel Strickland (Michael Shannon) and a marine biologist, Dr. Hoffstetler (Michael Stuhlbarg). Elisa finds solace in her closest allies, her closeted next-door neighbour, Giles (Richard Jenkins) and her co-worker, Zelda (Octavia Spencer), and with their help, sets about a daring plan to rescue the creature before it's too late.

Why did it win?
You know it's been a crazy awards season when you head into Oscar night with absolutely no idea what film will win Best Picture. As common as that has become in the last few years, once upon a time, it was almost unheard of. This year, we prognosticators were all merely guessing, once again. Every prediction for Best Picture was fraught with problems and marks against it. Each nominee had missed either key wins or nominations along the way. No one film had ticked all the precursor boxes. Nothing had really swept awards season before Oscar night, with the wealth being fairly evenly spread. And, more importantly, none of the true contenders felt like a film which normally constitutes a Best Picture victor.

Frontrunners came and went several times during the precursor season. Early on, many thought it could finally be Christopher Nolan's year, with his war epic Dunkirk releasing in July to critical acclaim and a box-office result of over $500 million worldwide. But while that summer release date made it a commercial smash, it ultimately proved to be an awards season curse. While the film reaped in the nominations during awards season, fatigue may have cost it from taking any major prizes. The film still managed to snare Nolan his first nomination for Best Director, and ultimately took home three technical Oscars (Film Editing and both Sound categories) from its eight nominations. There were late rumblings of a surprise Best Picture victory, but it was not to be.

When Steven Spielberg announced in February his next project (then titled The Papers) would star multiple Oscar-winners Meryl Streep and Tom Hanks and would cover the publication of the damning Pentagon Papers by The Washington Post, many called it the most Oscar-bait film in recent times, especially with its parallels to the current attack on the free press. But when it was confirmed the film, now called The Post, was being hastily rushed into production for a December release, it became the immediate frontrunner, sight unseen. When the film kicked off awards season by picking up Best Picture and both acting categories at the National Board of Review, its frontrunner status was strengthened. But this proved to be a bizarre anomaly. When the film received a rather lukewarm response from critics, it fell off the radar completely, and literally never won another award for the rest of the season.

After dazzling audiences at Sundance back in January, Call Me by Your Name emerged as another strong contender, particularly after the Los Angeles Film Critics Association declared it their Best Picture winner, along with Best Director for Luca Guadagnino and Best Actor for Timothée Chalamet. But with its same-sex love story narrative, many felt the Academy were unlikely to award the "gay film" with Best Picture for a second consecutive year, after the surprise win of Moonlight the previous year. While Chalamet continued to pick up Best Actor prizes with further critics groups and James Ivory strengthened as the frontrunner for Best Adapted Screenplay, the film itself failed to win another major prize. When it was surprisingly overlooked for the all-important SAG Ensemble nomination and Guadagnino missed out at DGA, its Best Picture campaign was all but over.

In its place, a new critical darling emerged in Lady Bird. Actress turned writer/director Greta Gerwig was making huge waves with her directorial debut (okay, technically not her debut, but her first major feature film). The film was awarded Best Picture with the critics groups of New York, Chicago, Houston, Georgia, Vancouver, and the National Society of Film Critics, Gerwig was declared Best Director by the National Board of Review, and Laurie Metcalf was sweeping every critics award for Best Supporting Actress. When the film won Best Motion Picture and Best Actress for Saoirse Ronan in the Musical/Comedy categories at the Golden Globes, Gerwig landed a DGA nomination, and the film scored a SAG Ensemble nomination, it looked to be a strong contender. But there were flaws in its campaign. It failed to receive BAFTA nominations for Best Film or Director. It went home empty-handed at the Critics Choice Awards. And it hadn't picked up a major guild win all season. Plus, its light narrative was edging on the comedy side of the spectrum, making its case for Best Picture that much more difficult.

No one could have foreseen the awards season trajectory of Get Out. A horror film, written and directed by a black filmmaker, released all the way back in February was not the kind of film you expect to still see around the awards circuit, come the end of the year. But Jordan Peele's biting masterpiece was too spectacular to ignore. While it wasn't winning Best Picture prizes with the critics groups, its screenplay certainly was. And it was landing the key nominations required to make a strong campaign for the Academy's top prize. Get Out was nominated at PGA, DGA, WGA, and scored that key SAG Ensemble nomination. However, besides the WGA, it failed to win any major prizes. And, like Lady Bird, it was also snubbed by BAFTA for Best Film and Director. But it had a groundswell of support within the industry. It was the one film few could hate on and the one contender which really would have made headlines with its unlikely victory. Heading into Oscar night, Get Out emerged as the true dark-horse.

With another commanding performance from the icon that is Frances McDormand, Three Billboards Outside Ebbing, Missouri was steaming towards the Oscars. While it also wasn't winning Best Picture trophies with the critics, McDormand was becoming the unstoppable frontrunner for Best Actress, its screenplay was picking up plenty of prizes, and Sam Rockwell emerged as the late frontrunner for Best Supporting Actor. When the film swept the Golden Globes (Motion Picture, Actress, Supporting Actor, Screenplay), the SAG Awards (Actress, Supporting Actor and Ensemble), and the BAFTAs (Film, British Film, Actress, Supporting Actor, Screenplay), it was beginning to look like our eventual Best Picture winner. But, once again, there were problems with its campaign, with the biggest being Martin McDonagh failing to receive a Best Director nomination from the Academy. Only four films in history had won Best Picture without a Director nomination, which is a huge obstacle for any film to overcome. Three Billboards was also suffering relentless backlash and mudslinging, due to its confronting narrative and characters, which some found to be controversial. Despite enormous precursor season success, it was ultimately a rather divisive contender, which didn't bode well for its Best Picture chances.

And then there's our final contender in Guillermo del Toro's stunning fantasy masterpiece, The Shape of Water. The stats speak for themselves as to why this was a golden contender. The film was critically acclaimed. Its director was beloved by all in the industry. It had the most Oscar nominations this year, with a stunning result of 13. It won both the DGA and PGA, as well as Best Picture at the Critics Choice Awards. del Toro was the undeniable frontrunner to take home Best Director. And it was highly likely to sweep a few technical categories as well. However, does this remind you of another recent frontrunner? La La Land followed this exact same path to Oscar night before its surprise loss. Another factor linking the two films – they both failed to receive that all-important SAG Ensemble nomination.

To the surprise of many, The Shape of Water was snubbed by SAG in the Ensemble category, in favour of two films which ultimately weren't nominated for Best Picture (Mudbound and The Big Sick). No film since Braveheart had won Best Picture without that SAG nom. This proved to be the kiss of death for La La Land. Was it also the case for The Shape of Water? That unbroken SAG stat was the one remaining concrete rule prognosticators liked to point to, in making their case for contenders. Making matters even more complicated for The Shape of Water was its surprising failure at both the Golden Globes and the BAFTAs, where the film had led with the most nominations. del Toro took home Best Director at both, but the film failed to take out the top prize at either ceremony. With its fantasy narrative, The Shape of Water was also not the usual fare the Academy awarded Best Picture, making it another potentially divisive choice.

As you can see, no matter what film ultimately won Best Picture, a rule or precursor stat was going to be broken. Every contender was problematic, in some way. This made it nigh on impossible to truly predict an eventual winner. We all genuinely had no idea. If you went with The Shape of Water, you were ignoring that baffling SAG snub. If you chose Three Billboards, you overlooked that missing Best Director nomination. If you were crazy enough to choose Get Out or Lady Bird, you were picking a film which hadn't won anything to genuinely signal a Best Picture victory. And, if you went with Dunkirk, you were really just hoping for a miracle.

When Three Billboards somewhat surprisingly lost Best Original Screenplay to Get Out, the contest for Best Picture really became a two-horse race between Get Out and The Shape of Water. Could Peele's horror movie snatch it away, and follow Spotlight in only taking a Screenplay prize on its way to Best Picture? It would have brought the house down, but we all now know The Shape of Water was the winner, ending that 25-year SAG Ensemble nomination stat, and representing the first PGA winner to also take Best Picture since Birdman in 2015. But how did we end up with such an unlikely film taking home the Academy's top honour?

First things first, you have to accept The Shape of Water is a film that's hard not to like. Yes, many cruelly ridiculed it as the movie where a woman f*cks a fish, but it's fair to say the members of the Academy could overlook the absurdity of the film's interspecies love story and be swept away by its infectious charm. That kind of adoration makes it the best candidate for the preferential ballot the Academy employs for Best Picture. Even if voters didn't have it as their #1 pick, it's highly likely it would still have hovered somewhere around the #2 and #3 votes on the majority of ballots. That's especially true when you see how well it did in ensnaring so many nominations.

Those 13 nominations proved The Shape of Water ultimately had the support of all facets of the industry. When that SAG snub shocked the awards community, many felt the film may not have the support of the acting branch. But when the actor members of the Academy awarded the film with three acting nominations (Octavia Spencer and Richard Jenkins were never sure things), that missing SAG Ensemble nomination seemed more like an unfortunate mistake. Given how well the film was represented across the technical categories, it's evident the vast majority of Academy members loved the film, and would likely place it high up on their Best Picture ballot too.

Then there's the director factor. As shallow as it sounds, Best Picture winners generally have a director that's extremely likeable or, at the very least, highly respected in the industry. That's why Argo was able to overcome Ben Affleck's Best Director snub. At the time, everybody loved Ben. Guillermo del Toro had that love this year too. Let's be honest. The guy is insanely adorable. His passion for his work is irresistible. His charm is undeniable. And, from all accounts, he campaigned like crazy this year, attending all the right events, parties, and screenings. When people heard del Toro speak of his passion project, they fell for it even further.

It didn't hurt del Toro is also widely considered a visionary director who consistently takes chances and always delivers something remarkable and unique. And he's been making dazzling pieces of cinema for several decades now, gifting him the "overdue" status, which pushes an Oscar campaign even further. Despite the industry love, he's never had the chance to win an Academy Award for Best Director. Nor have any of his films ever been up for Best Picture. That chance had finally arrived with The Shape of Water, and the Academy weren't about to let that go sailing by. Sure, you could say the same of Christopher Nolan, who was certainly far more overdue than del Toro. But it's fair to say he'll have more chances in the future, given his films are generally in the vein of Oscar contenders. A director grounded in fantasy like del Toro may never be back at the Oscars again.

And finally, there's the cultural impact a film like The Shape of Water had on the zeitgeist. Many bizarrely dismissed its victory as the "safe choice," but how a film written and directed by a Mexican filmmaker, co-written by a woman, and featuring a fantasy narrative involving a romance between a disabled woman and an amphibian creature, who are helped by a gay man and a black woman is safe is beyond me. This was a tale of outsiders joining together to help one another. It highlighted how those different to us should be welcomed, not quarantined, and the worth of a person is what's inside, as opposed to their outward appearance. And it painted the government as the real villains, who are determined to detain an immigrant, rather than attempt to understand him, simply because he's doesn't fit their ideal of the norm. Sound a little familiar?

Yes, the post-Trump world may have certainly played a factor in determining Best Picture, yet again. The Shape of Water provided a fantasy escape from the bleakness of modern life, delivering a world where the underdog wins and love ultimately trumps hate. It also afforded the Academy the chance to award a film which celebrated differences, gave a voice to those often ignored, and reminded us how love takes many forms but ultimately crosses all boundaries and obstacles. With the #MeToo movement also dominating headlines, The Shape of Water provided the opportunity to award a female-led film for the first time in 15 years. That little factoid certainly didn't hurt its chances either. Neither did the fact it was crafted by a filmmaker from Mexico – a country which has seen its fair share of government xenophobia in the last few years.

But, at the end of the day, The Shape of Water won Best Picture because it was a stunning piece of cinema. The film is beautifully crafted, impeccably acted, and warms the coldest of hearts. It was a love letter to love. A tribute to the cinema of the past. A nod to cinema, in general. A celebration of everything which makes an individual unique. It captured the consensus vote and became too damn beautiful to truly dislike. It stood as the one contender people couldn't help but vote for, leading to the film capturing the preferential vote and the prize for Best Picture.

Did it deserve to win?
It's no overstatement to say this year was a spectacular one for cinema. The nine nominees for Best Picture all truly deserved to be there, each for various different reasons. That's a genuine rarity for the Oscars. Generally, we at least get one or two nominees which leave a lot of people scratching their heads. But the line-up didn't even begin to encompass the brilliant 12 months of films we'd be gifted. You very easily could suggest another dozen or so films which also deserved to be there. Mudbound, The Big Sick, Baby Driver, Blade Runner 2049, Coco, Wonder Woman, A Ghost Story, Logan, Wind River, to name just a few.

My personal pick for film of the year, The Florida Project, was also snubbed of a Best Picture nomination, so it was always going to be hard for me to examine the deservedness of whatever film ultimately won. No matter what nominee the Academy went with, they made the wrong choice, at least in my mind. However, given I respected and generally loved all the nominees, they really couldn't make a bad choice here. Okay, maybe Darkest Hour would have been a stretch, but the others could all lay claim to being deserving of the Best Picture prize. Yes, even The Post.

That being said, and even though my final Best Picture prediction was wrong for the fourth year in-a-row (honestly, I think I give up), their choice of The Shape of Water was the right one. Sure, it would have been sensational to see something like Get Out win Best Picture. It would have broken all the rules, and who knows what it could have meant for the future. But the victory of The Shape of Water stands as one of the most unlikely of recent times. Films of this nature do not win Best Picture. Fantasy or sci-fi or monster movie or whatever you want to call it. This is just not the Academy's usual cup of tea. Yes, there was The Lord of the Rings: The Return of the King, but that had its own mythology going for it. This was something entirely original, daringly different, and really quite confronting.


When a film opens with a woman's morning routine of boiling some eggs, while she pleasures herself in a bathtub, you know you're in for something very different. In the past, that one scene alone would have been enough for Academy members to turn off their DVD screener. Thankfully, we're in a new age of the Oscars, and the old rules of stuffy, conventional films being the only ones worthy of Best Picture no longer apply. With its love story of a mute woman who finds a way to connect with a creature many would deem a monster, on its surface, The Shape of Water did not look like a film which could even fathom taking home the Academy's top honour. The fact it managed to break through is a testament to its ultimate impact on its audience.

It doesn't take long to adjust to the film's romance. Sure, at first, it's a little odd and unsettling, but the best cinema often is. Playing it safe is boring. A filmmaker like del Toro loves to break convention, and with The Shape of Water, he does so like nothing he's delivered before. At its core, this is the love story of two lonely, lost souls who find each other in the strangest of ways. Both have their issues with communication, and therein lies their initial connection. They understand each other. He sees her as she is, not as someone disabled or broken. They empathise with each other as outsiders in this world. Does it really matter one of them happens to be an amphibian god-like creature? When you let go of this notion, the film truly takes over you.

A large part of that success is the impeccable ensemble cast. Honestly, there is no excuse for The Shape of Water missing that SAG Ensemble nomination. It makes no sense whatsoever. The film features sensational individual performances, which are only elevated when combined as one whole ensemble. Leading the way is Sally Hawkins, who is simply luminous in her performance as Elisa. Few actors could convey their performance without the use of dialogue, but Hawkins never falters. Her use of expression and gesture are sublime, and it's impossible not to adore Elisa and desperately want to see her succeed. It's an unforgettable performance that will stand the test of time.

Surrounding Hawkins is a terrific cast of supporting characters, particularly Richard Jenkins as Elisa's closeted gay neighbour, Giles. With his penchant for dry humour, biting wit, and a desperate longing to find his place in a world which will never accept him, Giles is a glorious character, made even more stellar by Jenkins' magical performance. Jenkins continues to show why he's one of the greatest character actors of our time. Hopefully, his Oscar moment will come one day. Octavia Spencer is typically delightful as Elisa's sassy and protective best friend, Zelda. Michael Shannon plays the villain like only he can, with his imposing stature and manic intensity. And hidden beneath all that dazzling monster makeup is Doug Jones, giving another evocative and captivating physical performance.

But it's the overall production where this film really shines. del Toro's vision is like few others. He's crafted such a magical and transportive piece with The Shape of Water. It grabs you from the opening and never lets you go. His story obviously draws strong inspiration from films like King Kong, Beauty and the Beast, and The Creature from the Black Lagoon, but it stands on it own two feet with a romance for the ages and a visual style that's genuinely intoxicating. The production design is downright masterful. The cinematography is beautiful. Alexandre Desplat's score is gorgeous and instantly iconic. The sound design is pitch perfect. The editing. The screenplay. The costuming and make-up design. There's a reason this film received 13 Academy Award nominations. Everything about it looks and sounds utterly immaculate. The fact it only cost $20 million to produce is downright amazing.

It's hard to properly summarise how dazzling The Shape of Water really is. It's likely to make you swoon, both with its romance and its visuals. Its charm is undeniable. Its impact is immeasurable. Its hidden relevancy and social commentary are powerful. It's a film you're unlikely to ever forget. And, really, that should be the benchmark for any Best Picture winner. If a film stays with you for a lifetime, it was entirely deserving of being called the best of the year.

In a year of many brilliant pieces of cinema which won't soon be forgotten, it was always going to be difficult for the Academy to pick just one. But, this is the inherent problem with the Best Picture race, especially in a strong year of contenders. That being said, they picked an entirely deserving winner with The Shape of Water. It's a masterpiece. It's unlike any other Best Picture winner before it. The film is so decidedly outside the realm of the stiflingly small bracket of films usually bestowed this honour. The Shape of Water stands out as one of the boldest and most unique films to ever win Best Picture. It was ultimately a daring and refreshing choice by the Academy and one which needs to be celebrated.