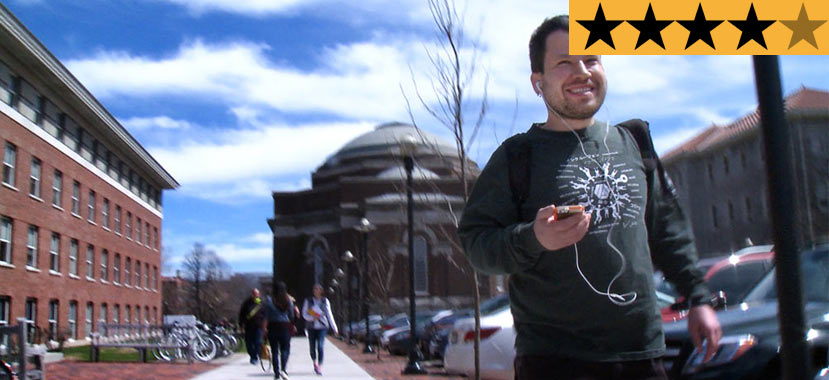 22 Sep

REVIEW – 'Intelligent Lives'

At this very moment, there are 6.5 million Americans living with an intellectual disability. Only 15% of adults are gainfully employed with nearly 1 in 3 living below the poverty line. Their access to a proper education during their youth may provide a clue to these damning statistics. 17% of students with an intellectual disability are given access to an education through regular classrooms. Overall, only 40% of disabled students eventually graduate high school, immediately putting them at a greater disadvantage than those they already face.

As tackled in the eye-opening and inspiring Intelligent Lives, the new documentary from award-winning filmmaker Dan Habib (Restraint and Seclusion: Hear Our Stories), well-intentioned but poorly handled standardised IQ testing could be the very thing keeping many intellectually disabled students from reaching their full potential. The documentary follows the lives of three young American adults with intellectual disabilities who each challenge the perceptions and assumptions society often cruelly places upon them.

The film begins with an interview with Academy Award-winning actor Chris Cooper (who also serves as the documentary's narrator) who shares his difficult experience in attempting to seek regular education for his son, Jesse. As a premature baby, Jesse suffered a brain hemorrhage and developed cerebral palsy, leaving him confined to a wheelchair later in life. Jesse was able to fully communicate through a computer, and Cooper firmly believed he had every right to the same general education every other young American is given.

Cooper and his wife Marianne hit a roadblock when Jesse was forced to sit the standardised Stanford-Binet IQ test used in 49 of the 50 U.S. states to grant intellectually disabled students access to regular classrooms. Cooper was shocked to find the test full of absurdly antiquated questions such as asking Jesse if he dusted the dresser at home, which did nothing to prove his child's potential or who they he was a person. Cooper instead sees this test as a way of determining whether a student will ultimately carry a life-long label of intellectual disability. He also poses a powerful question – can any attempt to measure intelligence predict a person's value or ability to contribute meaningfully to the world?

Habib takes Cooper's supposition and uses this as the very basis for the documentary's existence, as he seeks to showcase three examples of intellectually disabled youth who dispute the misguided idea they can't fully participate in a life of higher education and subsequent employment. If given the right to be treated as "normal," these talented and inspiring individuals can indeed lead "normal" lives. The film rightly refers to intellectually disabled people as the "most systematically segregated people in America" and how isolation may be keeping them from becoming the valuable members of our society they truly can be.

Intelligent Lives follows Naieer Shaheed, Micah Fialka-Feldman, and Naomie Monplaisir, each with their own flourishing and fulfilling lives. Naieer is a talented visual artist immersed in general education at a public high school in Dorchester, Massachusetts, who dreams of earning his college degree some day. Michah is a teaching student at Syracuse University with a bustling social life (including a potential girlfriend), a job assisting with university classes, and a love of social media. Naomie loves to sing and dance at her Creole church with her hip-hop producer brother, all while working part-time at a local hair salon where the clients and staff all agree she considerably improves the workplace.

These three individuals are all reaching goals standardised testing told them they never would. Based on their low test scores, all three were given equally low expectations for their future lives, purely because of their intellectual disabilities. Naieer is autistic with basic verbal skills and behavioural challenges. Micah has a moderate cognitive disability and an IQ of 40. And Naomie has Down syndrome with limited communication capabilities. But all three were given the right to regular education, and the results clearly speak for themselves.

The documentary is immediately eye-opening for those without a personal connection to anyone with an intellectual disability, and therein lies its incredible power. By seeing first-hand the success these three young people are achieving and the contribution they are making to society, we cannot deny the immense potential held by those afflicted with intellectual disabilities. With its simplistic approach to intelligence, IQ testing is clearly failing to measure the inherent worth and value hiding beneath a test score. Habib furthers his message by explaining the deeply flawed and disturbingly ugly history of intelligence testing in the U.S.

The concept was first introduced by Dr. Alfred Binet in 1905 who, by way of standardised testing, identified the need for educational assistance in children. His good intentions were soon distorted in 1913 by Dr. Henry Goddard, who used Binet's methods to test immigrants on Ellis Island to identify "feeble-minded" persons not fit for work in the U.S. IQ testing was also used by the U.S. Army during World War I to determine those of lesser intelligence who were sent to essentially die on the frontlines. Even more startling is the revelation Adolf Hitler sighted U.S. intelligence testing research as justification for the sterilisation and/or murder of over 250,000 mentally disabled Germans.

It's this damning background to intelligence testing that truly highlights why it's rather unfathomable it's still the standard by which a student's right to a proper education is being measured. This form of systemic evaluation has always proven to be a false measurement of someone's true worth and it's failing those who deserve better. By following the successes of Naieer, Micah, and Naomie, we're given a glimpse at just what can occur when a test score is ignored and the individual is instead given their chance to flourish.

By challenging outdated and inadequate ideas of testing one's intelligence, Intelligent Lives paints a stark contrast to many misconceived notions of intellectual disabilities. The film challenges what it means to be intelligent, and allows us to see the merits in a future where those with mental impairments are given the opportunities all should be entitled to. It stands as an impetus for change and a powerful reminder a book should never be judged by its cover.





This review was originally posted at the AU review and can be viewed here.