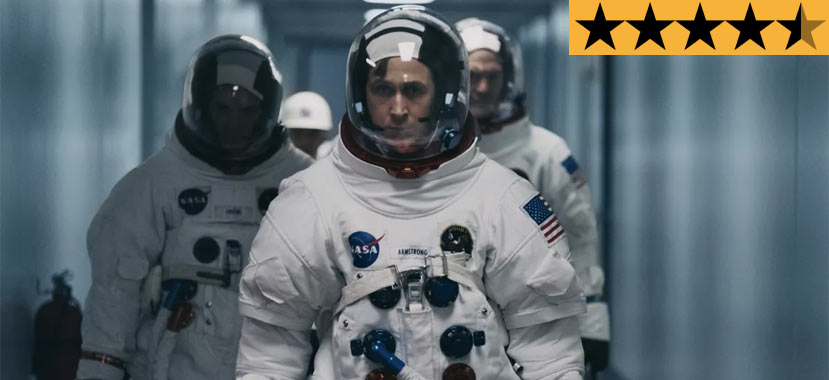 10 Oct

REVIEW – 'First Man'

Two years ago, director Damien Chazelle took us to the stars with La La Land, waltzing off with an Academy Award for Best Director (and Best Picture for 2 and a half minutes). With First Man, he's quite literally taking us to the moon and back, and a whole host of Oscars could very easily be trailing behind. With Chazelle at the helm and Ryan Gosling behind the wheel, the tale of NASA's 1969 Apollo 11 mission to place a man on the moon is one we all know the outcome of. Yet, somehow, this film consistently delivers a gripping level of harrowing suspense and tension, which, in itself, makes this a landmark achievement.

With another supreme albeit understated performance from Gosling and a display of technical mastery that places you right in the terrifying centre of 1960s space travel, First Man is a visceral experience unlike anything else seen this year. This is the Dunkirk of 2018, and you better strap yourself in for one hell of a ride. Unlike most cinematic space adventures, there's no sugarcoating this mission. It was absolute hell, and Chazelle is firmly committed to capturing this claustrophobic nightmare like never before. First Man makes Apollo 13 look like a Disneyland ride.

Chazelle grabs you right from the opening sequence, featuring Neil Armstrong (Gosling) manning a 1961 solo X-15 test flight, 140,000 feet off the ground. All is going well, until the moment the mission suffers a devastating malfunction. Hurtling out of control, as the tin-can plane wildly bounces off the atmosphere, Armstrong is forced to make rash decisions in his attempt to make it back home. It's a dizzying, nauseating experience which not only perfectly previews the chaotic film you're about to watch, but also highlights just how dangerous and potentially catastrophic early space travel was for those involved.

Back on Earth, Armstrong has more important matters on his mind than space exploration. His infant daughter, Karen is battling a terminal brain tumour, which Armstrong deals with in a methodical way, keeping exhaustive journals of her every treatment and their effects. When the illness claims her young life, Gosling delivers a powerful moment of devastating grief and raw emotion that will undoubtedly form the cornerstone of his Best Actor campaign. Amidst tears of unbearable pain, Armstrong privately locks away the journals in a desk drawer with one of Karen's bead bracelets, closing off a part of him forever.

Now feeling lost and disconnected from his adoring wife, Janet (a sublime Claire Foy), Armstrong is in desperate need of something to devote himself to. After the arrival of a new child, Janet foolishly hopes that will be his family. But Armstrong is a dedicated engineer above anything else, feeling far more comfortable in the sky dealing with numbers and instruments than facing human emotions. In his search for distraction, he applies to a daring new NASA program seeking pilots and engineers. The project, code-named Gemini, will eventually become the Apollo mission to the moon, providing the Armstrong family with a fresh start in Houston.

It's here the family form a close friendship with fellow astronaut and Gemini team member Ed White (Jason Clarke) and his doting wife, Pam (Olivia Hamilton), along with other project members Elliot See (Patrick Fugit) and Edwin "Buzz" Aldrin (Corey Stoll), who's portrayed as somewhat of an unlikable asshole. As the project continues its wave of missions and test runs, including one disastrous failure that is utterly gut-wrenching to view, the journey to the moon is proving more costly than ever imagined. But Armstrong remains steadfast in his determination to succeed, as we hurtle towards a conclusion we know is coming but it's one that will completely take your breath away.

In today's world, we likely equate space travel with impeccable first-class technology and a vehicle that flies as smoothly as a bird. But in the 1960s, space exploration was often a frantic game of guessing, hope, and rolling with the punches. With no basis of genuine experience, these boys were flying by the seat of their pants (in nothing more than a souped-up tin can), forced to tackle each mission with quick thinking and gut instinct. First Man serves as a beautiful tribute to the incredible accomplishments of all involved with the moon landing. For all the pre-release right-wing nonsense surrounding the absence of the infamous American flag-planting moment (the flag is still absolutely present, by the way), this is one of the most patriotic films of the year.

But Chazelle wisely juxtaposes this patriotism with a potentially surprising reminder of the public backlash to the lunar mission. With the loss of lives increasing, and public funding for the mission soaring way beyond budget, there are protests from many who felt the program was a colossal waste of time and money. In a powerful moment, we hear Gil Scott Heron's protest anthem "Whitey's on the Moon," which challenged thought on whether the mission to the moon was really worth the cost, given so many American cities were gripped by poverty and racial inequality was rife around the country.

That being said, the focus of First Man is still squarely on shining the spotlight on how difficult and complicated Apollo 11's mission truly was. Every chance he gets, Chazelle sits us right inside the cockpit of numerous spacecraft, giving us a first-hand glimpse at how death-defying and potentially calamitous these missions were. Pushed to the limits of what a human can withstand, Armstrong and his compatriots suffered unimaginable torture in their efforts to achieve the unthinkable, and Chazelle takes great care in crafting these sequences with impressive realism and authenticity. It may well be the most honest space film there has ever been. There's no glamour or romanticism here. This is brutal stuff, and he's committed to capturing every adrenaline-pumping moment.

It's in these moments First Man truly soars to life. For all the terror and calamity of getting up there, once the spacecraft breaks through the atmospheric barrier, there's the majesty of silence and calm serenity. When Chazelle deploys these sudden jarring moments of absolute quietude, the effect is astounding. A total hush falls over not only the film but the audience as well. You could hear a pin drop in the cinema, as each viewer's breath seems collectively taken away. This puts these sequences on the level of a documentary. The visual effects work is a triumph, deftly capturing the awe-inspiring world that is outer space. Not since Gravity has a film managed to expertly toe the line between gripping terror and dazzling wonder.

Chazelle reteams with his La La Land cinematographer Linus Sandgren, editor Tom Cross, and composer Justin Hurwitz to create another piece of cinema that is a true work of art. Sandgren consistently films in tight close-ups, with particular focus on the eyes, creating an intimate and personal portrait of both Neil and Janet. Gosling keeps his emotions hidden behind purposely squinted eyes, conveying a sense of Armstrong constantly holding himself back. On the flip side, Foy portrays Janet as permanently wide-eyed, highlighting how wildly on-edge this beleaguered wife appears to be. Cross often works in rapid-fire cuts, capturing the film's intended chaos with perfect precision. Hurwitz's score (featuring a few bars suspiciously similar to those in La La Land) is soaring when it needs to be and understated when it doesn't. He even occasionally utilises a theremin, a former sci-fi staple instrument, to perfect effect.

For all the attention he received, Armstrong was a man who shunned the limelight and hated publicity. He's remained a mysterious heroic figure who never wanted the spotlight, despite his impressive achievements. With this in mind, Gosling is the perfect choice for such an enigmatic man. Delivering a deeply layered performance, Gosling holds tight on his emotions and portrays Armstrong with quiet stoicism but unrelenting determination. Chazelle works hard to unravel this mystery of a man, but even as Gosling reveals several of Armstrong's hidden layers, you never truly get a sense of who this man really was. Perhaps he's just an unsolvable enigma and unravelling that was a near-impossible feat. Regardless, Gosling's performance is entirely captivating and will score the actor his third Oscar nomination.

It's no surprise the narrative focus is solely on Armstrong, leaving little for the supporting cast to do but stay out of Gosling's way. Foy is handed a rather thankless role, but when she's given the opportunity to shine, she relishes the chance. As Neil's long-suffering wife, Janet's frustrations and fears are perfectly showcased by Foy in a small but affecting performance that still lands an impressive impact. Those within Armstrong's crew are also given little purpose but there's a strong camaraderie between the spacemen, with terrific chemistry between Gosling and Clarke, as White foolishly attempts to crack Armstrong's solid emotional walls.

Both an exhilarating and terrifying space drama and a personal and intimate character piece, First Man is a deeply engaging, intoxicatingly tense, and superbly thrilling piece of cinema featuring several breathtaking sequences which will linger long in your mind. At only 33 years old, Chazelle once again proves why he's one of the most exciting talents cinema has seen. His keen understanding of filmmaking is remarkable for someone so young, but there's no denying he knows how to craft a masterpiece. Space travel has never looked so absolutely harrowing, but therein lies this film's impeccable power.





Distributor: Universal Pictures
Cast: Ryan Gosling, Claire Foy, Jason Clarke, Kyle Chandler, Corey Stoll, Patrick Fugit, Christopher Abbott, Ciaran Hinds, Olivia Hamilton, Pablo Schreiber, Shea Whigham, Lukas Haas, Ethan Embry, Brian D'Arcy James, Cory Michael Smith, Kris Swanberg
Director: Damien Chazelle
Screenplay: Josh Singer
Producers: Wyck Godfrey, Marty Bowen, Isaac Klausner, Damien Chazelle
Cinematography: Linus Sandgren
Production Design: Nathan Crowley
Music: Justin Hurwitz
Editor: John Cross
Running Time: 142 minutes
Release Date: 11th October 2018 (Australia)