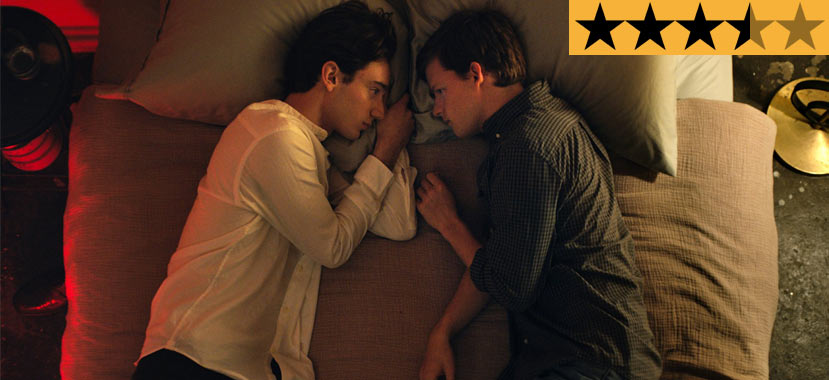 08 Nov

REVIEW – 'Boy Erased'

Coming out as gay to your parents is never easy. Coming out as gay to your deeply religious parents takes the experience to a whole new level of anxiety. For all the inspiring progress made for the LBGTQI community over the last few decades, religion has often remained bluntly and stubbornly steadfast in its damning stance that homosexuality is a mortal sin queer people choose for themselves. This view takes a nastier turn into extremist territory with the archaic practice of gay conversion therapy as a treatment method to "cure" this lifestyle. Many may naively believe this pointless and destructive exercise disappeared years ago, so it may come as a surprise to learn it's still entirely legal (and practised) in 36 U.S. states, all of the UK, and seven of Australia's eight states and territories.

Based on Garrard Conley's 2016 memoir of the same name, Boy Erased is the second film this year (the first was the superior The Miseducation of Cameron Post) to tackle the important and potentially eye-opening subject of the damaging effects gay conversion therapy is having on a whole generation of young people. While the film features a phenomenal ensemble cast and shines a blinding light on a topic that desperately needs to be discussed, the end result feels somewhat underwhelming and never quite delivers the emotional impact you may be anticipating. A golden opportunity goes begging, as this film frustratingly refuses to delve too deeply into the darker elements of its narrative.

The film follows promising 18-year-old Jared Eamons (Lucas Hedges), an awkward Arkansas teenager struggling with his sexuality, confounded by the fact his father, Marshall (Russell Crowe) is a Baptist preacher, and his mother, Nancy (Nicole Kidman) is equally religiously devout. After ending his relationship with his high school girlfriend (a cheerleader who didn't share his chaste views on "waiting until marriage"), Jared is determined to start afresh at college. But when his crush on the equally sexually confused Henry (Joe Alwyn) leads to a brutal sexual assault, Jared is even more terrified of his burgeoning attraction towards men.

In a moment of panic and self-preservation, Henry phones Jared's parents to accuse their son of coming on to him and being the aggressor in this situation. While Jared desperately explains what really happened, he can't deny the sexual identity confusion that led him to be in bed with another man in the first place. The news naturally comes as a shock to both his parents. Nancy remains silent, as a single tear falls down her face. Marshall is far more reactive, immediately falling on his faith and summoning two church leaders to provide advice. Their advice is to immediately ship Jared off to the "Love in Action" conversion therapy centre.

Longing to be "normal" and please his disappointed parents, Jared willingly agrees to attend the 12-day program, even going so far as to admit to his father he truly does want to change and quell his sinful ways. The camp is run by head "therapist" (I use quotations marks as the man has no formal qualifications) Victor Sykes (Joel Edgerton, who also serves as the film's writer, director, and producer) and a collection of men who have all managed to defeat their homosexual thoughts through nothing more than determined willpower.

The other young attendees at the centre are each dealing with the treatment in varying ways. Some stoically resist. Most fall in line. And one cunning teen, Gary (Troye Sivan) has found it best to fake it and pretend the conversion process is working, as a way to escape the program as soon as possible. No matter their response, all are subjected to the invasive process and harsh punishment enacted by Victor and his lackeys, leading Jared to question the validity of the treatment and if homosexuality really is something that needs curing.

Much like the frustrating Beautiful Boy and several other films in recent years, Boy Erased is presented in a non-linear style, which, for better or worse, seems to be the de jour narrative technique for filmmakers lately. The film begins with Jared preparing for his first day at the conversion centre, with detailed flashbacks revealing how and why he ended up there. Thankfully, this style works perfectly here, with Edgerton wisely giving as much screen time to the past as to the present. Jared's experiences in his earlier years form an integral part of his damaged and confused psyche, particularly his interactions with his profoundly religious parents and other men of varying sexualities. Unlike many other examples of this style, Edgerton understands the importance of allowing these flashbacks to play out organically within the context of the present. The end result never feels like it's unnecessarily jumping from timeline to timeline, which allows the emotion force to resonate consistently.

While Edgerton has to be commended for highlighting some of the shocking methods of treatment enacted upon those during conversion therapy, including one deeply unsettling scene involving a mock funeral at which family members literally beat their son with bibles, Boy Erased never quite goes far enough in capturing how damaging, humiliating, and destructive this practice ultimately is. Perhaps I have some bias here, having had secondhand experience with this pointless treatment program, so I know exactly what goes on at these places. The film barely scratches the surface of the brutality many suffer at the hands of their "counsellors." What's ultimately presented may be entirely indicative of Conley's personal experience, but there's no reason Edgerton should not have taken this further. The events of this film may still be completely horrifying for some viewers, it could be seen as a little too sanitised for others, especially those who've endured this tortuous process.

Edgerton's choice of an emphatically muted and dreary aesthetic makes for a bleak viewing experience. All but devoid of any colour, you can't help feeling this is a lazy attempt at forcing the film's serious tone onto you, especially given its awards season release date. The sombre visuals are seemingly working their hardest to mask a screenplay loaded with often lacklustre dialogue which robs the film of several of its most potentially emotional moments. What's also frustrating is how poorly the screenplay treats the supporting players at the conversion therapy camp. All of them are just as intriguing as Jared (some even more so), yet we achingly never get to delve into their lives and stories. Sivan's character is crying out for introspection into his backstory but the opportunity is sadly never taken.

While this is purposely Jared's story, he can be a rather dull character at times, leaving your mind to wonder what the other kids are up to right now. Boy Erased suffers from the same problems as this year's Love, Simon by presenting another tale of a handsome, popular, middle-class white kid who also happens to be gay. It's the most palatable form of gay character for mainstream audiences. Of course, this is merely a representation of the real-life Conley, but, once again, we're given a gay experience we've seen too many times before. Edgerton easily could have combated this situation by giving heightened screentime to those who don't fit the "all-American teenager" mould as easily as Jared.

As with most actor-turned-directors, where Edgerton truly shines is his ability to elicit stellar performances from his ensemble cast. In his first leading role, Hedges once again proves why he's one of the brightest young actors working today with a performance that should net him his second Oscar nomination in three years. He's burdened with all but carrying this film on his shoulders, and he never once falters. Hedges finds the chaotic and crippling confusion those experience during the discovery of their sexual identity and ultimately crafts a deeply empathetic performance that elevates the film above its disappointments.

Crowe and Kidman both deliver terrific supporting turns as Jared's conflicted and helpless parents. Edgerton wisely never paints either as a villain, instead finding compassion for the difficulty both are facing in the battle between family and faith. It's clear they both adore their son and have only turned to conversion therapy in desperation to remedy a circumstance they know little about. Crowe portrays the stubborn ignorance religion can often bring, with his duty to his congregation clouding his position as the father to a suffering son. But it's Kidman who steals this film, delivering another beautifully maternal performance she's fast becoming so adept at delivering. She too finds herself torn between her religion and her paternal instincts, and Kidman captures her internal battle with deft skill, leading to a powerful monologue of accepting her own failings and complicity that will leave you teary-eyed.

While Boy Erased may not quite capture the gay experience as diligently as other examples of queer cinema, it's obvious the well-intentioned Edgerton cares deeply for this community and the suffering experienced by thousands of young LGBTQI people under the ludicrous guise of gay conversion therapy. This film will likely have a deeper impact on parents and will hopefully serve as a reminder to those with queer children to love your child for who they are and avoid the temptation to attempt to change them. It's not the kids who need to change in these circumstances. It's an outrage gay conversion therapy is not only still being widely practised, but is entirely legal in the majority of first-world nations. If this film furthers (or starts) the conversation to end this outdated approach to homosexuality, Edgerton has done a huge service that deserves admiration.





Distributor: Universal Pictures
Cast: Lucas Hedges, Nicole Kidman, Russell Crowe, Joel Edgerton, Xavier Dolan, Troye Sivan, Britton Sear, Joe Alwyn, Flea, Cherry Jones
Director: Joel Edgerton
Screenplay: Joel Edgerton
Producers: Steve Golin, Kerry Kohansky-Roberts, Joel Edgerton
Cinematography: Eduard Grau
Production Design: Chad Keith
Music: Danny Bensi, Saunder Jurriaans
Editor: Jay Rabinowitz
Running Time: 114 minutes
Release Date: 8th November 2018 (Australia)