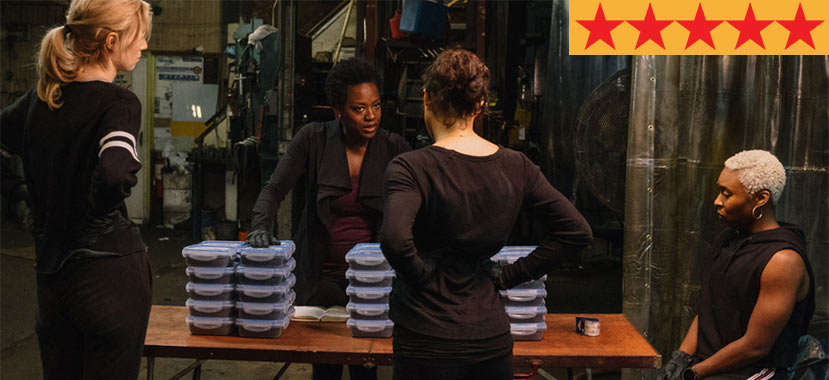 18 Nov

REVIEW – 'Widows'

The year in cinema has already yielded one female-led heist film. However, the stylish ladies of Ocean's 8 are about to be blown out of the water by the sensational ensemble cast (headed by three terrific actresses) of Widows. The latest film from Steve McQueen slyly presents itself as your everyday popcorn thriller but ultimately flips the well-worn crime caper genre right on its head. You didn't really think a filmmaker like McQueen would play it safe, did you? The heist is just one element of McQueen's complex narrative, which touches on race, gender, class, politics, corruption, greed, punishment, and, above all things, power. This ain't no Ocean's movie.

With another commanding performance from Viola Davis and an ingenious screenplay co-written by McQueen with Gone Girl author Gillian Flynn, Widows hits the ground running and barely ever stops to take a breath. McQueen is determined on keeping tensions at simmering point, crafting a breathtaking thrill ride that consistently keeps you guessing with twists and turns aplenty. But where his film deviates from your typical heist melodrama is the skilful introspection of its powerful themes. There are layers upon layers upon layers here, and McQueen takes deft delight in unveiling the true intentions of his latest masterwork that could steal the entire Oscars race.

Set in present-day Chicago, the film opens on Veronica Rawlins (Davis, in scintillating form) and her husband, Harry (Liam Neeson) passionately kissing in bed in their pristine stylish penthouse apartment. Their lavish lifestyle is care of Harry's exploits as a career criminal, which is entirely known to Veronica, but she's happy to turn a blind eye, given the luxury it brings her. These introductory moments of passion are jarringly intercut with flashes from a fierce car chase sequence, as Harry's latest robbery goes horribly awry. Cornered by a SWAT team, Harry and his partners Florek (Jon Bernthal), Carlos (Manuel Garcia-Rulfo), and Jimmy (Coburn Goss) are trapped in their getaway van, leading to a hail of gunfire and a huge explosion, killing all four men instantly. Strap yourselves in. We're barely five minutes down, thus far.

While still grieving the death of her beloved husband, Veronica is paid a harrowing visit by ruthless Chicago crime boss and candidate for alderman Jamal Manning (Brian Tyree Henry), who was the victim of Harry's robbery and is now $2 million out-of-pocket from his campaign funds. As such, Jamal gives Veronica one month to pay back the money or risk the wrath enacted by his brutal and sadistic right-hand man and brother, Jatemme (a phenomenal Daniel Kaluuya). In her search for a solution, Veronica uncovers her husband's notebook that includes the details and blueprints of his next job. With no other option but to carry out the crime, she must enlist the help of her fellow widows to pull off the heist.

Carlos' widow Linda (Michelle Rodriguez) is struggling to take care of their two small children, after losing her dress shop due to her late husband's unpaid gambling debts. Florek's widow Alice (a scene-stealing Elizabeth Debicki) is also doing it tough without her abusive but financially supportive husband. With no discernable skills and under the advice of her pushy mother (Jackie Weaver), she's resorted to escorting to earn money to survive. Jimmy's widow Amanda (Carrie Coon) is dealing with a now-orphaned newborn, so she's rightly left alone. Linda and Alice need little convincing to join Veronica's daring plan, but they still require a getaway driver. Enter Linda's babysitter Belle (Cynthia Erivo, continuing her spectacular year), a gutsy beautician longing to provide a better life for her young daughter.

Veronica's hastily organised heist involves robbing the home of Jamal's political opponent in the race for 18th ward alderman, Jack Mulligan (Colin Farrell), the unscrupulous son of former political heavyweight Tom Mulligan (Robert Duvall). Jack is a typical trust fund brat, believing he's entitled to the seat on family name alone, but he's facing stiff competition from Jamal, whose running a grassroots campaign that's edging him further ahead in the polls. After years of corruption and greed, there's $5 million in cash hidden somewhere in the Mulligan manor, and if Veronica and co. can get their hands on it, all their problems will be solved.

While most examples of the heist genre fall into silly farce (which still has its place, mind you), McQueen grounds his film in gritty reality with an inescapable sense of desperation pulsing throughout the entire gripping narrative. Calling Widows a "feminist piece" feels almost like a disservice, but you can't shake the notion these women find themselves trapped in a man's world where the odds are perpetually stacked against them. It's a game they're not meant to win, lest even play in. But when the chips are down and a woman's back is against the wall, the desire to succeed and best men in their own contest can often be unstoppable. When Veronica is questioned as to why she thinks they can even succeed in their mission, she fires back, "because no one thinks we have the balls to pull this off." It's a moment which highlights the way society consistently underestimates women, and why that's often a foolish misconception.

By setting his film in Chicago, one of America's most racially and socioeconomically segregated cities, McQueen is gifted the chance to shine a glaring light on the unavoidable juxtaposition that currently exists between the haves and have-nots. This class imbalance is perfectly captured in a dazzling long-take tracking sequence that stands as a masterclass of how a film can portray its message with visuals and not words. As Jack is driven through the streets of Chicago's south side, McQueen and cinematographer Sean Bobbitt keep the camera fixed outside the car, capturing the jarring polarity between the city's poverty-stricken, derelict slums and the wealthy, affluent suburb Jack calls home. In this one seemingly innocuous shot, McQueen deftly highlights the crippling incongruity found within this city, all located just blocks from each other. That's the hidden power of Widows. Nothing is placed here by chance, and practically every frame of this film has something to say.

The heist may be the centrepiece of the story, but the subplot of Jack's election battle with Jamal is another of McQueen and Flynn's subtle plot points with deeper intentions. Jack is the personification of Chicago's political history. Wealthy white men in power with no connection to the hard life faced by 99% of the city's population. While he stands as the film's villain (well, one of several), Jamal represents the everyday man. The real face of Chicago, with a background rooted in struggle, racism, and repression. He may be as morally corrupt as his political rival, but he's merely playing the same game the big boys are. As much as the film highlights sexism and gender inequality, it's also capturing the power inequality faced by black Americans. Politics is perhaps America's most corrupt system, and in Jamal's daring but foolhardy campaign, we see the insurmountable odds faced by those outsiders who seek to change it.

We've long known Davis is one of the finest actors working today, but she takes that mantle to a whole new level here. Veronica is a determined woman, fueled by equal parts grief and vengeance, with an unrelenting motivation to survive the catastrophe she's unwillingly found herself in. Despite her white-hot intensity, there's deep vulnerability found behind her steely grit, and Davis' eyes are the windows to the soul of the character she's so deftly portraying. In moments of despair, she's gut-wrenching to watch. In moments of strength, she's entirely inspiring. As always, it's simply a joy to sit back and watch Davis perform. She commands every moment Veronica is on-screen, and there's no doubt Davis is heading for her richly-deserved fourth Oscar nomination.

For all the focus on Davis, this is one of the year's finest examples of an ensemble piece of cinema. Pay attention, SAG Awards. Every single cast member delivers a knock-out performance, and this review could run for ages attempting to highlight them all. Henry is wonderful as the threatening gangster of questionable character but empathetic ideals. Erivo gives another remarkable turn as the fiercely loyal and gutsy ring-in who has no issue going toe-to-toe with Veronica. Rodriguez is typically strong and stoic. Farrell is deliciously slimy as the conceited and ambitious wannabe politico who has no right to lead. Even Weaver manages dazzles in the few brief moments she's given.

But the real scene-stealers are Debicki and Kaluuya, who both deserve mention come awards season. Debicki steals every scene she's a part of, which is no mean feat, given her competition. She holds her own against Davis, delivering a character who appears to be a damaged wallflower but has a hidden power that's aching to be let loose. The heist gives her that chance to shine, and Debicki is clearly having the time of her life with this richly crafted character. Kaluuya is terrifying menacing as the brutal sociopath with zero moral compass. It's a far cry from his endearing performance in Get Out, but it shows Kaluuya's impressive range to effectively deliver something so wildly different. Jatemme is cruel and vicious, taking great delight in enacting his torment on those who cross his brother, and Kaluuya is downright breathtaking in these moments.

It's an acting roster that's an embarrassment of riches, and McQueen doesn't waste one single member of his impeccable cast. Matched with a screenplay loaded with cracking dialogue and a narrative filled with plenty of shocks that elicited genuine gasps from my audience, Widows is one of the year's greatest films. The action and thrills will keep you entertained, but it's the film's numerous messages that will stay with you. This is a pitch-perfect portrayal of 21st century America, warts and all. Part popcorn thriller, part feminist statement, part political declaration, there's a lot going on in this film. Thankfully, every single aspect is crafted by a master filmmaker who has delivered a sublime masterwork, yet again. Do not miss this one.





Distributor: 20th Century Fox
Cast: Viola Davis, Michelle Rodriguez, Elizabeth Debicki, Cynthia Erivo, Colin Farrell, Brian Tyree Henry, Daniel Kaluuya, Robert Duvall, Liam Neeson, Garret Dillahunt, Carrie Coon, Jacki Weaver, Jon Bernthal, Manuel Garcia-Rulfo, Lukas Haas, Matt Walsh, Kevin J. O'Connor, Michael Harney
Director: Steve McQueen
Screenplay: Gillian Flynn, Steve McQueen
Producers: Iain Canning, Emile Sherman, Steve McQueen, Arnon Milchan
Cinematography: Sean Bobbitt
Production Design: Adam Stockhausen
Music: Hans Zimmer
Editor: Joe Walker
Running Time: 129 minutes
Release Date: 22nd November 2018 (Australia)