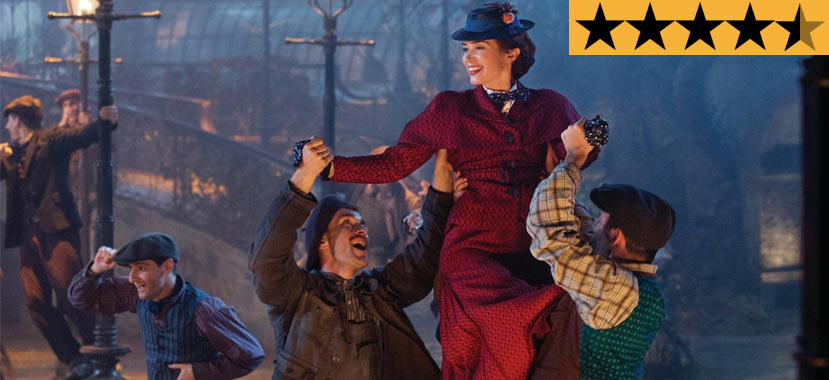 13 Dec

REVIEW – 'Mary Poppins Returns'

It's been 54 years since Julie Andrews flew into the hearts of millions around the world with an iconic performance and a masterful film that have both stood the test of time. In what became Walt Disney's finest achievement (and that's saying something), Mary Poppins still stands as one of the studio's most beloved properties. In the interest of full disclosure, it is perhaps my favourite film of all time. It's the one that started it all for me. My love of films. My love of Disney. My love of movie musicals. It all comes back to watching this film relentlessly as a child.

In what will be the longest gap between live-action sequels in film history, Mary Poppins Returns arrives five decades after its predecessor and into a cinema landscape where pointless tentpole sequels are driving film critics crazy. Given my adoration of the original, the idea of a sequel has filled me (and surely plenty of others) with enormous dread. Should a follow-up to a film that won five Oscars even be attempted? Could another actress really dare step into Mary Poppins' shoes? Is it even possible to make this work? Thankfully, all those doubts have been deftly silenced with one of the year's most glorious pieces of cinema.

With a sensational (and Oscar nom-worthy) performance from Emily Blunt as the titular magical nanny, lively direction from movie musical maestro Rob Marshall, and a soundtrack bursting to life with a roster of wonderful original songs, Mary Poppins Returns is the blissful cinematic escapism the world is desperately in need of. It may not be entirely practically perfect in every way (sorry, it had to be done), it's damn-near close. Given the daunting task faced by all involved with this production, that's somewhat of a miracle.

Set in 1935 London, 25 years after the events of the original film, all is not well within the walls of 17 Cherry Tree Lane. Michael Banks (Ben Whishaw) is all grown up and still occupying the family home, along with his three adorable young children, Annabel (Pixie Davies), John (Nathanael Saleh), and Georgie (Joel Dawson). After the tragic death of Michael's wife and the children's mother, Michael has been struggling to keep things together in the household. His beloved sister and crusader for workers' rights, Jane (Emily Mortimer) is a constant visitor to provide support, as well as their long-serving maid Ellen (Julie Walters), who, in her dotty old age, ultimately creates more work for the family.

To make ends meet, Michael has abandoned his life as an artist and taken a bank teller position at the Fidelity Fiduciary Bank, now overseen by the nefarious William Weatherall Wilkins (Colin Firth), where Michael's late father, George was once a partner and council member. Life becomes far more complicated for the Banks family when a knock at the door brings the arrival of two associates from the bank. It seems Michael's late wife was the financier of the family and took responsibility for paying their mortgage on time each month. In his grief and financial hardship, Michael is now three month's behind on the payments and the bank will seize the family home unless he can pay back the loan in full within seven days.

Taking to the attic in the hunt for a copy of their father's bank stocks, which would provide the funds to save the home, Jane and Michael instead find a few relics from their past including a familiar dust-covered snowglobe and the infamous green kite their father mended. When the discussion turns to the magical events of their youth, both Jane and Michael dismiss their memories as nothing more than childish fantasies. In his frustration, Michael tosses the once cherished possessions out on the street, where a perfectly-timed gust of wind sends the kite flying down Cherry Tree Lane, with the three Banks children in hot pursuit.

Seizing the string, young Georgie is almost launched into the air until friendly street lamplighter Jack (Lin-Manuel Miranda) bravely saves him. As the pair hold tight to the out-of-control kite, a familiar silhouette appears in the sky, holding tight to her pseudo-aircraft. Accompanying the children home, Mary Poppins (Blunt) re-enters the lives of shell-shocked Jane and Michael, who are staggered to see their childhood nanny hasn't aged a day. As she once did before, Mary invites herself to stay on to help with the Banks children (both young and old). As the eviction date draws closer, the mercurial nanny might be the key to saving the day, while also teaching the Banks family a few important lessons, once again.

Dotted along the way are a cavalcade of original tunes from Marc Shaiman and Scott Whitman, who face the enormous challenge of succeeding legendary Disney songwriters Robert and Richard Sherman, the brothers responsible for the original film's beloved (and Oscar-winning) score. While the songs each contain a familiar vibe and narrative purpose to the original, it would be remiss to call this a criticism. Nostalgia is entirely necessary in a piece like this. While you could say the tear-inducing "The Place Where Lost Things Go" is this sequel's version of "Feed The Birds," the toe-tapping "Trip a Little Light Fantastic" is akin to "Step In Time," and the (literally) uplifting finale track "Nowhere to Go But Up" is our new "Let's Go Fly a Kite," they each retain enough originality to set themselves apart from what's come before.

Shaiman's charming score is also sprinkled with a few classic musical touches from the original film. Thankfully, these are sparingly used and consistently feel more like delightful nostalgic tributes than shameless rehashings. There's a concerted effort to have this film stand on its own two feet, while still retaining the essence of its predecessor. Of course, there are a few classic Mary Poppins quotes thrown in for good measure and a gorgeous cameo from original star Dick Van Dyke plus another surprise appearance the trailer hasn't spoiled (sorry to say, it's not Andrews), but it's clear director Rob Marshall is firmly interested in crafting a genuine continuation, as opposed to a pointless remake disguised as a sequel.

We've long known Marshall is a master of the movie musical genre. He almost (and should have) won an Oscar for it. His deft skills are again on display here, with his keen eye for knowing precisely how to produce spectacular musical sequences that truly burst off the screen. In the film's more elaborate numbers, Marshall combines song, dance, visual effects, and, occasionally, even hand-drawn animation to create marvellous treats for the eyes and ears. In the film's quieter tunes, he keeps the camera placed firmly on his performers to capture the raw emotion emanating from their every word. It's a resulting production that knows how to toe the line between spectacle and humility.

When the spectacle does take over, the production design from John Myhre and costume design from Sandy Powell are some of the year's best period creations. It would have been easy for Powell to merely recreate the costuming of the original, but she wisely resists the urge to fall into that lazy trap, crafting a dazzling new wardrobe for our titular heroine and the ensemble cast, typified by the costumes found within the "The Royal Doulton Music Hall" sequence where our characters appear to be wearing hand-drawn animation outfits to blend with their magical environment. Myhre's recreation of Depression-era London is sublime, gifting the performers several gorgeous environments to play in, all lushly captured by cinematographer and frequent Marshall collaborator Dion Beebe.

Much like the original, the narrative still finds Mary Poppins arriving to help a beleaguered father find his way again. However, screenwriter David Magee finds an entirely new mission for the nanny to undertake with the Banks children. Naturally, she's there to help them reconnect with their father, but Mary soon realises the untimely passing of their mother has forced these young ones to grow up far too quickly, robbing them of the innocence and naivety of childhood. Assuming an almost Peter Pan-like quality, she becomes determined to bring joy and light back to their lives as only she can, while reminding them of the power of positivity and imagination that all children possess.

While still retaining the spirit instilled within Andrews' performance, Blunt makes the role of Mary Poppins entirely her own. The stern demeanour and delicious sardonic wit are still there. The whimsy and joy are there too, in those moments when Mary lets down her austerity. But in Blunt's capable hands, this never once feels like a desperate impersonation. Her accent and line delivery feel entirely fresh plus there's a dash of a somewhat cheekier attitude. It's a richly layered performance that's as endearing as it is intimidating. Blunt has always been an actor you cannot help but adore, and that makes her the perfect choice for a role that demands an audience fall in love with the lead character. It's an enchanting turn that demands Oscar notice, even in an incredibly strong year for female lead performances. What she has achieved here is nothing short of remarkable, and she deserves to be rewarded thusly.

With an infectious smile and irresistible charm, the breakout star of Mary Poppins Returns is undoubtedly Miranda, who firmly stakes his claim as a true song-and-dance man of the screen. His Cockney accent is pitch-perfect (almost good enough to make you forget Van Dyke's bumbled efforts) and Jack is a delightful new creation you will absolutely treasure. When Marshall gives him free space to sing and dance, Miranda truly comes to life, displaying all his impeccable skills from the Broadway stage that translate perfectly to film. He steals focus but wisely knows when to sit back and let Blunt take control, creating a terrific duo combination infused by wonderful chemistry that interestingly remains entirely platonic.

In a time of such darkness and misery, Mary Poppins Returns proves to be the spoonful of sugar (sorry, last one) we all achingly need right now. It's a joyous and uplifting experience that arrives at precisely the right time. While the nostalgic touches may stop this sequel from being something wholly original, it still marks the wondrous return of one of the greatest characters the world of cinema has ever known. For fans of the original, this is everything we could have asked for, and then some. It's a sequel that never should have worked, but, thankfully, it's simply supercalifragilisticexpialidocious (oh, allow me one final one).





Distributor: Walt Disney
Cast: Emily Blunt, Lin-Manuel Miranda, Ben Whishaw, Emily Mortimer, Julie Walters, Pixie Davies, Nathanael Saleh, Joel Dawson, Dick Van Dyke, Angela Lansbury, Colin Firth, Meryl Streep
Director: Rob Marshall
Producers: Rob Marshall, John DeLuca, Marc Platt
Screenplay: David Magee
Cinematography: Dion Beebe
Production Design: John Myhre
Music: Marc Shaiman
Editor: Wyatt Smith
Running Time: 130 minutes
Release Date: 1st January 2019 (Australia)