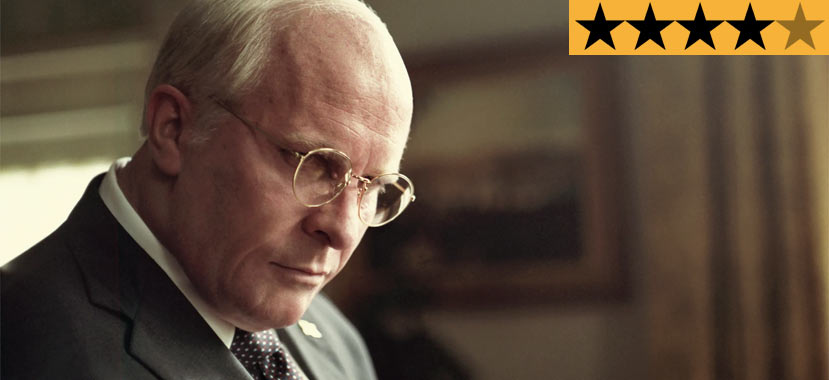 18 Dec

REVIEW – 'Vice'

"The following is a true story. Or as true as it can be, given that Dick Cheney is known as one of the most secretive leaders in recent history. We tried our fucking best."

That's the refreshingly honest admission placed at the beginning of Vice, the latest film from goofy-comedy-writer/director-turned-awards-season-darling Adam McKay that seeks to capture the life and times of one of the 21st centuries most bombastic yet mysterious figures, former Vice President Dick Cheney. By his own confession, McKay is openly admitting he's had to make assumptions with the factual nature of this biopic, which will likely irk many. Working almost exclusively behind-the-scenes, Cheney "did it like a ghost," making it a difficult quest for McKay to accurately portray the wheelings and dealings of one of the most powerful men Washington, D.C. has ever known.

That's not to suggest this movie is pure fantasy, although there were already several "think pieces" from right-wing commentators calling it such, despite not having actually seen the film. But Cheney's innate ability to pull the puppet strings from above the stage was always his greatest trick, and he'll likely be the first to deny practically every frame of McKay's biting satirical romp. Much like his Oscar-winning The Big Short, Vice is both wildly entertaining and achingly infuriating with a relevant and pointed reminder of why unvetted political power is such a dangerous thing.

With a career-best and Oscar-worthy performance from Christian Bale, whose unlikely casting proves to be one of the year's most impressive turns, and a stellar ensemble supporting cast led by Amy Adams and Steve Carell, this is another acting masterclass from McKay, who is fast becoming known for these ridiculously stacked ensemble pieces. Whether you think McKay has demonised or idolised Cheney will depend on which side of the political aisle you find yourself on, and that's entirely how he wants it. Welcome to the year's most divisive film.

For those unfamiliar of Cheney's early life, the opening portion of Vice may come as quite a surprise. In the early 1960s, Cheney (Bale) was a drunken two-time Yale drop-out with no real ambition for life. After an arrest for driving while intoxicated, his beleaguered wife, Lynne (Adams) gives him an ultimatum; stand up and make something of his life or she's out. Realising what he stands to lose if he continues down this path, Cheney gives up the drink and earns his way to Washington, D.C. where an internship with Director of the Office of Economic Opportunity Donald Rumsfeld (Carell) awaits. It's here his insatiable lust for power is born.

Teaching him the ways of D.C., Rumsfeld quickly becomes Cheney's most trusted advisor and as the latest D.C. insider, Cheney soon becomes a "devoted and humble servant to power." Rising up the political ladder, Cheney works his way into the power circles of D.C., eventually landing as Chief of Staff to President Gerald Ford (Bill Camp) and campaign manager for Ford's unsuccessful 1976 presidential campaign. Out of a job, Cheney turns his attention to elsewhere with a successful bid for Congress in 1979, where the Reagan-led boom years of the 1980s provide a haven for someone like Cheney.

After serving as Secretary of Defense for President George H. Bush, Cheney sets his eyes on the top position, but a damning opinion poll proves his popularity is not the stuff of presidential bids, namely due to his openly gay daughter, Mary (Alison Pill), who is deemed a political liability. After Bush's embarrassing loss to Bill Clinton, Cheney leaves Washington for a CEO position with multinational oil company Halliburton. It's here his days as a politico are seemingly done, and McKay's mastery of satire comes into play with a hilarious sequence I dare not spoil that elicited applause from my audience. But Cheney's political retirement is halted by a call-up from George W. Bush (Sam Rockwell), who asks his father's old pal to be his running mate in the 2000 Presidential election, providing Cheney with the chance for true power he's always desired.

McKay paints Cheney as the ultimate opportunist, a title he'd likely take as a compliment. Highly manipulative and insatiably self-involved, Cheney was always looking two steps ahead to further his path to unbridled authority. The title of Vice President had always been seen as a "nothing job" but Cheney saw an opportunity to twist the position to his advantage, namely by his ability to control someone as uninterested in mundane presidential tasks as Dubya. In a perfect piece of analogy filmmaking, McKay edits Cheney's initial running mate discussion with Bush as if he's coordinating a game of fly fishing. As he patiently lures his target with his demands for taking the normally thankless role of VP, he offers to handle taxing duties like foreign policy and bureaucracy. Beguiling Bush with his daring offer, Cheney ensnares his hapless prey and lands the fish he's after, hook, line, and sinker.

It's this lack of subtlety that will either win you over or have you rushing for the exit. For better or worse, McKay refuses to pull any punches with a screenplay that's a bitingly sharp observation on the scrupulous games played in Washington, D.C. At one point, McKay even displays the political landscape of America as one giant board game (another deliciously dry analogy) where the odds are consistently stacked in the favour of those who know how to play. What made Cheney such a powerful player was his refusal to play that game by the rules. As Cheney begins to transform his role as Vice President into a role of unimaginable power, an exacerbated underling comments "that's not really something the VP does," to which Cheney bluntly responds, "it is now."

What's even less subtle is McKay's portrayal of 9/11 and how America's darkest day became Cheney's ultimate opportunity. Seizing power from the operational centre below the White House, Cheney took immediate control of America's response to the ultimate act of terrorism, leading to unvetted power that's literally presented as a menu of tantalising opportunities (delivered by a cameo from Alfred Molina, of all people) including brutal interrogation tactics, the ability to legally spy on the previously-private information of citizens, the creation of Guantanamo Bay, and, ultimately, war with Iraq. Cheney knew he had to sell this war to the American people, even going so far as to manipulate Secretary of State Colin Powell (Tyler Perry) into openly lying to the UN about the existence of weapons of destruction in Saddam Hussein's possession. It's in these moments McKay demands you witness just how ruthless Cheney could be.

The structure of Vice is another element that will surely challenge audiences, with McKay presenting his film in an often non-linear fashion that's been everywhere in cinema this year. Jumping across timelines, the film consistently cuts to flashbacks, which can prove rather frustrating at times. Covering several decades in just two hours, McKay keeps his piece moving at a cracking pace, often making it difficult for the audience to keep by his side. This style is saved by the impeccable work of editor Hank Corwin, who somehow manages to keep up with the frenetic vision McKay has laid down.

Whether you love or hate this film, you will not be able to deny the incredible performance of Bale, who completely disappears to entirely inhabit the role of Dick Cheney. Yes, much has been made of Bale's garish 45-pound weight gain (no, he's not wearing a fat suit) and the hair and make-up work enacted to transform the actor are some of the year's best, but it's more than just a physical transformation here. Bale completely encapsulates Cheney's voice, posture, and mannerisms in an uncanny performance that puts him firmly in contention for his second Oscar. Cheney's cold and calculating gaze burns from Bale's every glance in a role that's every bit impressive as it is terrifying. McKay does allow some warmth to shine through by portraying Cheney as a devoted family man, and Bale excels further in these quieter moments. They're few and far between, but still provide enough juxtaposition for Bale to create a truly rounded turn you cannot help but call astonishing.

Many were hoping Vice may prove to be the film that finally snares Adams her long-overdue Academy Award. That remains to be seen but she makes a strong case with a performance that's typically wonderful. Lynne is painted as a supportive and equally power-hungry wife and mother who consistently pushes her husband to greatness. Without his wife in his corner, it's highly likely Cheney never would have reached the heights of success he did, and McKay portrays the pair as a Shakespearean-like power couple who were determined to crush anyone in their way. Carell and Rockwell provide further levity with performances that consistently bored on caricature but thankfully never quite cross over into Saturday Night Live levels of parody. Rockwell is particularly impressive, perfectly managing to grasp Dubya's "aww, shucks" good ol' boy Texan mentality that reminds you why Bush was so bizarrely charming.

Unashamedly political, Vice knows exactly what it is and why it's being made right now. With comparisons to the current mess we've somehow found ourselves in, it's a bleak reminder of the corruption of American politics and how America never seems to learn from its past missteps. McKay's approach is as subtle as a sledgehammer, as he consistently bashes his message home with brute force. That won't sit well with many and perhaps he goes a tad too hard at times. If you prefer your political cinema delivered with a more light-handed approach, this probably isn't the film for you.

But what is inescapable is the sense that Cheney controlled the show and led America into a war it still hasn't managed to remove itself from. He lied, cheated, and manipulated the system to get exactly what he wanted. And he got away with it. We're still living in a world he played a huge part in creating, yet he's never been held accountable. If nothing else, Vice will stand as a reminder of who this man was and why men like him still control the game that is Washington, D.C., whether we want to admit it or not.





Distributor: eOne Films
Cast: Christian Bale, Amy Adams, Steve Carell, Sam Rockwell, Tyler Perry, Alison Pill, Jesse Plemons, Lily Rabe, Justin Kirk, LisaGay Hamilton
Director: Adam McKay
Producers: Brad Pitt, Dede Gardner, Jeremy Kleiner, Megan Ellison, Kevin J. Messick, Will Ferrell, Adam McKay
Screenplay: Adam McKay
Cinematography: Greig Fraser
Production Design: Patrice Vermette
Music: Nicholas Britell
Editors: Hank Corwin
Running Time: 132 minutes
Release Date: 26th December 2018 (Australia)