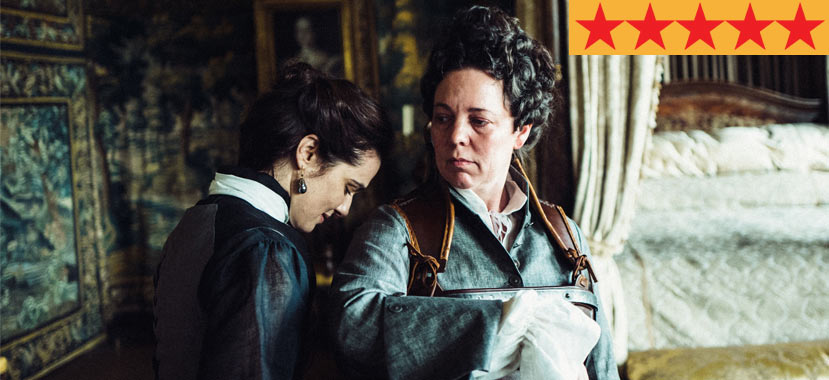 27 Dec

REVIEW – 'The Favourite'

Absurdist cinema is not for everyone. The directorial work of master of the bizarre Yorgos Lanthimos likely hasn't sat well with most audiences. By the same token, period films aren't exactly most people's cup of tea either. When presented with an absurdist period piece directed by Lanthimos, one may have some trepidation. Leave your apprehension at the door. It's not needed here. With his latest work, we are gifted with one of the year's most raucously glorious and wickedly delicious pieces of cinema.

Standing as Lanthimos' most accessible film to date, The Favourite is a roaringly entertaining romp that's sardonically dark, deliciously nasty, and likely to leave you with a giant smile plastered on your face the entire time. With a trio of dynamic (and Oscar nom-worthy) performances from Rachel Weisz, Emma Stone, and the indomitable Olivia Colman, this tale of lust, power, manipulation, envy, and revenge proves that period films can be more than just a stuffy bore. Throw in sumptuous period costume and production design and a screenplay that's an absolute riot of twists, turns, and wicked dialogue, and you have one of the finest films of 2018.

Set in 1708, The Favourite takes place during a turbulent period for England. Battling its way through a cripplingly expensive and exhaustively long war with France, there seems no end in sight to the conflict that's resulting in the slaughter of hundreds of young British soldiers. Under pressure from her parliament to find means to continuing financing the costly war, Queen Anne (a sensational Colman) is at her wit's end, confounded further by her own ailing health. Suffering from debilitating bouts of gout, resulting in grisly weeping sores on her legs, the Queen is prone to wild mood swings and episodes of writhing on the floor in agony, screeching like a banshee.

Ever by her side is her confidante and secret lover, Lady Sarah Churchill (Weisz), a ruthless schemer who has the Queen's ear and manipulates her at every advantage to the favour of Lady Sarah's husband, Lord Marlborough (Mark Gatiss), commander of the British army, who wishes to see the war stretch on until France is completely annihilated. Essentially governing the country in the Queen's poor health, Lady Sarah's dominance over the monarchy frustrates ambitious Tory leader Robert Harley (an underrated turn from Nicholas Hoult), who longs for the war to end and a return to the frivolous glamour of peace times.

But Lady Sarah's unvetted command of the Queen's attention is soon challenged by the arrival of her impoverished cousin Abigail (Stone), who appears at the court penniless and in desperate need of employment. After her father gambled away their family's fortune and, thereby, aristocrat status, Abigail is left with nowhere to go and begs her cousin for mercy. Taking pity on her beleaguered family member, Lady Sarah offers Abigail a lowly position as a scullery maid in the kitchens of the Queen's estate. The opportunistic and cunning Abigail seizes her moment, quickly worming her way up the ranks to capture the Queen's affections, creating a fiery rivalry with her cousin and a dizzying love triangle with dire consequences for all.

At the heart of this revisionist period piece are the three sublime actresses, each delivering a commanding performance worthy of the Academy's attention. It's ensemble work of the finest order, with each actress playing off the other in perfect tune. It would be remiss to call just one the lead and the others supporting, even though awards season has been forced to make this impossible decision and Colman has been decreed the headliner. Hardly surprising, given her breathtaking performance is likely the one you won't easily forget.

After a dazzling career, one many have overlooked, it seems Colman is finally earning the attention she has long deserved. With a deeply layered turn, Colman is a revelation here. Anne is a petulant child, broken after a life of darkness and loss that's left her emotionally ruined. She's wildly insecure and grossly unstable, often swinging from giddily happy to insanely unhinged in the space of mere moments. In the hands of a lesser actress, this flawed character could become incessantly insufferable very quickly, but Colman finds the pathos and elicits your empathy, as she reaches the depths of insanity that push Anne to the brink of cracking. There's a touching vulnerability to Anne that Colman perfectly portrays, and you can't help but feel for this woman who has been twisted and manipulated her entire life. Colman never shies away from getting ugly here, in a performance that's as grotesque as it is captivating, and, occasionally, downright hilarious.

Taking the apparent "supporting" roles, Weisz and Stone are just as impressive as their leading lady. Both Lady Sarah and Abigail are fiercely intelligent and ruthlessly ambitious, creating a power stand-off that's genuinely thrilling to behold, as each battle for a place at the Queen's side, for varying reasons. As Sarah, Weisz is initially stoic and unnerved, always maintaining a tight grip of control of all those around her, particularly the doe-eyed Anne, who is blinded to Sarah's truest intentions by her desperate longing for companionship. However, despite Sarah's selfish motivations and uncaring maneuvering, she feels an earnest love for the Queen, creating a complicated mix of emotions for Weisz to tackle, which she handles with deft skill.

Stone is handed the thankless role of the film's truest villain (although, at the end of the day, all three women are fairly reprehensible), but her work here may be the finest she's ever delivered. And that's saying something. At first appearing entirely sweet and innocent, which we know Stone can easily handle, Abigail's true inexorable nature slowly becomes apparent, gifting the actress the chance to play an unrighteously nasty character for the very first time. Letting nothing stand in her way of regaining her lost stature as an aristocrat, Abigail is uncompromising in her dastardly plan to steal Anne's gaze and bend the foolish Queen to her will. Stone plays her part as usurper perfectly, delivering a performance that's entirely evil, at times, yet no less mesmerising. Her interactions with Weisz are sublimely acerbic, with each spitting pointed barbs at each other every chance they get. You could honestly watch these two go toe-to-toe for hours on end, and still be begging for more.

But The Favourite is more than just a masterclass of acting, even though that would be more than enough to make this a supremely brilliant piece of cinema. Lanthimos shows his peculiar tastes and impeccable director's eye with a production that's a genuine feast for the eyes and something distinctly original. Using only natural light to showcase his scenes and shot by cinematographer Robbie Ryan on 34mm, the film has a unique visual style unlike anything else this awards season. With spiralling camera techniques and the occasional employment of fish-eye lenses, there's a voyeuristic quality here that's both entirely gratifying and occasionally purposely off-putting.

The screenplay (not written by Lanthimos, a first for the director) from Deborah Davis and Tony McNamara is an absolute dream, filled with the most delightfully dark and pointedly sharp dialogue for the cast to consume and deliver. The three female roles are all fully-dimensional entities with a perfect mix of light and shade that creates fully realised characters. Davis and McNamara clearly know how to write female roles, which is often the downfall of many period pieces where women are superfluous to the narrative. Putting them in the lead and crafting them as the champions of their own destiny produces a work that's refreshingly feminist but wise enough to still highlight women are not perfect creatures, and there's absolutely nothing wrong with that.

Production designer Fiona Crombie fills the scenery with the most dazzling of furnishings, tapestries, and accessories, taking full advantage of the sprawling Jacobean estate the production took place within. The costume design from the legend that is Sandy Powell is equally stunning, with an array of intricately designed and lavishly glorious period outfits that are truly beautiful to admire. Both Crombie and Powell each have one hand on those Oscars, and rightly so. Lanthimos avoids the use of an original score, instead filling his film with an eccentric mix of classical pieces from Handel, Vivaldi, and Bach juxtaposed by pulsing electronica from the likes of Luc Ferrari and Olivier Messiaen. Proving his unconventionality, Lanthimos even stages a ridiculously wonderful dance routine that I dare not ruin. It has to be seen entirely fresh, but it's an impossibly memorable moment in a film overflowing with stand-out moments.

At a time when the patriarchy of Hollywood is finally being challenged, The Favourite could not arrive at a more opportune time. With three phenomenal female performances in a film that showcases the uncompromising strength and determination of women, this period film hits a relevancy point that's impossible to ignore. With its sublime mix of wild entertainment, true moments of hilarity, and a dash of devastating sorrow, The Favourite is an absolute triumph. A twisted period piece with a caustic bite, this is a film you will long remember. May it reign supreme at this year's Academy Awards.





Distributor: 20th Century Fox
Cast: Olivia Colman, Emma Stone, Rachel Weisz, Nicholas Hoult, Joe Alwyn, James Smith, Mark Gatiss, Jenny Rainsford
Director: Yorgos Lanthimos
Producers: Ceci Dempsey, Ed Guiney, Lee Magiday, Yorgos Lanthimos
Screenplay: Deborah Davis, Tony McNamara
Cinematography: Robbie Ryan
Production Design: Fiona Crombie
Editor: Yorgos Mavropsaridis
Running Time: 119 minutes
Release Date: 26th December 2018 (Australia)