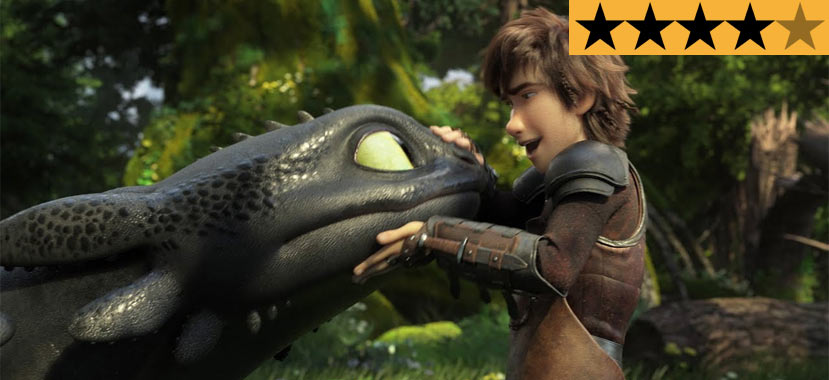 09 Jan

REVIEW – 'How to Train Your Dragon: The Hidden Kingdom'

When the first two films of an eventual trilogy are all sorts of wonderful, the third and penultimate chapter has a lot to live up to. Most completely fall over themselves. Think Spider-Man 3, X-Men: The Last Stand, and The Godfather Part III. But every so often, we get the rare threequel that is every bit as terrific (and maybe even better) than the films that preceded it. The gold standard has always been Toy Story 3, which (at the time) wrapped up Pixar's marvellous franchise in spectacular fashion. Move over, Woody and Buzz. You've got some competition.

After delivering two of their best offerings (even if the Academy didn't seem to think so), DreamWorks Animation soars to new heights in the final entry of the beloved How to Train Your Dragon trilogy. With the visually stunning and narratively moving How to Train Your Dragon: The Hidden Kingdom, we are gifted the rare franchise that's always known exactly where it's going and has wisely taken it's time to get there. Crafted with writer/director Dean DeBlois' vision for this trilogy that has been clear from the start, we've been blessed with a genuine character evolution so often lacking from tentpole sagas.

Standing as the coming-of-age film we've been waiting nine years for, The Hidden Kingdom is the bittersweet goodbye that delivers the emotions we've come to expect from this unassuming trilogy. It's every bit as thrilling and entertaining as its predecessors, but with greater finesse in both visuals and storytelling to create a sublime swan song that will likely leave you in a mess of tears. Bring. The. Tissues.

Beginning shortly after the events of the second film, The Hidden Kingdom finds our plucky protagonist Hiccup (Jay Baruchel) now in charge of the island village of Berk, taking the mantle of tribal chieftain from his late father, Stoick (Gerard Butler). Under Hiccup's leadership, Berk has become a bustling (and overcrowded) home for hoards of dragons, who now live peacefully side-by-side with their former Viking foes. Clearing inheriting his mother Valka's (Cate Blanchett) gutsy determination to allow dragons to live freely, Hiccup continues to rescue the gargantuan creatures from their brutish captors with the help of his best dragon pal Toothless, his beloved girlfriend Astrid (America Ferrara), and trusty sidekicks Snotlout (Jonah Hill), Ruffnut (Kristen Wiig), Tuffnut (Justin Ripple wisely replacing T.J. Miller), and Fishlegs (Christoper Mintz-Plasse).

But as Hiccup and his gang continue to provide refuge for more and more dragons, Berk begins to feel a little too cramped to accommodate any further fiery inhabitants. Thinking out loud, Hiccup recalls a fable his father once told him of a mythical "hidden world" that lay beneath a waterfall at the edge of the planet. According to the legend, this secluded utopia is the land from which dragons originate and a safe-haven where they can live peacefully away from the clutches of barbaric humans. Thoughts of relocation are made all the more pressing with the emergence of fierce and menacing dragon poacher Grimmel (F. Murray Abraham), who is determined to enslave all dragons for his growing army and destroy any who get in his way.

With their homeland under attack, the people of Berk prepare to flee in search of the hidden world of Stoick's tale. But their plans are complicated when their faithful protector and alpha-leader of all dragons Toothless becomes aware of the existence of a dazzling pure white female night fury (who Astrid dubs "Light Fury"), who has been sent by Grimmel to distract the instantly-smitten dragon, thus leading him away from Hiccup and exposing the Berkians to Grimmel's almighty wrath. Torn between his loyalty and friendship to Hiccup and his burgeoning affections for Light Fury, Toothless must soon face an impossible choice, as an epic battle with Grimmel and his imposing dragon army beckons on the horizon.

In the nine years since the original film kickstarted this trilogy, computer animation has already come a long way. The proof is in the gorgeous visuals of The Hidden Kingdom, which are undoubtedly the best DreamWorks has delivered. From the glowing, fluorescent caves of the Pandora-esque hidden kingdom to the dazzling natural landscapes featuring photorealistic forests, waterfalls, and skies, plus a whole cavalcade of wondrous dragon characters, the film is a gorgeous feast for the eyes. It's no surprise to see Oscar-winner (finally!) Roger Deakins' name pop up as a visual consultant on the production. The film consistently dances between light and shade, which have all the hallmarks of Deakins impressive roster of work.

Loaded with several thrilling and exhilarating battle sequences and plenty of humorous moments, which are sure to delight the younger audiences, the film's real highlights are two juxtaposed interactions between Toothless and Night Fury. In a rather hilarious setpiece, Toothless attempts a terribly hapless mating dance ritual involving a hefty dose of slapstick humour and utterly adorable attempts from the desperate dragon to impress his female suitor. This soon morphs into a gorgeously choreographed routine, as the pair takes to the skies to perform an atmospheric ballet that manages to rival that classic setpiece from WALL-E.

But sublime visuals are not enough to make a fully rounded piece of animated cinema, and that's something this franchise has always been keenly aware of. With its deft focus on its endearing hero, The Hidden Kingdom continues the beautiful character arc of Hiccup, as he grows from the bumbling, awkward teenager we met in the original film to the confident, brave young man on the edge of adulthood we see here. Even Baruchel's voice has evolved over the course of the three films to match the changing physique of his character, who, by the end of the film, will likely give many another animated character to crush on. Yes, he grows a John Krasinski style beard. And yes, it's spectacular.

Elevating the characterisation is the further development of Hiccup's relationship with Astrid, who is really the underrated star of this franchise, and his growing connection to his newly-acquainted mother. But, naturally, the heart of this film is the deep bond between man and beast, with Hiccup and Toothless now entirely inseparable and perfectly attuned. Even without the use of dialogue (several extended sequences are entirely devoid of conversation), Toothless is also gifted an entirely engaging narrative that's genuinely beautiful to witness. He too has grown over the course of the three films, and for a character who never once utters a word, that's saying something.

With another sublime roster of voice-over artists, an uplifting and exuberant Gaelic score from John Powell, a wonderland of visual treats, and a touching narrative that's impossible to resist, The Hidden Kingdom is another triumph from this franchise. Every moment of this film leads to a conclusion that's deeply satisfying, emotionally gut-wrenching, and the perfect farewell to a perfect cinematic trilogy. It's always hard to say goodbye to characters and a franchise you adore. But when the ending is so beautifully crafted, the bittersweet pill is just a tad easier to swallow.





Distributor: Universal Pictures
Cast: Jay Baruchel, America Ferrara, Cate Blanchett, Gerard Butler, Jonah Hill, Kristen Wiig, Justin Rupple, Christopher Mintz-Plasse, Craig Ferguson, Kit Harington, F. Murray Abraham
Director: Dean DeBlois
Producers: Brad Lewis, Bonnie Arnold
Screenplay: Dean DeBlois
Music: John Powell
Editor: John Carr
Running Time: 104 minutes
Release Date: 3rd January 2019 (Australia)