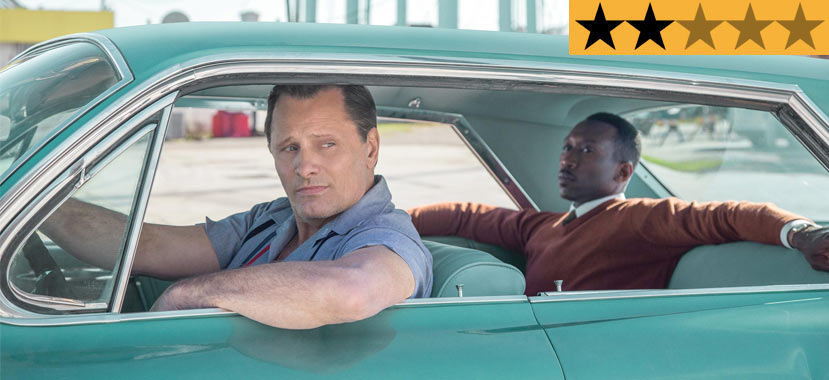 25 Jan

REVIEW – 'Green Book' is problematic as all hell

The film that's divided America finally arrives in Australia. With a swag of precursor awards season success including winning Best Motion Picture – Comedy or Musical (it's neither, by the way) at the Golden Globes, taking home the prestigious Producer's Guild of America trophy, and now receiving five Academy Award nominations including Best Picture, Green Book has all the hallmarks of a new American classic. But dig a little deeper and you'll soon discover this "feel-good" film is problematic as all hell, making its adoration by awards season rather infuriating.

Directed by Peter Farrelly (yes, one of the brothers that gave us Shallow Hal) and co-written by Farrelly and a bunch of other white dudes, this reverse Driving Miss Daisy tackles racism with the sensitivity and subtlety you'd expect from the guy who thought putting Gwyneth Paltrow in a fat suit was a wise idea. Whitewashing a deeply painful time for the African American community, Green Book is a film that looks back and shakes its head at America's shameful past, seemingly without realising very little has changed, particularly in a Trump world.

With a white male saviour at the forefront of its narrative, Green Book is a film you'd expect to encounter in the late 80s/early 90s and see white people fall over themselves to honour for its bravery in daring to confront the difficult subject of race. The fact this very reaction is occurring in 2019 is rather unfathomable, particularly when recent films like BlacKkKlansman, If Beale Street Could Talk, and The Hate U Give handle these issues far more successfully and (for one glaringly obvious reason) entirely authentically. But, hey. It is Hollywood, after all, and fantasy reigns supreme in tinsel town.

Set during the segregation days of 1962, Green Book is the story of an unlikely interracial friendship that solved America's racism problem and, to quote Tina Fey's Golden Globes opening monologue reference to Selma, "now everything's fine." Italian-American nightclub bouncer Frank "Tony Lip" Vallelonga (Viggo Mortensen, in extreme "fuhgeddaboudit" mode) finds himself out of work after infamous New York City hotspot Copacabana closes for renovations. A hothead with a short fuse and a mean right fist, Tony's particular set of skills leave him with few options to provide for his adoring wife, Delores (a charming but underused Linda Cardellini) and their two young children.

When Tony answers a job ad seeking a driver to chauffeur a "doctor" around, he's shocked to discover the ad was placed by Dr. Don Shirley (a regal Mahershala Ali), an elegant and refined African American jazz pianist about to embark on an eight-week concert tour through the perilous Deep South. Living a life of opulence and extravagance, Dr. Shirley resides in an apartment above Carnegie Hall, lavishly decorated with exotic artifacts and ornate furniture including an African throne from which Dr. Shirley interviews Tony. Despite their extreme differences (Tony is the kind of guy who literally throws away a glass after a black man drinks from it), Dr. Shirley is confident Tony is his man, given he not only needs a driver but a bodyguard to keep him safe along the way.

Reluctantly agreeing to the gig, Tony is handed a copy of the titular "Green Book" by Dr. Shirley's record label to help assist with the journey. The book, officially known as The Negro Motorist's Green Book, was an annual publication used by African Americans as a guide to the safe travelling routes, motels, and restaurants found in the deeply segregated South. As the pair leave New York in Dr. Shirley's immaculate turquoise Cadillac, the tension in the car is immediately apparent, with Dr. Shirley preferring quiet solitude and Tony unable to keep his big mouth shut. But as the journey unfolds and the unlikely duo face a hefty dose of obstacles and challenges, they begin to form a burgeoning bond neither ever expected.

Let's make one thing clear; I firmly believe all involved with Green Book had nothing but the best of intentions with crafting this film. Sure, there's a part of me that suspects there's a lot of awards season pandering going on here, which has clearly worked. Farrelly knew this was his shot to prove himself more than a gross-out comedy director, and, for better or worse, he's managed to stamp his claim as a "serious" filmmaker. There is a hefty dose of sentimentality and heart within this film, but it's wrapped up in numerous misguided and tone-deaf attempts at commenting on the state of race relations in 1950s America, likely to cause numerous eye rolls and a bitter taste in your mouth by the film's garishly cliché and painfully obvious conclusion.

Both our leads (awards season declaring Ali as "supporting" is utter nonsense) are nauseatingly stereotypical characters, written with all the hallmark traits of poorly written cinema of the past. If you took equal parts of Tony Soprano, Don Corleone, and Fat Tony from The Simpsons, you'd likely wind up with Tony Vallelonga. In Mortensen's capable hands, Tony consistently exudes a goofy, endearing charm from a man who is nothing more than a product of his time and environment. He nails Tony's thick Italian-American/Bronx accent, as well as packing on plenty of pounds to play this gluttonous big oaf who, at one point, takes a pizza, folds it in half, and proceeds to devour the entire thing. However, as lovable as Mortensen's performance may be, the character is ultimately the cinematic equivalent of a meatball sub.

Dr. Shirley is treated with equally frustrating and stereotypical treatment, leaving us with a portrayal of an artist that's an exaggerated caricature of how people outside the art world see those within the bubble. The screenplay was co-written by Tony's son, Nick Vallelonga (who you might have heard a bit about recently) with zero consultation from Dr. Shirley's surviving family members, who have since called the film "full of lies." It's this familial proximity to Tony that makes the writing of Dr. Shirley so disappointing. He's written as a snooty artisan with a desperate aversion and bizarre resistance to his own heritage and black culture, making it painfully obvious the screenwriters had no idea how to craft this character as anything other than an enigma audiences are meant to be mystified by.

Thankfully, Ali manages to rise above the poor writing to deliver a captivating and dignified performance. He finds the complexities and layers in a deeply confused and frustrated gay black man who can't quite find his place in the world. He isn't black enough to be considered truly black. He certainly can never be white. And his sexuality prevents him from being a "real man." It leaves Dr. Shirley trapped in cultural limbo where he's gleefully invited to perform for white audiences but couldn't possibly join them for dinner in a segregated restaurant. It gifts Ali the opportunity to play a character that's the total opposite to his Oscar-winning turn in Moonlight, and he's equally as impressive here, even whilst being forced to enact some bafflingly tone-deaf scenes.

As the pair become more acquainted with each other, Tony is stunned to learn Dr. Shirley has never heard of popular African American entertainers like Little Richard or Chubby Checker and has never once eaten fried chicken because, you know, that's the dish du jour of the black community. In a scene that's played for goofy laughs, Dr. Shirley is gently coerced into eating fried chicken for the very first time, confusedly and awkwardly handling the drumsticks and wings as if they're foreign objects from another planet. It's one thing to ask an audience to accept the notion of someone having never eaten a popular meal before, but you're asking us to expect to believe that Dr. Shirley, a man with three PhDs, is entirely bamboozled by how to hold and eat a piece of chicken. Come on now.

This entire running gag of Tony being more of an expert in black culture than Dr. Shirley paints a portrait of an Italian-American essentially being more connected to the notion of blackness than an actual black man, purely because he eats fried chicken and enjoys the music of a few black musicians. The film is asking us to bask in the glow of Tony's glory of teaching a black man about his own culture by way of absurd stereotypes, and that racial issues could be solved if we all just had a good ol' chat over a bucket of KFC. It's hard to determine if this film thinks its narrative is entirely "woke" or it just assumes its audiences is that clueless of the past to see through these nonsensical moments.

It's the inherent problem seen when white filmmakers attempt to understand the plight of the black community, particularly during the 1950s. They simply don't get it, no matter how hard they try. Even the notion of naming this film after a publication the storyline treats with such disregard feels entirely misguided. After we see Tony receive The Negro Motorist's Green Book, it's genuinely barely ever seen or mentioned again for the remainder of the film. Occasionally, Farrelly will insert a random close-up of the book on the passenger seat of the Cadillac, in a pointless attempt to remind us of where the film's title comes from. It begs the question of why this film was even titled Green Book in the first place when the guide itself is all but superfluous to the plot of the movie.

With a conclusion that's as heartwarmingly fantastical as much of the rest of the film (i.e. it never happened, according to Dr. Shirley's relatives), it's likely plenty will dance out of the cinema feeling entirely uplifted by this film's naive view of racial relations in 1950s America. Nothing within Green Book acknowledges how things have changed very little in America and fails to understand that segregation and vilification are still a fact of life for people of colour, even if it's not as starkly obvious as it was in the Jim Crow era. It's as if this film thought it could unite the division that's currently tearing America apart by showing how we can overcome our differences if we all just sat in a car and listened to one another. But when you're depicting issues and characters you know nothing about, you're clearly not listening yourselves.

If you want to understand racism and the intolerance faced by African Americans of the past, watch BlacKkKlansman, If Beale Street Could Talk, or countless other films crafted by black filmmakers with an actual authentic connection to the black community. If you want ridiculous fluff crafted by white people to make you feel better about the past and the present, watch Green Book. It's entirely fine if you enjoy it. It's crafted to be a crowd-pleaser. But, please, for the love of god, find perspective in other pieces of cinema that portray this narrative far more effectively.
Distributor: eOne Films
Cast: Viggo Mortensen, Mahershala Ali, Linda Cardellini, Sebastian Maniscalco, Dimiter D. Marinov, P.J. Byrne, Montel Miller
Director: Peter Farrelly
Producers: Jim Burke, Charles B. Wessler, Brian Currie, Peter Farrelly, Nick Vallelonga
Screenplay: Nick Vallelonga, Brian Currie, Peter Farrelly
Cinematography: Sean Porter
Production Design: Tim Galvin
Music: Kris Bowers
Editor: Patrick J. Don Vito
Running Time: 130 minutes
Release Date: 24th January 2019 (Australia)