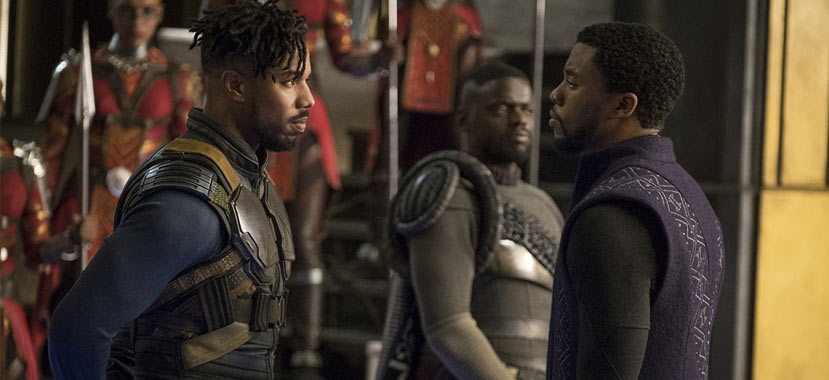 20 Feb

The case for and against 'Black Panther'

Next up in The Jam Report's closer look at this year's Best Picture nominees is the history-making Black Panther. Much to the chagrin of DC fanboys everywhere, Ryan Coogler's impressive and dazzling comic book adaptation became the first superhero film to be nominated in the big category. Standing as one of Marvel's boldest (and most successful) offerings yet, could this gamechanger really steal Best Picture away and further cement the stature of the superhero genre?

Why it could win Best Picture:

The box office factor. After the Academy's bungled Best Popular Film idea was scrapped, it's not hard to see them ultimately awarding Best Picture to the film that very likely would have taken this new category home. With a worldwide gross of $1.35 billion and the title of the highest-grossing film in the U.S. of 2018, the popularity of Black Panther is hard to ignore. It was a global phenomenon and that has to count for something. While it's true box office juggernauts no longer win Best Picture, we're in a year where the Academy is genuinely desperate to win back viewers and the easiest way to pander to audiences is honour a film they adored.

It would make history. If there's one thing the Academy often love to do it's making history. While there are plenty of other records they should focus on first (no black male or female has won Best Director, no female has won Best Cinematography, no Asian woman has won Best Actress), a superhero film has never won Best Picture. Given this genre has been dominating box office receipts for the last two decades (particularly the last ten years), it's not inconceivable to think many are clamouring to finally acknowledge this beloved and popular genre of cinema. With its authentic representation of black culture and history, Black Panther stands above the genre, making it even more commanding of attention.

The preferential ballot. As we've seen since this ballot style was introduced, the film that ultimately wins may not necessarily be the "best" but simply the one to capture the consensus vote. Whether you're a huge fan of Marvel films or not, there's very little that's divisive about Black Panther, meaning it's highly likely most voters will place it towards the top of their ballots. If something like Roma or Green Book fails to take 51% of the initial vote, we have to look at those films that manage to capture the all-important #2 and #3 votes and that could very easily be Black Panther. In a race without an unstoppable frontrunner, the more widely loved films stand a much higher chance of playing this ballot to their advantage. And, given it won over the acting branch by taking the SAG Ensemble prize, it's clear to see the largest body of Academy members love this film.

Why it won't win Best Picture:

It's a superhero film. Yes, it managed to make history by ensnaring the first Best Picture nomination for a comic book adaptation, but that could be the only reward for Black Panther. Shaking the "genre film" tag is almost impossible in this era of the Academy Awards. A film about a daring hero with superpowers simply doesn't have the gravitas to be taken seriously by Academy members, particularly the older voters who still make up the majority of the voting body. It's too easy to dismiss Black Panther as nothing more than popcorn entertainment that doesn't hold the artistic weight to be given the title of best film of the year.

It doesn't have the nominations. Without key nominations in categories like Best Director, Best Adapted Screenplay, Best Film Editing, Best Cinematography, or any of the four Actor categories, it's hard to see how Black Panther can win Best Picture. While it's never been necessary to win any of these categories before taking the top prize (although every film bar one has taken something else along with Best Picture), you have to have representation there. We haven't seen a Best Picture winner without a corresponding Best Director nomination since Argo and that was a bizarre anomaly that's unlikely to be repeated anytime soon. It's a huge result to see Black Panther score seven nominations, but when six of them are in technical categories, it doesn't bode well for its Best Picture chances.

The Disney backlash. Walt Disney Studios have never won Best Picture. Never. Not once. With contention around their recent acquisition of 20th Century Fox and their stranglehold on the box office, the Disney backlash is real. The idea the studio could take home the Academy's top honour is something many simply won't want to swallow. Sure, it's true Black Panther is inherently a Marvel Studios entity, it has the power and backing of a studio some industry members have a bizarre and bitter aversion to. Many are simply tired of seeing Disney's power flashed everywhere they look. The last place they want to see it is on the Oscars stage, come Best Picture announcement time.

Major wins: SAG Ensemble

Major nominations: PGA, WGA, Critics' Choice, Golden Globes, AFI

Can the year's most popular film actually take out the Academy's highest honour? Is the superhero tag a blessing or a curse for such a groundbreaking piece of cinema? Will the general public be given a winner they actually know and love? Am I actually predicting Black Panther to win Best Picture? Find out when I reveal my final Oscar predictions this Sunday, February 24.