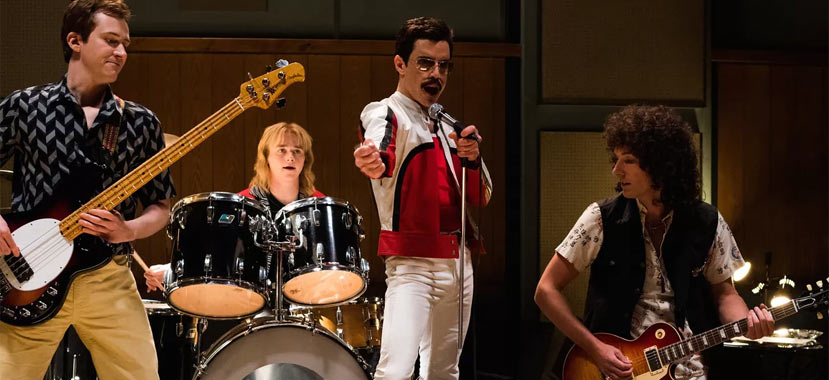 21 Feb

The case for and against 'Bohemian Rhapsody'

It's time for The Jam Report to take a look at Bohemian Rhapsody, one of this year's most controversial nominees for Best Picture. When its (fired) director was hit with a damning article alleging decades of sexual misconduct, many thought that was the end of the line for this film's Oscar campaign. But thanks to roaring box office results and the elevation of its lead actor to frontrunner status, it's somehow dodged that bullet and remains in the hunt. Could one of this season's most maligned films actually take home Best Picture? It makes my stomach churn to even ponder the thought. Alas, let's get to it.

Why it could win Best Picture:

The box office factor. Sitting at a staggering $853 million worldwide, Bohemian Rhapsody has become a box office colossus few could have predicted. The popularity of Queen proved to be alive and well, with audiences around the globe flocking to see the elaborate re-telling of their meteoric rise to fame. Not only is the film now the highest grossing musical biopic of all time, but it's also the highest grossing biopic of all time period. It sits as 20th Century Fox's eighth highest-grossing film of all time, and, on a budget of just $52 million, one of their most profitable. In my home country alone, the film has taken $53 million, making it the second highest-grossing film of 2018, just behind Avengers: Infinity War. Much like Black Panther, if the Academy are attempting to prove their relevance and connection to audiences, Bohemian Rhapsody seems another obvious choice to send this statement.

It's a crowd pleaser. Once upon a time, films that made audiences feel great easily found their way to claiming Best Picture. Think Rocky, Forrest Gump or Gladiator. In each of those examples, the film was far from the greatest artistic achievement that year, but they were the rousing crowd pleasers the Academy simply could not ignore. While it's true we haven't seen one of those winners in many years (Argo probably comes closest), in an age when the Academy is battling to ensnare ratings, they may well fall back on old ways. Bohemian Rhapsody fits this category well. The exhilarating final 15 minutes of the film featuring a pitch-perfect recreation of Queen's iconic Live Aid sequence has audiences cheering and leaving the cinema on a high. And there will be plenty of Academy voters swept up by this euphoria.

It's overperformed all season. After receiving a hefty dose of negative reviews (it's currently on 61% on Rotten Tomatoes, making it the lowest-scored film of the eight Best Picture nominees) and plenty of criticisms and controversies, most Oscar pundits had written Bohemian Rhapsody off as a serious awards contender. Even I noted in my review, "hopefully (Malek) still captures the attention of awards season, even though it's clear the film itself will not." Whoops. Not only has the film overperformed in nominations, but it also managed to win the Golden Globe for Best Motion Picture – Drama over more favoured contenders like A Star Is Born, BlacKkKlansman, and Black Panther. It nabbed a SAG Ensemble nomination few saw coming. And, against all odds, finds itself as one of the eight contenders for the big prize.

Why it won't win Best Picture:

Two words – Bryan Singer. As hard as the cast and crew have tried to distance themselves from the man who directed 85% of this film, no one can deny Bohemian Rhapsody is a Bryan Singer film. His name is still in the credits and on the poster. He directed the majority of production before his dismissal. He's getting a huge paycheck from the film's enormous box office results. This. Is. His. Film. While it's true he's not one of the film's producers, meaning a Best Picture victory will not see him collect an Oscar, you cannot separate a film from its director. Just one year after the #MeToo and Time's Up movements, it's unfathomable to think Best Picture could be awarded to a film directed by a man accused of such disgraceful behaviour. Right? RIGHT?!

It doesn't have the nominations. Five nominations can absolutely equal a Best Picture winner, but Bohemian Rhapsody only has two sound nominations, a baffling Best Film Editing nod (which still makes me furious), and Best Actor for ol' lipsynching Rami Malek. That's simply not enough to make a case for Best Picture. If it had shown up in Screenplay or Cinematography, maybe. And if Singer weren't rightly tainted by his alleged pedophilic ways, he probably would have stolen one of the five Best Director spots. But he's naturally not there, and films without a directing nomination need an extra narrative to propel their Best Picture chances, as we saw with Ben Affleck and Argo. The "snubbed director" narrative here is the director wasn't nominated because he was fired from the film for incompetence and he's an accused pedophile. Need I say more?

The backlash could damage the Academy. Besides the controversy surrounding Singer's connection to Bohemian Rhapsody, the film has also been hit with accusations of wild inaccuracies with the film's narrative, namely several key facts and events the screenplay twists and turns in the name of "artistic license." Most critics have deemed the film entertaining but far from artistically effective. It's another generic biopic that refuses to delve deeper into its subjects, leaving us with a sanitised and farcical depiction of the band's history. And while it's been categorised as an LGBT film (the highest-grossing LGBT film of all time, to be exact), most members of the gay community were left disappointed with how dismally the film treated Freddie Mercury's sexuality and the film's other gay characters. It truly is one of the most reviled Best Picture nominees in recent memory. If the Academy decree it with the title of best film of the year, the outrage from the film community will be enormous and the damage could be irreparable. Audiences may cheer, but anyone who has followed and adored the Oscars for decades will be screaming in rage.

Major wins: Golden Globes, ACE Eddie

Major nominations: PGA, SAG, BAFTA

Have the pathetic attempts to distance Bryan Singer from his own film worked? Is this year's most surprising box office wonder going to sail all the way to victory? Will we be forced to watch one of the worst nominees in recent times take home the award? Am I actually predicting Bohemian Rhapsody to win Best Picture? Find out when I reveal my final Oscar predictions this Sunday, February 24.