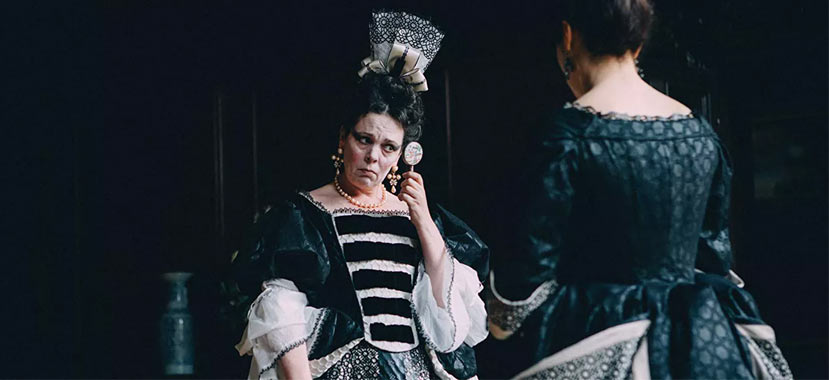 21 Feb

The case for and against 'The Favourite'

The next film on The Jam Report's closer inspection of this year's Best Picture nominees is The Favourite, the deliciously twisted and naughty period piece from master of the absurd Yorgos Lanthimos. With key nominations across the board and rave reviews from critics, the film has managed to fly under the radar and could be the one Best Picture option many are foolishly ignoring. After years of American films taking out the Academy's top prize, could Best Picture be heading back over the pond once again? Let's take a look.

Why it could win Best Picture:

The nominations. With an equal field-leading ten nominations, The Favourite has achieved nods in every category a true Best Picture contender needs. Any other year, and the film with nominations in major categories like Best Director, Actress, Supporting Actress, Original Screenplay, Cinematography, and Film Editing would be a shoo-in for Best Picture. It shows wide support across the entire voting body, and that cannot be discounted. The film hasn't missed a beat this season, showing up at all the major precursor awards (bar that bizarre and shameful DGA snub and that baffling SAG Ensemble miss) in key categories to cement its chances for the Oscars. It's ticked all the boxes for what constitutes an overall impressive production, making it impossible to ignore for the last award of the evening.

It's female-centric. After years of male-dominated films taking out Best Picture, The Shape of Water stood as the first winner to feature a lead female performance since Million Dollar Baby in 2004. In the era of female empowerment in Hollywood, The Favourite arrives at just the right time to continue this sentiment. Not only does it feature one spectacular lead female performance, it essentially features three spectacular lead female performances. Sure, awards season has dictated Rachel Weisz and Emma Stone as supporting roles (they're not, just quietly), but with women at the fundamental core of its narrative, The Favourite is political and relevant without ever feeling too preachy. With the recent push for diversity in the Academy's voting ranks, something so pointedly topical and sharply connected to these new voters could prove too tempting an opportunity to dismiss.

It's Oscar bait for a new generation. Big flashy period pieces with bombastic performances used to be the taste de jour of the Academy Awards. Think Amadeus, The English Patient, or Shakespeare in Love. On its surface, The Favourite has all the hallmarks of Oscar bait of old. Lavish production and costume design within a period setting. Three big-name performers steering the ship. But unlike, say, Mary Queen of Scots, the film's narrative twists the period genre in ways rarely seen. It consistently subverts expectations with its wicked dialogue and contorted plot. That's what sets the film apart from bloated Oscar-bait films of the past. It's wildly original and gloriously entertaining, while still featuring the cornerstones of what makes these kinds of films so appealing to Academy voters.

Why it won't win Best Picture:

It may not win anything at all. When American Hustle also captured ten nominations in 2013, many thought it could be the frontrunner that dominated the entire ceremony. But, on Oscar night, it went 0/10 and lost every single category it was up for. We could see the same thing occur with The Favourite. It's absolutely well in the hunt for categories like Production Design, Costume Design, Original Screenplay, and there's a faint chance of Olivia Colman stealing away Glenn Close's long overdue Oscar. However, there's every chance it could lose at every turn as well. Nothing quite feels like a lock for The Favourite and that doesn't bode well for its chances at Best Picture. Only one film in history has won the big one and nothing else (Grand Hotel in 1932), and no one expects that bizarre historical anomaly to ever be repeated. If voters aren't voting for the film elsewhere, they're unlikely to make it their #1 pick for the final category.

It's too absurdist. With it's unique and sometimes jarring cinematography style, it's confronting narrative, and a hefty dose of sex and foul language, The Favourite may simply be too outrageous to win Best Picture. There are many who are charmed by its reinvention of the period genre, but there are equally as many who are entirely turned off by this film. Lanthimos is known for his absurdist spin on cinema. And while The Favourite may be his most accessible film to date, he still puts his wild take on this film and that may simply be too much for some voters. With the preferential ballot in play, those who love this film will place it right up the top. The problem is you need universal adoration to ultimately win. Those who aren't too fond of this film will likely leave it languishing down the bottom of their ballot.

The old white men of the Academy. Even with its push for greater diversity, the Academy is still dominated by old white guys who've been members for decades. They know what they like and what they like is classic cinema that doesn't push the envelope too far. The Favourite is not that film. It continually steps outside its box and that's likely to rattle the cages of older voters who grew up with period pieces that followed a very specific formula. Sure, this is the Academy who recently awarded groundbreaking masterpieces like Moonlight and The Shape of Water, but they broke new ground in genres outside something so beloved by so many. Meddling with a period piece could simply prove too offensive for the old white men.

Major wins: BAFTA, ACE Eddie

Major nominations: PGA, SAG (individual), Golden Globes

Will the film with the equal-most nominations this year take home the big one? Is the Academy ready to award a film that dared to push the boundaries of expectation? Can a female-centric film win the top prize for the second year in a row? Am I actually predicting The Favourite to win Best Picture? Find out when I reveal my final Oscar predictions this Sunday, February 24.