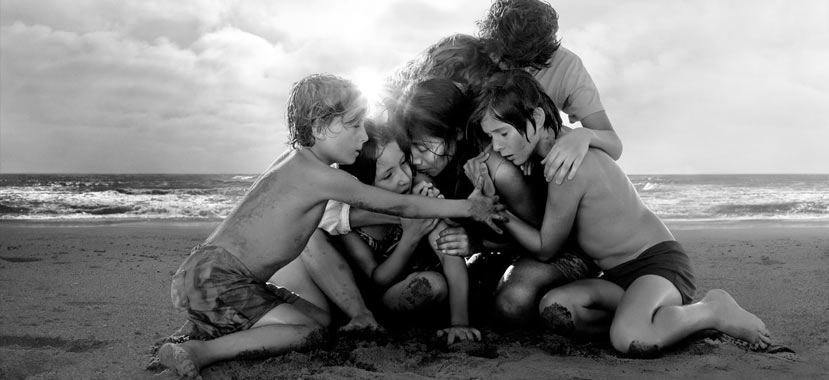 23 Feb

The case for and against 'Roma'

A genuine work of art. A magnificent achievement in cinema. A film that leaves its audience in a state a delirium of wonder and delight at what they've just experienced. We've arrived at the pinnacle of Best Picture nominees this year. Alfonso Cuarón's masterful Roma is in a class of its own and could make history by taking home the Academy's top award. But it's got plenty of hurdles to overcome to get there. And, as much as many would love to see it rightly awarded, it's far from an unstoppable frontrunner. Let's take a look.

Why it could win Best Picture:

It's got the nominations. Besides that baffling omission for Best Film Editing, Roma has landed in every major category this year with ten nominations overall. The love for this film across the entire voting body is strong. It was expected to receive nominations across the board, but when Yalitza Aparicio scored a Best Actress nomination and Marina de Tavira nabbed a surprise Best Supporting Actress nod, the film's strength was truly shown. Those two acting noms made its snub for SAG Ensemble seem like nothing more than a minor blip on its campaign. We saw this with The Shape of Water. It also failed to receive a SAG Ensemble nomination, but it ended up with three acting nominations at the Oscars, proving the actors' branch were in love with the film. The same goes here. The entire industry clearly adores Roma. That adoration is the easiest path to Best Picture.

It would make history. In the 90-year history of the Academy Awards, no foreign language film has ever won Best Picture. In fact, Roma is only the 11th foreign language film nominated for Best Picture. Its victory would be one for the record books. We know the Academy love the chance to make history. It grabs headlines. It projects an image of evolution. It makes them look good. And no film has ever come as close to breaking this rather embarrassing record as Roma. At a time when America is battling through an image crisis of xenophobia and racism, it would be incredibly timely to award Best Picture to a film produced by a foreign country, particularly its southern neighbour Mexico. It would send a message of inclusion and acceptance of foreign cinema, and that's an opportunity too good to resist.

It's the perceived frontrunner. Academy members like to be on the winning team for Best Picture. It gives them something to crow about at the after parties. Perception is half the battle in the race for the top prize. At this late stage, it seems like Cuarón's Roma is an immense favourite to win Best Picture. It's got the frontrunner tag and that can lead many to vote for it by default. It's not an exaggeration to say many Academy members don't pay particularly close attention to the entire exhaustive awards season and only really perk up when it comes time to voting. Many will simply vote for the film they've heard will likely win so they're not throwing their vote away. And with Netflix launching a massive Oscar campaign, they've heard a lot about Roma the last few weeks.

Why it won't win Best Picture:

One word – Netflix. The biggest challenge for Roma lies with its distributor. There are many in Hollywood who are utterly terrified at the prospect of Netflix and their game-changing release strategies. With a limited theatrical run and a focus on the home entertainment release, Roma has been delivered in a way like no other Best Picture contender. The Netflix model is potentially the wave of the future of film distribution. That very idea scares the hell out of most movie producers who rely on box office returns to fund their studios and, of course, their own paychecks. Just the idea of declaring a Netflix film the best of the year is enough to send many Academy voters running from the Dolby Theatre in terror. With thinly-laced attacks from people like Steven Spielberg, Roma is facing a backlash that may be too great to overcome. Streaming films stand as a threat to blockbuster filmmakers. Honouring one with Best Picture is potentially too risky. It's ridiculous, of course. Pretending Netflix doesn't exist and movie viewing habits aren't evolving is a fool's errand. But the longer they can delay the inevitable, the better.

It's a foreign language film. As pathetic as this sounds, there are people who simply don't enjoy having to read subtitles when they watch a film. Yes, it's lazy and immature, but it's an inescapable fact that makes foreign language films less accessible than those presented in English. It would be foolish to think there are Academy members who don't share this view. Perhaps that's why no foreign language film has ever won Best Picture. Roma may simply be too challenging for the masses. Its narrative isn't as easy to connect with as films like Green Book or Bohemian Rhapsody and the language barrier pushes that connection further away for those unwilling to pay attention. They're happy to fawn over its technical achievements and the work of Cuarón, but going one step further and decreeing Roma the best film of the year may just be too much for some.

The preferential ballot. While it seems highly likely Roma will be the film to receive the majority of #1 votes on the final Oscar ballots, it may not be enough to reach the 51% required before preferential votes kick in. If it can't take the win after the first round of voting, it could struggle to triumph once preferences come into play. There are rumblings that many voters who dislike Roma (particularly the ones threatened by Netflix) are placing it at #8 to dampen its overall chances. And it's safe to assume those who aren't fond of the film are unlikely to leave it anywhere but towards the bottom of their ballot. If that proves to be true, the film may collapse and a more universally liked film (like, god forbid, Green Book) will take its place as our Best Picture champion. Roma doesn't have the crowd-pleasing angle to find itself at the top of the majority of people's ballots. That's a huge issue films like The Revenant, La La Land, and Three Billboards Outside Ebbing, Missouri could not overcome.

Major wins: BAFTA, Critics' Choice, DGA, Golden Globes

Major nominations: WGA

Will the best film of the year actually win the Academy's top honour this year? Can a foreign language film make history and end an embarrassing 90-year record? Is it another case of foreign cinema proving to be too inaccessible for the masses? Am I actually predicting Roma to win Best Picture? Find out when I reveal my final Oscar predictions this Sunday, February 24.