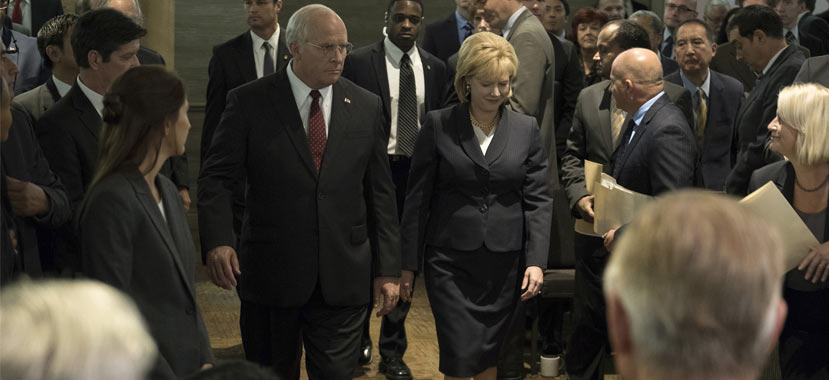 23 Feb

The case for and against 'Vice'

We've reached the end of The Jam Report's closer look at each of our eight nominees for Best Picture, and it seems only fitting we close on perhaps the most divisive nominee of the bunch. With critical and audience reaction split right down the middle, Adam McKay's Vice has equal servings of supporters and haters. Many celebrated its adoration this awards season. And just as many have denounced it. With nominations across the board, can McKay go all the way this time? Let's take a look.

Why it could win Best Picture:

It's got the nominations. In a move that surprised quite a few Oscar pundits, Vice dominated the Academy Award nominations, landing eight nods in total for Best Picture, Director, Actor, Supporting Actor, Supporting Actress, Original Screenplay, Film Editing, and Makeup and Hairstyling. Much like The Favourite, these are all huge categories (okay, maybe not the Makeup one) that often constitute evidence of a true Best Picture frontrunner. The fact McKay managed to squeak into Best Director at the expense of Bradley Cooper, Peter Farrelly, and Ryan Coogler was extremely telling, as were those three acting nominations. It shows love for the film with both the acting and directing branches and that's a huge portion of voters right there. Whether that love is enough to extend to the film receiving their #1 votes is harder to predict. But, despite plenty of hate from the wider film community, it's obvious Academy members were quite taken by Vice.

It's got the relevance factor. With its damning portrait of the damage that results from unvetted political power, Vice presents a direct and uncompromising comparison to the current political mess America has found itself in. The film stands as a bleak reminder of the corruption of American politics and how America never seems to learn from its past missteps. McKay's approach is as subtle as a sledgehammer, as he consistently bashes his message home with brute force. Outside of BlacKkKlansman, Vice may be the most relevant and timely nominee this year. It highlights how manipulative politicians can be and the devastating consequences when the general public allow themselves to be duped as well. While not quite the wake-up call Spike Lee delivers, McKay offers a timely reminder we're living in a world Cheney helped create and he managed to walk away scot-free. It's a film that's starting impassioned discussions (or should that be arguments?) and that has to count for something.

The Academy loves Adam McKay. It wasn't that long ago McKay was known only as a goofy comedic writer/director of films like Anchorman, Talladega Nights, and Step Brothers. Four years ago, he flipped his career on its head by delivering the bitingly satirical but deeply affecting The Big Short, which came within a whisker of winning Best Picture and delivered McKay his first Academy Award for Best Adapted Screenplay. It was a career change the Academy lapped up. They love when filmmakers do this. Just look at how they fawned over Jordan Peele last year. Many directors have had to see their film lose an Oscar for Best Picture before they won in later years. Ron Howard had to lose for Apollo 13 before he won for A Beautiful Mind. Alejandro González Iñárritu had to lose for Babel before winning for Birdman. And poor Steven Spielberg had to lose for Jaws, E.T. the Extra-Terrestrial, and The Color Purple before winning for Schindler's List. The Academy have given McKay his third, fourth, and fifth nominations this year. It's not hard to see the love they have for this filmmaker.

Why it won't win Best Picture:

It's too divisive. Any film that is inherently political will struggle to win over a census vote like the preferential Best Picture ballot. But Vice is in another realm by being overtly political with a target squarely on the Republican Party that allowed a man like Dick Cheney to do as he pleased and lead America into a war it's still attempting to exit from. It's a damning portrayal of an insatiably power-hungry politician who twisted every opportunity to his own personal advantage. If you're even slightly right-leaning with your political views, this ain't the film for you. McKay can't hope to win over the entire Academy voting body, and that's an issue for the Best Picture race. Adding to that, Vice has plenty of detractors who are put off by McKay's bombastic and frenetic directing style that hits a new level of absurdity here. Many have called this film a mess, and it's likely plenty of voters agree and will leave the film languishing in their #8 ballot spot.

It's a feel-bad film. There's very little about Vice that makes you feel good. Every single character is rather detestable and unlikeable, particularly its leading man who is the very personification of everything wrong with American politics. While Christian Bale's performance is nothing short of breathtaking, Cheney is a despicable character who outwardly lied to the American people and faced zero consequences for doing so. Awarding a prestigious honour like Best Picture to a film presenting the life story of such a contemptible human won't sit well with a lot of voters. They like biopics that inspire and uplift its audience. Vice is not one of those films. You exit the cinema feeling rather hollow and nauseous at the true life events you've just re-lived. That's not a piece of cinema that elicits thunderous support in the Best Picture race, particularly in a year of feel-good films like Green Book and Bohemian Rhapsody.

It hasn't won anything. With a cast that includes Bale, Amy Adams, Sam Rockwell, Steve Carell, Alison Pill, Lily Rabe, Jesse Plemons, and Tyler Perry, many assumed Vice would have been a shoo-in for a SAG Ensemble nomination and possibly even a victory. The biggest cast often wins that category by default. It wasn't to be, and that SAG snub hurt Vice more than anything else this season. The film couldn't conquer Green Book in the Best Motion Picture – Musical or Comedy category at the Golden Globes, despite being far more comedic in tone, it was also rather damning for the film's overall chances with Best Picture. And when the film failed to receive a Best Film nomination at the BAFTAs, the campaign seemed all but over. Bale has picked up plenty of Best Actor trophies, but the film itself has not. Without a single big win under its belt, it would seem rather unfathomable to see it ultimately take out Best Picture.

Major wins: None

Major nominations: PGA, DGA, WGA, Golden Globes, Critic's Choice

Can the year's most divisive film actually survive the preferential ballot for an unlikely victory? Are the Oscars ready to get political and award a film so overt in its message? Is this another case of close but no cigar for Adam McKay? Am I actually predicting Vice to win Best Picture? Find out when I reveal my final Oscar predictions this Sunday, February 24.