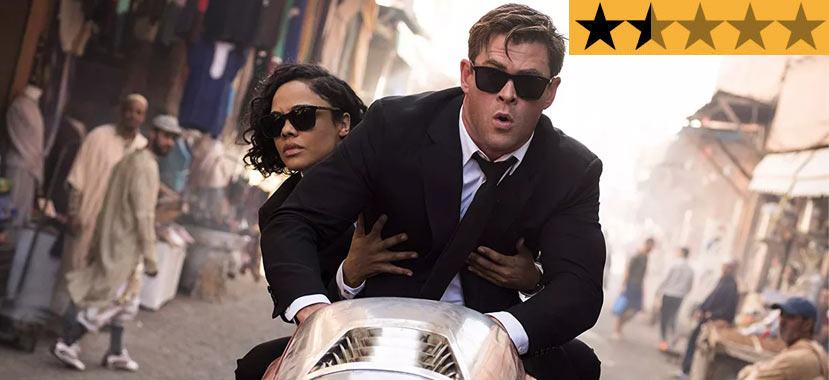 13 Jun

REVIEW – 'Men in Black: International' is underwhelming, unimpressive, and instantly forgettable

Tentpole sequels, reboots, and remakes have been dropping like flies in 2019. Godzilla: King of the Monsters has underperformed. The Secret Life of Pets 2 fell flat. The LEGO Movie 2: The Second Part earned less than half what its predecessor did. Hellboy was an unmitigated disaster. And X-Men: Dark Phoenix is already dead on arrival. Next up on the gallows is Sony Pictures' attempt to revive the Men in Black franchise with a reboot no one really asked for. Over two decades after Will Smith and Tommy Lee Jones (no, neither appear in this film) delivered a fresh and lively take on the alien invasion genre, Men in Black: International offers up little but 115 minutes of underwhelming, unimpressive, and instantly forgettable cinema.

An insufferably bland film that barely ever elicits any semblance of fun from its audience, the fourth film in this franchise leaves very little impression and wastes its wonderful ensemble cast. Far from the worst thing you'll see this year, it's the kind of film you're likely to completely forget you've even seen. It's not great. It's not terrible. It's not funny. It's not entertaining. It's not anything. It's just nothing. When the best thing about your film is a CGI alien supporting character, you know you're in trouble. And it looks like another summer tentpole is about to fall on its face.

It all starts with a dull prologue atop the Eiffel Tower, where Men in Black Agent H (Chris Hemsworth) and High T (Liam Neeson), the head of the MIB's UK branch, battle against a nefarious hoard of alien invaders known as "the Hive." If the sequence appears to make little sense and finish far too soon, there is eventually a narrative purpose to it, but you'll probably stop caring by the time it's referenced again. From here, we meet Molly (Tessa Thompson, trying her damndest), a Brooklyn native who's been obsessed by the prospect of extraterrestrials and the fabled existence of the Men in Black ever since an encounter with both when she was a young girl. Using her exceptional intellect (and Google Maps…), Molly manages to slip inside the MIB's secret New York headquarters, where she convinces head honcho Agent O (Emma Thompson) to allow her to undergo the agent training program.

Now known only as Agent M, Molly is whisked away to London and paired with Agent H, whose dashing good looks seem to be his greatest skill, but have little effect on his new trainee. Assigned to protect Vungus (Kayvan Novak), a royal member of a peaceful alien race, H and M (that acronym can't be a coincidence…) must also stop a mystical alien artifact from falling into the wrong hands. Those wrong hands take form in the guise of two shapeshifting alien baddies (played by dancer/choreographers Les Twins aka Laurent and Larry Bourgeois), who arrive from somewhere in outer space, determined to take over the world, I think. There's such little care given to their villainous motivation, it's genuinely difficult to know what they're after.

Thrown into this flavourless plot is a trip to Morrocco for a cat-and-mouse chase through a Marrakesh marketplace, a run-in with H's former girlfriend Riza (Rebecca Ferguson, chewing every piece of scenery), who desperately wants to get her hands on Vungus' mysterious treasure, and a new third wheel to H and M's mission in the form of Pawny (voiced by Kumail Nanjiani), an adorable little alien, who, upon losing his beloved Queen, pledges undying allegiance to M after she convinces the creature not to kill himself. Yep. That happens. This all leads to a calamitous Parisian conclusion that's so genuinely uninteresting and uninspiring, it's truly difficult to remember how this film actually ends, but it definitely had one of those obligatory "giant sky-beam of light" generic sequences.

The chance to see Hemsworth and Thompson reunite again after their adventures in Thor: Ragnarok and Avengers: Endgame proves entirely fruitless, with the pair's dazzling chemistry from those two Marvel chapters practically non-existent here. The occasional moments of genuine and charming interaction are few and far between and it's clear merely casting two actors together again doesn't always equal another brilliant result. Hemsworth has proven himself so surprisingly adept at comedy, but his performance here constantly flirts between irritating and annoying with a conceited character who's unlikable for almost the entire film. H's affinity for a constant stream of one-liners rarely elicits anything more than a minor chuckle from an audience and there's zero charm to Hemsworth here, which is confounding, given that's usually one of his most reliable assets.

Thompson tries her absolute best with the gender-switch role (yes, there are a few feminist jabs in the screenplay from the two dudes who wrote this and totally understand the inner workings of the feminist movement) that feels more obligatorily "woke" than an earnest step in the right direction for the franchise, but even she can't seem to find the fun here. The lacklustre screenplay sucks the life right out of M, and Thompson has no choice but to merely go through the motions of this film. She's better than this, and you get the impression she knows it. That's not to suggest her entire determination isn't there, but there's nothing for either performer to do but plod from set piece to set piece, as the film desperately attempts to create some entertainment with battles and showdowns you'll have little interest in viewing.

The saving grace of the main cast proves to be Nanjiani, whose spirited and endlessly charming voiceover work is the film's one redeeming quality. The special effects work on Pawny is hardly the stuff of dreams, nor is the CGI work found practically everywhere else, but the ever-reliable performer's voice provides some much-needed life to a film almost entirely devoid of a heartbeat. Nanjiani's deliciously zippy shtick and self-deprecating humour are ridiculously adorable and infectiously endearing, but it's rather alarming the best performer wasn't even physically on set. Neeson and Thompson are underused, in roles that provide little more than exposition posts. Likewise with Rafe Spall, who's injected into the film as a point of conflict back at MIB headquarters but ultimately goes nowhere. Ferguson seems to be the only one trying to have some fun with her role, in a performance that feels like it belongs in another film entirely.

With films like Straight Outta Compton and The Italian Job, director F. Gary Gray has proven to be an exciting and imaginative filmmaker, so it boggles the mind what on earth has happened here. Every single setpiece lacks any sense of thrills or excitement, with the action consistently offering nothing but bland and generic moments we've seen dozens of times before. There's a whole lot happening in this film, and absolutely none of it will leave an impression on the viewer. What we're left with is a film that simply doesn't seem concerned with offering anything remotely interesting. Easily the most beige film you will see this summer, Men in Black: International is as flat as blockbusters come.





Distributor: Sony Pictures
Cast: Tessa Thompson, Chris Hemsworth, Kumail Nanjiani, Rebecca Ferguson, Rafe Spall, Emma Thompson, Liam Neeson, Les Twins – Laurent Bourgeois and Larry Bourgeois
Director: F. Gary Gray
Producers: Walter F. Parkes, Laurie MacDonald
Screenplay: Art Marcum, Matt Holloway
Cinematography: Stuart Dryburgh
Music: Danny Elfman, Chris Bacon
Production Design: Charles Wood
Editors: Christina Wagner, Zene Baker, Matthew Willard
Running Time: 115 minutes
Release Date: 13th July 2019 (Australia)