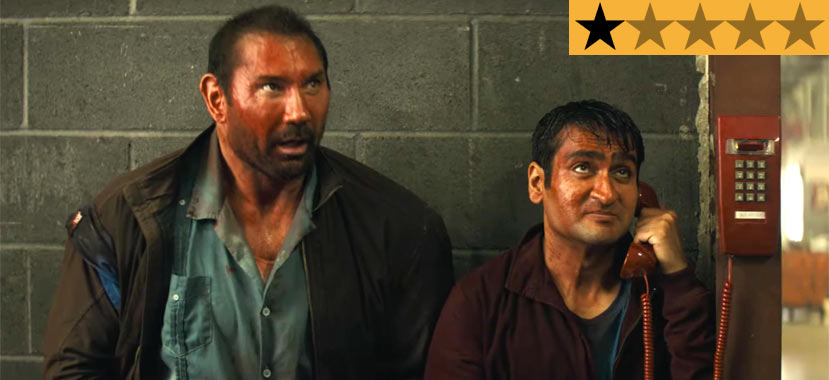 08 Jul

REVIEW – 'Stuber' is the low point of the summer season

It's already been a horribly disappointing summer movie season with an endless stream of dull, lifeless disasters that have (mostly) failed miserably at the box office. But this week, we may have hit the low point of the season with the painfully unfunny and fairly insufferable Stuber; a buddy cop comedy that wastes its impressive cast in deeply frustrating fashion. Relentless action may abound, but nothing here will leave any shred of an impression.

Proving two great leads still cannot hope to save a woeful screenplay, Stuber is a disastrous car crash of jokes that fall flat on their face, exaggerated violence for the sake of exaggerated violence, and a narrative that's as illogical as action movies come. It's ultimately an incredibly irritating piece of cinema that might land with some but you'll likely just want this Uber ride to end.

The film follows tough-as-nails Los Angeles detective Vic Manning (Dave Bautista, who's probably better than this) who has been on a mission to bring down major drug boss Oka Teijo (Iwo Uwais) for the last two years. Super nice guy Stu (Kumail Nanjiani, who's definitely better than this) is a lonely sporting goods clerk by day, where he's constantly tormented by his dopey boss Richie (Jimmy Tatro). Attempting to earn some extra bucks to support a small business he's started with his secret crush Becca (Betty Gilpin, who's absolutely better than this), Stu also drives an Uber in his spare time. Get it? Stu + Uber = Stuber? Sigh. That's the level of comedy in this film.

On the same day he receives LASIK eye surgery to correct his aging vision, Vic coincidentally receives a tipoff that a major Teijo drug deal is about to take place. After the surgery leaves his vision shockingly blurred, Vic has lost the ability to drive to the crime scene. Luckily, his doting daughter Nicole (Natalie Morales) has setup Uber (the first of many, many, many product placement references to the ride-share app) on his phone to assist with any post-surgery needs. With no choice but to use the app to arrange a driver, Vic taps away and orders an immediate pickup. When Stu accepts the job, he has no idea what he's actually in for.

After Vic reveals his intentions to have Stu chauffeur him to bust the head of a drug syndicate, Stu reluctantly agrees to the job, desperate to do anything to achieve a five-star rating (yep). What starts as a simple drop off soon becomes a wild ride all over Los Angeles, including pitstops at a male strip club, a run-in with a Latino street gang, and the big final showdown with the help of Vic's trusted boss Captain McHenry (a horribly miscast Mira Sorvino), as the mismatched pair race against the clock to bring down Teijo before the night is over.

This year has already proven fruitful with hilarious comedies full of both humour and heart like Long Shot, Booksmart, and Always Be My Maybe. By comparison, Stuber simply doesn't stack up. The screenplay by Tripper Clancy is the film's fatal flaw, compounded by its relative failure of focusing too heavily on the action and forget golden comedy is far more valuable in a buddy cop film. And there's little comedy gold here at all.

There's an endless stream of one-liners and goofy slapstick comedy but rarely do the laughs come, particularly from the Stu/Becca friendzone subplot which is decidedly pointless, permeating through the entire film like a bad smell. The use of jokes about anal sex, racist customers, and the flash of a large penis are nauseating lazy. Women are inherently the laughing stock of the screenplay, and there's little regard given here for any of the female actors, particularly Sorvino, whose performance winds up being rather laughable.

The biggest plothole of Stuber is the ridiculous idea that Stu cannot walk away from the endless chaos of near-death experiences, purely because he needs Vic to provide him with a five-star rating. The film ludicrously attempts to play this off as Stu's undying devotion to customer service and improving his success at his job. But who on earth would genuinely risk their life for the sake of one measly customer review? As character motivations go, this is one of the most absurd things you'll see in a long time, even from an action film.

As for the action, it's served up throughout several bombastic sequences, filled with fist-fights and gun battles, often with blood-soaked results to push the film's rating to an adults-only audience. But every single set piece is filmed in agonising close-ups and edited in such frenetic fashion, it's genuinely difficult to tell what on earth is happening in these scenes. It's the live-action equivalent of a Transformers film. The film's brutal opening sequence is a shaky-cam mess that will leave you feeling rather exhausted and nauseous. No one should feel like this after only ten minutes of a comedy.

Nanjiani and Bautista genuinely try their utmost to elevate the sorry film they've somehow found themselves in, but even their oddball pairing can't save this film. It's a devastating waste of such bright talent, and that's a cinematic sin that's unforgivable. After his impeccable work in The Big Sick, it's a travesty to see someone like Nanjiani in this role. The bulk of the jokes are delivered by Stu, with the occasional zinger breaking through the monotony of lame comedy. Sadly, he spends the majority of this film whining, screaming, complaining, or all three at once. Bautista is given little to do but grumble from scene to scene before he's required to beat and/or shoot half a dozen goons.

The one redeeming quality of Stuber is a refreshing take on toxic masculinity and the notion of what it really means to be a man. Vic is the archetypal stoic and emotionless policeman who thinks masculinity is measured by brute strength alone. But his emotional restraint has ultimately stunted his relationship with his daughter. In Vic's eyes, Stu is the lesser man because he shares his emotions, fears, and vulnerabilities. However, this allows Stu to be easily manipulated and walked all over, meaning the pair have plenty they can learn from one another. While it's entirely foreseen where this is all going, it's still enjoyable to watch two polar opposites have such an impact on each other.

But it's simply not enough to pull this film from the absolute gutter of cinema where it languishes. It's criminal to see Nanjiani and Bautista stuck in this disaster. Whether this was an official product placement or not, Stuber feels like one giant commercial for Uber, given the ride-share company's name is mentioned at least every two minutes. You'll be so sick of hearing about Uber, you'll likely just take a cab the next time you need to get somewhere. Even at only 105 minutes long, this film somehow feels endlessly fatiguing. Sorry, Stu, but Stuber is a one-star ride.





Distributor: 20th Century Fox
Cast: Kumail Nanjiani, Dave Bautista, Iko Uwais, Natalie Morales, Betty Gilpin, Jimmy Tatro, Mira Sorvino, Karen Gillan
Director: Michael Dowse
Producers: John Frances Daley, Jonathan Goldstein
Screenplay: Tripper Clancy
Cinematography: Bobby Shore
Music: Joseph Trapanese
Production Design: Naaman Marshall
Editing: Jonathan Schwartz
Running Time: 105 minutes
Release Date: 8th July 2019 (Australia)