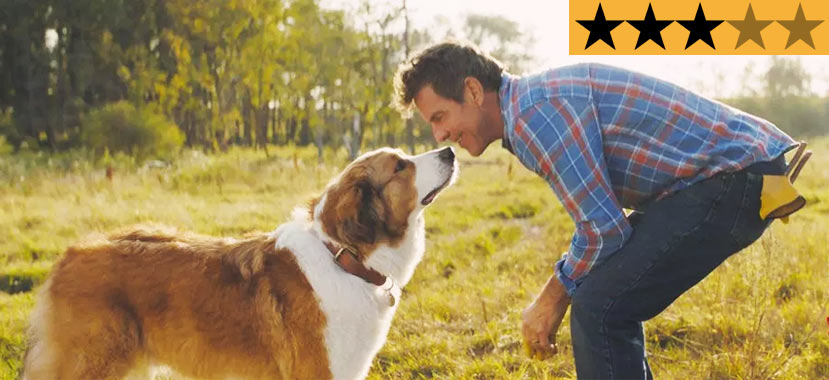 14 Aug

REVIEW – 'A Dog's Journey' is emotional manipulation of the highest order for dog lovers

Movies centred on a lovable canine are inherently designed to be emotionally manipulative, particularly on dog-loving audience members. If you've ever been blessed to know the unconditional love dogs provide and consequently experienced the gutwrenching pain of having to say goodbye to your beloved pooch, any film with an adorable hound at its helm will always hit you right in the feels.

As you've likely already guessed, this film critic falls into that category, having been lucky enough to have faithful dogs by my side throughout my entire life. As such, objectively reviewing a film like A Dog's Journey is a rather difficult task. My little dog is currently in the twilight years of her life, so a piece of cinema charting the multiple lives and deaths of the spirit of one dog was always going to emotionally destroy me. Full disclosure – there were tears falling from my eyes after only ten minutes.

While the concept of this sequel to 2017's sleeper-hit A Dog's Purpose is still as bizarre as it was in its predecessor, its heart is always in the right place and its universal messages of family, love, and a surprising dose of female empowerment is pure. But the film curiously delves into some jarringly dark narrative elements that ultimately highlight how god-awful human beings can be, making it difficult to understand just who this film is for exactly. The trailers may present A Dog's Journey as a film for the whole family, but there's plenty of decidedly sobering adult moments hidden amongst the kid-friendly sweetness.

Continuing the conceit of the endearing spirit of one lovable dog (voiced by Josh Gad) and his continual reincarnation, A Dog's Journey picks up several years after the events of the first film. St. Bernard/Australian Shepherd mix Bailey is living blissfully with his original owner Ethan (Dennis Quaid) and his wife Hannah (Marg Helgenberger), who share their Michigan farmhouse with Hannah's daughter-in-law Gloria (Betty Gilpin) and her 2-year-old daughter, Clarity June (Emma Volk), known as C.J.

After the tragic death of her husband, Gloria is in a downward spiral, causing her to ignore her parental responsibilities and leave C.J. to be cared for by her doting grandparents, favouring glasses of wine and chasing her fading dreams of a singing career instead. Growing ever jealous of the burgeoning connection between C.J. and her pseudo-guardians, Gloria falsely accuses her mother-in-law of only being interested in life insurance money bequeathed to young C.J. and promptly packs up and leaves the farmhouse with her young daughter, much to the devastation of Ethan and Hannah.

The bad news continues when Bailey is diagnosed with terminal stomach cancer, leaving Ethan with the difficult decision to humanely put his beloved "boss dog" to sleep. As the dog slips away (and your tears begin for the first time), Ethan begs Bailey to use his next life (or lives) protecting C.J. instead of faithfully returning to the farm like he once did. As luck would have it, Bailey returns as a female beagle who, through a twist of fate, is adopted by an 11-year-old C.J. (Abby Ryder Fortson), much to the chagrin of her dog-hating (and now very alcoholic) dysfunctional mother.

Ever by her side, Molly quickly becomes C.J.'s best friend and fiercest protector, as she battles her way through her pre-teen years with the added support of her non-canine best friend Trent (Ian Chen and later Henry Lau). After losing Molly in her late teenage years, C.J. (Kathryn Prescott) finally breaks free from the emotionally abusive relationship with her mother by escaping to New York City, desperate for the singing career her mother couldn't achieve. Once again, "Bailey" is there to steer C.J. in the right direction as a scrappy Yorkshire terrier named Max.

With several dogs death in that plot summary alone, A Dog's Journey is a rather difficult experience to endure for anyone who has ever suffered the agony of losing a dog, particularly those of us who've had to make the call to euthanise their cherished pet. Molly's death (actually it's more akin to manslaughter) is particularly traumatising, showcasing this film's bizarre intent on going to bleak places you're unlikely to expect from a family film. If you're looking for a piece of cinema to teach your children about death, this is it.

But it's the other dark narrative topics A Dog's Journey explores that may take audiences by surprise including (but not limited to) alcoholism, domestic violence, victimising, bullying, slut-shaming, body-shaming, parental abandonment, and, just for good measure, cancer. On its surface, this film is playfully focused on the life of a reincarnated dog, but it's equally intent on portraying many of life's nastier elements human beings must face. It's refreshing to see a film of this genre tackle such heavy subject matter, even if it's all handled somewhat haphazardly.

For all its darker moments, there is an equal helping of syrupy sappiness and sentimentality to balance the order. At its core, A Dog's Journey is concentrated on highlighting the enduring love and undying devotion dogs provide their owners. Whether it's coming to their master's rescue to fight off a bad guy or merely just being present as a silent shoulder to cry on, a dog will always be there to help hapless humans survive life's toughest challenges. It's that devotion the film is so deftly keen on portraying.

In that factor alone, A Dog's Journey is an enormous success. It celebrates the wonders a dog brings to our lives, as all good dog films do. And there's nothing wrong with a film having such a simplistic goal in mind. It would be easy to pick this film to shreds for its many grievances. The dialogue is hokey and cringeworthy. Its narrative spirals around in circles, leaping from one plot point to the next without any semblance of introspection. The supporting characters are woefully thinly-written, particularly Gloria who is little more than a one-note villain, even in Gilpin's capable hands. And the ending is as sickly sweet as films get.

There is so much obvious emotional manipulation of the highest order occurring in A Dog's Journey, you may as well be handed a box of tissues and a fluffy pillow when you enter the cinema. The film aims its arrow squarely at the heart of a dog lover and lands it with expert precision. If that sounds like you, this is right up your alley. Just expect to be triggered into tears numerous times throughout your session. If you're more of a cat person, maybe stick with Pet Sematary.





Distributor: Universal Pictures
Cast: Kathryn Prescott, Abby Ryder Fortson, Emma Volk, Josh Gad, Betty Gilpin, Marg Helgenberger, Henry Lau, Dennis Quaid, Ian Chen, Jake Manley, Daniela Barbosa, Conrad Coates
Director: Gail Mancuso
Producers: Gavin Polone
Screenplay: W. Bruce Cameron, Cathryn Michon, Maya Forbes, Wally Wolodarsky
Cinematography: Rogier Stoffers
Music: Mark Isham
Production Design: Eric Fraser
Editing: Robert Komatsu
Running Time: 108 minutes
Release Date: 15th August 2019 (Australia)