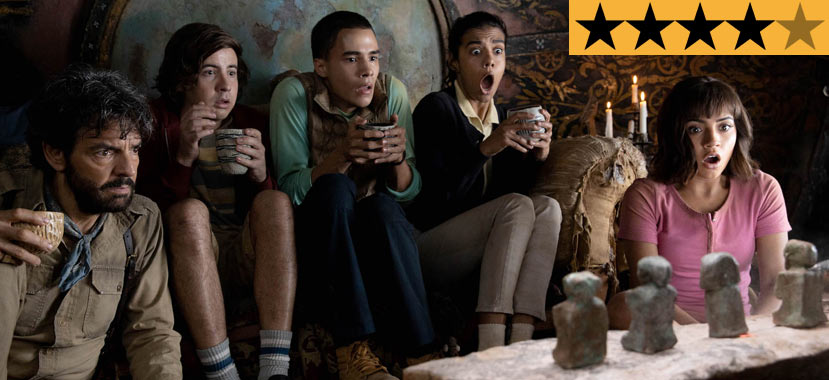 04 Sep

REVIEW – 'Dora and the Lost City of Gold' is fresh, lively, and rather irresistible

Almost 20 years ago, a plucky little seven-year-old Latina girl named Dora debuted on Nickelodeon, determined to teach kids about riddles, puzzles, and, most importantly, the Spanish language. As we're in the age of cinematic remakes of cherished television shows, it was all but assured Dora would make her way to the big screen at some point. While the existence of the live-action remake Dora and the Lost City of Gold is far from a shock, the resulting film is one of the most pleasantly surprising experiences of the year.

Fresh, lively, and rather irresistible, Dora and the Lost City of Gold proves to be a real winner of the family film genre. Sure, it's undoubtedly goofy and silly, but the film embraces these sentiments with such unbridled enthusiasm and infectious energy, it's hard not to be swept up in all the fun. With a terrific cast, an occasionally meta-aware screenplay, and plenty of laughs, this is a remake that proves to be entirely necessary. Can you say necesario?

Deep in the heart of the Peruvian jungle, six-year-old Dora Márquez (Madelyn Miranda) loves nothing more than going on wild adventures through the wilderness with her beloved cousin and best friend Diego (Malachi Barton), her monkey pal Boots, and her talking Backpack and Map. Well, at least in their heads they do. In reality, Dora and Diego are just playing make-believe, inspired by the daring escapades of Dora's archeologist parents Cole (Michael Peña) and Elena (Eva Longoria).

Much to Dora's dismay, Diego's parents decide to abandon the jungle life and move their family to Los Angeles, leaving our titular heroine to face the forest on her own. Jumping forward ten years, Cole and Elena are preparing to head off on a dangerous expedition to find the fabled Inca city Parapata (aka the "Lost City of Gold"). While the now-teenage Dora (a charming Isabel Moner) longs to join her parents on their voyage, she's instead shipped off for a dose of the real world in the big city to stay with Diego (Jeff Wahlberg, nephew of Mark)  and, gulp, attend high school for the first time.

Much to Diego's embarrassment, Dora's cheerful disposition and childlike naivety don't exactly go down well in the halls of Silverlake High where she's instantly branded a weirdo and given the cruel nickname of "Dorka." But Dora's relentless determination sees her continue to look on the bright side of life, even as Diego essentially disowns her and class president Sammy (Madeleine Madden) makes it her mission to continue Dora's torment. The only student who attempts to befriend her is an endearing fellow loner and intellectual named Randy (Nicholas Coombe).

When the four schoolmates are teamed together on a field trip to the Natural History Museum, they're captured by a gang of ruthless treasure hunters who promptly fly the group back to Peru, determined to use Dora and her map to find Parapata and loot the city of its priceless treasures. Rescued by Alejandro (Eugenio Derbez), a jittery colleague of Cole and Elena's, the foursome take off into the jungle in search of Dora's parents to warn them before the nefarious mercenaries can get their hands on the gold.

In the hands of director James Bobin, the man responsible for 2011's magnificently meta The Muppets reboot (and a few lesser films we won't mention), Dora and the Lost City of Gold is injected with the same self-aware humour that made Bobin's Muppets caper such a delightful treat. Poking some lighthearted fun at the film's television predecessor, the screenplay acknowledges young Dora's bizarre inclination to break the fourth wall and directly ask the "audience" a question, much to her parent's genuine confusion ("She'll grow out of it.").

And, in one of the film's greatest highlights and biggest callbacks to the series, there's an entire sequence where hand-drawn animation lives on the big screen again, as Dora and her pals transform back into their animated counterparts. Is it a little unsettling the sequence is actually the result of the group accidentally inhaling some hallucinogenic flower spores, meaning we essentially have a drug-induced tripping scene in a children's film? Yes. Yes, it is. But your kids won't get it, and that's part of the fun.

It would be wrong to call Dora and the Lost City of Gold a parody or a satire. Nor is it a straightforward remake that merely plonks animated action into the real world. It sits somewhere in between, constantly blurring the lines between both. Think of it as Raiders of the Lost Ark meets Mean Girls with a dash of Jumanji and a sprinkle of The Muppets. Bobin maintains an energetic and breezy pace throughout the film, which zings along nicely at just over an hour and 40 minutes. Thankfully, there's no nastiness in the self-referential humour, but rather some surprisingly sharp writing that's entirely unexpected in family fare such as this.

The film wisely offers up plenty to entertain and amuse both children and adults alike. With lashings of slapstick humour, thrilling set pieces, and an entire song about digging a "poo hole" (early Oscar contender for Best Original Song?), kids will love the film's absurdities and adventures and maybe take home a few important (if not a little heavyhanded) moral messages along the way. Meanwhile, adults who grew up familiar with the animated series will delight in the throwbacks to the original show plus plenty of grown-up humour to tickle your funny bone that will sail right over the heads of little ones. Frankly, I'm still a little staggered how often this film made me genuinely laugh.

What ultimately sells Dora and the Lost City of Gold is the effortlessly charming and downright delightful performance from Moner. Both the character and the entire film could have easily been an absolute disaster without the right casting for the titular role. With the wrong actor at the helm, Dora's endlessly perky energy and unrelenting positivity would become very tiresome very quickly. But the charismatic Moner proves up to the task with a winning turn that's warm, fun, and, ultimately, incredibly loveable. As Dora learns more about the real world outside the jungle, Moner's performance evolves into a more grounded and dimensional character, taking Dora much further than the animated series ever did.

After an endless stream of lazy shot-for-shot remakes, it's decidedly refreshing to find something willing to stretch further than just recreating exactly what's come before. The temptation to merely transplant Dora the Explorer onto the big screen was surely there, but Bobbin and screenwriters Nicholas Stoller, Matthew Robinson, and Tom Wheeler challenge themselves to deliver something entirely new, while still paying homage to its predecessor.

While the production design and location photography (care of Australia's Queensland) are dazzling, there's a concerted effort to maintain the cartoon look of both Boots and that rascally fox Swiper (voiced by Benicio del Toro, no less). The visual effects work on both animal characters refuses to follow the "photorealism" path Disney has been travelling down lately, allowing Boots and Swiper to blend more seamlessly with the exaggerated visual aesthetic Bobbin and production designer Dan Hennah are reaching for. Thankfully, it also means when both characters start talking, it's far less unsettling and jarring for an audience still recovering from the emotionless creatures of The Lion King.

There are a few minor quibbles to bring the overall success of the film down, but none really worth mentioning when the end result is so wonderfully fun. It's rather unfathomable to think Dora and the Lost City of Gold is one of my favourite films of the year. And, yet, here we are. Colour me surprised. It's a pleasure to find a piece of cinema embrace its corniness and want nothing more than to make you smile. The world could use a few more films like this.





Distributor: Paramount
Cast: Isabel Moner, Eugenio Derbez, Michael Peña, Eva Longoria, Adriana Barraza, Temuera Morrison, Danny Trejo, Jeff Wahlberg, Nicholas Coombie, Madeleine Madden, Q'Orianka Kilcher, Christopher Kirby, Isela Vega
Director: James Bobin
Producer: Kirstin Burr
Screenplay: Nicholas Stoller, Matthew Robinson, story by Tom Wheeler, Nicholas Stoller
Cinematography: Javier Aguirresarobe
Music: John Debney, Germaine Franco
Production Design: Dan Hennah
Editing: Mark Everson
Running Time: 103 minutes
Release Date: 19th September 2019 (Australia)