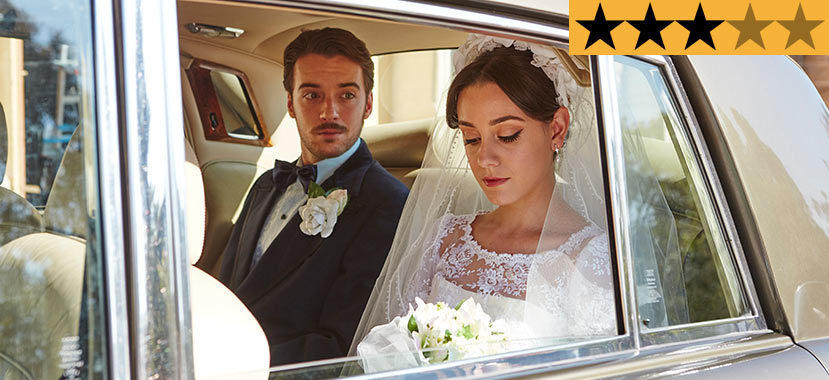 27 Oct

REVIEW – 'Promised' may not have the depth but it certainly has the heart

Australian cinema loves a good wedding. But, in a case of unfortunate timing, 2019 has already served up one gorgeously romantic trip down the aisle with Top End Wedding. By virtue of unavoidable comparison, writer/director Nick Conidi's debut feature film Promised can't quite match the finesse and style of its cinematic marital-themed compatriot.

While the film is undoubtedly a passion project for Conidi and seeks to capture a fascinating moment in our history where tradition and revolution worked furiously against each other, Promised fails to fully explore the Australian immigrant experience in the 1970s, leaving us with a rather unpolished piece of cinema that almost feels unfinished.

Set in Melbourne of 1974, Angela (Antoniette Iesue) is every bit the modern young woman of the revolutionary 1970s. While her parents Sal (Paul Mercurio) and Rosalba (Tina Arena) desire nothing more for their daughter but marriage and a family of her own, Angela yearns for more from life, especially after reading Germaine Greer's famous feminist text The Female Eunuch.

An aspiring writer herself, Angela resists a future of working in her parent's pasticceria and heads to university to study literature, while also keeping her burgeoning relationship with no-hoper Tom (Santo Tripodi) from her parents. Deliriously in love, Angela knows her parents would never accept Tom, as her future husband was decided for her long ago.

Twenty years earlier, Sal arranged for his daughter to marry Robert (Daniel Berini), after his father, Joe (Mirko Grillini) helped deliver baby Angela when Rosalba unexpectedly went into labour. While Angela has long-assumed the arrangement won't come to pass, Robert soon arrives home from studying law at Oxford University. Despite both their protestations, the wedding now seems unavoidable.

It's hard not to find echoes of seminal 2000 classic Looking for Alibrandi within Promised, even if the eras the films take place in are decades apart. A young Australian girl fighting against the outdated ways of her Italian culture. A forbidden romance with a reckless boy without a future. The crippling conflict between familial obligation and one's own desires. We've seen this tale play out before, and, sadly, with far more introspection.

While the film scratches the surface of cultural issues facing Australian immigrants and the generational divide between young and old, it never quite digs deeper to fully explore the promise of its premise. In its place is a breezily pleasant romance tale that's still entirely enjoyable, especially at a brisk 97 minutes long. Iesue and Berini have terrific chemistry together and the film's best moments are the quieter ones where the pair begin to connect and understand one another.

In her first leading role, Iesue is a terrific find, instilling Angela with all the gutsy determination of a young woman on the verge of greatness but crippled by her obligation to her well-intentioned family. The character could have easily have become a selfish brat, but Iesue finds compassion in a role which ultimately becomes entirely empathetic.

Berini is equally impressive, offering a far more complicated character who has seemingly been perfectly content with the arranged marriage until he realises how miserably unhappy it's making his potential wife. There's an endearing softness to Berini's performance, and it's clear from the start Conidi knows who he wants the audience to root for in this love triangle.

As Angela's adoring parents, Mercurio and Arena work perfectly together, crafting a marriage born from a similar arrangement that eventually turned into a great love. Sal can't escape the obligation he made twenty years earlier, even if he knows it's cruelly unfair on his daughter. But the eternally wise Rosalba sees both sides to this complicated family issue, leaving her to be the sole voice of reason between her husband and daughter.

Surprisingly, this is Arena's film debut, and she proves more than up to the task with a compassionate and charming performance that steals the film. If the singer is considering future acting possibilities, she's got the goods. But the real highlight arrives during the closing credits, with Arena providing a divine rendition of "Ave Maria" to send you floating out of the cinema on a high.

However, Promised suffers from a disappointing screenplay, beset by stilted and expository dialogue and a lack of narrative flow. The film barrels through its first act with an alarming pace that never allows an audience to fully appreciate its intentions. When everything finally settles down, the film picks up tremendously, as we're given the chance to understand our protagonists and witness the difficult scenario they've both been dumped in.

But, once again, the pace flies into overdrive with a third act that's haphazardly constructed and a conclusion that's painfully inauthentic. It's almost as if Promised was intended to run for two hours and something went horribly wrong in the editing suite. The film is also damaged by some decidedly bizarre sound design that creates a rather unsettling experience. Occasionally, scenes are accompanied by music cues that genuinely overpower the dialogue. Other times, there's no music at all in similar moments that desperately need it.

What Promised does get right is its 1970s Australia production design which looks incredibly authentic and will be painfully familiar to those alive during this period. Look, it's probably more a case of certain areas of Melbourne still being stuck in the 70s, offering Conidi plenty of locations that work within his aesthetic. But he's supplemented his location photography with props, cars, and costumes that fit the era perfectly, crafting a gorgeous recreation of a time many viewers will identify with.

There's a great film hiding somewhere within Promised. As a debut, Conidi offers a glimpse of the greatness he's capable of. While his film doesn't delve too deeply into cultural issues, he's instead served up a charming romantic dramedy that presents the idea of an arranged marriage with deft care and free of any judgement. An enjoyable trip back in time, Promised may not have the depth but it certainly has the heart.





Distributor: Umbrella Entertainment
Cast: Tina Arena, Paul Mercurio, Antoniette Iesue, Daniel Berini, Santo Tripodi, Stavros Psoras, Mirko Grillini, Giuseppe Fusca
Director: Nick Conidi
Producers: Bradley J. Fischer, William Sherak, James Vanderbilt, Tripp Vinson
Screenplay: Nick Conidi
Cinematography: Tony Ferrieri
Production Design: Sean Dennis
Music: Dorian West
Editing: Tony Ferrieri, Katie Flaxman
Running Time: 97 minutes
Release Date: 24th October 2019 (Australia)