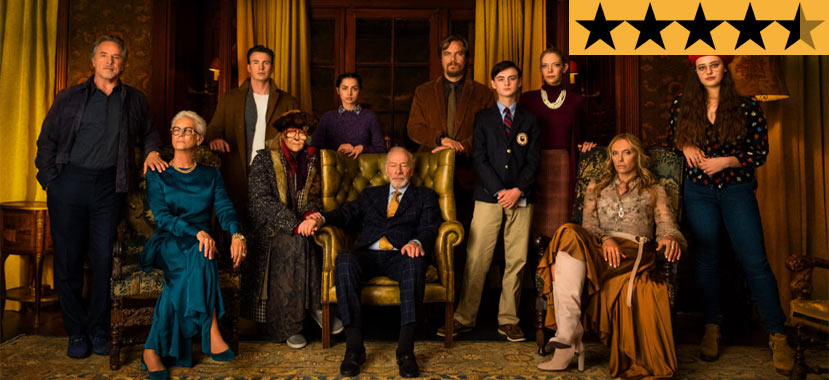 13 Nov

TIFF REVIEW – 'Knives Out' is a deliriously fabulous ride you won't want to end

After taking a "divisive" plunge into the Star Wars universe, writer/director Rian Johnson returns to what he does best; richly engaging original cinema, loaded with a whole swag of killer twists to knock you off your feet. With Johnson's own fresh take on the well-worn whodunnit murder mystery genre, the deliciously enjoyable Knives Out is one of the most outrageously entertaining experiences you will have in a cinema this year.

With a phenomenal ensemble cast, a pointedly sharp screenplay, and an ingeniously twisty narrative, Knives Out is just good old-fashioned solid fun from start to finish. Loaded with irreverent humour and a cavalcade of magnificent performances, this darkly comedic caper is a deliriously fabulous ride you won't want to end.

Ridiculously wealthy mystery novelist Harlan Thrombey (Christopher Plummer) is dead. Don't worry. That's not a spoiler. The film opens the morning after Thrombey's birthday party and the sight of his dead body on a white sofa, blood pouring down from his apparently self-inflicted slit throat.

One week later, his entire family are called back to the Thrombey mansion to be questioned by Detective Lieutenant Elliot (LaKeith Stanfield), Trooper Wagner (Noah Segan), and the mysterious private investigator Benoit Blanc (Daniel Craig), who's been hired to investigate Harlan's death by an anonymous client. While Elliot and Wagner believe all signs point to death by suicide, Blanc is not so certain, deeming everyone to be a potential suspect. But just who-may-have-dunnit?

Up for questioning are Harlan's ruthlessly overbearing eldest daughter Linda Drysdale (a terrific Jamie Lee Curtis), her adulterous husband Richard (Don Johnson), and their playboy lothario son Ransom (Chris Evans); Harlan's youngest son and head of his publishing company Walt (Michael Shannon), his wife Donna (Riki Lindhome), and their "alt-right" keyboard warrior son Jacob (Jaeden Martell); Harlan's daughter-in-law and self-help guru Joni (Toni Collette) and her left-wing liberal arts student daughter Meg (Katherine Langford); and, finally, Harlan's caretaker nurse and closest confidante Marta Cabrera (Ana de Armas).

As with all good mystery thrillers, every suspect has a potential motive for Blanc to uncover, particularly with Harlan's last will and testament yet to be read. With an estate worth tens of millions, there's plenty of incriminating reasons why each of the suspects wanted the old man dead. Johnson takes deft delight in unveiling the inner workings of his devilish narrative which constantly subverts expectation and will keep you guessing right to the very end.

A self-confessed murder mystery fanatic (he was toying with the idea for this film before The Last Jedi got in the way), Johnson keenly understands this genre, thereby knowing better than to fall into the nauseating trap of overly referential. Instead, it's this love that allows Johnson to consistently twist an audience's assumptions for where exactly Knives Out is heading. This creates such a tremendously enjoyable game for the viewer, as we constantly attempt to guess who killed Harlan and how exactly they did it.

Yes, this is ultimately the cinematic version of playing the board game Clue, which is cheekily even referenced early in the film. But Knives Out is so much more than just a challenge of whodunnit, especially after one big reveal at the end of the first act that sets the film on a completely unexpected course. This is ultimately a biting study of an uber-wealthy, self-entitled family and how quickly once-cordial relatives will turn on each other when money is on the line.

While not quite as biting an indictment on class warfare as Parasite or Ready or Not, Knives Out hides a hefty helping of socio-economical commentary within its sardonically black comedy. The Thrombey clan are your typical elitist assholes who believe being wealthy is entirely their birthright, despite consistently riding the coattails of their hard-working father. They're happy to criticise those who want a "handout" in America, despite each of them being entirely guilty of that themselves.

They may project a rosy liberal-leaning demeanour, but when you dig a little deeper, they're just like every other member of the 1% club. They consider Marta "a member of the family," yet constantly refer to her as "the help" and, in a delicious running gag, can't seem to remember which South American country she hails from. Richard declares he's happy for America to accept immigrants but only if they arrive legally. They denounce Jacob's MAGA attitude, but likely all voted Republican to secure those promised tax breaks for the rich. Hypocrisy reigns supreme in the world of the wealthy, and Johnson takes pleasure in exposing just how deluded the rich ultimately are.

In one of the year's finest screenplays, Johnson intelligently mixes this political commentary amongst all the thrills and surprises of his murder mystery to craft something that's both entertaining and relevant. It's a script that loves to pull the rug out from under an audience, but never in a self-congratulatory way that makes the viewer feel entirely stupid for not seeing these secrets earlier. It's an already-crowded field, but Knives Out must be amongst the conversation for Best Original Screenplay at the Oscars.

However, as we know, a great script is nothing without a sublime cast to bring it all to life, and Knives Out is a supreme example of an expertly constructed ensemble cast. While some characters are naturally given more focus, there's not a weak performance to be found here, with each actor making the most of every moment they're given. They all seem to be having a ball, making an audience's experience equally as enjoyable.

As the stern businesswoman with no time for bullshit, Curtis is an absolute hoot. Likewise with the divine Collette, whose scene-stealing featherbrained "wellness" expert draws immediate comparisons to Gwyneth Paltrow, right down to her lifestyle brand, ridiculously named Phlam. Playing entirely against type, Evans is delightfully reprehensible as the spoilt brat who pompously believes he's above the other members of his family. He's blessed with the richest Trombley character arc, which takes plenty of unexpected turns, gifting Evans with the chance to showcase his range.

But Knives Out ultimately belongs to Craig and de Armas who lead this narrative with impressive vigour. With a Foghorn Leghorn Southern drawl and eccentric behaviour that borders on maniacal, Craig chews every piece of scenery in sight, offering an energetic performance to keep the film kicking along. We are all well aware Craig is desperate to break free of the 007 shackles, and he's doing his utmost here to prove why he's more than just a great action hero.

In a field of such noted performers, it may come as a surprise to learn de Armas is the film's genuine protagonist. After stealing focus in Blade Runner 2049, it should come as a no surprise to learn she proves entirely up for the challenge. With an empathetic and sweet performance, Marta is a woman so pure, she involuntarily vomits if she ever tells a lie, making her the film's true heart. When the narrative forces Blanc and Marta to join forces, Craig and de Armas are a terrific pairing.

If there is one underused victim of Knives Out, it's Shannon, whose wildly jealous and insecure Walt has an underlying danger to him that sadly goes mostly unexplored. Despite being an integral figure in the familial drama, Shannon isn't given all that much to do, which is a travesty for a man of his talents. Both Langford and Martell are equally underutilised, offering little more than crabby Generation Z brats, but perhaps that's entirely intentional.

With sublime production design from David Crank, the gothic Thrombey manor is a character all of its own, with a series of lavishly decorated rooms and secret passages for Johnson to play with. As noted by Wagner of Harlan, "the guy practically lives in the Clue board," and it's a setting that fits Johnson's screenplay perfectly. Likewise with Jenny Eagan's spectacular costume designs, which each gives you a sly indication of every character before they've even uttered a word. Finally, there's Nathan Johnson's majestic and often bombastic orchestral score to perfectly complement every mood and moment.

With a dash of Agatha Christie and a good dollop of Alfred Hitchcock, Knives Out is a supremely satisfying film that demands repeat viewings. In a year of remakes and sequels, it's always decidedly refreshing to be served something so wonderfully original. While still paying homage to a genre its writer/director so clearly adores, Knives Out finds a way to breathe new life into murder mystery cinema.

By injecting his film with plenty of wicked laughs and a host of fascinating characters, Johnson delivers a crowd-pleaser with sly social commentary cleverly hidden within. Never preachy or smug, Knives Out offers rich entertainment to make its message much more palatable. One of the best films of the year, this is one not to miss.





Distributor: StudioCanal
Cast: Daniel Craig, Chris Evans, Ana de Armas, Jamie Lee Curtis, Michael Shannon, Don Johnson, Toni Collette, LaKeith Stanfield, Katherine Langford, Jaeden Martell, Christopher Plummer, Frank Oz, Riki Lindhome, Edi Patterson, K. Callan, Noah Segan, M. Emmet Walsh, Marlene Forte
Director: Rian Johnson
Producers: Rian Johnson, Ram Bergman
Screenplay: Rian Johnson
Cinematography: Steve Yedlin
Production Design: David Crank
Costume Design: Jenny Eagan
Music: Nathan Johnson
Editing: Bob Ducsay
Running Time: 130 minutes
Release Date: 28th November 2019 (Australia)