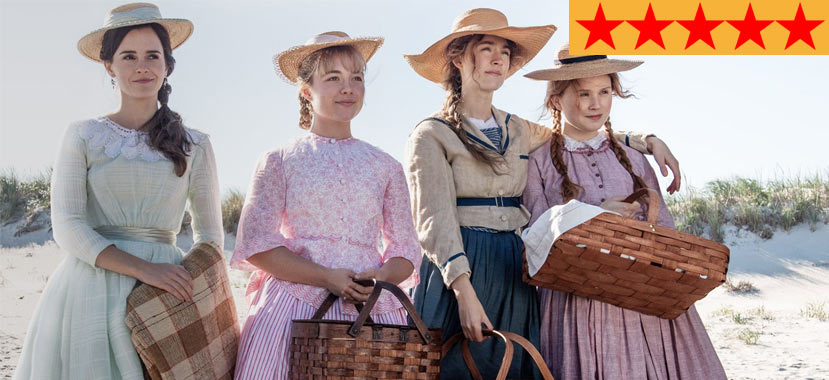 11 Dec

REVIEW – 'Little Women' is simply gorgeous in every single way

You're likely assuming we did not need another film adaptation of Louisa May Alcott's seminal classic Little Women. Many consider Gillian Armstrong's 1994 film to be the definitive screen version of the novel, ruling out the necessity for any further remakes. Enter actress-turned-filmmaker Greta Gerwig, whose unbridled love for Alcott's work is the driving force behind one of the year's most beautiful films and a worthy challenger to the high bar set by Armstrong.

A faithful adaptation given new life by a daring storytelling technique and an impeccable ensemble cast, Little Women is bursting with a freshness and energy that's genuinely intoxicating. While the tale will be familiar to many, Gerwig infuses a modern angle to her narrative to elevate the novel's feminist tones that make this 150-year-old story feel achingly relevant.

With a warmth that's ridiculously charming, a lively screenplay that's entertaining and touching, and a visual aesthetic that will make you swoon, Little Women deftly proves Gerwig has the goods as a filmmaker. Both a coming-of-age film to inspire a whole new generation of youngsters and a remake to remind those of us why we fell in love with Alcott's work, there is just too much to adore about this film.

Gerwig's reimagining begins with Jo March (a dazzling Saoirse Ronan) already living the life of an independent young woman in a New York boarding house, sending the money she earns from tutoring jobs back to her adoring New England family. After rejecting a marriage proposal from her childhood sweetheart Laurie (Timothee Chalamet), Jo scurried off to the big city with dreams of becoming a writer, with her three sisters providing perfect fodder for Jo to mine for literacy gold.

With her ink-stained fingers clutching her first story, Jo finds herself at the offices of the Weekly Volcano, where editor Mr. Dashwood (Tracy Letts) agrees to purchase and publish her work, albeit with a few of his own alterations. He also offers her some rather curt advice; if she wishes to continue writing stories centred on "a girl," she best make sure she's married (or dead) by the end. Welcome to the 1860s, folks.

Meanwhile, Jo's somewhat arrogant and hot-headed younger sister Amy (a sublime Florence Pugh) is studying painting in Paris, travelling as the companion to their exceedingly wealthy and snobbish Aunt March (Meryl Streep). The real intention of the sojourn to France is to find Amy a husband, which takes an unexpected detour after a chance meeting with Laurie, who has been Amy's unrequited crush since she was a young girl.

Back in New England, eldest sister Meg (Emma Watson) has followed the expected path of young ladies of this era, marrying schoolteacher John Brooke (James Norton), settling down in a quaint cottage, and popping out two adorable children. But money is tight and life is rather dull, leaving Meg to begin to question her choices. And then there's Beth (Eliza Scanlen), the shy, gentle homebody who forms an unexpected bond with Laurie's widowed grandfather Mr. Laurence (a surprisingly endearing Chris Cooper) after he invites her to play his piano whenever she so wishes.

From here, Gerwig jumps back and forth between present-day and the girl's younger years to fill in their backstory and flesh out the details of their lives that shaped them into young women. Their father (Bob Odenkirk) is off somewhere serving as a chaplain in the Civil War, leaving the girl's doting mother Marmee (a gorgeous performance from Laura Dern) to preside over the four precocious young girls. And, of course, Aunt March is ever omnipresent, always sticking her nose in with her stuffy patriarchal advice.

In a curious twist, Gerwig has chosen to present Little Women in a non-linear fashion, juggling the existing narrative around and presenting scenes out of chronological order. As confusing as this may sound, it all works perfectly seamlessly, even for those unfamiliar with Alcott's classic 1868 novel. Gerwig arranges these scenes in more thematic fashion, utilising opposing colour grading to help an audience differentiate the time periods. This is the perfect example of a remake striving to offer something totally different to previous incarnations, and indicative of Gerwig's adoring love for Alcott's work.

As writer/director, Gerwig's deep affection for Alcott's novel and her characters is abundantly evident in every single frame of Little Women. It runs parallel to the personal work that is Lady Bird. If her previous film was based on her youth, this is a film based on a piece of fiction that shaped her early years. It's clearly a passion project for Gerwig, and every inch of that passion is infused in her work. Other film adaptations of Alcott's novel have seemingly misunderstood the March girls, particularly Meg and Amy. But Gerwig finds compassion for both characters, offering far more rounded offerings for these complex females.

Many have perceived Meg as painfully uptight and nauseatingly traditional. And, sure, she absolutely is. Those are unavoidable characteristics of the film's most conservative character. But Gerwig seeks to portray her interpretation of Meg as far more caring and compassionate, gifting Watson with the chance to deliver a more empathetic performance than in previous versions.

Similarly, Amy has often been played as a tempestuous, selfish brat. And, again, she most certainly is. But Gerwig keenly understands Amy's wild nature is purely a case of pubescent angst, finding the deep pathos in a character most versions have refused to touch. The non-linear structure allows Amy to be initially presented as a more mature and steadfastly ambitious young woman, allowing an audience to almost forgive the jealous, petty, and cruel actions of her childhood when they're presented to us later in the film. Yes, Gerwig has found a way to almost absolve Amy March, which is a downright miracle.

In the expert hands of the luminous Ronan, Jo is incredibly fierce, strikingly bold, and achingly restless, crafting a glorious protagonist to lead this film with deft strength. In yet another commanding performance, surely destined to net the 25-year old actress her fourth (!) Oscar nomination, Ronan commands this film as only she can. A non-traditionalist who embraces feminism before the word even existed, Jo refuses to accept her lot in life is just to be someone's wife. How wonderful it will be for young girls (and boys) to see a female lead character with such an inspiring passion to charge for what they want in life and throw the rulebook right out the window.

As also evidenced in Lady Bird, Ronan and Chalamet have terrific chemistry here, crafting an adorable love story that's only more tragic by the film's non-linear structure. When we return to their youth, we're already entirely aware of Jo's eventual rejection of Laurie, making their blossoming romance far more intriguing, given we know how it all ends. It's incredibly bold of Gerwig to deliver their relationship in such fashion, but it works tremendously well.

While one could blather on and highlight every single magnificent performance in this film (Dern, Streep, Chalamet, Scanlen, and Cooper all shine), it's rising-star Pugh who consistently steals focus with an energetic and captivating performance as the unpredictable Amy. There's little doubt she is the film's most complicated character to crack, requiring Pugh to play Amy at both ages, which she handles with aplomb. It's almost like playing two completely different characters, yet Pugh never once falters.

In Amy's youth, she's the typical obnoxious younger sister, wanting to be a part of her older siblings every move. Her pubescent mood swings and incredulous actions (an audible gasp rang out in my cinema when Amy gets her hands on Jo's novel) are so perfectly authentic, particularly for those of us with personal experience with a teenage sister. But Pugh's performance truly comes to life in Amy's elder self, instilling the character with such charming poise and surprisingly wise introspection, delivering a portrayal of this character unlike any seen before. It also helps Pugh is just so unbelievably likeable. If she's overlooked by the Academy (like she will be for her wildly different turn in Midsommar), we riot.

With a majestic visual aesthetic, Little Woman is an opulent looking film, elevated by Yorick Le Saux's painterly-esque cinematography, Alexandre Desplat's stirringly luscious score, and Jacqueline Durran's gorgeous period costume designs. It's rare to see films like this these days. It's simply gorgeous in every single way. What Gerwig and her production team have crafted is almost overwhelming. How utterly delightful it is to be swept away by something so magnificently beautiful.

It's undeniable Gerwig has injected a modern feminist flair into Little Women, but never in a way that feels insufferably woke or nauseatingly preachy. Or in a way that removes the work from its period setting. It's a subtle reimagining that finds freshness in a tale that's over 150 years old, yet was clearly wildly ahead of its time. A confident piece of filmmaking well ahead of Gerwig's experience, this is one of the year's absolute best films. And, at this time of year, the greatest gift cinema could possibly offer.





Distributor: Sony Pictures
Cast: Saoirse Ronan, Emma Watson, Florence Pugh, Eliza Scanlen, Laura Dern, Timothée Chalamet, Meryl Streep, Chris Cooper, Tracy Letts, Bob Odenkirk, James Norton, Louis Garrel, Jayne Houdyshell
Director: Greta Gerwig
Producers: Amy Pascal, Denise Di Novi, Robin Swicord
Screenplay: Greta Gerwig
Cinematography: Yorick Le Saux
Production Design: Jess Gonchor
Costume Design: Jacqueline Durran
Music: Alexandre Desplat
Editing: Nick Houy
Running Time: 135 minutes
Release Date: 1st January 2020 (Australia)