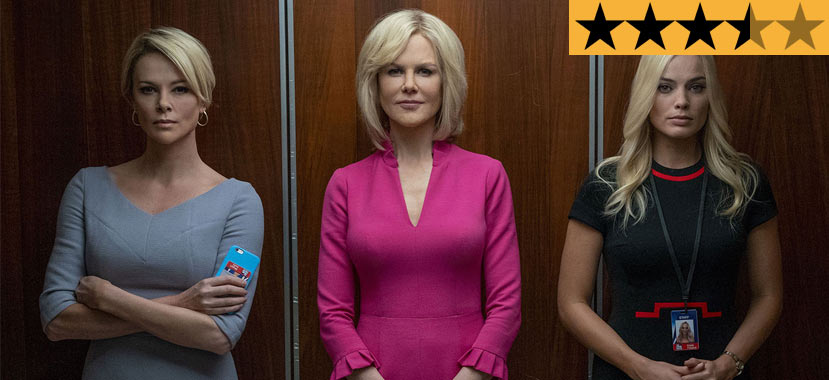 16 Dec

REVIEW – 'Bombshell' pulls few punches but often misses its mark

Let's be honest. Fox News is probably the worst thing to ever happen to broadcast television. While it's always strayed far from its laughable "Fair and balanced" slogan, in the last three years, it's become little more than a farcical propaganda machine for the orange clown in the White House. It's a miracle the "news" network is even still standing, given the sexual harassment scandal it somehow withstood back in 2016.

It's that very saga which provides the juicy fodder for director Jay Roach's bombastic and occasionally compelling Bombshell; a well-intentioned but flawed effort to capture the shocking events that saw the fall of a goliath figure of the news industry and almost (and should have) brought Rupert Murdoch's network crumbling down with him.

Elevated by a terrific ensemble cast (we're truly being spoilt by those in 2019) and a cracking pace that rarely drags, Bombshell pulls few punches but often misses its mark. With a jarringly light, almost satirical tone, narration that consistently breaks the fourth wall, and frenetic editing, Roach echoes last year's divisive Vice at almost every turn. Much like Adam McKay's much-maligned Dick Cheney biopic, it's a style that will ruffle many a feather and presentation manner that risks losing the impact of this incredibly important story.

Our journey into Fox News circa-2016 begins with a guided tour by none other than Megyn Kelly (a dazzling Charlize Theron, transformed with prosthetics to startling effect), the infamous news anchor who will soon see the wrath of then Presidential candidate Donald Trump and his cult of fervent supporters. As Kelly effortlessly glides through the mania of the network's chaotic offices, she introduces us to a world drowning in sexism, ageism, and misogyny, all overseen by the nefarious letch that was Fox News CEO Roger Ailes (John Lithgow, also swamped by prosthetics).

A wildly insecure and decrepit old man, Ailes rules the network with an iron fist and a leering eye the women of Fox News have just accepted is part and parcel of the job. With his mantra of television being a "visual medium," sleeves are unacceptable and a woman's legs must be visible at all times. And the shorter the skirt, the better. When the film begins, Kelly is busy preparing for the first televised debate of the 2016 presidential campaign, which she is set to moderate.

Feeling stifled by the network-imposed restrictions on the questions she's been advised to ask Trump, Kelly instead confronts the businessman on his shameful tweets objectifying and harassing women, which will later cause Trump to ridicule Kelly on national television with that disgraceful "She had blood coming out of her eyes, blood coming out of her whatever." quote. To her amazement, Ailes essentially refuses to come to Kelly's defence, too pathetically paranoid of the network further incurring Trump's vengeance.

Meanwhile, after being unceremoniously dumped from Fox's popular morning program Fox & Friends, long-serving anchor Gretchen Carlson (Nicole Kidman) has been relegated to a one-hour daytime show, which is suffering from lagging ratings. Consistently victimised and bullied by Ailes ("You're sexy, but you're too much work."), Carlson has secretly met with her lawyers to discuss the possibility of suing Ailes for the sexual harassment she endured in her earlier years at the network.

Carlson's ambitious and naive junior associate producer Kayla Pospisil (a captivating Margot Robbie) has abandoned her one-time mentor, taking a position with the wildly popular The O'Reilly Factor to further her career. When the opportunity arises for a private meeting inside Aile's office, Kayla, who sees herself as an "influencer in the Jesus space," seizes her moment, pressing the CEO to put her in front of the camera. But it soon becomes clear Ailes expects more from Kayla than just her flashy words.

After Carlson is eventually fired by Ailes, she finally launches her legal bid to bring him down, forcing both Kelly and Pospisil to make a difficult choice; join Carlson's crusade and risk losing the careers they've endured unspeakable crimes to secure or stay silent and let their former colleague fight (and likely lose) all alone.

In the wake of the #MeToo movement, the narrative of Bombshell is painfully relevant and unmistakably powerful. Despite its bizarrely light style, this is a story that will strike a chord for many women, as it seeks to highlight the toxic work environment females have been forced to accept for several decades now. There are already grumbles about this film humanising the women of Fox News, overlooking their compliance in pushing an agenda that has set America back several decades. But sexual harassment is sexual harassment, no matter the workplace environment it occurs in. These women are victims and rightly presented as such.

If you walk away from Bombshell with a new empathy for Kelly, Carlson, and the numerous other victims of Ailes, Roach has succeeded in his mission to capture what these women went through and the courage it took to speak out against one of the most powerful men in their industry. You can still disagree with them for their political opinions while still sympathising with their plight. The two aren't mutually connected, and Bombshell practically begs you to see these women as more than just figureheads of right-wing propaganda.

However, the fatal flaw of Bombshell is the techniques it presents this compelling tale as if there is entertainment to be found here. It's ultimately a very odd film you often wish would just take its subject much more seriously. That's not to suggest it plays sexism for laughs, but, lord, does it occasionally come close. Case in point; a chaotic sequence inside Fox News' female changing room where we witness the anchors cake on as much makeup as they can, slip into the tightest, shortest dress they can find, and cram on a pair of impossibly-high stiletto heels. What should be a portrait of women so fearful for their jobs, they will doll themselves up to appease their imposing fuhrer becomes something rather comical instead, losing its tonal impact on an audience.

Likewise with Roach's non-stop parade of goofy cameos that are mostly just played for laughs. From outlandish Fox News identities like Geraldo Rivera (Tony Plana), Jeanine Pirro (Alanna Ubach), and Sean Hannity (Spencer Garrett) to other infamous figures like Rudy Guiliani (Richard Kind) and the Murdoch brothers (played by real-life Australian brothers Ben and Josh Lawson), the film often feels more like an extended cold open of Saturday Night Live. You half expect someone to turn to the camera and winkingly say, "Live from New York, it's Saturday night!" While these creations are scarily accurate, crafted with an elaborate array of prosthetics, wigs, and makeup, they consistently pull you right out of the film.

Thankfully, Bombshell is entirely saved by its spectacular ensemble cast, proving that perhaps the film's "shock" Screen Actors Guild nomination for Best Ensemble was perhaps entirely valid. Led with terrific strength by Theron, Kidman, and Robbie (it's somewhat misleading for awards season label the latter two as supporting), this is a dazzling display of acting that forgives the film's other foibles. It's still rare to see a film led by such an indomitable female force, and we're gifted with three of the best female actors in the business right now.

It's a tired cliché, but Theron gives yet another transformative performance as Kelly, completely disappearing into her role, thanks to the ingenious prosthetic makeup work of Kazu Hiro, the Oscar-winner behind Gary Oldman's transformation into Winston Churchill in Darkest Hour. Much like Oldman, it's not just technical attributes that bring this character to life. While her aesthetic is a little jarring at first, it's Theron's expert take on Kelly's voice, posture, and fierce spirit that truly allow her performance to soar. Kelly is a much-maligned figure, but Theron throws herself into this role, finding the complexities and insecurities within a woman who always cast a figure of strength.

In the film's most subtle performance, Kidman gives a surprisingly nuanced turn that sets the narrative on its eventual path to justice. Kidman perfectly captures Carlson's stern demeanour but offers it as a byproduct of the crippling restraints she's felt her entire career. The snap is coming, and you can't help but feel it's a snap she's been suppressing for years. She's far from an endearing character, but her storyline does not require such emotions. Regardless of your feelings towards Carlson, the former Fox News anchor, it's impossible not to be inspired by her strength at speaking out in the face of enormous doubt.

But it's ultimately Robbie who steals this film, delivering the character who is the film's true heart. Strangely, Kayla is the only character not based on a true Fox News identity, instead representing an amalgamation of several of Ailes' victims. Robbie begins the film with all the bright-eyed naivety of a young woman desperate to succeed in a cut-throat industry, with unbridled enthusiasm and vigour. But Kayla quickly becomes a devastating portrait of trauma after her deeply uncomfortable "audition" for Ailes, which is one of the most heartbreaking moments you will see in a film this year. As guileless Kayla is forced to gradually lift her skirt for the treacherous sycophant, you can almost see the light fade from her eyes as her gentle spirit is genuinely destroyed.

It's moments like these that keep Bombshell grounded, even if Roach and screenwriter Charles Randolph offer many bafflingly silly distractions to keep an audience engaged, like a discussion of how Fox News' obsessively dedicated viewers have left their screen locked to the channel for so long, the network's logo has been burnt onto their LCD screens, at which point the logo suddenly appears in the left-hand corner of the frame. Yuck, yuck. It's as if Randolph doesn't consider the storyline strong enough to keep an audience's interest without gags and irrelevant cutaway scenes.

Bombshell tries earnestly to capture how the male gaze is sadly an expectation for women in the workplace but fails to fully explore these themes too deeply. The film ultimately belongs to its three female leads, who handle every moment with deft assurance. There's a masterpiece hiding in here somewhere. It's just obscured by too much absurdity to truly land its intended impact. It's a story that absolutely needed to be told, but it perhaps required a more refined take to arrive at its destination.





Distributor: StudioCanal
Cast: Charlize Theron, Nicole Kidman, Margot Robbie, John Lithgow, Kate McKinnon, Connie Britton, Mark Duplass, Rob Delaney, Malcolm McDowell, Allison Janney, Alice Eve
Director: Jay Roach
Producers: AJ Dix, Beth Kono, Charles Randolph, Jay Roach, Margaret Riley, Michelle Graham
Screenplay: Charles Randolph
Cinematography: Barry Ackroyd
Production Design: Mark Ricker
Costume Design: Colleen Atwood
Music: Theodore Shapiro
Editing: Jon Poll
Running Time: 108 minutes
Release Date: 16th January 2020 (Australia)