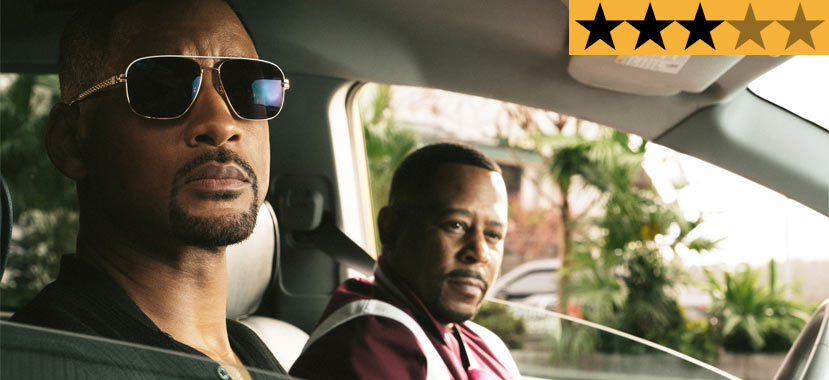 16 Jan

REVIEW – 'Bad Boys For Life' knows exactly what it is and rarely tries to be anything it's not

It's been 25 long years since Bad Boys became a surprise hit and, gulp, gave the world its first taste of director Michael Bay. Since then, the filmmaker essentially became a genre all in his own right, with his penchant for tacky dialogue, endless explosions, and calamitous violence. His debut film looks decidedly tame by comparison to his later work, but Bay carved out his cringeworthy niche with Bad Boys and has rarely strayed too far away from it.

17 years after the bloated mess that was Bad Boys II, it's time to dust off this franchise, say goodbye to Bay, and attempt a revival with a fresh pair of directors at the helm. While Belgian co-directors Adil El Arbi and Bilall Fallah may offer an end result that's not quite in the same realm as the chaotic excess of Bay, Bad Boys For Life still features a painfully predictable plot, brainless dialogue, mindless action, and blood-drenched violence. It's what the fans want and Adil and Bilall (their chosen choice of billing) serve it up in spades.

Our titular detective bad boys are following decidedly different paths in life. Marcus Burnett (Martin Lawrence in his first major studio film in years) has just become a grandfather and is now looking to retire from the Miami police force and watch his baby grandson grow. By stark contrast, his partner Mike Lowry (Will Smith in his fourth (!) film in less than 12 months) is still living the playboy lifestyle, bluntly refusing to settle down and accept he's not in his 20s anymore.

Despite Marcus' desire to cruise into retirement, fate has other plans in mind with one dangerous last case about to be dropped in his lap. A new brutal crime family rises in Miami, led by Isabel Armas (Kate Del Castillo) and her son Armando (Jacob Scipio) and they've got a score to settle. Years earlier, Isabel's crime lord husband and Armando's father was taken down by the Miami P.D. and she's intent on killing all those responsible. And it just so happens Mike was one of those involved, placing a target squarely on his back.

After Mike barely survives an attempted assassination by Armando, he's instructed by beleaguered Captain Conrad Howard (Joe Pantoliano) to lay low and let someone else handle the case. But you can't tell a bad boy what to do and Mike wants his vengeance. Instead, he joins forces with AMMO; a younger four-member squad of Kelly (Vanessa Hudgens), Dorn (Alexander Ludwig), Rafe (Charles Melton), and Mike's former flame Rita (Paola Núñez), whose set of advanced skills may be the answer to bringing Isabel and Armando down.

Everything that follows sticks closely to the well-worn action movie formula. We've offered several bombastic set-pieces, loaded with fast cars, shoot-outs, explosions, and graphic violence. Plus a few gory deaths which almost border on Final Destination-like absurdity. And a couple of unexpected cameos including (sigh) DJ Khaled, inexplicably making this his third involvement in a Smith production.

As directors, Adil and Billal are like two kids in a candy store, and they're intent on taking full advantage of this opportunity to craft something outrageously over-the-top. Their work has far more visual cohesion when compared to the calamity of Bay's direction, even if it follows the same tropes set down by the master of action silliness. The occasional visual flair pops in, but their work is saddled with an aching number of slow-motion shots that seemingly always appear in action films, yet never truly justify their apparent necessity.

What sets Adil and Billal's work apart is their keen understanding of the talents of Smith and Lawrence, knowing precisely when to focus on the pair and let the comic duo do their thing. Despite almost two decades away from the franchise, both Smith and Lawrence easily slip back into these roles, recapturing their sublime chemistry with ease. It's a delight to see the two sparring against each other again, with their yin/yang personalities now amplified by their parallel desires in middle-age life.

The screenplay by Chris Bremner, Peter Craig, and Joe Carnahan attempts to offer deeper character arcs for both Marcus and Mike, but it's an action movie, so it's hardly a surprise to see it bluntly refuse to delve too deeply in the narrative stakes. Lawrence is gifted a potential opportunity to capture what it is to realise your time in the sun is coming to an end, but he's mostly just required to shout "Oh, shit!" every few minutes and play upon gags regarding his aging body.

Smith gets the meatier storyline here, with his near-death experience fueling his rage to take down the family responsible. When Mike is forced to work with his younger cohorts (none of which are given any semblance of character development), there's plenty of generational clashes played for comedic effect. Someone calls him a "grandpa." He makes a crack about sleeping with one of their mothers. Egos are bruised when weapons are compared. Yuck, yuck, yuck. But it's the kind of comedy Smith does best, and Adil and Bilall know how to play to his strengths.

The narrative takes an absurd twist late in the game, adding a personal element to Mike's quest that plays more like a Mexican telenovela and brings uncomfortable parallels to Smith's disastrous Gemini Man. Whether the echoes of a telenovela are entirely deliberate and this is all some sort of meta-referential work is possible. Casting telenovela star del Castillo as our nefarious villain certainly suggests this is all completely intentional. It's a sensational casting choice, with del Castillo chewing the scenery with a delightfully wicked performance.

There's really no point in delving too deeply into analysing Bad Boys For Life. This is a film that knows exactly what it is and rarely tries to be anything it's not. The formula was laid down by its two predecessors and this one sticks the landing by following that recipe to a tee. Smith and Lawrence make an excellent double act, so it's great to see them back together again, even if it's really just more of the same all over again.

If you found endless joy in the first two Bad Boys films, you're very likely to have a great time with the third film nobody ever really expected to materialise. Without the involvement of Michael Bay, Bad Boys For Life proves you can make an action film with plenty of heart and humour. It doesn't break the mould of the action genre, but its audience probably never wanted it to.

If you like your action movies loaded with far-fetched, bloody mayhem and lashings of goofy humour, Bad Boys For Life is for you. It's really paint-by-the-numbers cinema, but if you leave your brain at the door, you'll have a riotous good time. And, frankly, we still need cinema that knows how to offer just that.





Distributor: Sony Pictures
Cast: Will Smith, Martin Lawrence, Alexander Ludwig, Vanessa Hudgens, Charles Melton, Paola Nunez, Kate Del Castillo, Nicky Jam, Joe Pantoliano, Theresa Ranbdle, Bianca Bethune, Jacob Scipio
Directors: Adil El Arbi, Bilall Fallah
Producers: Jerry Bruckheimer, Will Smith, Doug Belgrad
Screenplay: Chris Bremner, Peter Craig, Joe Carnahan
Cinematography: Robrecht Heyraert
Production Design: Jon Billington
Costume Design: Danya Pink
Music: Lorne Balfe
Editing: Dan Lebental, Peter McNulty
Running Time: 123 minutes
Release Date: 16th January 2020 (Australia)